5 Best Soaps for 2019 – Soap Reviews – Total Beauty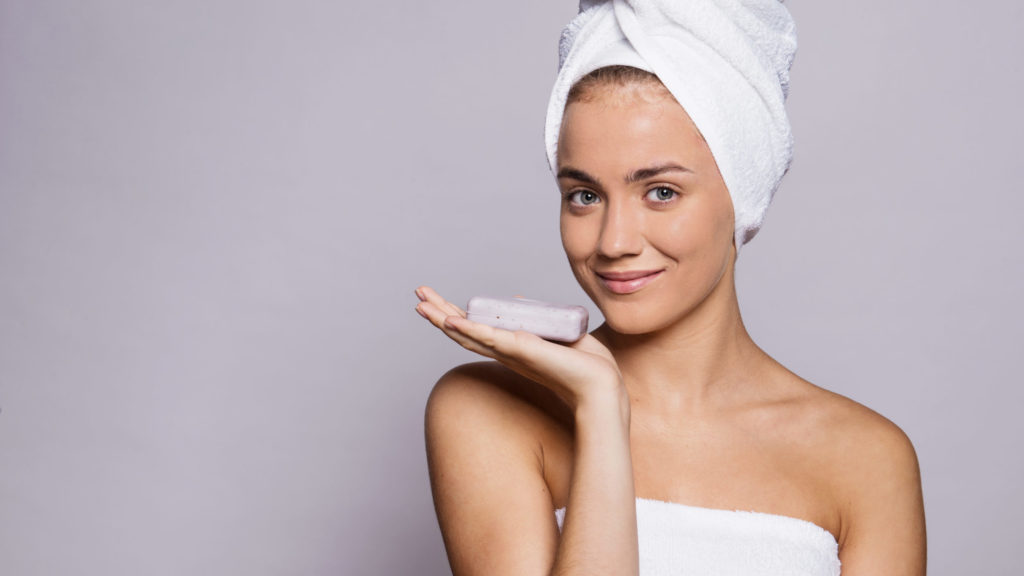 Soap is a household staple. Designed to cleanse our bodies and kill off harmful bacteria, soap is fundamentally important for our overall health and well-being. Given the varying parts of our bodies we use it on and how regularly we use it, it is crucial that we find a product that is kind to our skin. There is a huge variety of soaps out there, so it can be difficult to know which one to buy. To make life easier for you, we have compiled a list of our top 5 favorite soaps.
Best Choice
This award-winning soap features a beautiful lavender and vanilla scent, hydrating ingredients, and vitamin E for added skin protection.
Pros:
The Puracy Natural Liquid Gel Hand Soap is the perfect family soap. Ideal for people of all ages, this hand soap offers calming and hydrating properties with a soothing lavender scent. It is also cruelty-free, 100% vegan, and hypoallergenic. This soap has been specially formulated to produce a good lather whilst moisturizing your hands at the same time.
Cons:
This soap is much runnier and thinner than other soaps on the market. We found it still produced a good lather, but it did not have that thick, luxurious texture offered by some competing brands.
Best Natural Soap
Suitable for the entire body, this 100% natural soap smells delicious and offers premium cleaning.
Pros:
Whether you want to combat body odor, wash your face, or give your hands a good scrub, the TheraTree Tea Tree Oil Soap will do the trick. Featuring natural, organic ingredients including high grade tea tree oil, this highly versatile, gorgeously scented soap is ideal for those suffering from back acne, dry skin, or an oily complexion. Tea tree oil combats a large number of skin conditions with this one product.
Cons:
If you have very sensitive skin or negatively react to tea tree oil, this will not be the right product for you. It's a very potent mixture of ingredients, so the safest course of action is to test it on a small patch of your skin first to ensure you can tolerate it.
Best Soap for Men
The Dr. Squatch Cool Fresh Aloe Soap For Men is an organic product that helps to reduce the risk of skin sensitivities and provides a refreshing and soothing experience.
Pros:
The soap is made from organic oils in order to improve the overall quality and purity of the product, while also reducing the risk of causing skin-related sensitivities in the user. The product is made locally in the United States to assure it is a high-quality option for men. Bar-based soap tends to last for a long period of time. The soap is available in five different scent options that men can choose from.
Cons:
Even though this is an organic soap product, only the oils used in its production are of organic nature. The addition of certain ingredients to add a scent may still cause a sensitive reaction in some men. While there are five scents to choose from, some male customers may still find this relatively limited compared to some of the other brands that produce similar soaps for men.
Best Soap for Women
If you have sensitive or reactive skin, you can do no better than the Dove Beauty Bar. Designed to be kind to skin, this gorgeous soap will keep you clean without compromising your skin health.
Pros:
This gentle soap describes itself as a "beauty bar". Why? Because it not only cleanses the skin but nourishes it. Unlike many other soaps, the Dove Sensitive Skin Beauty Bar is 25% moisturizing cream, and still offers a rich lather and subtle scent. As a result, you'll leave the shower feeling soft and smooth. You can also use this as a regular hand soap without having to worry about drying out your hands.
Cons:
This soap has a scent that won't be loved by everyone. We thought it smelled a little bit like chemicals and laundry. But smell is subjective, and while some members of our team didn't like it, others did.
Best Baby Soap
Perfect for sensitive skin, the tear-free formula offered by Dove Baby is ideal for newborns and can be used all the way up through adolescence and beyond!
Pros:
The Dove Baby soap is kind and gentle to the most sensitive skin. Whether your child is newly born or is constantly muddy from the playground, the Dove Baby Soap can help. Featuring a tear-free formula and extra moisturizer, you can feel confident washing your infant without worrying about their skin or eyes. We loved the gentle scent of this soap and its easy-to-lather texture.
Cons:
We found the pump difficult to administer with one hand. Given that our other hand was holding a small baby in position, the pump was too stiff for a one-handed push. It also didn't administer a huge amount of soap, so we needed three or four pumps per wash.
What Really Matters?
Scent
Soap can have a harsh smell if it has not been formulated with pleasantly scented ingredients. Plus, given the regularity in which you use soap, you want to smell nice, not like a chemical factory! There is a wide variety of soaps scents out there, all of which can evoke the senses in a unique way. Lavender soap, for example, can be particularly potent and tends to induce a sleepy, relaxed feeling. Citrus-based soaps can create a sense of alertness, so these are particularly useful for morning showers. It is important that you enjoy the scent of your soap and are happy to smell that way for several hours after use. Some brands offer scentless soaps that are appropriate if you are less interested in how you smell and more interested in getting clean. If you use an aftershave or perfume, you might find your soap smell interferes with it. So, keep this in mind when selecting the right soap for you.
Ingredients
If you care about what you put onto your skin, then you would be wise to check the ingredients list on any soap you purchase. Even natural ingredients are sometimes unsuitable to certain skin types. Some essential oils such as tea tree oil may smell good but can be a trigger for sensitive skin. Therefore, it is important to discover which ingredients work for you before committing to a soap. Also, if you are environmentally conscious, you may want to ensure that the soap's ingredients are cruelty-free, ethically sourced, and fair-trade.
Skin Suitability
If you have dry skin, you will need a soap that is formulated to nourish and moisturize. Conversely, if your skin is oily and acne-prone, you may want a soap that combats bacteria and reduces pore size. Every soap is uniquely formulated, and each person has individual needs and preferences. Even if your best friend raves about a soap they've been using, it's not necessarily going to be a good soap for you. Before buying a soap, consider your skin type, any problem areas you may have, and the frequency that you use the soap. If you are buying soap for a child, make sure you have their needs at the forefront of your decision-making.
What's in Right Now?
Soap has been used for centuries, but it has come a long way since its infancy. Traditionally, soap only served a functional purpose, meaning it could dry skin out very quickly. Today, soaps are specially formulated to keep you clean, but also offer hydration and help with problem skin. Furthermore, modern soaps can smell utterly delicious, combining a number of essential oils and ingredients to give you a full sensory experience. In the last few years, people have become much more wary about what they put on their skin. Harsh chemicals found in traditional soap formulas are no longer considered to be good for the skin. Natural, gentle ingredients are used instead. Increasing numbers of soap brands also offer environmentally friendly soaps that give you peace of mind that your products are ethically made, never tested on animals, and traded fairly.
Prices
Cheap: $3-$10. A cheap soap will get you clean and will be easy to use. It may not have natural, organic ingredients, but will certainly offer enough to leave you feeling fresh and replenished.
Mid-Range: $10-$25. A moderately priced soap will offer you an immersive experience. It will smell great, offer naturally sourced ingredients, and last a long time.
Expensive: $25-$45. A more expensive soap will be tested and approved by dermatologists, kind to skin and even suited for problem skin. An expensive soap will also smell great and last a long time. It might also be ethically sourced and environmentally conscious, hence the higher price.
FAQs
I have sensitive skin, which soap should I get?
All skin is unique and there is no such thing as a one-size-fits-all skincare approach. Therefore, you may need to do some experimenting before you find the right soap for you. Sensitive skin can redden easily and become blistered, spotty, or itchy when in contact with harsher chemicals. If you have sensitive skin, you may want to try soaps that contain soothing essential oils. Tea tree oil is often used by people with sensitive skin. But go easy! Some people find that tea tree oil can actually make sensitive skin worse, so be sure to sample it on a small area of skin first. If you react well to it, you might find that tea tree oil clears up your problem areas and gives your skin a soothing, tingly feeling after use. If this doesn't work, oat milk is another popular skincare ingredient and is very good for soothing reddened skin.
Why is tea tree oil so good for skin?
Tea tree oil has been used for medicinal purposes since the eighteenth century. It has superb antifungal and antibacterial properties, making it ideal for spotty skin, blisters, and athlete's foot. Tea tree oil can also help to reduce the appearance of scars, reduce redness, and even help with dandruff around the hairline. Like any essential oil, it is important that you test tea tree oil soaps on a small patch of skin before committing to a full body cleanse. Tea tree is a miracle worker for some but cannot be tolerated by others.
Can I use soap anywhere on my body?
Different soaps serve different purposes. A hand soap, for example, is designed to kill bacteria and may be too harsh to use on your whole body. A moisturizing body soap may have a thinner consistency or lather better than hand soap, giving you a better overall clean. Of course, intimate areas can become irritated by soaps in general, so it is best to use a soap designed for intimate cleaning. When it comes to your face, your skin needs change. What works for your back and hands will not necessarily work for your face. Therefore, only ever use a specially formulated facial soap for this area. If you want a good all-rounder, there are many soaps out there which serve multiple functions. Some even double as shampoos!