The Best Sleep Eye Masks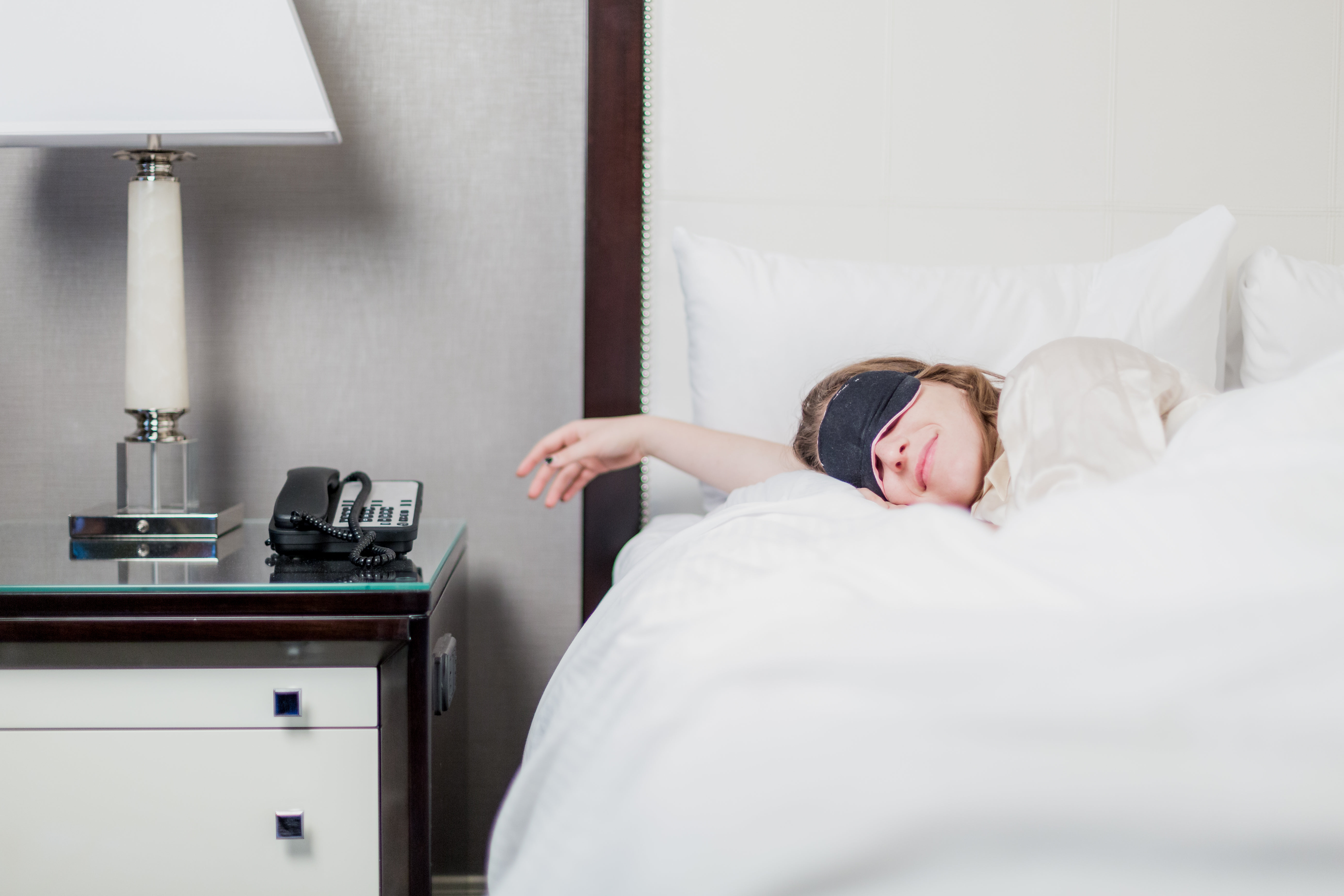 Ahh, sleep. We love it. We look forward to it. We're frustrated when we don't get enough of it. There are countless ways in which we unintentionally become nocturnal, from disturbances by light to painful ailments like migraines. Though some may be skeptical that these small swaths of cloth can actually promote better sleep, we're here to prove you wrong. Our team found some of the best options available for almost anyone, so scroll down, read up, and you'll soon be on your way to dreamland - even without counting sheep.
MZOO Sleep Eye Mask
Whether you need to block light from an indoor lamp or the sun, this will do the trick.
Some people exist on a schedule that is a bit backward and need to catch their shut-eye during the daytime. This mask is a great option for those folks, as it uses a special patented material to block out light completely. It's also ergonomically designed for comfort. The mask sits around the outline of your eyes (instead of directly on top of it) which puts zero pressure on your peepers. A layer of memory foam allows for additional comfort and padding around your nose, too. All in all, if you require total darkness while you sleep, this mask will do the trick.
Pros:
Designed to allow for free eye movement without adding pressure
The buckled strap is fully adjustable, which ensures a proper fit for most head sizes
Entirely hand-sewn using soft thread, which means no rough seams leaving marks on your face
Con:
A bit bulkier than some other eye masks
Mavogel Cotton Eye Mask
This lightweight mask allows for maximum breathability.
Brightness isn't the only thing that may interrupt slumber, and those who sleep on the warm side can attest to that. This handmade lightweight mask is constructed entirely of incredibly soft jersey cotton that provides maximum breathability. Another great design feature is the head strap, as the buckle that's used to adjust the sizing is situated so that it won't press down on your ears and cause discomfort during the night. It even folds up into a small travel bag, so you'll know it'll be safe from germs when not in use. Whether you're in your own bed or hopping on a red-eye, "rest" assured that you'll be asleep in no time.
Pros:
Interior adjustable wire over the nose enables a secure fit for any face size
Machine-washable
Con:
Material may have a slight odor, so the mask may need to be washed before use
LKY DIGITAL Sleep Masks – 3 Pack
A solution for those times you just don't feel like sharing.
Sometimes, you purchase a product so useful that it's envied by the rest of the household. If that's the case in your home, we've got the perfect solution. These sleep masks come in packs of three, so there won't be any argument over who gets to use one. Each package comes in various colors, and the headbands are easy to adjust to ensure that these will be a great fit for any family member. Additionally, the edges are constructed with sutures as opposed to glue, which can increase durability and longevity. All things considered, this 3-pack is an extremely helpful tool in making sure everyone in your home gets the sleep they need.
Pros:
The strap is Velcro-free, so there's no need to worry about hair getting caught or tangled
Cutout over the bridge of the nose can be adjusted to a much narrower size than many other comparable masks
Contoured eyecups provide comfort without pressing down on eyelids
Con:
Stomach sleepers may feel the edges are a bit rigid, causing some discomfort
Jersey Slumber 100% Silk Sleep Mask
This mask is a great option for those who make skincare a priority.
Many of us put a lot of time and energy into our evening skincare routine – but did you know that certain fabrics can hinder the effects of that effort? The area around your eyes is especially fragile, and this silk mask is a godsend for those who want to protect such a delicate zone. Not only can the silky smooth material shield your face from unwanted sleep lines, but the fibers absorb much less of your eye cream or facial moisturizer. Another excellent feature of using a silk mask is the cooling element, which may be beneficial in alleviating migraines. Whether you're purchasing this for the luxurious feel or the skincare advantages, you're sure to drift off easily to la-la land.
Pros:
This mask can be either hand- or machine-washed
Silky material may also aid in preventing eyes from drying out during the night
Securely stays in place no matter what sleeping position you prefer
Con:
May put pressure on the eyes and might not be suitable for those who have had procedures such as cataract surgery
Brownmed IMAK Compression Mask and Eye Pillow
Because your head isn't the only thing that deserves a pillow.
For those who suffer from issues like sinus pressure or migraines, a good night's sleep can feel nearly impossible to achieve. Many who experience these problems require not only darkness but cooling comfort, and we've found a helpful solution in this product. Technically an eye pillow, the outer cotton material is light yet has weighted compression in key areas to promote relaxation. Instead of foam or fabric, the insides are actually constructed of small beads intended to gently massage the eye area. The cherry on top is that you can even store this in the freezer for cooling relief without relying on stiff and rigid icepacks.
Pros:
Created by an orthopedic doctor which adds extra reassurance that this product is effective
Mask includes no latex which cuts down on the risk of possible allergic reactions
May also be utilized as a fever reducer
Con:
External cotton material may absorb food odors when put in the freezer for too long
Frequently Asked Questions
Why should I be using an eye mask?
Overall, the recommended amount of sleep suggested by health experts is between 7-9 hours a night. Due to various external interruptions, many people do not achieve that. Wearing a mask while you sleep has loads of benefits that may help improve your zzzz's, which in turn, can make you more attentive, grounded, and focused during your waking hours. An eye mask is also a safe alternative to relying on crutches like alcohol or medication to stimulate drowsiness, as neither of those options truly promotes a restful slumber.
Is there one key thing I should look for in an eye mask?
As with any product, several distinct characteristics can make an eyemask appealing to fit your personal preferences. For example, if you're a side sleeper, you may want to pay attention to where the strap adjustors are located, as you don't want them digging into your ears. If you're sensitive to pressure, you may want a mask that doesn't lie flat on your face. And if you have allergies to specific materials, of course, you should confirm that the mask you want will be safe to wear.
How often should I clean my mask?
Similar to your clothing, your mask is absorbing toxins, oil, and skin cells from your face throughout the night. And for those who sleep hot, sweat can increase the risk of unwanted bacteria build-up which is unsanitary and can lead to irritation or even breakouts. It's a good plan to wash your mask every week or so, as this will help immensely in ensuring the material is as clean as possible every time you wear it.