5 Best Silk pillowcases for hair and skin Products for 2020 – Total Beauty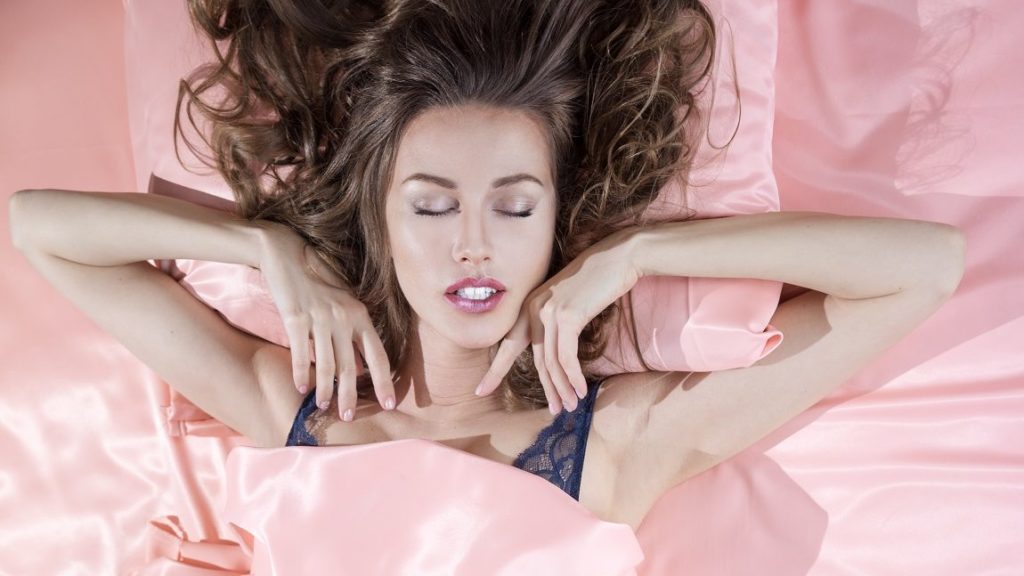 Did you know the type of pillowcase you sleep on could be causing you wrinkles, or messing up your hairstyle? Silk pillowcases have gained popularity due to being kinder to the skin, and they also help prolong a blowout after you've been to the salon too. Silk pillowcases do require extra care when it comes to washing, and they can be more expensive than regular pillowcases but are a firm favorite with all those who have tried one. If you are in the market for a new silk pillowcase, here are our top five to choose from.
Best Choice
The ALASKA BEAR Natural Silk Pillowcase is a high-quality product that is made from hypoallergenic materials, possibly reducing symptoms of allergies during the night.
Pros:
The pillowcase is made from a natural silk material, which is soft on the skin and will not cause irritation. The product features a 600 thread count, adding to the overall quality and the durability offered by the pillowcase. The item is also 100% hypoallergenic. This is a great option for people who constantly find themselves waking up with allergy and sinus symptoms at night. The pillowcase is available in a variety of colors and size options.
Cons:
The product may be a little expensive considering that the package only comes with just a single pillowcase. Some color and design options cost more than the standard option that a customer is able to choose from. There are some people who may expect a higher thread count in a silk pillow that comes with this price tag.
Best Anti-aging
The Anti-Aging 100% Mulberry Silk Pillowcase is made from unique ingredients that help to reduce the risk of certain aging signs in the face, while also providing a smooth surface to sleep on.
Pros:
With 73% 5-star ratings and a string of awards to its name, The Meili & Grace silk pillowcase has been getting rave reviews for its hair and skin-boosting properties. It 18 amino acids within the silk that help promote healthy hair strands, and has also been developed with dermatologists. The material is cool and breathable, for a comfortable night's sleep. The pillowcase comes in a presentation box, making it ideal as a gift.
Cons:
Even though promoted as an anti-aging pillowcase, the product holds no ingredients that would actually yield an anti-aging effect in the user's body. Instead, it focuses on preventing further problems from occurring. The product also comes at quite a high price tag, especially when compared to other silk-based pillowcases currently on the market.
Best Affordable
The Zimasilk silk pillowcase is made from 100% mulberry and comes in space gray with 27 other colors available.
Pros:
At just $24.99, it costs less than half the price of competitor silk pillowcases. The material is free from formaldehyde and is hypo-allergenic too. Also, it's heat-resistant and has anti-static properties, which will reduce hair frizz. The pillowcase has a hidden zipper, giving the pillowcase a sleek design. It's available in a wide range of colors if space gray is not to your taste.
Cons:
The washing instructions are very specific, and will require some time to complete. One of the instructions is to add hair conditioner to soften the material. However, doing so could cause breakouts as your skin will be in direct contact with the pillowcase after it's been washed.
Best 2 Pack Pillowcase
Made from natural silk, the Yanibest silk pillowcases are supplied as a pair in the color apricot, with 12 other colors also available in two different sizes.
Pros:
Costing $41.99, that works out at just over $20 per pillowcase, making the Yanibest silk pillowcases great value for money. The silk is infused with amino acids and proteins to help boost the look of the hair and skin. The low-friction material ensures that hair will not get tangled after sleeping on the pillowcase. The product is supplied with washing instructions so you can keep the pillowcases looking their best.
Cons:
Some doubts about the authenticity of the silk, as users report finding a '100% polyester' label when looking for washing instructions. That being said, as these pillowcases are so affordable, it's difficult to find genuine silk at such a low price point.
Best Kingsize Pillowcase
The Fishers Finery Silk Pillowcase is made from 100% pure mulberry silk. The color of the pillowcase is taupe, with 10 other colors also available in king size only.
Pros:
The pillowcase is made of 100% long strand, pure mulberry silk. It has a higher density of silk than other silk pillowcases from the same brand. The pillowcase has a unique side entry that allows it to also be used as a bed sham. There is a good color choice available to be able to find a shade that suits your decor. The pillowcase also has as a 'Good Housekeeping' seal of approval, meaning it is quality-tested.
Cons:
Although the company states multiple sizes are available, they currently only sell their silk pillowcases in king size. Some users commented that the silk isn't durable and is prone to splitting even after light use.
What Really Matters
Getting an authentic product
Silk is an expensive commodity, and unfortunately, many retailers will look to take advantage of this, by actually selling you a polyester version but claiming it is genuine silk. The main difference is that polyester is artificially produced, usually via mass production in a factory. Genuine silk comes from the cocoons of silkworms. How the process works is the larvae silkworms will feed on mulberry leaves for around 42 days. They will then spin their cocoon for a few days, and the content is then harvested to produce either raw or fine silk. It takes around 2,500 silkworms to make 1lb of silk.
Giveaways that it is not an authentic product include a very low price, poor quality material or a label inside the pillowcase that will state it's actual material and where it was manufactured. Before you buy, ensure the pillowcase has a returns policy in case you are not sold a genuine product, and be sure to report the retailer for false advertising.
The momme weight
The momme weight refers to the density of the silk, similar to how a thread count measures the quality of your bedsheets. The higher the momme count, the better the quality of silk you are getting. Higher momme counts tend to offer more durability, however the heavier the silk, the more opaque it becomes through repeated washing.
For example, if the pillowcase states it is 19 mommes, that means 19lbs of silk were used in the production process, indicating a higher quality of silk.
Customer satisfaction
When it comes to silk pillowcases, there is a lot you should expect for the significant cost, compared to a regular cotton pillowcase. A silk pillowcase is going to be more delicate, but should be durable enough not to tear easily, and should survive the washing process (handwashing only). You should also notice fewer creases on your skin from sleeping and a neater hairstyle.
Prices
Cheap
It could be argued that there is no such thing as a 'cheap' pillowcase, at least not an authentic one anyway. That being said, it's possible to pick up a silk pillowcase for around $30, or $40 for a pair. Always check the label after you buy to ensure it's silk and not polyester.
Mid-range
The average cost of a silk pillowcase is around $50, and for this price you should expect to see a momme count of 25. Always look for a guarantee that the product is 100% silk, as should be the case with any genuine silk pillowcase.
Expensive
Top of the range silk pillowcases retail for $60 and above. The main difference is the manufacturer, as smaller independent brands tend to charge more for silk pillowcases. That being said, the production process tends to be more transparent to ensure quality, so you do get what you pay for.
FAQ's
What are the main benefits of sleeping on a silk pillowcase?
Cotton is primarily used to create pillowcases. The trouble is that cotton has a rough texture, and so sleeping on a cotton pillow for 8 hours every single night can cause problems. For instance, you may notice the side you sleep on has more wrinkles and lines, or you always wake up with messy hair despite styling it before you went to bed.
A silk pillowcase has a much more smooth and delicate finish, meaning fewer wrinkles and neater hair. Over the years, beauty gurus have raved about the difference to their hair and skin due to switching to a silk pillowcase.
How do I wash a silk pillowcase?
Silk has an incredible delicate fabric, so requires a more intricate washing process. You must hand wash silk pillowcases, ideally with cold or slightly warm water. You must also avoid bleaching or strong detergent, as well as clothes dryers. The best way to dry your pillowcase is to lay it flat on a drying rack to air out. Your silk pillowcase should also be supplied with thorough washing and drying instructions.
Why are silk pillowcases so expense?
The production process of silk is a lot more intricate compared to other mass-produced materials. Therefore, silk is of a much higher quality and this is reflected in the price. As silk pillowcases also have a lux appeal as well as benefits for hair and skin, this is another reason why the price difference is so great.
Are silk pillowcases anti-aging?
Yes! Due to the fact the softer material will create fewer wrinkles and creases in the skin, they will help prevent the signs of aging. That being said, it's still important to take care of your skin, including wearing an SPF each day. Otherwise, you will be preventing wrinkles in your sleep by using a silk pillowcase, but creating them anyway with sun damage. Therefore, combining the use of a silk pillowcase with a good skincare routine is the best approach.