The Best Silk Bonnets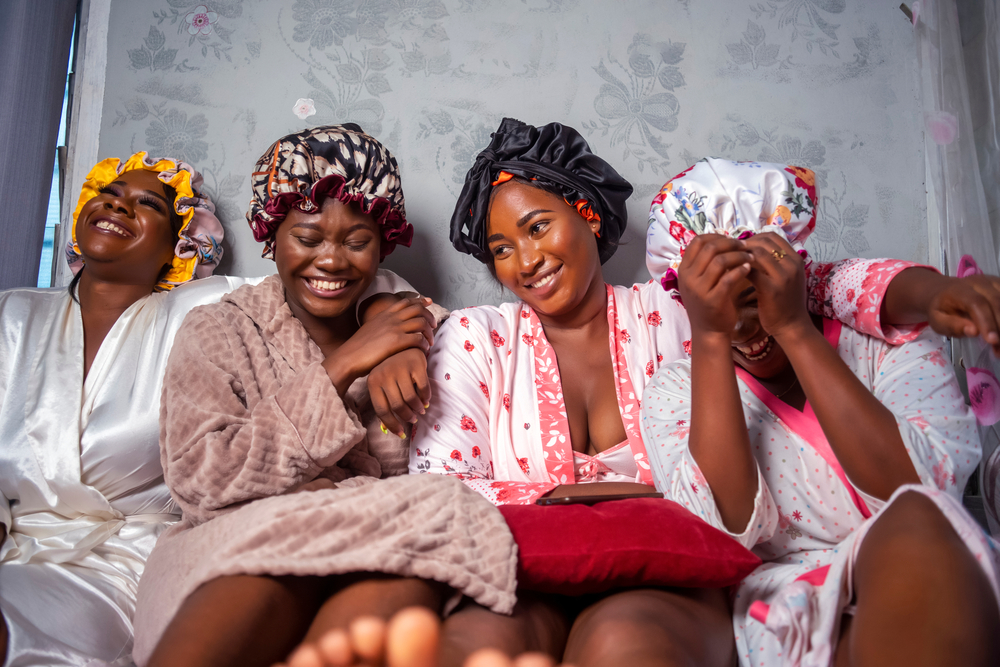 Silk bonnets are our secret weapon for maintaining soft, strong, healthy-looking hair. Wearing one of these to bed every night can help prevent split ends and breakage, restore moisture to your strands, tamp down frizz, and make your hair look shiny and healthy. Of course, not all silk bonnets are created equal. But the caps on this list take the cake. Keep scrolling to check out some of our favorites.
Yanibest Silk Bonnet
This cap is the crème de la crème.
Yanibest's silk bonnet is fantastic for protecting your precious hair while you get some much-needed shut-eye. Crafted from extra-soft, breathable spandex, cotton, and satin, this bonnet does all kinds of good stuff for your hair — it helps reduce frizz, keep curls intact, prevent split ends and breakage, and promote hair growth and overall hair health. Available in a variety of colors, this bonnet is easy to wear and adjust, too, making it comfortable to sleep in.
Pros:
Made from an ultra-soft blend of breathable cotton, spandex, and premium satin lining
Comes in a wide variety of colors
The side-release stretch strap makes this bonnet easy to adjust and wear
Does an excellent job of reducing frizz and tangles and protecting your hair from dryness and breakage
Cons:
A little pricey, but we think it's a worthwhile investment for your overall hair health
Wbfwbb Silk Bonnet
This affordable option gives you twice the bonnets for your buck.
This wallet-friendly silk bonnet helps minimize the friction between your hair and your pillow at half the cost of some other options. This bonnet fights frizz, prevents damage, and makes your hair look and feel silky-smooth, thanks to its high-quality satin fabric. And, unlike with some other bonnets, this one stays on well throughout the night, no matter how much you toss and turn.
Pros:
Excellent value
Fits virtually all head sizes and hair types
Made from a quality satin blend that feels soft and comfy while you sleep
Stays on all night
Cons:
The packaging for this product could stand to be improved
Edoneery Satin Bonnet
Keep your curls intact all night long when you don this bonnet.
Protect your curly mane from dryness and damage with Edoneery's satin bonnet, an essential tool in extending the life of your hairstyle and retaining moisture while you snooze the night away. Available in over a dozen colors, this fully adjustable silky bonnet boasts double-layer fabric to give you the best fit possible. Effortless-looking, perfect curls are in your future with the help of this convenient cap.
Pros:
Double-layer fabric design wraps your hair well
Silky texture is super-soft and breathable
Adjustable size
Comes in multiple colors
Cons:
Should be hand-washed to avoid stretching
Timoey Four-Piece Satin Sleep Cap Set
This multi-pack of bonnets gives you four stylish color options to choose from.
With Timoey 's four-piece set of satin sleep caps, you get enough silky bonnets to give out as gifts, match any chic sleeping ensemble, or just keep your shelves stocked. These caps are great for preventing tangles and snarls, minimizing breakage, and helping to preserve moisture for your hair and scalp during the night. Plus, this cap comes in handy when you're washing your face, applying makeup, and even doing housework.
Pros:
Comes in a four-pack
Has a wide elastic band on the bottom that allows for a customizable fit
Material is high-quality, comfy, and breathable
You can use it to hold your hair while you apply makeup, wash your face, etc.
Cons:
The fit could stand to be just a tad tighter
Saymre Long Satin Bonnet
This bonnet goes to great lengths to protect your tresses.
If you have extra-long or thick strands, you can't go wrong with Saymre's long satin bonnet, which wraps your entire mane in silk while you sleep. Wearing this silk cap to bed keeps your long hair looking its best for, well, longer. We love that the inside is lined with ultra-soft, breathable satin, as many bonnets only feature satin on the outside. Plus, it comes in fun, funky prints and colors, so you'll be able to express yourself as you protect your crowning glory.
Pros:
Extra-long design is perfect for long, thick hair
The inside is lined with satin
Comfy enough for all-night wear
Comes in super-cute, bold patterns and colors
Cons:
Not as versatile as others since it's designed for long hair
Frequently Asked Questions
What do silk bonnets do for your hair?
Wearing a silk bonnet at night helps to retain your hair's moisture, protecting your fragile strands from dryness and breakage. That can help reduce tangles, split ends, and hair loss, and it promotes good hair health in general. One of our favorite uses for a bonnet: applying a deep conditioning hair mask, popping it on, and kicking back with a good book or favorite show (ideally with a glass of wine in hand).
How long can I wear a silk bonnet?
You should be able to wear your bonnet overnight for at least eight hours, though some are more comfortable and looser than others.
How do I wash my silk bonnet?
It's always best to wash your silk bonnet by hand, even if the instructions say that you can put it in the washing machine. Washing your bonnet by hand with gentle soap and warm water helps prolong its lifespan.