The Best Shower Brushes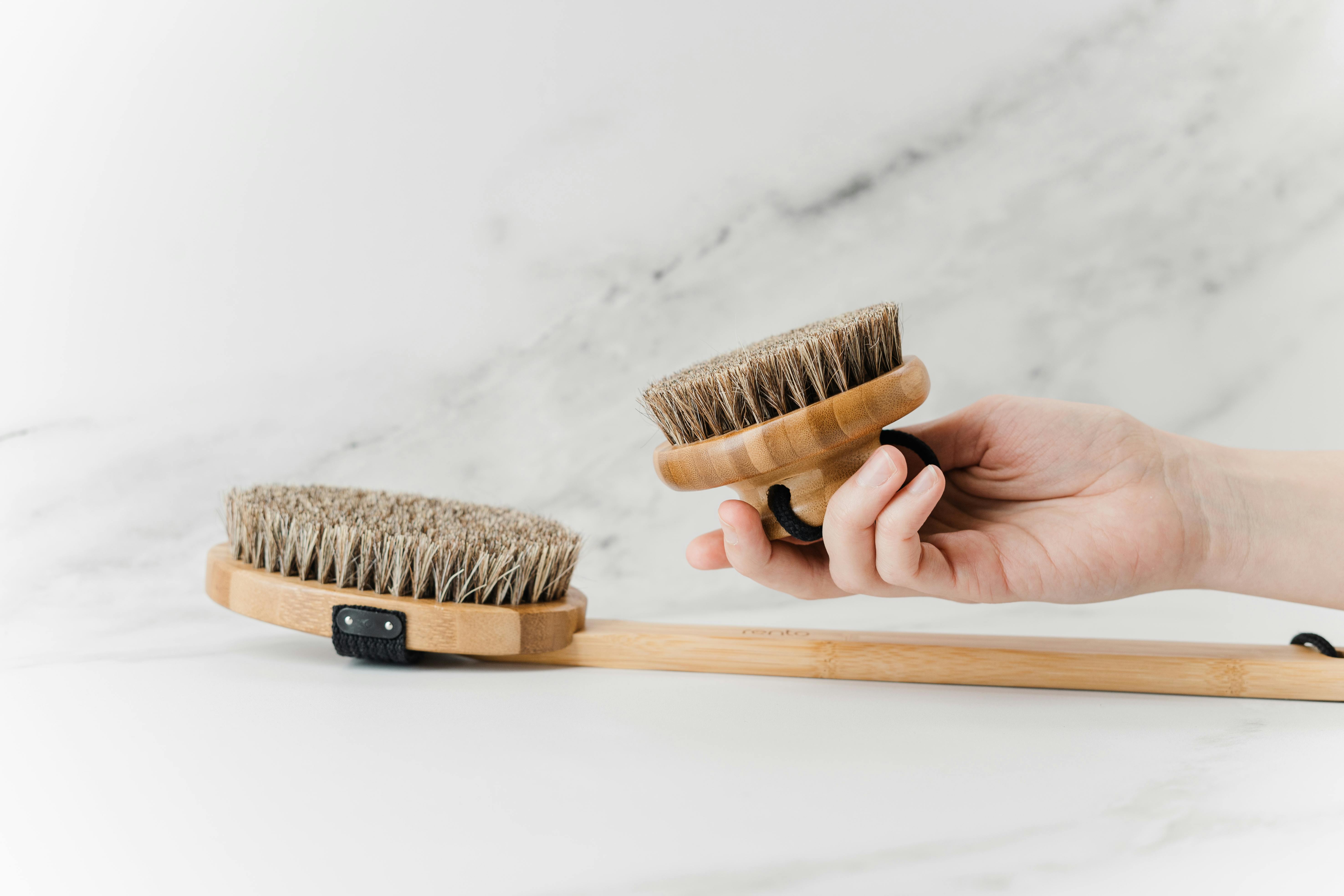 Getting squeaky clean is important, which is why the right shower tools come in handy. A good shower brush is a great way to elevate your shower experience and add a bit of spa-like pampering to your daily routine. We've researched the best shower brushes on the market to find the best options out there. Whether you're looking for a handheld scrubber, a long-handled brush perfect for reaching your back, or a shampoo-ready scalp brush, you've come to the right place. In our research, we've found that the best shower brushes are effective in cleaning and scrubbing. Also, they should be gentle enough for regular use. If you're looking for something that feels like those luxurious scalp massages usually reserved for salons, consider the Heeta Hair shampoo brush. When used with shampoo or tonic, its soft silicone bristles clear away dead skin and invigorate your scalp for better blood circulation. For those who'd like a good scrub but without the laborious effort, you'll love Fancii's electric waterproof brush. It comes with six interchangeable brushes designed for the face and body. Whether you want a gentle scrub or a facial exfoliation with the pumice stone attachment, this will do the job. Read on to check out some of our favorite brushes below.
Heeta Hair Shampoo Brush
Get down into your scalp for an extra squeaky clean.
Massaging your scalp leads to healthier skin and faster hair growth, which is why we recommend this hair shampoo brush by Heeta. It works well for all hair types, and it doesn't lead to tangles or damage. The soft silicone brush tips rid your scalp of dead skin and help you relax like you're back at the salon. It's helpful if you have long nails, too, because you won't have to get your fingers wrapped up in the strands. Overall, this is a must-have for keeping your hair healthy and happy.
Pros:
If you suffer from dandruff, consider adding this brush to your haircare arsenal. Using this brush may help clear up dandruff and flaky skin.
Try using your favorite hair growth and scalp products with this scrub. We found that the Heeta leaves your scalp feeling invigorated, thanks to the increased blood flow.
After a long day, there's nothing better than a massage. Fortunately, you can use this brush on dry hair for a lovely scalp massage that will melt the stress away.
Cons:
Although it works for any hair type and average lengths, it isn't ideal for exceptionally think, long hair.
Dylonic Exfoliating Brush
Clear your skin from head to toe with this exfoliating scrubber.
Have you been on the hunt for a convenient way to exfoliate your skin before and after shaving? If so, you may want to check out this exfoliating brush from Dylonic. You can use it wet or dry to help eliminate dead skin. It's designed to prevent ingrown hairs and razor bumps by removing extra debris so the hair can come through and not get caught, which helps you avoid irritation. We also appreciate that the handle is ergonomically shaped and comfortable to use.
Pros:
If you have any bumps or ingrown hairs near the bikini line, this brush seems to remove them in no time.
We found this brush works exceptionally well with those who have coarse hair.
You only need to use it for a few minutes a day to prevent ingrown hairs.
Cons:
While you can use this on dry skin, it works best when the skin is wet.  Warm water helps open the pores, making it easier for you to exfoliate the skin.
Heeta Body Brush
Exfoliate, massage, and clean in one step with this inexpensive option.
Taking care of your skin doesn't need to be expensive, especially when choosing this body brush by Heeta. Boar bristles and silicone nodes scrub you head to toe while giving you a relaxing, all-over massage.  You almost feel like you're at the spa every time you step out of the shower. The wooden base and nylon handle helps you control the pressure so that you can go from a gentle massage to a heavy-duty scrub-down with ease.
Pros:
The boar bristles make this an ideal choice for scrubbing off dry skin. Try using this brush before you take a shower; we think you'll be pleased with the results.
We noticed that this brush could help reduce the sight of cellulite.
If you are looking for a natural way to increase blood circulation in the head and body, this is an affordable option.
Cons:
Wood can mold over time, so be sure to let it dry out completely after each use.
Fancii Seven-in-One Waterproof Facial and Body Brush
Getting clean is effortless when you use this brush.
Sometimes all we want to do is relax and get clean without too much effort. That's when we turn to the Fancii electric waterproof shower brush. Its multi-functional design makes it a versatile tool that helps you get your whole body clean. In fact, there are six different brush heads to choose from. They include a facial brush, body brush, foam head, pumice stone, silicone exfoliator, and a massaging node head. When combined, you get a fantastic device that does all the work for you, allowing you to relax and enjoy your shower.
Pros:
The included back extender makes it easier for you to exfoliate hard-to-reach spots.
The pumice stone is abrasive enough to scrub thick foot calluses.
If you suffer from blackheads, this brush helps reduce their frequency and appearance.
Although gentle, it does a fantastic job of clearing dead skin and dirt away.
Cons:
We wish that Fancii would've included a rechargeable battery because this body brush can suck up a lot of power.
Frequently Asked Questions
What type of body brush should I choose?
Choosing a body brush is a breeze. All it comes down to is your comfort and what you need it for. If you have sensitive skin and need a brush for your back, you can go for a brush with a long handle and soft bristles. Meanwhile, if you're trying to exfoliate your legs after shaving, you may prefer a small, ergonomic brush with silicone or boar bristles.
Do I need to get special soaps to use body brushes?
There are no unique soaps or body washes made just for shower brushes. You can use whatever products you already use. The only advice we can give you is to choose one that lathers well and make sure it has moisturizers. Shower brushes exfoliate your skin, which can leave it feeling sensitive, so keep that in mind while choosing. We generally go with moisture-rich body washes with no harsh chemicals or dyes to avoid irritation.
Why Trust Us
Since 2007, TotalBeauty has been committed to helping millions of people find the right makeup, skincare, and haircare products for their needs. Our experts know what works best for every face shape, skin type, hair type, and more. They are here to share that knowledge with everyone looking to upgrade their beauty routines or try something new.