5 Best Microfiber Self-Tanners for 2020 – Self-Tanner Product Reviews – Total Beauty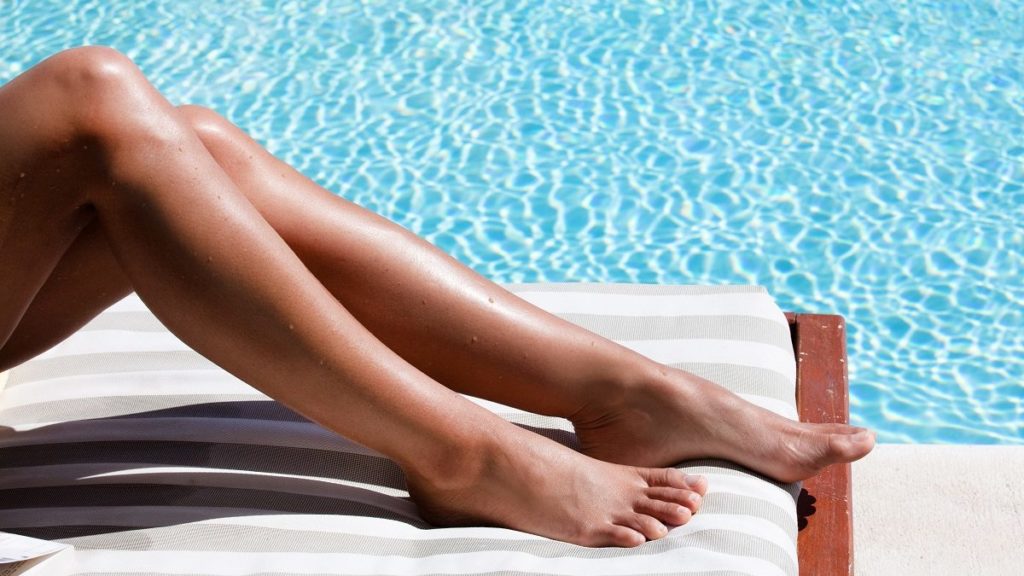 Would you like to have a beautiful tan even though it's winter and you can't go to the beach? If sunbathing is not an option and you don't want to use a tanning bed, consider using a self-tanning solution.
It is not easy to find the best self-tanner for your needs. Your skin tone, ingredients, and many other factors should be considered before you decide. We picked our top five self-tanning products and listed them in the reviews below. If you want to learn how to choose a tanner, make sure to read our buyer's guide, too!
Best Choice
Jergens Natural Glow Instant Sun tanning mousse is easy to apply and allows you to have a bronze tan even though you are months and miles away from the beach.
Pros:
The product comes in light and dark bronze variations for users to choose based on their skin tone and preference. The tanner comes in a bottle with a pump that makes the application process simple. As soon as you apply the mousse, you will notice tanning effects. The tinted formula allows you to see where you've already applied the tanner. The color will become darker hours after the application, and the results will last for days. The formula features Advanced Color Complex, which enables your tan to look natural and mimic the look of your skin after sunbathing.
Cons:
If you use a generous quantity of the product, you might end up with orange stains on your hands. It takes a bit longer to dry, which requires patience. You might notice that the skin feels sticky after application. The label indicates that you shouldn't apply this product on your face. Some users might not like that the tanner's strong scent.
Easiest to Apply
Self-tanners can have an unusual smell that follows you around for hours, but St. Tropez delivers an odor-free formula that is easy to apply and non-sticky.
Pros:
St. Tropez Self-Tan Bronzing Mousse is simple to apply, and you can reapply the product as desired. The formula is free from phthalates, sulfates, and parabens. The manufacturer uses naturally-derived DHA, which ensures that the tanner is suitable for sensitive skin. The formula of this bronzing mousse is lightweight, and it won't make your skin sticky. The tan fades evenly to maintain a natural look. The product has hydration properties that work up to an entire day. Nobody will know you've used a tanner, since it is odorless.
Cons:
It takes a long time for the tanner to dry completely. Be careful when putting on clothes to avoid staining them. It might take multiple applications to see visible changes in your skin color. Make sure to use a mitt or glove, or you will end up with stained hands. The price tag is a bit high compared to similar products.
Best Tanner for Fair Skin
Tan Towel designed these towelettes to avoid mess and stains when applying a tanning formula. Thanks to the compact design, they are a smart choice for traveling.
Best Tanner for Fair Skin
Pros:
These towelettes come in a compact pack and are suitable to take anywhere. The manufacturer claims that there are no dyes used in the formula. The product is suitable for those looking for a light bronze tan. If you want a darker result, apply two towelettes instead of one. Applying them only takes a few seconds, since you only need to unfold the towelette and apply it evenly. The color is long-lasting as long as you follow the instructions. You get ten pieces in a single pack, which is a long-term investment that could last for months.
Cons:
If you don't have previous experience with the towelette technique of applying a tanner, be careful to apply the product evenly. The color wears down a bit faster than when using tanning lotions. Sweating too much could also use the color to come off. The smell is strong and is similar to the one you have when spending a long time in a tanning bed.
Ideal Tanner for Face
Jergens Natural Glow Oil-Free Daily Moisturizer doesn't only help to get a bronze tone, but also promotes the hydration of your skin and protects your face from UV rays.
Pros:
Your face requires special care, which is why Jergens has designed a self-tanning solution formulated specially for facial skin. The product features carefully chosen ingredients with hydrating properties. You can use the formula as a daily moisturizer, and it also protects you from UV rays. The label indicates it is a broad-spectrum SPF 20 solution for optimal sun protection. The product is simple to apply, and apart from giving a tanned color, it also allows you to go foundation-free in just seven days. You can choose between a fair-to-medium and medium-to-tan options.
Cons:
Avoid using generous quantities, and make sure to spread the product evenly. Otherwise, you might end up with orange spots on your face. If you are sensitive to some ingredients, it might cause surface zits or an allergic reaction like redness. The light-toned version might be hard to notice unless your skin is pale. A single pack only comes with only two ounces of product, which won't last long.
Best Tanning Oil
The manufacturer uses ingredients that get you tanned, but it also includes antioxidants and other nutrients that promote your skin's health.
Pros:
As soon as you open the bottle, you notice that it has a pleasant smell. The manufacturer has added the classic coconut fragrance to ensure there are no unpleasant odors. The formula utilizes a blend of tanning oils and moisturizing compounds. Among other ingredients, you will find cocoa seed butter, aloe leaf extract, eucalyptus oil, and papaya fruit extract in the formula. Vitamins A, C, and E, as well as other nutrients will nourish your skin and promote its health. Since it comes in an oil form, it is not as thick as mousses and other tanning solutions, which makes it easy to spread.
Cons:
If you plan to go out in the sun, this won't protect you from UV rays, but attract them, which can cause burns. You might feel sticky after applying the cream and taking it off requires showering and exfoliation. If your skin is sensitive, you might have an allergic reaction to non-natural ingredients included in the formula.
What Really Matters
What should be your priority when choosing the best self-tanner for your needs? Let's take a look at the factors to consider during the purchasing process!
Types of Self-Tanners
The market offers a wide variety of self-tanning solutions. Based on your goals, these are the types to consider:
Gels and Mousses – These products are lightweight and offer long-lasting coverage. However, they require a fast application because they dry quickly.
Creams and Lotions – If you find a tinted formula, it helps you to see which spots you've missed. Although it takes a bit more to dry, that secures even application. It makes these types suitable for beginners.
Towelettes – These are ideal to use on the go. You can apply them anywhere, and they can serve well if you want to improve your tan while on the move.
Moisturizers – Apart from tanning, these products also promote skin hydration. If your skin is prone to drying, these products can help to maintain optimal moisture levels.
Tanning oil – These are easy to apply, and they could have healthy ingredients. However, if you are pale and plan to spend a lot of time in the sun, make sure to use sunscreen with them.
Applying Self-Tanner
You will find three groups of self-tanning products. The first one is suitable to apply only to your face, the other is adequate for your body, and the third group is a good choice for both. It is important to clear up your goals before choosing a tanner.
Facial skin tanners are usually of higher quality, which means they come at a higher price. That is because facial skin is particularly sensitive, and you don't want to risk breakouts and allergic reactions.
If you feel like your face has enough color, you might only need a body self-tanner. These solutions are suitable for arms, legs, chest, and other areas.
Other Features to Consider
Let's take a look at other factors worth considering when choosing a self-tanner:
Ingredients – The formula should deliver adequate results while ensuring that it doesn't harm your skin. The main ingredient of tanning solutions is usually DHA, but you can also find other tanning and nourishing compounds.
Smell – Many self-tanning solutions have a smell that is similar to sunscreen or visiting a tanning bed. If that is a problem, look for those with a fruity fragrance or a pleasant odor. You can also find odorless solutions on the market.
Color Options – If your skin is pale or hair color blonde, don't make your skin too dark. Those with a pale complexion should use a light-toned tanner, but you can also try a medium to tan if you want darker results.
Stains – Will your self-tanner leave stains? Most tanners leave some on your hands, but you resolve that by washing. The important thing is that they don't stain your clothes. As long as you pick a high-quality solution, several minutes (no more than thirty) should be enough for the tanner to dry completely.
Sunscreen – Some products come with sunscreen properties. They not only give you the tan, but also protect you from sunburns and damaging UV rays.
What's in Right Now?
It is nice to have a beautiful tan, but you don't want to do that by compromising your skin health. That is why products that use natural and ingredients that can't harm your skin are extremely popular.
Compared to several years or decades ago, users spend much more time picking products that are particularly suitable for them. As for self-tanning solutions, the ingredients list is their primary concern. They love seeing that the product doesn't rely on parabens, sulfates, or other harmful compounds.
Prices
A high-quality self-tanner doesn't have to be expensive. You can find it for less than $10, but if you are looking for premium solutions or a large pack, you might need to pay more than $20.
Here are the main pricing categories for the product:
Cheap
Affordable tanners cost less than $10. While they can deliver consistent results, make sure that the formula doesn't contain any harmful ingredients. Additionally, the bottles might come with a modest quantity of product.
Mid-Range
The average price of a self-tanner is between $10 and $20. If you choose wisely, you can get a natural formula filled with tanning ingredients that don't harm your skin.
Expensive
A premium self-tanning solution costs more than $20. You can expect a large pack of the product or a unique applying method, such as using towelettes. These items usually come with SPF protection, too.
FAQs
Is self-tanner waterproof?
Although some self-tanners are water-resistant, swimming in a chlorinated pool will accelerate the fading process. It may also leave orange marks in the pool.
Can you apply a self-tanner to your face?
Before you apply a self-tanner to your face, make sure that the solution is suitable for facial skin. Your face is particularly sensitive, which is why the market offers specialized tanning formulas for it. Although you can apply a self-tanning product made for facial use on your body, doing the other way around is not recommended.
Will self-tanner stain my clothes?
A self-tanning solution could stain your clothes if you don't give it enough time to dry completely. Some formulas require a couple of minutes; others need longer to dry. If you have applied the solution hours earlier and still notice stains on your clothes, it might be time to look for an alternative product.
When can you wash off a self-tanner?
It depends on the product, but experts recommend that you shouldn't shower for six to ten hours after applying the self-tanning solutions. That might affect the results, and the tan might not last as long as you want, or it won't be as dark as expected.