The 5 Best Satin Pillowcases For Hair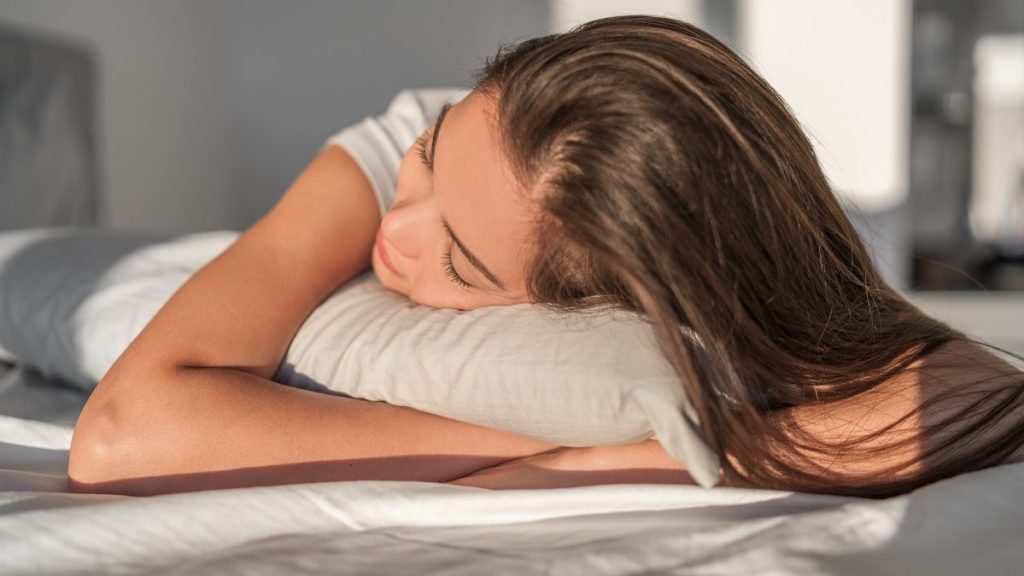 Most people ignore the simplest beauty hack that can make the most of all the hard work you do. That is a good night's sleep. Your choice of pillowcase contributes to your beauty routine as some fabrics draw moisture out of the skin, creating pressure creases and robbing you of a peaceful slumber. A satin pillowcase can help you achieve a natural glow that cannot be replicated. We've scoured the internet and tested out our share of satin pillowcases to find the top ones for you. Check them out here.
Best Choice
Omelas Body Silk Satin Pillow is a large 20 x 54-inch pillowcase with a silk-like touch. In thirteen colors, you're sure to find a pillowcase to match your decor and help beautify you while you sleep.
Pros:
The Omelas Body Silk Satin Pillow is made of 100% microfiber for a soft, luxurious feel. Microfiber is durable and resistant to staining. The weave is tight and supple giving the fabric the ability to flow snugly around the pillow, so it does not crease. The satin is hypoallergenic, breathable, wrinkle-free, cool in the summer and warm in the winter. This pillow is a generous twenty by fifty-four inches. There are thirteen colors available in the range, with three having a self-stripe design. All the colors are modern and contemporary. Having a satin pillow limits the number of knots developing in your hair overnight. The ability of the pillow fabric to flow around the pillow limits compression on the skin making marks overnight. There are two pillowcases in each pack. A concealed zipper is used to keep the pillow in place to avoid any scratching or tangling. Omelas bedding offers a thirty-day return or replacement service.
Cons:
The dye is highly saturated and needs to be washed in cold water, preferably by hand. There can be some dye transfer onto clothes or skin if it gets damp.
Best Hypoallergenic
Ravmix Pure Silk Pillow is a luxurious fabric with a natural resistance to dust mites, fungus, mold, and other allergens. The smooth fabric creates less friction to reduce wrinkles and hair loss.
Pros:
Ravmix Silk Pillows are made out of 100% pure silk. Silk fibers contain eighteen types of organic compounds that are reported to stimulate skin-cell regeneration, reduce wrinkles, and retain its natural moisture. It comes in eight colors, most of which are pastel shades. The style fits a standard queen-sized pillow. These organic compounds make the fabric hypoallergenic and suitable for sensitive skin. Your hair and skin will slide effortlessly over the soft surface of the cover reducing friction and compression damage. Silk does not conduct electricity, so the material is static-free. Sleeping on a silk pillow is comfortable as the fabric naturally regulates temperature, keeping you warm in the winter and cool in the summer. This pillowcase has a hidden zipper that will not get caught in the hair.
Cons:
You need a mesh wash bag to wash this pillowcase in a washing machine. It does not tolerate heat well, so it cannot be dried in a clothes dryer or left out in the sun. There is only one pillowcase in each pack.
With Envelope Closure
PiccoCasa European Pillow Shams add a touch of luxury wherever you put them. Generous in size and with an elegant 2.2-inch border to accentuate style, the fabric is soft and so comfy.
Best With Envelope Closure
Pros:
PiccoCasa Pillow Shams are based on a European Oxford design that includes a 2.2-inch border of fabric around the edge of the pillow. An envelope closure keeps the pillow secure and limits scratching and tangling. This accentuates the shape and adds a decadent touch. The fabric is high-quality charmeuse, which has more elasticity than silk or sateen, increasing the overall comfort. It also has a high-gloss appearance even after continuous washing. Available in sixteen different colorways and five sizes, there is a vast range of choices. Satin charmeuse doesn't absorb moisture, so your skin and hair are kept hydrated overnight. The skin can breathe on the fabric, minimizing pores and facial blemishes. Fragile eyelash extensions are protected by the non-slip surface of the tightly woven satin. This soft surface allows hair to glide over it as you sleep to reduce hair matting. Two shams are included in each pack.
Cons:
The colors indicated on the samples may not be the same color as the product due to screen inconsistencies. Delivery of the product can take longer depending on where you live.
Best Design
Uxcell Two-Pack gives you the luxury of satin pillowcases without the hefty price tag. The fabric keeps hair's shine and face's beauty, giving you an excellent night's sleep at the same time.
Pros:
Uxcell Two-Pack pillowcases are constructed of durable, 100% satin charmeuse polyester. They are made with a low-sheen surface that is slick, but not shiny. Available in seventeen colors and three sizes, it is easy to accessorize with these pillowcases. The size range includes a toddler size that is perfect for travel pillows. Each pillowcase has an envelope closure to avoid zippers or buttons snagging the hair or imprinting the skin. The fabric allows the facial skin to breathe, which helps with minimizing pores, reducing irritation and redness, and increasing firmness. These satin pillowcases can be tumble dried at low heat. Wash on a cold or delicate cycle in your washing machine. The smooth fabric promotes a better quality sleep.
Cons:
The size of the case is a snug fit to the pillow. If you're looking for a high-sheen fabric, this is not it. It has a semi-gloss appearance. Not all pillow colors are available in all sizes.
Most Easy To Clean
Betty Dain Satin Pillowcases are high-quality satin weave fabric in versatile colors. Made in the USA of premium materials, these cases add a touch of sophistication wherever they are.
Pros:
Betty Dain Satin Pillowcases are made in two sizes and eight colors. The fabric is a satin weave of durable material that can be machine-washed and tumble dried. Comfortable against the skin, the satin offers little friction-reducing fine lines and friction blemishes on the skin. Hair breakage is reduced as the surface does not grab onto the hair causing it to snap. Curly hair is less tangled when you get up in the morning. Zipper closure concealed in the seam avoids snagging hair during the night. This also provides a bigger aperture to get the pillowcase on and off. Satin retains the moisture in the hair and skin cells. These cases are made in the USA.
Cons:
There are only two sizes of pillowcase available: king and standard/queen. The standard/queen size is a little too big for standard pillows and a little too snug for queen pillows, though both will fit.
What Really Matters
Feel
If you are used to spending the night on a cotton pillowcase then the cool, soft feel of satin may not appeal to you. Many people think that they will hate the experience of shiny fabric against the skin, but the majority are pleasantly surprised. Satin pillowcases are one of the most comfortable ways to get a night's rest, bringing real truth to the expression of beauty sleep. The smooth fabric reduces friction, so skin is left fresh and wrinkle-free and hair has reduced tangles and matting. Moisture is retained in the cells keeping your night comfortable and your cells healthy.
Warmth
It's easy to look at a satin pillowcase and think that it will make you feel hot. Satin fabric may look shiny and reflective, but it also regulates your body's temperature. It can wick away moisture and heat, keeping you warm in the winter and cool in the summer. The superior glide allows you to easily move around without causing friction that would warm up pillowcases and sheets made of other fibers. The texture of the material will take a little getting used to, but it is worth the effort. It won't take you long to love the benefits of better quality sleep and healthier hair and skin.
Weave
There is a little myth that satin is a type of fabric. It is not a fabric, but a method for making fabric. When satin is created, it has a tight weave that produces a high-gloss finish and low-resistance material. These two factors make satin valuable for protecting the skin and hair from damage. The way you make a satin weave means that you can have different types of satin. Silk satin is made of silk fibers. Satin charmeuse is made from polyester thread. Satin microfiber is made of a variety of combinations of polyesters and polyamides. In theory, you could make satin out of spaghetti if you could get the weave tight enough. What counts is the sheen and slip of the material. It needs to be high on shine and low on grab. Forget the spaghetti, then.
FAQs
Is it really true that the breakage in my hair will stop if I buy a satin pillow?
That's a tough one. Will it reduce the breakage in my hair? Yes. Will it stop it? It may do. Satin pillows do not come with a healthy-hair guarantee. It will improve the texture of your hair by stopping moisture from leaching out into your covers, avoid tangling and keep it from the damage of overheating. It may not stop all your breakage as your problem may be bigger than that, but it will lessen it.
Does the satin have to be all-natural to be effective?
Your beauty sleep will be visibly improved by using a satin pillow but the choice of all-natural or man-made is a hard one. All-natural fabrics do provide better temperature regulation but are harder to clean and are far less durable. The cost can also be prohibitive. Man-made statins are extremely durable and offer a similar look and feel at a lower price. For the slight difference in performance, the decision may come down to price.
Satin is quite slippery. Won't it fall off my bed?
Satin is slippery. It's meant to be slippery. All the benefits of the satin circle around the lack of fiction for the skin and hair, so it needs to slip. Is it too slippery? No. It allows for enough freedom to move around without causing creases that damage the skin but will not tip out of bed.
Why Trust Us
Since 2007, TotalBeauty has been committed to helping millions of people find the right makeup, skincare, and haircare products for their needs. Our experts know what works best for every face shape, skin type, hair type, and more. They are here to share that knowledge with everyone looking to upgrade their beauty routines or try something new.