The Best Pomades for Men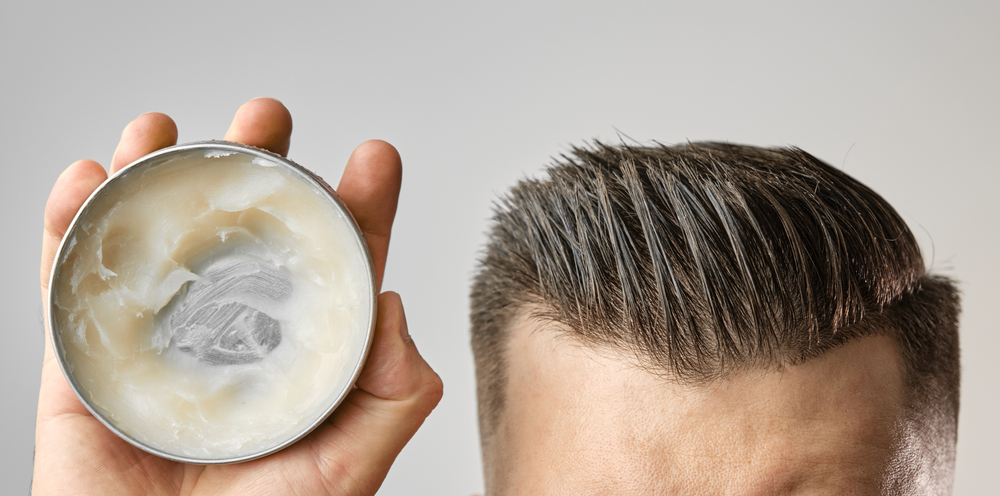 Pomade has made a huge comeback in recent years, and no matter your style, you can find a formula to fit your needs. With options like firm hold, high shine, matte finish, and more, you can be sure that you can achieve a cohesive head-to-toe look. Some pomades are made to hold like wax and wash out like cream. Some are made to be more subtle and give a textured look. If you're looking to try something new or you want to weigh your options, we've narrowed down the best pomades on the market today to help you find a style worth sticking to.
Old Spice Pomade
This two-pack bargain is perfect for a clean-cut look and minimal hold.
Who said the most expensive products have to be the best? This steal of a deal from Old Spice has all the style of boutique brands for a fraction of the price. It packs a punch with more than five combined ounces of pomade.
Fans of traditional, high-hold pomade may want to look elsewhere, but this is an excellent option for many modern men. It has a light hold and matte finish that's perfect for a natural look. It's not overly stiff, so you can still rework it and shake it around throughout the day. Because it has such a light hold, it may feel like more of a cream than a pomade. It won't put a death grip on your hair, but it won't put one on your wallet either. If you're going for a clean-cut, low-maintenance look, this buy is your best bet.
Pros:
Nice scent
Great price
Comes in a two-pack
Cons:
The light hold doesn't do the typical pomade styling
Redken Brews Clay Pomade
Give your hair windswept volume and texture without a trip to the beach.
If you have thin, straight hair and want to spruce it up with a bit more volume and texture, this pick from Redken Brews is your new best friend. This clay pomade is specifically designed to give long-lasting control for effortless style, and it works best for adding texture or lightly styling. If you're going for a more sculpted look, you're going to need a stronger hold.
Getting that beach-day bedhead style is no easy task if you have straight, smooth hair, but Redken is here to help you out. With its pomade's gritty texture, you can give your hair a windswept look and feel. You don't need to drive with the windows down to get a messy-but-modern look anymore.
Pros:
Can help give hair a natural look
Can add volume
Gritty finish
Stylish packaging design
Cons:
Pricier than some other pomades
Hair Craft Co. Clay Pomade
Treat your hair to natural ingredients and a modern, stylish look.
If you want long-lasting style without leaving your hair oily or crispy, this is the pomade for you. Its matte finish won't make your hair too shiny or wet-looking, and its medium hold is perfect for styling natural-looking hair that you can run your fingers through. It's not too stiff but not too weak so that you can get all the hold without the hassle.
The level of hold is excellent for some styles, but if you're trying to get a more extreme look, you may be better off with a stronger hold. That being said, if you're going for a mild-styled look, you really can't beat this pomade.
Pros:
Decent hold
Good scent
No oily look
Naturally sourced ingredients like kaolinite clay, beeswax, and essential oils
Cons:
Price is a little high, but the natural ingredients are worth it for many
Suavecito Firme Pomade
Get extra-strong style and hold with this powerful pomade.
This particular pomade has become a bit of a cult classic. Though the brand name may not ring any bells to the majority of the population, ask the pompadour-wearing community about Suavecito, and you'll be sure to get rave reviews. With superior hold and no-nonsense branding, they've inspired quite the following — and with this pomade, it's easy to see why.
With Suavecito, you don't have to worry about inflated prices or stuffy ads. This pomade is designed to have maximum hold with no harsh chemicals and no flakes. What's not to love? Get a fresh fade and throw this on top for a crisp, sleek look.
Pros:
Great hold for more sculpted styles
Three-pack gives you great bang for your buck
Water-soluble formula washes out easily
Cons:
Scent may be strong for some
American Crew Pomade
This salon-quality choice is from a brand that fans know and love.
When considering what type of pomade to get, sometimes it's best to look in salons and barbershops to see what brands they use. Though these brands can sometimes be pricy, they're the pros' choice for a reason. American Crew is one of these brands and can be found in salons and barbershops all over the country. People swear by this stuff, and it's hard to argue with its reputation — or its results.
Though this may not be a revolutionary pomade, it's perfect for classic uses and styles. This particular size is a travel size, so it's also a great size for trying it out. If it's not your thing, at least you won't be sitting on a huge tub of it. But, after being in business for almost thirty years, American Crew is a safe bet that's worth checking out.
Pros:
Trusted brand for professionals
Excellent for classic looks
Little to no residue
Cons:
Higher price per ounce than many options
Frequently Asked Questions
What's the difference between pomade and other hair products?
There is no shortage of hair products for men, and their differences can sometimes be confusing. When in doubt, most products have a style description on their packaging. In general, creams tend to be low-hold and mainly used for texture. Gels range in their level of hold and have a more liquid-like formula, but they have a crispy effect when dried. They are also used for more extreme spiky styles. Pastes are often medium to high-hold and have a matte finish for classic styles that may require extra strength to keep maintained throughout the day. Pomades range in hold and vary in shine. These qualities make them versatile, but everyone wants something different from their hair product. It's best to try a few to decide for yourself.
Why should I get a water-soluble pomade?
Water-soluble formulas are the best choice for those of us who like being able to wash our hair easily — which, we're assuming, is true for most folks out there. Shampoo can help get rid of any residue and restore hair shine, but for the most part, water will wash it out. On the other hand, some pomades require special shampoos or products to wash the pomade out. This can make for a better holding pomade, but it can be a hassle to wash out. It also can contain harsher chemicals. Most modern pomades are water-soluble, and their ease of use is perfect for modern schedules.
About the Author
Why Trust Us
Since 2007, TotalBeauty has been committed to helping millions of people find the right makeup, skincare, and haircare products for their needs. Our experts know what works best for every face shape, skin type, hair type, and more. They are here to share that knowledge with everyone looking to upgrade their beauty routines or try something new.