5 Best Neck Pillows for 2020 – Total Beauty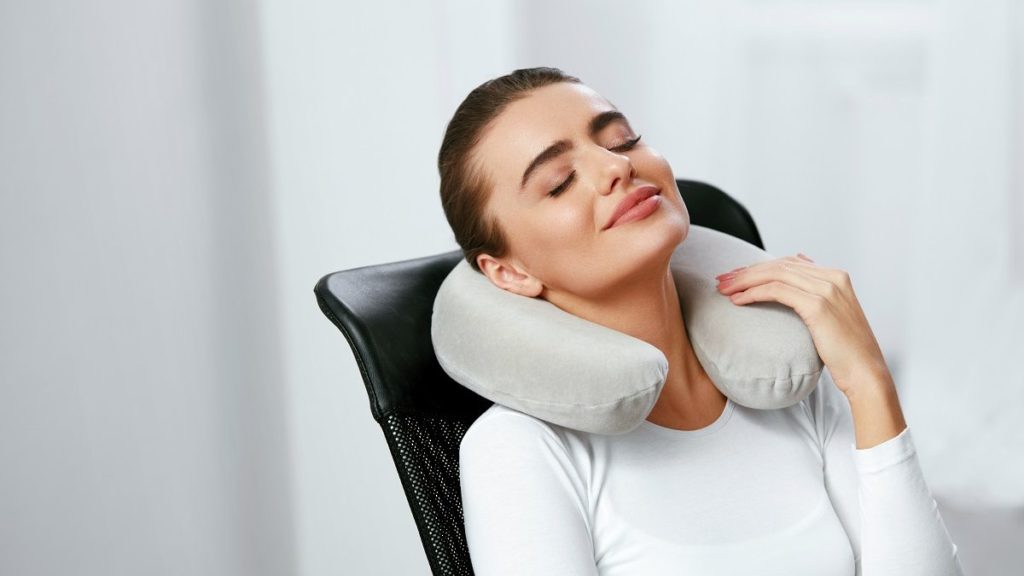 If you are frequently traveling, a comfortable neck pillow may become your best companion. Using a neck pillow eliminates neck strains and pains while providing adequate support and maximizing comfort. However, you will need the best neck pillow out there to take advantage of these benefits. Don't worry if you are not an expert because everything you need is on this list. Take a look at our top picks for comfortable neck pillows and discover how to find the ideal one for your preferences.
Best Choice
The BCOZZY Chin Supporting Travel Pillow not only provides appropriate support for the user's neck but also helps to keep the chin comfortable during travels.
Pros:
The product provides a long rounded shape that goes completely around the neck. This helps to add support to the chin when the user travels – something that most travel pillows tend to lack. The pillow is available in three different sizes, including a child-size, and two different options for adults. There is also a significant variety of colors that the user can choose from. The patented design is used to provide superior comfort and support.
Cons:
The pricing for the travel pillow is higher than a number of other options that are available on the market today. The addition of chin support is a good feature, but some users may find it interfering in some cases. The ability to remove the chin support when desired would have been a useful addition to this travel pillow.
Very Soft
Soft pillow fans will enjoy the incredible softness that this pillow provides. Its U-shaped design and memory foam make sure to maintain optimal comfort, too.
Pros:
The U-shaped design is a trademark of neck pillows, and it is understandable why ZAMAT chose that approach. The pillow itself includes memory foam that aims to provide long-term comfort. The cover case is made of spandex, and you can easily take it off by using the zipper. The cover is machine-washable, which makes the cleaning process easier. However, it is the softness that is the strongest suit of this pillow. The cover provided is probably one of the softest on the market, but it also ensures all-around head and neck support.
Cons:
The pillow might seem a bit softer than expected, but some users might even appreciate that. If you plan to use the item for long-distance travel, you may need to do some adjusting occasionally. That is because your head might drop too much into the pillow over time. Although the manufacturer includes a travel pouch, that option doesn't seem to be a real space-saving solution.
Best for Passengers
The manufacturer combined the U-shaped design with elevated lobe contouring to provide long-term support and impressive comfort.
Pros:
If you are heading on a long-distance trip, you need a neck pillow that will maintain its shape for hours. That is the main feature of this pillow designed by Everlasting Comfort. The company made sure to avoid any additives and stuck to pure memory foam. You will also notice the velour cover that is ultra-plush and machine-washable. The classic black color dominates the design, but you will notice the elevated contouring on both sides. It is an orthopedic accessory that allows you to lean your head back and maintain comfort. You will receive earplugs and an eye mask with the product, and the separate cell phone pocket is also very convenient.
Cons:
You need to pack the pillow so that you can use it during your trip. Unfortunately, the compression isn't admirable, which means you will need to find a way to make enough room for the item in your backpack. You may feel that the pillow is tight at first, but it shouldn't take long to get used to the specific design.
Best Shape Neck Pillow
The attractive design is always nice to see, but high-quality materials and excellent performance are the reasons why this product deserves a shot.
Pros:
The first thing you notice is the unique design of this travel pillow made by OYRGCIK. It may seem like you are using a gadget rather than a pillow, and many users will appreciate this modern appearance. Once you "scratch under the surface," you will notice pure memory foam that provides unmatchable comfort. If you are looking for long-term head and neck support, you can't go wrong with the U-shaped ergonomic design and high-quality materials in this item. The mixture of magnetic therapy cloth and cotton is there to secure breathability and easy maintenance. The cover is machine-washable, which simplifies the cleaning process and enables you to always have a clean pillow with you.
Cons:
You should be aware that this is not the softest pillow out there, and it seems like softness wasn't the primary concern of the manufacturer. Although the pillow is quite breathable, it loses a bit of that quality after a while. If you are using it in a warm environment, your neck might get hot after using the pillow for some time.
Best with Memory Foam
Umerci designed a memory foam neck pillow that is extremely soft, and available in a wide range of colors so that you can find your favorite easily.
Pros:
The manufacturer went with the proven U-shaped design, and ergonomic 360-degree head and neck support. You will find that this pillow has curves in all the right places, and the softness it provides is unmatchable. The pillow is available in six different colors to fit anyone's preference. The company used memory foam as the primary material for this pillow, while the case is made of cloth that offers impressive sweat resistance. The smartphone pocket is on the left, which means you can easily reach your phone at all times. The pillow comes with a travel pouch, eye mask, and earplugs. The product itself is quite light and easy to move around.
Cons:
If you are not the tallest person out there, you may find the backside is positioned a bit too high. You may try to solve this with the drawstrings, but they don't allow you to choose a too-snug setting for your pillow. Although the product is light, it is a bit bulky, and it won't fit your backpack easily.
What Really Matters
Are you wondering about the criteria you should follow when buying neck pillows? Take a look at the most important factors to keep in mind during the purchasing process.
Support
What is the main reason why you need a pillow when you are in a sitting position? Many would say comfort, but minimizing neck pain and strains is the top of the list. If you want to minimize the negative effects of traveling and sitting for hours, it is essential to find the most suitable pillow.
Fortunately, many pillows come with the option to set the desired snugness and position. That makes these products versatile for adults of all heights, and even children. While adjusting, make sure that you can align the center of your chin with your nose. According to experts, that is the best way of saving yourself from strains.
Comfort
The odds are you will be spending hours resting on your pillow. That makes it understandable why comfort is important. Now, some people look for the ultimate softness, while others prefer their pillow to be a bit firmer. Ultimately, it all depends on your preference.
While we are talking about comfort, let's mention the importance of traction or grip. Thanks to that, the pillow can maintain its position, especially in situations when the plane or car is moving.
Portability
If you are frequently traveling, it is crucial to ensure that your pillow is easy to carry around. That is why most manufacturers add a travel pouch or case with their items.
The capability of decompression and compression can also make transport easier. That way, the pillow takes up less room in your back. You should also consider the weight. Fortunately, that shouldn't be a big consideration since most neck pillows are very light.
What's in Right Now?
The customers are spending more time researching the products they are buying, and it doesn't come as strange that top-quality materials are trending in 2020. Memory foam pillows are becoming more popular with users every day.
That is because they can maintain shape while providing optimal comfort for a long time. Long-distance travels are popular in 2020, which is why you need a reliable pillow you can count on for hours. Memory foam proved to perform great in that area, and that is why it became a user favorite.
Best Neck Pillow Prices
The prices of neck pillows can significantly vary. The cost must meet your budget, but you would also like to get the most bang for your buck. Here are the three main price categories for neck pillows:
Expensive – you won't find many pillows rated as expensive on the market. That is because the only reason for the higher prices is adding bells and whistles that mid-range products do not offer. For example, you may find an inflatable pillow or an item that has genuine leather used for the cover.
Mid-range – an average cost for a neck pillow can be anywhere from $15 to $30. You can expect a high-quality product for the price because manufacturers often offer 100% pure memory foam pillows at this cost range. Many companies will also include useful features, such as a machine-washable cover, eye mask, earplugs, etc.
Cheap – if you are looking for a real bargain deal, you may find a neck pillow under $15. However, the chances are it won't be made of high-quality materials, and it won't last for a long time, which begs the question of whether your investment is smart.
FAQ
Q: What is the best neck pillow for flying?
A: You want the optimal mixture of support and comfort. It is important to choose a pillow that can provide adequate snugness so that you don't have to move it around all the time. Additionally, you want maximum comfort, which is why you should look for premium-quality material. If you are going on a long-distance flight, look for a pillow that can maintain its shape for a long time.
Q: How do you wash a neck pillow?
A: The majority of neck pillows these days are machine-washable. That means you remove the cover and wash it in the machine. However, please confirm you are allowed to do this in the product's instructions. You will find detailed guidelines for maintaining your pillow there.
Q: Can I use neck pillows in bed?
A: Neck pillows are primarily designed for sleeping in a sitting position, which is why most people use them while traveling. That doesn't mean you can't use these pillows in bed, especially if you think it can help to minimize neck pain. However, it is important to find an optimal sleeping position, or you risk the pain getting worse.
Q: Can babies use neck pillows?
A: When it comes to infants, it is strictly individual. Some babies are allowed to use these pillows after they turn one, and others need to be patient a bit more. You should consult your doctor before buying a pillow for your baby. Also, make sure that you pick a pillow designed for infants.
Q: Can you use a neck pillow with a phone holder?
A: Some manufacturers add a phone holder or pocket to their pillows. It is a convenient feature that allows your smartphone to be near you at all times.