5 Best Nail Stickers for 2020 – Total Beauty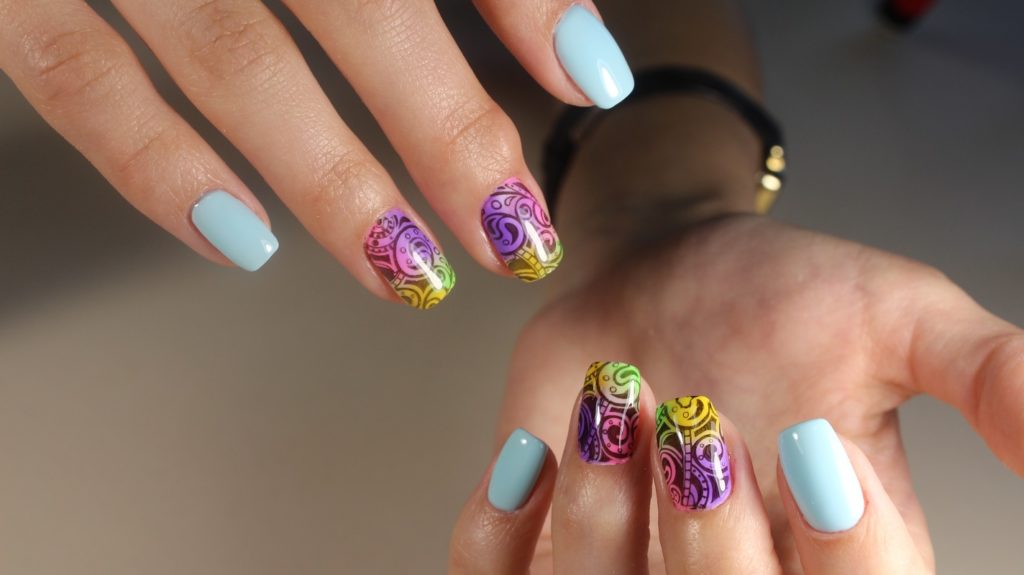 Nail art has become an essential part of a perfect beauty routine. Nails themselves have gone from Drab to Fab with amazing polishes, finishes, and false nails that you can use to showcase your style. Getting a technician to draw or paint designs on your nails can be a long and expensive process, but nail stickers can achieve the same amazing look in seconds. As a definite plus, they are so easy to apply, you can do it yourself. To find the best nail stickers available, read our handy guide below.

Best Choice
With over 1000 stickers on a vacation and summer theme, Whaline Mixed Nail Art Stickers represent excellent value. Easy to apply, and with a great choice, this pack is all you could need for summer.
Pros:
Great design variety with a good choice of themes. Most stickers are in multiples of two or four for a symmetrical design. The adhesive is strong and sticks well to the nail. The stickers are thin and can barely be felt when applied. Their seamless design gives the impression of being painted on to the nail. This nail art can be used on false, polished, or bare nails.
Cons:
These stickers apply best with a pair of tweezers. They can curl up at the edges if no top coat of polish is used.
Best Non-Toxic
Duufin 70 Color Nail Stickers are non-toxic and safe to use on children and people with sensitivities. It comes in a huge range of colors and designs that can also be used as eye-catching body art.
Pros:
Great variety of colors and designs. They come in plastic boxes to keep them organized and in useable condition. Smooth and flawless finish that accepts the top coat easily. The foil strips are big enough to do a complete set of nails at least twice. Each box is a coordinated set. The foil can be used on the skin as body art, and other hard surfaces.
Cons:
You need to use nail foil glue that requires a UV light to apply these stickers. It takes a little practice to make a flawless application.
Best Holographic
Take your nail art to another level with Volodia Holographic Nail Sequins. By setting them into your acrylic nail polish, you add a sophisticated touch of sparkle to a plain or patterned nail.
Pros:
There are 12 different patterns in each box, and six ranges to choose from. Each box is a coordinated collection. The sequins can be layered to create depth. Each collection includes different sizes of sequins. The application is easy and does not need to be done in a salon. These sequins can be used on the body or hair, or as an eyeshadow accent.
Cons:
The sequins are flat and are difficult to bend around smaller nails. These sequins work best when used with UV cured acrylic nail polish.
Best For Christmas
Add sparkle and dimension to your holiday nails with Pretty Diva Christmas Nail Stickers. Ten sheets of different designs that look 3D when applied over acrylic polish. Perfect for a party look.
Pros:
These stickers are easy to peel off the backing, but also easy to peel off the nail when the season is over. All pieces have a foil edge giving a 3D effect when on the nail. You can apply these to the bare nail, with or without a topcoat. Easy to use and great for children or beginners. Great variety of designs.
Cons:
There are not many multiples on each sheet if you want a symmetrical look. You cannot choose which sheets you get in a pack.
Best Long Lasting
Phogary 54 Sheets Nail Art uses water to activate the sticker making it super strong and Durable. Non-toxic and in varying sizes, these transfers are perfect for the nails on children or adults.
Pros:
The designs are varied on a theme and include mostly flowers or gold and silver flourishes. The flowers look like photographs rather than stickers. They curl well around the nail and leave no height difference. There are four repeats of most images. Made with no toxins and safe to use on sensitive skin. There are a lot of transfers in each pack.
Cons:
It takes a little practice to apply these transfers flawlessly as they are fragile.to apply these transfers flawlessly as they are fragile.. The stems on the flowers are delicate and need to be handled carefully.
What Really Matters
Design
Nail stickers are an easy way to add a professional finish to your nails. It doesn't matter if they have a coat of polish on or not, you can add some extra interest to your nails very easily by applying nail stickers. The knack is to pick out the right design that will last for six weeks and still have it match whatever you are wearing.
There are many holographic or foil stickers that have a textured pattern that adds depth to your nail without making a definite statement about color and design. Generic designs such as flowers, flourishes, or abstract shapes in neutral colors will blend in with what you are wearing, but intense colors or designs used as an accent can also be subtle. Definite sticker designs such as Christmas trees or flamingos look stunning for a special occasion but also have the advantage of being easily removed when they are no longer needed.
Application
There are three general ways to apply nail stickers. The most common is peel and stick adhesive backing. Like a traditional sticker, they are simple to remove and apply to the nails as an accent or an all-over wrap design. They can be transparent, metallic edged, or even holographic to allow you to layer your design. Nail foil stickers are harder to apply as you need to apply nail foil glue, cure it under a UV lamp then apply to foil. It is well worth the effort as it produces a flawless, metallic nail design that cannot be achieved any other way. The last method is the nail transfer. These are individually cut out of the main sheet, then soaked in water, and transferred to the nail. These are the trickiest of all to apply but are also the longest lasting.
Longevity
When you find the right design and application of your nail stickers, you need to complete your outfit by finding a way to make it stay on your nails as long as you need it to. Stickers are designed to be removed easily, and foil can be susceptible to a scrape or two, so the best way to make them water and scratch-proof is to apply a topcoat of polish over the design. If your sticker is being applied at a salon, then they can put on a professional acrylic topcoat that not only protects the nail but adds dimension and depth. This is the best way to make sure your stickers stay put.
It can be a bonus when you don't use a topcoat if you want to wear the design for a special occasion then remove them easily for another look. Most stickers will last a day or two of hard wear without peeling.
What's In Right Now
The 2010s pushed nail art into the forefront of beauty (Thanks Instagram!), but the 2020s will take it a step further. Themed nails are no longer just for special occasions – move over Christmas and Valentine's Day; Zodiac and Cosmic nails are in! Ombre and Glitter Ombre themes are also en pointe for 2020 with different shades of blue and teal being favored by stars and celebrities as a takeaway from the Paris runways.
The length of nails will hit opposites – you can have the French Mani or Long Acrylics, but not much in between. The simple, thin, white line of the French mani is a staple for 2020 with long acrylic nails imitating the French mani with a broad swathe of strong color from finger end to nail tip for those who are feeling bold. For a special occasion, graduated color using all ten fingers will create a stir. From bold to light, and back again, if you desire, graduated nails break out into different colors from the same family, giving a chaotic cohesiveness and super-chic style. For this style, you can take your nails from blood red to hot pink via dusky rose, pink-based taupe, and three shades of coral.
Prices
Expensive
$11-$17 will buy an assortment of single packs, good quality nail art in sticker, foil, and transfer format. They will have a decent amount of designs and colors, but the best quality stickers have 10-14 sheets for this price. They will be thicker and more flexible, making them easy to apply and long-lasting. This price range will also get you a very large multipack of cheap nail art that includes glue or nail files, but these will not be as easy to apply or have a long application life.
Mid-Range
$8-$11 is the price point for a vast range of nail art. You can get some good quality stickers and sequins in small sizes and limited sheets, as well as multipacks of transfers. Nail foil starts in this price range. The large the pack sizes in this range equates to lower quality stickers.
Cheap
$4-$8 buys you a large multipack of stickers and some transfers. If you can get foil at this price, it will be very flimsy and difficult to handle. The quality will be very low on these items making wastage a big problem as they will be hard to apply.
FAQs
Are nail stickers bad for your nails?
No, nail stickers are not bad for your nails. They can be put on bare nails and then peeled away when not needed after soaking in warm water. If you want to help them last longer, then apply a coat of clear nail polish before you apply the nail art, and another after.
How long do nail stickers last?
That's a great question! How long a sticker lasts all depends on what your hands are doing, what type of sticker you used, and how you applied them. Most nail art will last a week if applied as directed with an undercoat and topcoat of nail polish. It will last as long as the nails if applied in acrylic by a salon.
How do I remove nail art?
Nail stickers and transfers are removed by soaking your hands in warm water, then gently peel off the decal. If you have applied topcoat of polish or are using foils, then any nail varnish remover will bring them off. If a salon technician applies them, then they need to be removed at the salon.
Do I need tweezers to apply nail stickers?
Do you need tweezers? No. Is it much easier to use tweezers and saves you a lot of time and swearing? YES! Nail art is small and fiddly, especially if you are trying to use your non-dominant hand, and a pair of fine tweezers makes it much more manageable. Don't run to your bathroom and grab your eyebrow tweezers as they have a thick, board edge. What you need is a set of small tweezers that come to a fine point that can pick up thin objects and hold them firmly.
How do I make my nail stickers last longer?
Preparation is the key to making your nail stickers last longer. Wash and dry your nails thoroughly before applying a base coat of polish. Allow it dry thoroughly, then position the sticker on the nail with tweezers. Press down with a cuticle shaper, making sure all the nail art is securely stuck to the nail. Apply one or two coats of clear polish and allow it to cure fully before immersing in water, scraping or scratching.