The Best Nail Files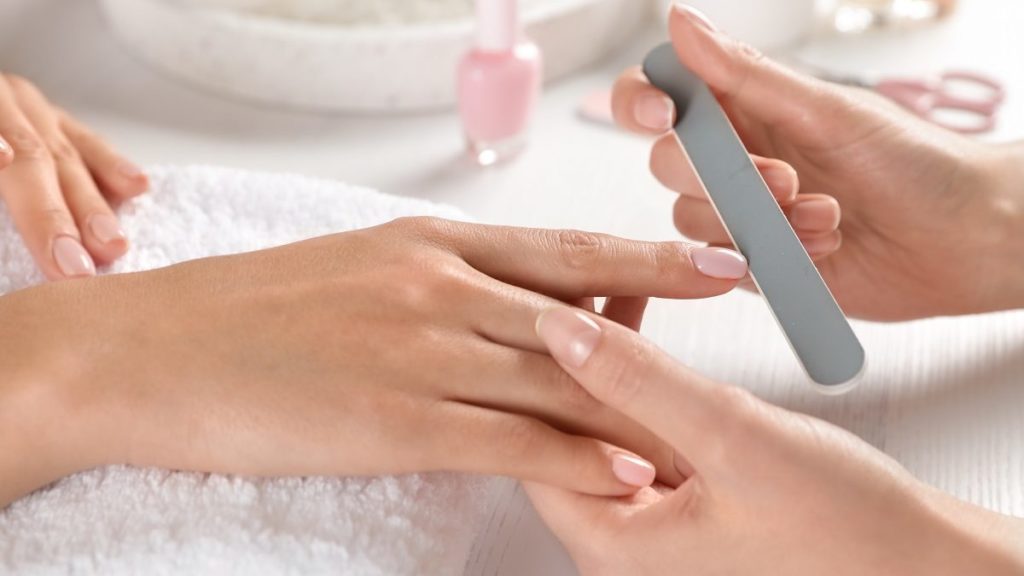 Nail files are a staple for keeping your hands and toes looking polished and healthy. From the salon to DIY manicures at home, using the correct nail file is important as it will affect your experience maintaining your nails and can also promote strong and healthy growth. Whether you wear acrylics or stick to a more natural look, use an emery board or electric file, we've put together our own list containing our top nail file picks just for you.
Makartt Nail Files 100/180 Grit, 10-File Set
Made with materials of the highest quality, the Makartt double-sided nail files are excellent for trimming or shaping acrylic or natural nails to your ideal shape and length.
Pros:
Makartt's 100/180-grit nail files are constructed with adhesive tape and emery board materials. They are double-sided, durable, and provide a comfortable experience while filing all types of nails. The 100-grit is great for tougher, harder toenails and nails, and the 180-grit is ideal for smoothing edges and shaping. Achieve your desired shape and length by applying gentle pressure. Perfect for both toes and fingernails, these nail files are long-lasting and deliver beautiful, perfectly shaped nails.
Cons:
Even though this nail file is perfect for shaping and trimming nails, some users report that the grit was too rough for their natural nails. As a result, those who are heavy-handed when filing will need to be careful and should only file on the gentler side. Some users find the file too thick, which makes it more difficult to get under the nails.
Nail Files and Buffer, TsMADDTS, 12Pcs
Suitable for natural or acrylic nails, the TsMADDTs professional nail file and buffer kit helps you to achieve salon-quality manicures in the comfort of your own home.
Pros:
Touted by professional nail artists, the TsMADDTs buffers are durable and made with high quality materials. We find that these double-sided emery boards work efficiently, especially on natural nails. The rough grit can effectively sand down nail ridges and help remove residual glue from acrylics. If you want to achieve a salon look at home, these nail files are a good option. They come at a wallet-friendly price, too. Plus, they can be used on adults, children, and even pets.
Cons:
The files work exceptionally well on natural nails; however, some users report that they aren't tough enough for acrylic nails. The color from the buffer also sheds a bit but can easily be wiped clean. Some users find that the nail files a little flimsy and would have preferred the product to last longer.
Stainless Steel Nail File with Anti-Slip Handle and Leather Case
If you want a stainless-steel nail file that travels well, then this Mr. Green nail file, packaged in a stylish leather case, is the perfect solution. It is double-sided, durable, and rust-resistant.
Pros:
The Mr. Green stainless steel nail file is small and sturdy enough to keep in your bag, in the car, or anywhere on-the-go. Users like the curved edges, which allow for effortless shaping and filing, even on fine nails. We find the non-slip grip useful when handling, and, overall, this file is easy to operate. The file is made from excellent quality materials; it feels strong and sturdy in your hands. The two different textures are an added bonus.
Cons:
Although this file is advertised as packaged in a stylish leather case, some customers are not impressed by the quality of the case; they claim the case is made of a low-quality pleather, instead of leather. We also find the top tip of the file to be quite thick and therefore difficult to fit under shorter nails.
Malva Belle Crystal Glass Nail File
This crystal glass nail file from Malva Belle works equally well on natural, gel, and acrylic nails, and it looks good, too--it comes in an elegant pink travel case that screams chic.
Pros:
Even though this is a crystal glass nail file that files very gently, users still find it durable and effective. We find that this nail file gives a nice, smooth finish without leaving any jagged edges, and it doesn't damage nails at all. It's also easy to clean with a simple soap and water wash. This crystal glass nail file gets you smooth and precise results with the lightest touch and is excellent value. The pretty packaging and design make it a great gift.
Cons:
While most customers love the look and feel of this file, some are dissatisfied with the case, which they find to be made of a cheap plastic material. The case is also sometimes difficult to open and close and is a little small for the file. We also find that this file is not the best option for very short nails as the edge of the file is thick and round.
Bone Fide Beauty Glass Nail File in Case
Hand crafted with Czech glass, the Bona Fide Beauty glass nail file is durable and leaves nails smooth, healthy, and looking flawless.
Pros:
Best for natural nails, these glass files help to strengthen and maintain healthy nails. This file is comfortable to use, and we enjoyed the smooth, seamless experience without the scraping sensation that metal files sometimes cause. It's great to be able to file in any direction without worrying about damaging the nails. The file is made with high quality Czech glass, which prevents damage or wear and tear to the nail's keratin layers, seals the edges of the nail, and promotes nail growth.
Cons:
This file is accompanied by a hard case to protect it from breaking; however, unlike the file, the case isn't very study and has been reported to break. You may want to buy a better case to protect this nail file. Glass nail files are great for a quick and safe file, but they're not for you if you prefer to have both a smooth and coarse option when filing your nails.
What Really Matters
Grit
The numbers displayed on each side of a nail file represent the grit. Grit determines how coarse the nail file is and how rough it will be on your nails. If the grit number is lower, the file will be coarser. A smoother nail file surface will have a higher grit. The general rule is to use a higher grit for natural nails and a lower grit when filing gel or acrylic nails, which require heavier-duty filing. Using too low a grit on natural nails can actually damage the nails.
Materials
There are several types of files on the market, including emery boards, glass, crystal, ceramic, and metal nail files, and buffing blocks. In order to choose the right one for you, you must first determine the strength of your nails. The type of file you choose will also depend on whether you're using it to file acrylics or your own natural nails. Metal nail files can be very damaging and should only be used on acrylic nails. Glass nail files are the gentlest and best option for creating smooth edges on natural nails.
Hygiene and Longevity
Cleanliness is important when it comes to nail files, especially considering that nail files are exposed to dirt and impurities on or under your nails. If you choose a washable file (such as a glass, acrylic, or metal file), be sure to use antibacterial soap and hot water to thoroughly clean it to avoid contamination. Use a nail brush coated in antibacterial soap to scrub the nail file and then rinse in clean water.
Emery boards and buffing blocks cannot be washed and need to be replaced after a while. Emery boards do not have a long lifespan and need to be replaced every few weeks; buffing blocks should be discarded after eight weeks.
What's in Right Now?
Today, many brands make nail files that work just as well on acrylic nails as they do on natural ones. They're made with double-sided boards that offer two different grit levels, which means you can use whichever side is best for your nail style that week.
With the state of the environment continuing to be at the forefront of consumers' minds, this year, you'll notice an increase in popularity of reusable files, such as crystal nail files. By investing in a long term-use nail file, you can save money, decrease waste and preserve the environment. Beautiful packaging and nail file cases allow you to transport your nail file in style and are also increasingly sought.
FAQs
What grit is best for acrylic nails?
Acrylic nails can be easy to manage with the correct tools. Failing to look after acrylic nails can lead to pain and breakage. Those with acrylic nails will want to look for files that have a coarser grit. Look for a nail file with a grit of between 80-100 if you want to effectively file acrylic nails.
Do buffers have grit numbers?
They certainly do. Since they're made using a sponge material, it actually makes them more delicate than a harder file, like an emery board; they are perfect for adding shine to both natural and acrylic nails.
Does nail file shape matter?
The shape of your nail file is really a personal preference. Some people opt for longer files as they find it easier to hold them, but others prefer narrow files. Straight files are great for filing the edges and sides, while half-moon-shaped files are ideal for the cuticles.
How often should I file my nails?
This answer to this question varies from person to person as it depends on how quickly your nails grow. On average, people's fingernails grow between 0.08-0.12 inches per month. As a result, filing your nails once a week should be sufficient. Bear in mind that nails grow quicker in the warmer seasons and tend to grow at a slower pace as you age, so you may need to adjust your filing frequency accordingly. It is also important not to over-file your nails. If your nails begin to sit below the nail bed, it can invite unwanted infections into your body. Your nails should always sit so that the tip is slightly longer than your finger.
Why do I need to file my nails?
Filing your nails is a good way to maintain the overall health of your nails. It smooths and seals the edges of your nails, to prevent splitting and breakage, and regular use will prevent further damage from occurring. Splits in your nails can lead to infections, and also looks unsightly, which is why it's important to file your nails. If you are wearing acrylics, then filing your nails can keep them at a desirable length as your nails underneath grow. Also, filing acrylic nails can help prevent breakage.
What's the difference between a nail file and a nail buffer?
Nail buffers are used to polish and smooth the surface–or bed–of the nails, while a nail file is used to grind down and smooth the edges of the nails. In order not to damage the nails, buffers have a much finer grit than nail files. The two can be used in conjunction with one-another, but should not be confused or else you can damage your nails.