5 Best Nail Clippers for 2019 – Total Beauty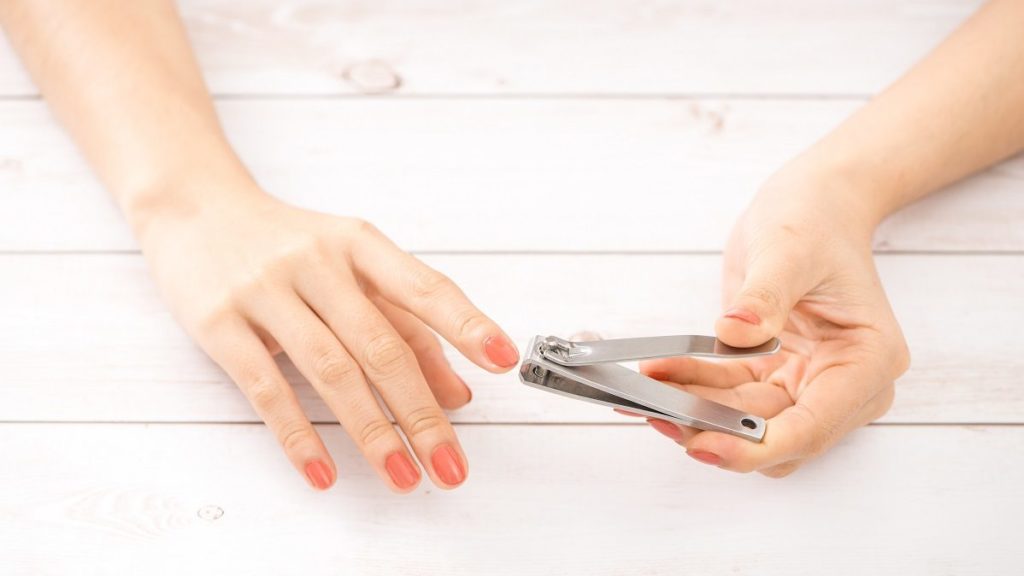 Nail clippers are an essential personal grooming tool. They allow for smooth and even nails. If nails are not cut correctly, they can become ingrown or be prone to breakage. Long nails can also cause accidental scratches and become an inconvenience. Not all nail clippers are created equal, so it's important to find a pair that suits your nail type. If you are in the market for a new pair of nail clippers, here's our pick of five of the best from which to choose:
Best Choice
The Harperton nail clipping set has separate clippers for both fingernails and toenails, which is more practical and hygienic.
Pros:
Fingernails and toenails are not the same shape, so having separate clippers for each helps to get an even cut. It's also more hygienic, especially if you deal with fungal infections, as using the same clippers on other nails can spread it. The design is ergonomic, which gives an easy grip and an accurate cut. The blades are stainless steel, which means they won't rust. These nail clippers also have a lifetime replacement warranty.
Cons:
There are some sharp price variations with these nail clippers, so you'll need to shop around to make sure you're getting the best deal. Some users have found the alignment of the blades to be off, but even so, they are covered by a lifetime warranty.
Best Nail Clipper Set
The Fixbody nail clippers contains separate clippers for both fingernails and toenails. Additionally, a nail file is supplied along with a carry pouch made from synthetic leather.
Pros:
The Fixbody nail clipper set offers excellent value for money, as you receive individual clippers for fingernails and toes, a nail file, and carry pouch all for just $7.99. The carry pouch is made of synthetic leather, which makes it vegan-friendly, but also helps prevent the spread of fungus that can originate from nail clippers. The blades of the clippers are stainless steel and offer a sharp and precise cut. These clippers are also lifetime guaranteed.
Cons:
The toenail clippers have a straight edge to them, which may leave sharp edges if the user is not careful. Also, straight-edged blades may not be suitable for pedicures, which require a rounded edge. As a result, some filing will be involved to get the correct shape.
Best Stainless Steel
The Bestope nail clipper set features individual clippers for both fingernails and toenails. The set is made from stainless steel and is designed for both men and women.
Pros:
There are two pairs of nail clippers that are each specifically designed for use on the fingernails or toes. The clippers are made from zinc alloy stainless steel precision blades. The blades are also curved, meaning no filing is required, and you can achieve a flattering curved look to the nails. The design is ergonomic and features finger pulps that give great grip and precision cutting.
Cons:
The blades open to 3mm, which some users have found aren't wide enough for ultra-thick nails. Others have found that these clippers break after a short period of use, and unlike their competitors, Bestope does not offer any warranties.
Best For Babys
Babies have smaller fingers and toes that are much more delicate than their adult counterparts, so they require special nail clippers. These Safety 1st clippers also come with an emery board.
Pros:
Specifically designed for babies and can easily be controlled by an adult who hold the blade against the nail. The blade also is illuminated, meaning you'll always get a precise cut; the light also reduces the risk of catching the skin. There are thorough instructions provided on the clipper's back, which is ideal for nervous or first-time parents. Also included is an emery board that will prevent your baby from accidentally scratching you.
Cons:
Designed for babies so it's not suitable for use on the rest of the family. It doesn't catch the clippings, so you will need to take care when using to ensure the clippings don't fly off in the direction of your baby's face.
Best Affordable
The Mileiluoyue Nail clippers are part of a four-piece set that includes three different clipper sizes and a nail file. The set comes in a sleek black finish.
Pros:
This kit offers excellent value for money working out at less than $1 per piece. There are three differently sized nail clippers, which allows for an accurate cut, especially if your nails are uneven or have partially broken off. The handles have ridges, which gives the clippers an ergonomic design. The clippers are presented in a smart black tin that is ideal for storage or to present as a gift. The clippers are also covered under a lifetime guarantee.
Cons:
Some users have found that quite a bit of pressure is needed to get an accurate cut, so these may not be suitable for anyone with arthritis or limited strength. However, there is customer service and a lifetime guarantee attached to each purchase in case you're not satisfied.
What Really Matters
Separate Clippers for Fingers and Toes
Although it is possible to buy a single pair of nail clippers that can cut both toenails and fingernails, you may find it easier to have a separate pair for each.
Fingernail clippers tend to be smaller and will have a rounded blade. Toenail clippers tend to have wider blades that are sometimes straight. Keep in mind, however, that straight blades may require filing to remove the sharp edges at the corners of the nail.
Apart from hygienic purposes, the main reason for separate clippers is that different pressure is required to cut each type of nail. Toenails tend to be much thicker and therefore require a stronger blade with increased pressure to cut through them.
Straight Versus Curved Blades
While opting for a straight blade or a curved blade is in part down to personal preference, there are some reasons you might opt for one over the other.
Straight bladed nail clippers are most commonly used on toes and can give a sharp, precise cut. They may be easier to use on toenails, which are generally quite coarse. If your nails are already short, then a curved blade may not work as well as a straight one.
When using straight-bladed nail clippers, you need to make sure you don't remove too much nail or cut the nail unevenly. Toenails that are cut unevenly or too straight may become ingrown.
If you're giving yourself a manicure, you may opt for a curved blade that will give a more flattering shape. Curved blades also reduce the need for filing the nails afterwards, as they already create the desired shape that's free from the harsh edges that straight blades often give.
Avoiding Contamination
Fungal infections can spread easily and can be very difficult to get rid of. If you have any infected nails, it's important not to share your nail clippers with anyone else. In addition to choose nail clippers that are made from bacteria-resistant materials, you should regularly sterilize your nail clippers.
Nails should be clipped straight across and gently filed. Additionally, avoid ill-fitting footwear, as it can put pressure on the nail bed and encourage infection. Also, be sure to change your shoes regularly and allow them to air out to avoid them becoming a breeding ground for bacteria.
Prices
Cheap
It's possible to pick up a nail clipping set for under $5. These sometimes include extras such as a nail file or carry case. Ensure that the clippers are made from stainless steel, which will prevent rust. Also, be sure to check whether the blades are straight or curved, as ideally, you should have a mixture to cater to the different nail types.
Mid-Range
An average pair of nail clippers will set you back $10. At this price point, you will notice clippers with ergonomic handles for extra grip. You will also find fingernail and toenail clippers at this price.
Expensive
For professional use, expect to pay upwards of $20 for nail clippers. The ideal material is stainless steel, which is durable and can be sanitized many times to ensure proper hygiene practices are followed.
FAQs
How often should I cut my nails?
There's no set answer here; however, fingernails need regular maintenance. If your nails grow quickly or are prone to breakage, you may want to give them a trim every week. Otherwise, every couple of weeks will suffice.
Toenails typically grow much more slowly than fingernails, so it's possible to cut these once a month or less. You shouldn't neglect your toenails, though, as they can cause pain or discomfort if they grow too long. Always finish toenails with a file so that their shape won't cause any issues.
How can I avoid ingrown toenails?
Ingrown toenails can be very painful and cause swelling and discomfort. To avoid ingrown toenails in the first place, there are some preventative measures that you can take.
Firstly, avoid cutting your toenails too short. It can be tempting to do this to avoid having to cut them for a while, but it can cause your toenails to grow back into the skin.
Also, when cutting, be sure to cut straight across the nail and not too far into the edges, so your toenails grow out evenly and don't start to grow under the skin.
Another tip is to not wear shoes that are too tight or don't fit properly. If you are having issues with ingrown toenails, consult a podiatrist.
Should I share my nail clippers with anyone else?
Ideally, you should have your own personal pair of nail clippers to avoid contamination. In addition to toenail fungus, there is a whole host of other bacteria and infections that can be passed between people.
In a salon environment, it is not economically possible to have a brand-new pair of nail clippers for each client, so nail clippers must be thoroughly sterilized in between each manicure.
Do I need to use a nail file as well as nail clippers?
Having both nail clippers and a nail file is recommended. When you clip your nails, it is not always possible to get an even finish, so filing is required. Likewise, it would be terribly time-consuming to shorten your nails adequately using a nail file alone.
Nail files are also useful for achieving a particular nail shape when performing a manicure such as squared or rounded tips. You can also use a nail file to smooth the jagged edge of a broken nail.
What is the best way to clean my nails?
Nails that are not clean do not present a professional image and may cause sanitation issues, too. That's why it's important to maintain clean, clipped nails.
When clipping your nails, this is a good time to invest time in general nail hygiene practices. For nails that are quite dirty (from gardening, manual labor, etc.) soak your hands in warm water for 5-10 minutes; this will dislodge the dirt.
Follow this up with the use of a nail brush to get underneath the nail bed. Another top is to use an exfoliator underneath your nails. This will help in the removal of stubborn dirt buildup.
There are some nail clippers that have a cleaning tool built into them, which you may want to consider if you find your nails often look dirty.
Finish up with some vitamin E-infused cuticle oil to keep the skin around your nails feeling soft. Always wash your hands with antibacterial hand soap and be sure to clean the nails as you wash.