The Best Nail Buffers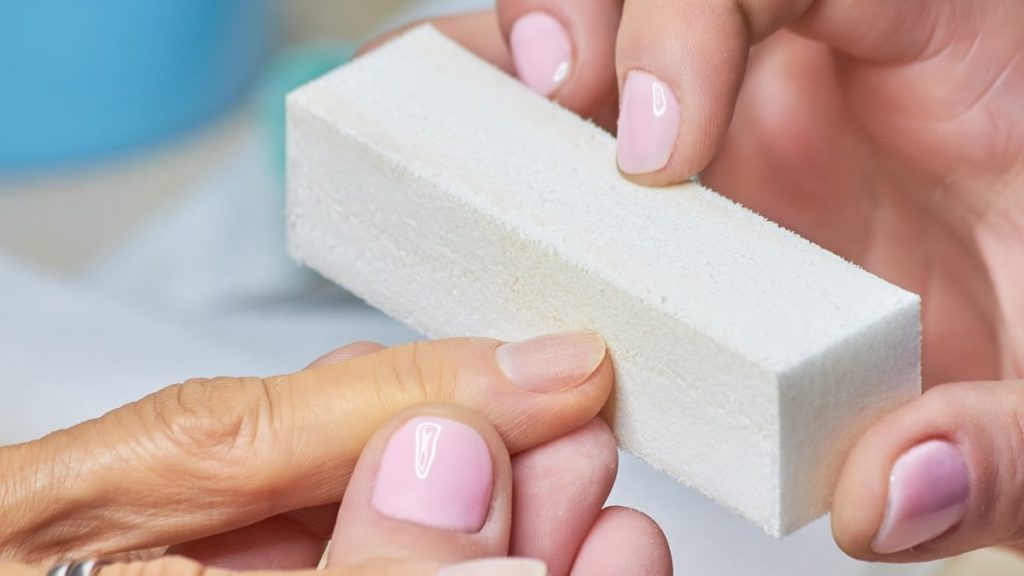 Everyone loves the look and feel of having beautiful nails. And one of the best ways to achieve gorgeous results is to use a nail buffer. Getting a nail buffer that works just like those at your favorite salon is not always easy. As salon-styled nails can be costly, it's important that you're able to buff your own nails using professional tools. The correct buffer can make nail care a speedy and easy routine. To ensure that you get it right, we have compiled a list of the best nail buffers.
TsMADDTs Professional Manicure Tools Kit
The TsMADDTs Professional Manicure Tools Kit offers a 100- and 180-grit nail set with multiple applications. It is perfect for anyone looking for easy do-it-yourself nail care solutions.
Pros:
The TsMADDTs Professional Manicure Tools Kit offers perfect grit and durability. Featuring two grits and four sides with sand surface, this nail set impressed us with its ability to work on natural and artificial nails, fingernails, and toenails to smooth down irregular edges and shape nails to desired style. If you have a pet, a nail salon, or are looking to join a nail competition, then this affordable set just might give you the results you are looking for.
Cons:
The grits are not labelled and using the wrong one may thin your nails too much, so look closely before use to avoid a deeper grind. If you don't like strong smells, air them out prior to use and you will be good to go.
Onwon Sanding Buffing Nail Polisher
The Onwon 10 PCS Sanding practical block is perfect for those who love to treat themselves with at-home manicures and pedicures. It can also be used with confidence by professionals.
Pros:
The Onwon 10 PCS Sanding block is lightweight and convenient to use. It is a four-way block that can be used for sanding, buffing, and polishing. Buff and shape up your nails before applying gel and polish for a smooth and shiny finish. We loved that the buffers can also be used on both natural and acrylic nails. The product also works perfectly on powder-dipped nails.
Cons:
While the nail buffer block is strong and sturdy, we feel that the abrasiveness is on the tougher side. For best results, we recommend that you be gentle while using it to avoid leaving scratches. Start with one of the lighter sides of the block and work your way to the harsher sides.
Emery Boards 7 Way Nail File and Buffer Blocks
What could be more convenient than using one nail tool seven different ways? This fantastic twelve-piece seven-way nail file and buffer set is perfect for home and professional use. Buff and shine your
Pros:
Featuring seven sides, each with a different grit, and step-by-step instructions on how to use each side, this nail and buffer set is perfect for nail trimming, removing nail gel and UV gel, and filling and buffering natural and acrylic nails. You will love that each side is color-coded and labelled. The set is washable and reusable and is perfect for fingernails and toenails.
Cons:
The nail and buffer set's shape makes it a little awkward to hold and use. It took us a while to properly understand the instructions. It was unclear which side of the nail buffer to begin with. However, after some practice, we gained confidence.
Premium Electric Rechargeable Nail Buffer and Polisher
Lightweight and compact, the Premium Electric Manicure Pedicure Tool allows you to do your nail art anytime and anywhere for smooth, shiny, and gorgeous nails.
Pros:
The Premium Electric Manicure Pedicure Tool is a quality manicure kit that allows you to groom your nails to a natural shine at a fraction of the cost of a trip to the salon. We loved that the tool features rechargeable batteries because it saves us a trip to the supermarket for batteries every few weeks. The buffer also features different interchangeable attachments that allows you to gently file nails to the desired shape, to buff, remove cuticles and calluses, and gel, smooth, and shine your nails.
Cons:
The electric kit comes with two shine heads and two file heads. However, these heads need replacing quite quickly. It is therefore important that you budget for replacements and order these separately.
Onsen Professional Nail Files and Buffer
The UGBDER Electric Nail File is a fashionable, long-lasting, and safe performance nail drill for professionals. This nail buffer offers salon-quality results within a speedy timeframe.
Pros:
Featuring nanotechnology and soft corners to seal your keratin layers, this nail drill will give you salon-quality results in no time. It is lightweight and portable, meaning you can take it on trips with you. It's also easy to store and put away when not in use. This fantastic buffer can be used by salon professionals or as a piece of an everyday, at -home nail kit.
Cons:
Too much pressure on the buffer can cause the nail drill to slow or stop working. However, once you get to the right rhythm, the tool works great and will yield desired results.
What Really Matters
Grit
Grit determines the nail buffer's coarseness. Lower grit is used on coarser buffers and as the grit increases, the buffer becomes finer. If you have natural nails, then you will use a higher grit. If you have acrylic nails, lower grit will work well without damaging the nails' material. The wrong type of grit on acrylic nails can cause damage to the acrylic material, and the last thing you want to do is ruin your expensive manicure. Sometimes it can be difficult to know which grit to pick, especially if you're using a buffer that has multiple grit options.
When in doubt, start with the one that feels the smoothest to the touch. Begin to rub the buffer against your nail very gently in one direction. Slowly increase pressure. If you find that you're not getting the desired result, you may need a lower grit, which will feel coarser to touch. Work your way through the grit types until you find the one that works best for your nail type. If you feel pain when buffing your nails, the grit is wrong, and you need to try a gentler one.
Practicality
For at-home use, the right file or buffer should be easy to use and store way. The last thing you need if you're in a hurry is a complex buffer with too many gadgets and add-ons. Pick a buffer that you can hold easily, use quickly and store away in a makeup bag or cupboard after use. Also, if you are a member of a large family, you may want to choose a buffer that can be used by everyone. A practical multi-surfaced buffer can be a fantastic bathroom addition if multiple people need to use it. No matter what type of nail you have, whether it be brittle and ageing or young and strong, a multi-way buffer can be a practical item suited to anyone.
Furthermore, if you travel a lot, your buffer should be easily portable. Electric buffers may be less practical if you're going on holiday because you'll need to find a plug in which to recharge it, which may require you buying an international adapter. If you are going abroad, pick a manual buffer that's lightweight, durable and doesn't take up too much room in your luggage.
Value
Choose a kit that stretches beyond a single use. Otherwise, you won't get much for your money. Before purchase, look for a buffer kit that offers a combination of nail files and buffers to trim, smooth and polish your nails without the need for a second purchase. Check whether the tools are reusable or if you need to buy some replacement parts. If you want an electric nail buffer, decide on whether you want it to be battery operated or rechargeable at the mains socket. A rechargeable buffer may be more cost-effective than one that requires regularly replaced batteries.
What's in Right Now?
Glass nail buffers are becoming popular thanks to their finer surface and longevity. They can also look very attractive and come in a variety of shapes and colors. The smoother surface allows for precise results and a higher quality finish. Glass nail buffers can be so effective and long-lasting that you can use the same one for years. It is important that you clean the buffer properly, regardless of what it's made of, by dipping it in hot water.
Multi-way buffers are also popular at the moment. A multi-way buffer allows you to perform several tasks using the same tool, eliminating the need for an extensive kit of various nail products. What multi-way buffers and glass buffers have in common is that they are both long-lasting and won't be disposed of quickly. These days, we are more conscious about being environmentally friendly, so being able to reuse the same product (rather than throwing it away within a few weeks) is important.
FAQs
Do I need to learn how to use a buffer at home?
You don't need to be an expert in nail care to use a buffer. If you want great results, remove old polish, clean your nails properly and file them, then smooth any cuticles and calluses before buffing to remove marks and to polish your nails up. Most nail sets will come with instructions and the tools will likely be labelled to show you the correct order of use.
Will the buffer remove marks and spots, or does it just file the nail down?
This depends on the buffer you purchase. Most high-quality buffers will work on the entire nail, not just on marks, spots, and discoloration. If you have ridges, buffing correctly can smooth them out and leave your nails looking healthy and shiny. However, note that you have to do it in one direction, and avoid putting too much pressure, as you don't want to damage or weaken the nail.
I'm considering buying an electric nail set, but I'm worried that it will make my nails thin and weak. Is this true?
Not at all. Most electric nail sets feature the latest technology that boasts rapidity and effectiveness, safety, and health. If you choose one with nanotechnology, the nano glass grinding surface is very safe and does not hurt your nails or damage the skin upon contact. If you are buying it for a senior person, it will smooth and shine their nails and guarantee their safety.
Is buffing my nails safe?
Buffing smooths and polishes your nails, giving them a shiny appearance. If you love a natural look, buffing can help you to achieve this. However, when you buffer repeatedly without much of a break between sessions, your nails can weaken. To be on the safe side, buff your nails only once per week.