5 Best Microdermabrasion Machines for 2019 – Microdermabrasion Machine Reviews – Total Beauty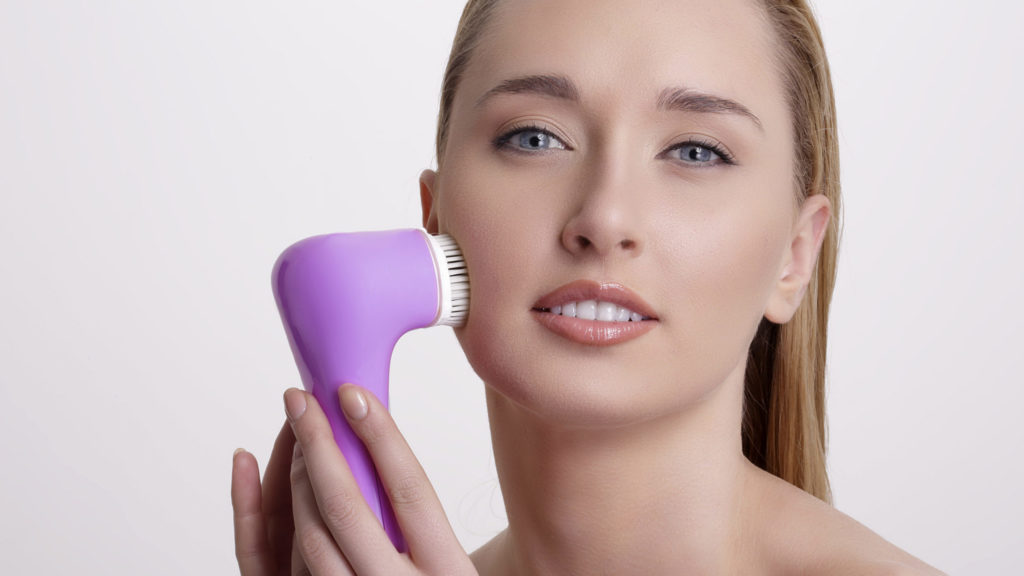 Smooth, bright skin is a defining factor when it comes to a youthful appearance. Microdermabrasion smooths skin by removing the top layer, getting rid of dead skin cells, age spots, and fine lines, and improving the skin's overall tone and texture. This can be done with a machine or an intense exfoliating cream; however, professional treatments are expensive. Save your money; get the same results by simply doing it yourself at home! Just be careful not to damage your skin.
Best Choice
The Neutrogena Microdermabrasion System is a fully inclusive home-use starter kit with an applicator and 12 single-use puffs. It's easy to use and results in luminous, healthy skin.
Pros:
This skin exfoliator, which contains glycerin, foams well and immediately made our skin look brighter and feel smoother. Over time, the micro vibrations help to firm the skin and boost cell renewal. Buyers find that it minimizes pores and reduces the appearance of age spots, too. The machine operates at two distinctive speeds, so you can adjust it to suit your skin type. Plus, it's fairly quiet. It's a convenient bonus that the puff refills can be bought separately when you run out.
Cons:
This microdermabrasion system is not designed for those with very sensitive skin (as it can result in severe reactions), or for buyers who prefer to avoid products that contain chemicals such as SLES (sodium laureth sulfate). The handle is also a bit small, so it's not ideal for those with especially large hands.
Best Easy-to-Use
The Olay ProX combines two systems in one: microdermabrasion and an advanced cleaning system. If you're looking for a multipurpose facial tool, this is ideal for you.
Pros:
This set has a three-speed system, comprised of a slow speed (for daily use), a deep-cleanse speed (for removing make up), and a microdermabrasion speed (for intense exfoliation). It comes with a thermal crystal polisher and exfoliating cleanser, which work to remove rough spots and to cleanse. The brush is water-resistant, so you can conveniently use it in the shower. Buyers find that using this set results in overall glowing skin that feels ultra-smooth and hydrated.
Cons:
The most significant dissatisfaction with this brush set is that the crystal polisher leaves gritty residue on the face. It's difficult to rinse it off and it feels more abrasive than other exfoliating products. We were disappointed that this product doesn't come with a warranty.
Best Professional
The Kendal Diamond Microdermabrasion is a professional-quality, non-surgical skin resurfacing machine that uses sterile diamond heads to rub off dead skin and a suction component to lift it away.
Pros:
This is a home-use machine, but even professionals recommend it. The suction feature is especially strong and effective, and we saw great results after a single treatment. If you suffer from scars, wrinkles, blemishes, and hyperpigmentation, you'll love the spa-quality effect of this system. It's the complete package and includes all the accessories, such as different sized, durable quality diamond tips for different areas, including the eyes, face, neck, and even the body.
Cons:
While this machine provides excellent results, it's not ideal for first-time users as the instructions provided are quite basic and it's a bit complicated to use. People with sensitive skin also must be cautious when using it. We found the system quite large and bulky to store.
Best At-Home
If you're looking for a handy, compact device that works equally well on the face and body, and on all types of skin, the PMD Personal Microderm Classic is the solution for you.
Pros:
The system combines exfoliating crystals and vacuum suction, which increases blood flow, hydration, and the overall tone of the skin. It's small and easy to hold and maneuver, and after a quick three-minute treatment, we found our skin was smoother and softer. The exfoliating discs range from ultra-sensitive to very coarse and we like that this machine's eight different levels of intensity make it effective for all skin types–even sensitive skin. Plus, it comes with a two-year warranty.
Cons:
While this machine is comfortable to hold and use, it takes practice to get the right pressure and coverage. If you apply too much pressure or repeatedly go over the same area, you'll be left with bruised skin.
Best Rechargeable
This facial tool is a USB-rechargeable, multifunctional device that cleans skin, prevents acne, and exfoliates. It's perfect if you're looking for a chemical-free microdermabrasion solution.
Pros:
This system has five levels of intensity and four different probes that you select depending on whether you want to clean pores, tighten up skin tone, or exfoliate dead skin. Even though this machine is quite compact, it has a powerful suction function. Plus, the machine is rechargeable, so you don't have to waste time looking for batteries. Overall, we found that this machine works well, emits a low noise, and is excellent for reducing the appearance of whiteheads and blackheads. It is a great price, too.
Cons:
While we loved the powerful suction of this machine, you must be cautious when using it if you want to avoid looking like you've been punched in the face. Start on the lowest setting until you get used to it, and keep the tool moving across your skin.
What Really Matters
Results
Essentially, you must purchase your microdermabrasion machine based on the skin condition you would like to address. All microdermabrasion machines exfoliate dead skin, but some are targeted to treat specific skin conditions, such as acne or wrinkles. When making your choice, consider the accessories that are included; these can also influence your results. If you have sensitive skin, purchase a machine with adjustable settings to ensure you don't aggravate your skin.
Suction Strength
Considering that the most important feature of a microdermabrasion machine is its ability to remove dead skin cells, suction power is a crucial factor. A device with poor suction strength will require you to repeatedly go over the same areas to see results, which could damage your skin. Conversely, a machine that has a very strong suction can also bruise sensitive skin. The best solution is to purchase a machine with adjustable suction strength.
Warranty
Many things can go wrong in a microdermabrasion machine. Filters can clog, vacuum pumps can malfunction, and tubing can tear. If you're spending a lot of money on the machine, it makes sense to look for one that comes with at least a one-year warranty or some type of exchange policy.
What's in Right Now?
This year, when it comes to skin care, the focus is on hydration. A beauty treatment, known as a HydraFacial, has become increasingly popular with consumers. It is essentially a gentler form of microdermabrasion that involves a thin-nibbed device that deeply cleanses and hydrates the skin.
More user-friendly machines are also becoming popular. For example, buyers favor microdermabrasion machines that have monitors or a dial. These allow you to set the particular level of suction power that suits your specific skin type.
Prices
Expensive
$100 and above for a professional-quality microdermabrasion system loaded with accessories.
Mid-Range
$20-$100 for an effective home-use microdermabrasion system.
Cheap
$10-$20 for a basic vacuum pore cleanser.
FAQs
Does microdermabrasion help acne?
Microdermabrasion is beneficial for treating mild acne and acne scars, but it is not the best treatment for inflammatory acne. It can further inflame already-raw skin.
Can microdermabrasion damage your skin?
Microdermabrasion is a safe process for most skin types. Everyone's skin will typically go a little red directly after the procedure, but it will return to normal shortly afterwards. However, if you have problematic skin, rosacea, broken capillaries, or a viral/bacterial skin condition, avoid microdermabrasion.
Which is better: microdermabrasion or a chemical peel?
Both processes share the same function; however, microdermabrasion is a physical exfoliation, while a chemical peel uses chemicals to exfoliate the skin. In general, chemical peels are slightly more painful and have more severe after-effects.