5 Best Massage Chairs for 2020 – Total Beauty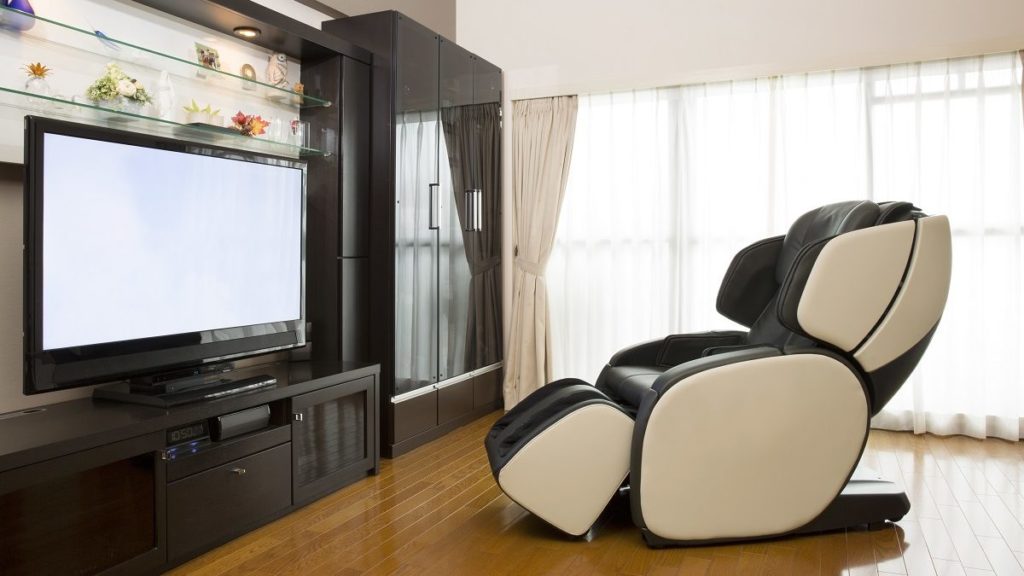 Getting a massage after a hectic day at work calms down your nerves and releases muscular stress. However, after spending your entire day at work, it becomes difficult to take some time out and visit a massage parlor. But, with a massage chair, you can relax in your home. These massage chairs can replicate a variety of massage techniques. In most cases, you get a very wholesome massage experience. But finding a suitable massage chair from overwhelming products is a daunting task. To make sure you get your hands on the best massage chair, we have compiled a list of the best massage chairs for you.
Best Choice
The OFREE Massage Chair gives you a full body massaging experience and is equipped with a Bluetooth speaker, as well as 3D Zero Gravity technology. This is the full luxury experience.
Pros:
Full body massager providing massage at neck, shoulders, back, arms, legs, feet, and hip. It comes with a built-in Bluetooth speaker that allows music to be streamed through a smartphone. The 3D Zero Gravity technology makes the chair more comfortable. The product also provides a luxurious finish that is soft and supportive at the same time. The chair features a built-in linkage for arm and has airbags all across. It comes with a full-body scanning computer that can detect your body shape. The SL tracks are there for the rollers to move smoothly and provide you a full body massage.
Cons:
The price tag is the most serious drawback of the chair, at a price that reaches well over $1,000. The chair also only comes in two different colors. The addition of a lighter color might have been beneficial for some potential customers.
Best for Shiatsu Massage
The Sinoluck massage chair provides heat during the massage sessions to enhance your body's blood flow and give you a relaxing experience.
Pros:
With this massage chair, you can adjust three different levels for zero gravity. You need to adjust the angles according to your requirements. The chair will bring your legs and heart on the same horizontal level to reduce the heart pressure and boost blood circulation.
The 3D features of this massage chair automatically scan your body data and adjust itself to an appropriate massage position to match your back, neck, and waist. With its two heating pads for the waist and lower back area, you can get relief from your back pain and waist issues. You can also customize the massage chair settings and intensity according to your requirements.
Cons:
The Sinoluck massage chair comes in two cases, one about 190 lbs. So you need a dolly or a helper to move. Although it has a minimal assembly, still you need a couple of hours to get it ready. Tactlessly, it doesn't come with many massage techniques, so you can only use the shiatsu massage technique.
Best Anti-Stress Massage
The Kahuna is equipped with high quality three dimensional zero gravity technology that specializes in Kahuna massage.
Pros:
The chair comes with stress releasing head massage. There are some additional massage rollers available on the leg region. You can also integrate the massage chair with your mobile phone by downloading the app. The chair features premium quality Bluetooth speakers as well.
You'll get an ultimate rejuvenation experience for a full one hour with Kahuna massage chair. The chair comes with three different intensity levels for massages so you can adjust it according to your requirements.
Cons:
The remote controller that comes with this chair doesn't come with any light, so you can't see what the current status of the operation is. But you can use your smartphone for this purpose.
The head massage is a pretty candid feature of this chair because it is only the airbags that are inflating or deflating over your ears and nothing more.
Best for Yoga-Stretching
If you are looking for a massage chair that provides you with an option of yoga stretching, then this is the chair that you need to bring home.
Pros:
The massage chair has a brilliant space-saving design, and it also comes with zero-gravity. The Sinoluck massage chair provides you with three different options when it comes to zero gravity angles. All of these angles are very comfortable. The chair will enable you to have a feeling like you are floating in space.
When you set it on auto mode, the airbags will hold your arms, shoulders, hips, waist, legs, and feet. Holding you in place, the chair effectively stretches out your body parts. The preset airbags in this chair allow you to enjoy a full body massage with three different intensities as per your needs. With its massage rollers, you'll get a full-body massage from the top of your head, to the sole of your feet.
Cons:
The leg region of this massage chair is not of top quality, and over time, it starts to get weak. There is not much difference between the intensity levels that this chair has to offer. You will find them all pretty much similar.
Although it is comfortable to sit in, like a recliner but only for a while. After a few hours, you'll start feeling the rollers uncomfortable.
Best Design Massage Chair
A good quality massage chair that is not only reliable but also comes with an inbuilt heating system and shiatsu massage feature.
Best Design Massage Chair
Pros:
You can control this massage chair by using a one-handed remote controller. The massage rollers of this chair are very gentle, but they are firm as well if you want them to apply some force on your muscles. You can choose from four different massage programs, and three different massage techniques. These techniques include tapping, kneading, and combo.
The airbags offer you to choose between three different intensity levels as well as three different massage speeds. There is an automatic body scanning feature that can measure the body dimensions and understands where the massage is needed.
Cons:
The backlight of the remote controller is very dim. You will need a flashlight to use it. The foot massager only stays firm on the arch area of your feet and doesn't seem to do much on the toe and heel area of your feet.
Apart from that, the chair's heating system is also not very useful because it doesn't provide you with much heat at all.
Points to consider before buying
When looking for a massage chair, you should consider a few critical points. Make sure you try the chair before you buy it. Here are some of the important points that you need to keep in mind when purchasing a massage chair.
Available space
The massage chairs have ample space. Even if you are looking for a smaller model of a massage chair, you will still be looking at a chair that is as big as a standard armchair. For this reason, you will need to have enough space in your room or wherever you want to place your massage chair.
Easy to maintain and use
Your massage chair needs to be very user-friendly. It must not involve and complication when using different features. Similarly, the chair needs to be effortless to maintain, and you don't have to go through a lot to do the same.
Different types of massages
The chair must come with a variety of massage techniques. It should have different intensity levels and times for which you can use your massage chair. These different options will allow you to use your chair more effectively. Some chairs also come with massagers for your head and calf region.
Suits your body dimensions
Emphasizing too much on the space doesn't mean that you need to sit in a small seat that is not the right fit for you. You need to feel extremely comfortable in your massage chair so that each time you sit in, it is more comfortable and rejuvenating.
What's the current trend?
These days the massage chairs are coming with innovative and smart options. A person having a massage chair at his/her home was considered to be a luxury in the past. Over time, it has now become more of a necessity because the work schedules have gone pretty hectic. Now people look for additional features, and massage techniques in these massage chairs.
Most of the chairs today come with different intensity levels. With an emerging trend of smart devices, users want their massage chairs connected to the internet, so can control it using their mobile phones. The smart home feature has almost become a must-have feature in these massage chairs. These features allow the users to collect their data regarding their activities as well as controlling the chair.
Prices
Expensive
There is a vast variety of massage chairs available on the market. There are a variety of brands available that have fully-featured massage chairs that will cost you up to $10,000. These chairs come with different massage techniques, and they also vary in terms of massage intensities.
Mid-range
Then there are mid-range massage chairs. These chairs offer you a perfect balance between features and price. The massage chairs here will be from $1500 to $3000. These chairs won't provide you enough when it comes to massage types or intensities but will still be good enough for you.
Cheap
Anything below $1500 is considered to be a budget-friendly massage chair. These massage chairs will be limited in terms of features but won't break your wallet. If you are looking for the basics, then these massage chairs will get the job done.
Frequently Asked Questions
How often should I use a massage chair?
There is no specific limit associated with your massage chair routines. The massage sessions are for therapeutic purposes, and they are meant to be relaxing for your mind and body. You can use your massage chair as much as you prefer.
What is the purpose of the yoga stretching in a massage chair?
In yoga stretching mode, your chair will recline to a horizontal position, and the same happens to the ottoman as well. Then the airbags in the calf region will become tight by inflating. The ottoman goes down and tractions the body. Next, the rollers start to roll up/down your spine and stretch any tensions to relieve the muscles.
Can I use a massage chair during pregnancy?
Yes, you can conveniently use a massage chair during your pregnancy. There is a myth associated with this that any stimulation of your pressure points in the back region will cause preterm labor. But no proof of evidence supports this claim. Your unborn baby remains safe in the amniotic fluid. This fluid absorbs any vibrations that you will experience in your belly.
What is this zero gravity?
The chair will recline in a horizontal position where your legs are at the same level as your heart. In this state, you will feel weightlessness. It will also reduce your blood pressure and will take some pressure off your spinal column.
What is the purpose of a 3D massage chair?
This 3D feature that has become very popular in several massage chairs today allows the chair to extend the rollers into your back and retract them. With this feature, you can have control over the depth of the massage that these rollers will provide you. Additionally, You will be able to adjust your massage on soft and deep tissues. It also increases and decreases the intensity of your massage and will provide you with exceptional results from each of your sessions.