5 Best Makeup Vanities for 2019 – Total Beauty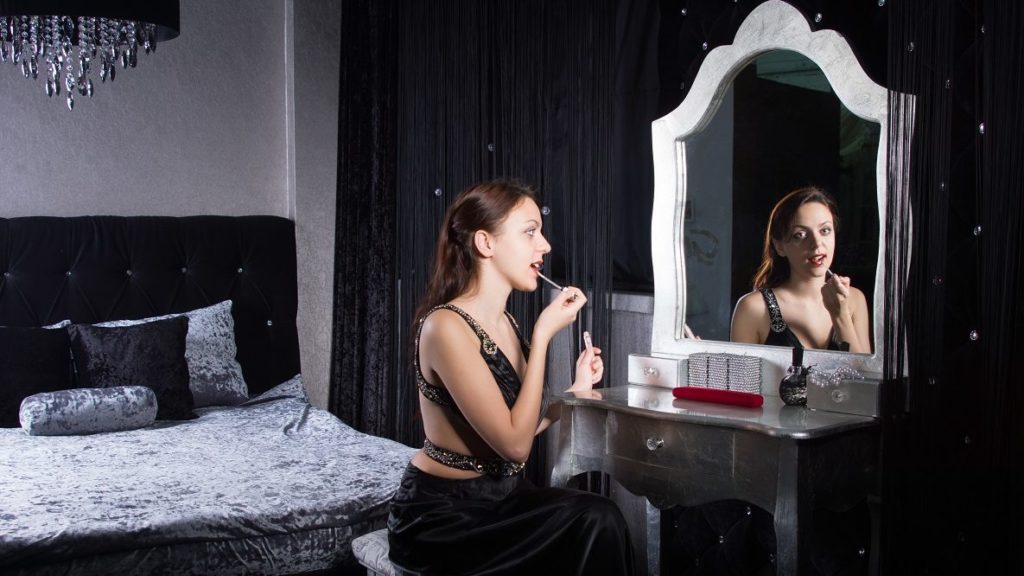 A makeup vanity is a perfect addition you can use to make up for that extra space in your room. Helpful for organizing your make-up, jewelry, and other knick knacks, they can help you to get ready a lot more efficiently in the morning or when you're getting dolled up for a night out on the town. Deciding between the right one from you can be a tough choice between determining the style, function, and layout. Lucky for you, we've reviewed our top makeup vanities based on your needs!
Best Choice
If you're looking for a chic way to store your makeup and jewelry, VASAGLE's easy-to-assemble vanity set is the perfect combination of style and structure.
Pros:
This vanity set is efficiently structured so that organizing your things is as easy as 1-2-3! Assembling the furniture was easier than anticipated and almost possible to do without the help of instructions. It features a generous amount of space, which is perfect for those looking to store a lot of products. All parts are incredibly sturdy, even the tri-fold mirror, which features convenient jewelry hangers on the back.
Cons:
While the bench that accompanies it is just as chic as the rest of the set, it does sit high, so if you're on the taller side, you may find it awkward sitting with your legs crossed without touching the underneath side of the table.
Best Functional Design
Vlush's compact vanity set is perfect for those looking to maximize space and functionality. Its versatile design makes it capable of functioning as a makeup table, organizer, or even a desk!
Pros:
From organizing your makeup and jewelry to using as a desk, Vlush's Vanity Set is great if you're looking for a practical piece of furniture that doesn't take up too much space. Rather than multiple drawers, it features one large section that's compartmentalized to store all of your favorite things. Show off your products or flip over the mirror for a vanity that converts to a desk!
Cons:
If you're looking for a chic vanity, then this may not be the set for you. While it isn't the most stylish, it makes up for its simple appearance with high functioning storage space and versatile design.
Best Makeup Vanity Set
This feminine Makeup Vanity is the perfect combination of glamour and function. With a removable pivoting mirror, this elegant set is ideal for storing your favorite jewelry and beauty products.
Pros:
Accompanied by a cushioned stool that offers comfort and style, this set features generous storage space for all of your favorite products. A removable mirror offers added functionality as you aren't limited to using it just as a vanity. Feminine detailing with elegant accents along the cushion and drawer knobs makes this the perfect first set for the little princess in your life.
Cons:
While it is highly functional, this vanity set does feature a lot of feminine detailing. If you're looking for a piece that has a more neutral or rustic aesthetic, then this may not align with your taste.
Best Rustic Style
Poundex's Edna Vanity Set is a beautiful addition to your bedroom that is just as stylish as it is efficient.
Pros:
Deep drawers offer ample storage space for cosmetics, jewelry and beauty products. Doing your hair and makeup has never been easier thanks to the adjustable three-panel mirror that offers multiple angles of your face so that you can look and feel like a professional when getting ready! Its super easy to put together and can be properly assembled in under an hour. Its available in multiple colors, which is a bonus to the design fits in naturally with furniture that may already exist in your room.
Cons:
While it is simple to assemble, some users reported that they couldn't locate the pre-drilled holes that the instructions mentioned. That being said, others who were able to find the holes did find it easy to put together.
Best for Budget
Frenchi's contemporary Vanity Set with Mirror is a sturdy addition to your bedroom that offers convenience, storage, and style.
Pros:
Frenchi's Vanity Set is a well-made set with a functional design that takes up very little space. Its lightweight and can be moved easily. It's simple and straightforward, offering one drawer that's deep enough to fit your makeup and hair products. A cushioned stool fits perfectly with the table. As it is smaller than most vanities, it is also great for kids as it won't be too big for them to use.
Cons:
If you're looking for a makeup vanity set that is on the fancier side, then this probably isn't the product for you. This is a very basic three-piece set that offers functionality at an affordable price.
What Really Matters
Style
It's important that if you're adding a vanity set to a room that already has furniture, you're taking into consideration how it will match. Many sets can have a personality of their own, so be cognizant that you're not choosing a modern piece that will clash with the existing antique aesthetic in your room.
Functionality
Many vanity sets offer dual functionality so when you're not using them to get ready, they adapt to become a desk or side table. Pieces like these are perfect for smaller rooms when you're looking to maximize the space.
Budget
Be sure to have a budget in mind when you're shopping for your vanity set. We've all been there when we find the perfect piece, but it's about 20x more than what we planned on spending. With so many beautiful and functional makeup vanities, we have no doubt you'll find the one that's perfect and affordable for you!
What's in Right Now?
Makeup Vanity Sets have always been an elegant addition to any bedroom, and with the beauty industry in such high focus today, makeup lovers need somewhere to store and showcase all of their amazing products! Convertible sets that can function as both a desk and a makeup table are on-trend as they offer dual-use that offers the perfect combination of organizational efficiency and style.
Prices
Expensive
$600-$2,000+ for designer craftsmanship of premium quality
Mid-Range
$275-$600 for stylish sets with more sophisticated detailing
Cheap
$70-$275 basic vanity sets that offer functionality and affordability
FAQs
Can I use a vanity set for something other than just makeup?
Of course! Many makeup vanities are multi-functional, so when you're not using the vanity to apply makeup or do your hair, you can use it as a desk. Some people even purchase specifically to use as an extra desk or storage space!
Is it necessary that the mirror comes with lights?
Not necessary at all! A vanity table should be all about what you want and your personality. Lights offer benefits as lighting affects how you apply your makeup, but again this is a personal decision.
How many mirrors should I look for?
At least one! Single panel mirrors are great to do your makeup straight-on. It's the more basic option and will undoubtedly serve its purpose. A triple panel mirror is excellent for giving your views of your face from multiple angles, which is why you'll notice a lot of professionals use them.