The Best Makeup Organizers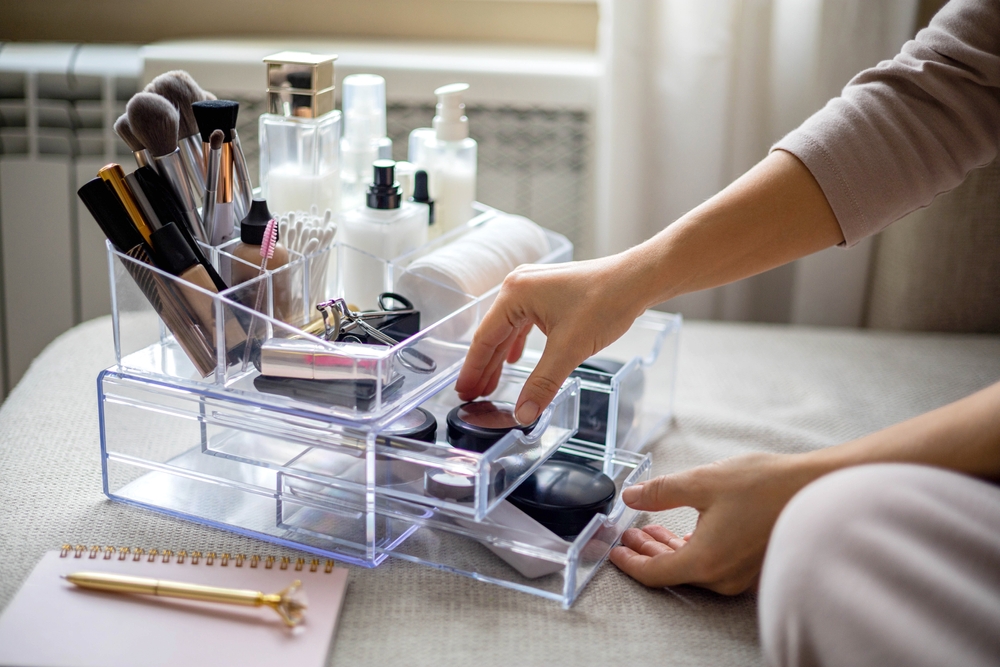 Whether you opt for a fast and easy five-minute routine or prefer something a bit more elaborate, having the right makeup on hand is a must. But with a lot of makeup also comes a lot of mess. The small bottles, brushes, and palettes can be a pain to store, quickly transforming clean bathrooms into cluttered spaces. Instead of suffering through the chaos, makeup organizers find what you need when you need it. Discover our top makeup organizers below to transform the way you store your makeup collection.
What to Look For
When shopping for new makeup organizers, keep an eye out for three things: the material's durability, how much counter space it takes up, and the storage size. The Sanipoe rotating organizer is one of our favorites because it doesn't overwhelm your counter — while still offering plenty of storage. The spinning design also gives you easy access to all of your products to cut down your getting ready time. The Wsicse organizers, on the other hand, are perfect for those who are eye shadow-obsessed. The slotted organizers allow you to easily store your palettes without any damage, so they're ready when you are.
Sanipoe Rotating Makeup Organizer
See all of your products from any angle with this rotating makeup organizer.
This heavy-duty acrylic organizer is perfect for beauty lovers. The rotating design has seven different adjustable trays that you can move to fit all of your must-have products. From full-sized foundation bottles to your favorite eyeshadow palettes, you can keep everything you need within an arm's reach. Perfect for vanities, bathroom countertops, or dressers, this design will take your collection from organized chaos to neat and tidy.
Pros:
It's fast and easy to assemble, so you can use it almost right out of the box.
This organizer makes it simple to see all of your products at a glance, so you can more quickly find what you're looking for.
Cons:
The shelves aren't tall enough to hold full-size hair products like hairspray or heat protectants.
Vtopmart Stackable Makeup Organizer
This set of bins lets you see your entire makeup collection at once.
Whether you currently keep your makeup in your bathroom cabinets, on top of your vanity, or just stashed in your makeup bag, this organizer will elevate your getting ready routine. With two clear bins, the organizer allows you to separate products to streamline your application process. Each also drawer has convenient handles and easily slides in and out of the bin. And because they're made of durable acrylic, you can also use them in other rooms, like the kitchen or craft room, to maximize organization everywhere.
Pros:
Though the drawers are compact, they fit a surprising amount of products. From powders to makeup brushes to hair accessories, you can easily store all of your most-used items.
Because you can stack them vertically, these drawers are ideal for small spaces like dorm rooms and apartments.
Cons:
They're not dishwasher safe, so you should wash them by hand using warm water and dish soap.
Sorbus® Makeup and Jewelry Storage Case
This tall organizer has a small footprint to save you space.
Take advantage of vertical space with this organizer. The five-tier design has two different-sized drawers, ensuring you can fit all of your favorite products. The top is outfitted with a detachable compartment perfect for lipstick, eyeliner, eyebrow pencils, and more. If you prefer, you can also take it off and use the flat top to store larger bottles, like perfume or setting spray, allowing you to adjust the pieces to perfectly suit your needs.
Pros:
The top has a lip to keep the detachable organizer in place. It won't put your products at risk by slipping and sliding.
Compared to many other organizers, this design fits a ton of makeup. Even avid makeup mavens can store their entire collections, allowing you to declutter your desktop or vanity.
Cons:
If you overload the organizer, the acrylic may start to crack due to the weight.
Relavel Travel Makeup Organizer
This padded case keeps your makeup organized and protected wherever you go.
If you're a jet setter, this makeup organizer will be a gamechanger. Instead of tossing all of your products into a jumbled bag, this design has padded dividers so you can keep things separate. You can adjust the size and shape of the compartments to fit your products perfectly, and the bag is lined with waterproof interiors to keep the rest of your luggage protected. Choose from several different sizes to find the best option to fit your entire makeup stash, so you're never without your favorite products — even on the go.
Pros:
The top of the bag has elasticized pockets designed for holding makeup brushes and a zipper compartment to keep items separate if needed for even more organizational options.
It's very lightweight when empty, so it won't add a ton of excess weight to your luggage when traveling.
Cons:
When full, it takes up a lot of space in a suitcase.
 WSICSE Eyeshadow Makeup Organizer
Keep eyeshadow palettes organized with these vertical dividers.
If you're an eyeshadow aficionado, you know it can be a challenge to keep all of your palettes organized. Instead of haphazardly stacking them on your countertops, these acrylic organizers make it easy to see everything at a glance. Both pieces in the two-piece set have seven sections, giving you plenty of space for palettes and other smaller items like compacts or blush. For those who aren't as into makeup, they're also the perfect desktop organizer for cards, notes, and mail, so they can do double duty.
Pros:
Both of the organizers are very small and don't take up a lot of space on your countertop — while still helping you organize effectively.
Because they're made of durable acrylic, they don't break or crack easily.
Cons:
You can only use them for flat, palette-shaped products, so they won't help you organize your entire makeup collection.
Frequently Asked Questions
Where should I store my everyday makeup?
Keeping your makeup in a cool and dry environment is best to ensure it lasts as long as possible. Avoid storing makeup in damp and humid environments, like your bathroom. The changing temperatures and added moisture can lead to added bacteria that make your makeup unsafe to use.
What is the best way to organize makeup?
There is no right or wrong way to organize makeup — it's best to find an organization system that works for you. Some people prefer to keep their most frequently used items together, while others prefer to group their makeup by category. Because there are many different types of organizers out there, it's easy to find a style that suits your preference.
About the Author
Why Trust Us
Since 2007, TotalBeauty has been committed to helping millions of people find the right makeup, skincare, and haircare products for their needs. Our experts know what works best for every face shape, skin type, hair type, and more. They are here to share that knowledge with everyone looking to upgrade their beauty routines or try something new.