The Best Makeup Mirrors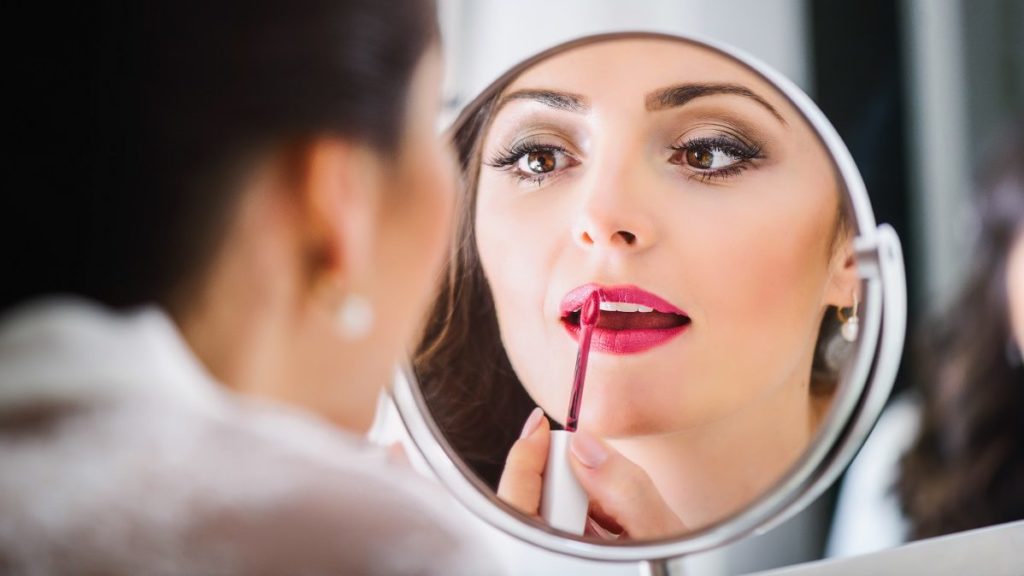 You want to look your best for every occasion so you need the best makeup mirror possible. With a really good makeup mirror, you can apply your makeup beautifully every time and tweeze those brows perfectly. The market offers hundreds of vanity mirrors with different features, which makes it tough to pick the right product for you. We did the work for you by reviewing the top makeup mirrors to help you find the best one for you.
Best Choice
Have you ever been embarrassed to see someone wearing disastrous makeup due to a poorly lit makeup mirror? The EASEHOLD Tri-Fold Makeup Mirror helps you avoid the excessive makeup pitfall.
Pros:
It has three different light settings, day, night, and bright. It is a thin, tri-fold mirror that swivels horizontally and vertically to catch every angle of your face. There are four different magnification options: (1) single, (2) double, (3) by-five and (4) a detachable mirror that zooms in by ten. The handheld mirror detachment is perfect for blackhead removal and applying eye makeup. The pedestal has a non-slip surface on the bottom. The USB charging cord is a decent length at five feet.
Cons:
It is an inconvenience that if you install triple AAA batteries in the device, they must be removed first before plugging in the charger. It has a persistent auto-dim feature that can become annoying.
Best with LEDs
This mirror's tri-fold design secures high-definition viewing and offers different angles, including a wide-angled one.
Pros:
This makeup mirror is truly an all-in-one package. Its tri-fold design makes it a space-saver that secures portability for travel. Once opened, you will notice several areas that offer different magnification modes. The 180-degree swivel helps you find the perfect angle every time. The product has 21 LED lights, and a simple control button adjusts its brightness. Activate the lights with four AAA batteries or the USB cable provided with the mirror.
Cons:
The USB cable you receive with the product is quite short. If you don't want to keep your mirror on the floor, you will likely need an extension cord. Additionally, a USB-to-wall socket adapter is not included.
Best Magnifying Mirror
The Fancii 10X Magnifying Makeup Mirror is going to get into your pores and hair follicles to show every detail of your skin's surface.
Pros:
It magnifies by ten and uses sixteen lights so you can see every detail of your face. It is a very satisfying view for cleansing and for dealing with your eyebrows. It uses LED lighting that simulates natural daylight for applying makeup. The mirror locks onto the surface of your glass-topped vanity, bathroom tile, or plate-glass mirror with a suction cup. It is cordless and uses three, double AA batteries. It comes with a travel pouch. It swivels 360 degrees.
Cons:
Although it swivels, it is a flat square. If you need to see every angle of your face perfectly, it is best to go with a swiveling tri-fold mirror, like the EASEHOLD. The suction cup does not stick to wall surfacing unless it's tile. It needs a slick, clean surface.
Best Space-Saving
Conair packed a lot of power in small packaging with this makeup mirror. It has two sides, including a magnifying one and a 360-degree rotation for optimal control.
Pros:
Conair went with a different approach and included soft halo lighting instead of classic LED lights. The result is impressive as it ensures brightness at every angle. You even have the option to pick your desired angle thanks to 360-degree rotation. The mirror has two sides: the standard one, and a magnifying side that zooms in seven times. The stand is extremely stable and looks beautiful. The polished chrome finish fits well with the mirror and easily matches any décor.
Cons:
While a compact size has its advantages, note that you won't have a generous workspace. That doesn't mean you can't get the job done, but you'll have to adjust the angle more frequently. Also, watch out for the lamp. It can get hot if left active for too long–that may surprise you when you go to flip the mirror–you may not want to leave the mirror unattended when it's plugged into power.
Most Affordable
This mirror's manufacturer offers a limited lifetime warranty on this compact-sized mirror that is suitable for those with a strict budget.
Pros:
The chrome finish gives the mirror a beautiful look and fits with any bathroom décor. It also keeps the unit safe from condensation and moisture. Although it size is compact, the product has the potential to be a focal piece on your vanity. The glass surface is round and features a six-inch diameter. The swivel rotation allows for 360 degrees. The other side of the mirror features 8x magnification, which is quite powerful for a product of this size. The unit seems quite stable, yet light enough to move effortlessly around.
Cons:
The obvious drawback of this makeup mirror is that it features no internal lights. That combined with the compact glass surface doesn't make it the easiest mirror to work with. It might take some effort to find the desired angle.
What Really Matters
If you don't have experience with makeup mirrors, they might all look the same at first. However, some factors can make a particular mirror stand out from the competition. Check out the list of important features below.
Size and Shape
Makeup mirrors can vary significantly in size. Some manufacturers focus on delivering a compact product; others don't hesitate to make their units bigger for ease of use and as a decor statement. Mirrors' diameters can range from six to ten inches or more.
As for shape, the majority of mirrors are rounded, but you may also encounter rectangular or square units. Ultimately, the shape depends on your preference and habits.
Magnifying Capabilities
It is easy to miss a spot or make a minor mistake while applying makeup. To ensure that everything is perfect, use a mirror with magnifying features.
Manufacturers typically design mirrors with two sides: one for an accurate reflection and the other magnifies that reflection. Look for mirrors with 5-10x magnification. Some units provide additional mirrors that allow for wide-angle viewing.
Portability
Do you like to take your makeup mirror when you travel or on-the-go?  After all, you never know when your makeup will need a touchup.
If you plan on carrying a mirror around, keep it as lightweight as possible while still providing enough space to see.
FAQs
Q: Can I take a makeup mirror on a plane?
A: Check with the airport and airline regulations. Some consider glass to be dangerous.
Q: What is the optimal magnification for a makeup mirror?
A: The higher the magnification, the lower your field of view. Since most makeup mirrors are compact products, you shouldn't go with magnifications over 10x. Most manufacturers stay between 5x-10x magnification.
Q: Why are makeup mirrors concave?
A: The inward bend is what delivers the magnified reflection.
Q: Do I need a makeup mirror with lights?
A: That depends on your preference, but most users prefer it. No matter how good the lighting in your bathroom is, you might have problems seeing some angles optimally. That is where built-in light bulbs come into play. They ensure the application of your makeup goes smoothly and without error.
Q: Should my makeup mirror have a USB cable?
A: Some units only allow for batteries (usually AA or AAA); others come with a USB cable for an endless supply of power, but you will need to have a socket nearby.