5 Best Makeup Bags for 2019 – Total Beauty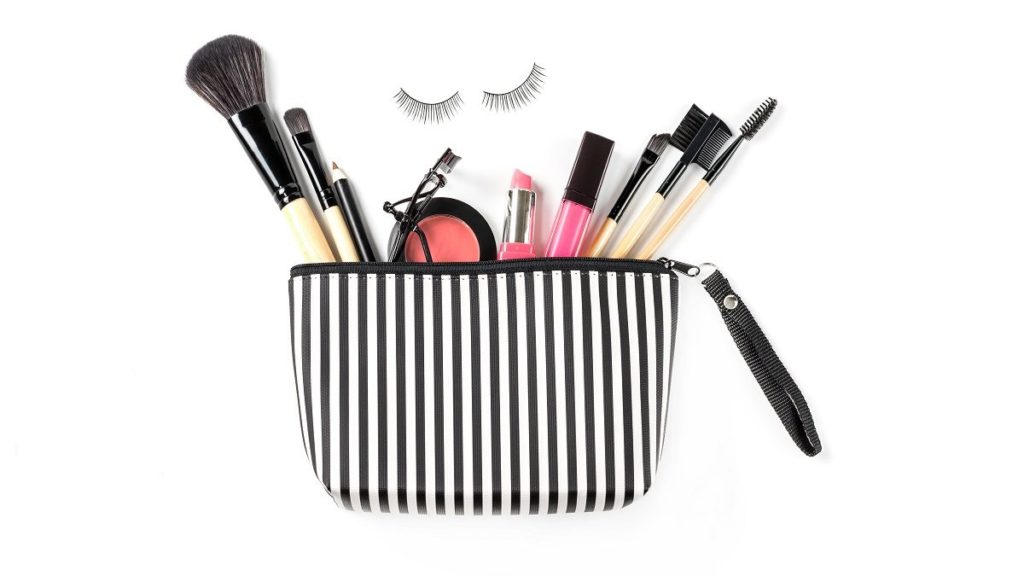 Makeup bags are one of those things you can't live without when you're traveling. But your makeup bag should be just as unique to you as the makeup you're using. We've put together this buying guide to help you discover the best option for you. Here, you'll find our five top picks for the best makeup bags on the market right now. You'll also find advice on what to look for, such as brand, material, capacity, and durability. Finally, we've answered some of the most common questions people ask about makeup bags.
Best Choice
The Chomeiu Travel Makeup Case features sturdy construction with a zippered case that allows for a more secure way of storing makeup, brushes, and other necessities.
Pros:
The travel case features a construction made from sturdy material, which helps to provide a longer lifespan for a product that will often be used on a daily basis. The zippered case helps to secure all of the items on the inside during travels and transit. There are several different compartments that the user can take advantage of when storing and traveling with makeup items. The makeup case comes in a large variety of colors.
Cons:
The travel bag does not come with any type of accessories – the addition of some brushes would certainly have been a nice attraction point for customers. The product also has a limited number of partitions or sections on the inside, compared to some of the alternative options that are available at a similar price point.
Best Organization
If you need a lot of space and numerous compartments to organize your makeup, then the Ballage Large Travel Makeup Bag is the best option for you.
Pros:
This Ballage makeup bag is one of the most customizable options on our list. It has three different layers that each come with ten dividers that can be adjusted according to your needs or removed entirely. That makes the bag extremely versatile for storing just about any makeup accessory. No longer will you have to leave your brush at home. Simply remove and adjust a few dividers and it'll fit right in. There are also mesh pockets on the inside of each layer for extra storage. The bag comes with both a shoulder strap and carrying handle. The lining of the bag is water resistant, which is practical in the case of spills and leakages.
Cons:
Some buyers have complained that the bag doesn't have as much room as you might expect. There are also reports that the removable dividers don't stay put, which means you risk all of your makeup accessories being mixed together if the bag is shaken during travel. Finally, the multiple layers and dividers make the makeup bag quite heavy on its own. That can make the total weight a bit impractical to carry around.
Best for Travel
If you're looking for the ideal travel companion, check out the Joliesse Travel Cosmetic Bags. The storage capacity and adjustable dividers make it our "Best for Travel" pick.
Pros:
This makeup bag is very compact, which makes it the best choice for light travelers. But don't let the small size fool you. There is plenty of space inside to store your makeup brushes and shaving accessories. It comes with three dividers that allow you to customize the compartments, and there is also a rack specifically designed to keep your makeup brushes in place. The material is durable faux leather, which is resistant to both liquids and impacts. The best part of this makeup bag, however, is the price. At under $20, it will not only give you extra space on your journey, but it also won't break the bank.
Cons:
One buyer has noted that the bag isn't as spacious as they expected.
Best Hanging Bag
Your bathroom can quickly get messy when there are makeup bags lying around, which makes the Cosmetic Travel Bag Hanging Toiletry Organizer a practical choice.
Pros:
The most prominent feature of this makeup bag is its hanging capability. It has a metal hook that can attach to towel racks, wall hooks, and bathroom doors, which makes it a versatile accessory. If there is nothing to hang it on, or you just prefer it on the table, it'll still stand upright on any surface. The bag is clearly designed for travel with a 9-oz storage capacity that is ideal for travel-sized soaps, toothpaste, and perfumes. The small size also makes it easy to fit into your main luggage. Despite the compact design, it still has mesh pockets to keep everything neatly organized. Finally, it's made of waterproof material.
Cons:
Several buyers have complained that it's not a very durable bag. The metal hook that attaches to the wall doesn't have double stitching, which means it risks being ripped off if you load the makeup bag with too many items. The mesh pockets aren't very sturdy either, and some buyers say they break easily. The zippered compartment doesn't bend, which makes it difficult to close when it's full of items. Finally, some buyers report that the dye used for the bag smells quite bad.
Best Hardshell
If you expect your luggage to be knocked around, then you should consider the Vitaa Makeup Bag Small Travel Cosmetic Bag. It's our "Best Hardshell" option for when durability is a priority.
Pros:
This is a great choice if you want to protect your expensive makeup accessories. It has a hard shell made from PC and ABS material that makes it resistant to water, scratches, and impacts. The smooth surface of the shell is also very easy to clean, as you can simply wipe any dirt and liquids off. The interior is also impressive. Here, there are dividers that can be adjusted for your specific needs. They are padded so nothing gets scratched, but everything on the inside is also made from waterproof material. Even if anything should get knocked around and break during transit, you don't have to worry about it ruining the makeup bag.
Cons:
One buyer has noted that while the makeup bag is affordable, the materials feel cheap.
What Really Matters
Which makeup bag will work best for you depends on what makeup you use, how much of it you need, and where you plan on taking it. Some makeup bags look very nice at home but can be a pain to travel with. Others are ideal for travel but won't have enough storage for home use. We've looked at the many factors you should consider when buying a new makeup bag.
For Travel or Home?
Where you plan on using the makeup bag will guide many following decisions. If you need a makeup bag for your bathroom or vanity table at home, then you can afford to look at larger models with options for customization. But if you're traveling and have limited space, then you may want to consider a small, single-compartment makeup bag. That depends on what you do, where you're going, and for how long. If you're a professional makeup artist, then you will probably need a large makeup bag that's designed for travel. If you're going to an exotic destination, then you may also need extra room for items like insect repellant. It all comes down to design. If you need the makeup bag for travel, make sure that your accessories don't get knocked around and break in transit.
Size
Makeup bags come in many different sizes. A small bag might be fine for a day trip where you only need to touch up a few times. But you may need a medium-sized bag for a weekend trip, or large-sized model if you plan on being away for a week or more. It's a good idea to account for any impulse purchases you might make. If you come across a great offer, then it's practical to have extra space for it in your makeup bag. That said, you should also take your other luggage into account. If you don't want to carry the makeup bag separately, it should be small enough to fit inside your other luggage.
Compartments
Which compartments you need depends on the kind of makeup you use. Large makeup brushes and small travel bags don't go well together. Look for a bag that has the right compartments for your accessories. They should also be waterproof for items that contain liquids.
Customization
Some makeup bags allow you to customize the compartments by adjusting the dividers inside. That can be handy if you bring different makeup accessories with you depending on where you go. Other makeup bags will also have extra compartments attached with Velcro that you can put on and take off. Just be aware that cheaper brands will often skimp on the materials, so the adjustable compartments might be very flimsy.
Materials
The materials of your makeup bag will not only influence the aesthetics, but also the durability and feel. If you mostly care about how it looks and feels, then you don't need to worry too much about the rougher materials. But if you plan on traveling and expect your makeup bag to be exposed to the elements, then you should check how durable it is before you buy it. You want to avoid the makeup bag tearing and all the contents spilling out on the floor or in your other luggage.
Waterproof
Another thing to consider in terms of durability is whether or not the makeup bag is waterproof. If you're going camping, then this is an essential feature. But even if you just expect to be caught in the rain, it can be reassuring that nothing will leak into your makeup bag. Waterproof materials are often also easier to clean. Bear in mind that some waterproof materials are very susceptible to wear and tear, which makes them less resistant to water over time.
Aesthetics
Finally, you should think about the look of your makeup bag. But if you're not planning on traveling, then you can safely prioritize the aesthetics of your bag. Make sure the design and color scheme complement your bathroom or vanity table, so it doesn't stick out like a sore thumb. But even if you plan on traveling, it doesn't mean you'll have to compromise on the look. There are plenty of travel makeup bags that are durable, versatile, and still match your unique style.
What's in Right Now?
The market for makeup bags is very mature, which means there aren't many new trends directly related to design. Most of the trends revolve around the new kinds of makeup available, which include color-popping eyeliners, statement lipstick, monochromatic makeup, brushed-up eyebrows, and multi-mask foundations.
Prices
Most makeup bags are quite affordable, but there are also designer brands available for those with a more expensive taste. Take a look at the price ranges here below.
Expensive
If you're happy to splash $225 on a makeup bag, then you can get an Anya Hindmarch Make-Up Pouch. Not only will it keep your stuff organized, but you'll also be envied by your friends.
Mid-Range
The majority of the makeup bags in our top five list fall into this category. For around $15-$25, you will get a good bag that is durable and looks great with your luggage or bathroom.
Cheap
If you're strapped for cash, then you can still get a decent makeup bag on a budget. The H&M Make-Up Bag costs less than $10, but you'll have to like unicorns and flamingos.
FAQs
If you still have some questions about makeup bags, then this is the section for you. We've found answers to some of the most pressing questions buyers have. Check them out here.
Can I take a makeup bag with me on an airplane?
Yes, but it will have to pass the security check. That usually means you can't bring with you more than what can fit into a zip-lock bag, and the containers can't be larger than 100ml (or ~3oz). Some makeup bags are made from transparent plastic, which makes them particularly useful in airports.
Can I wash a makeup bag?
That depends on the bag's material. Most travel makeup bags will be made from durable waterproof material, which can safely be cleaned. However, it's a good idea to check the washing instructions on the inside tag to be sure of whether it can be machine washed and dried.
How do I organize my makeup bag?
If you have a single-compartment makeup bag, you don't have many options for organizing your accessories. That's why we recommend a bag with dividers for separate compartments if you care a lot about organization.