The Best Liquid Eyeliners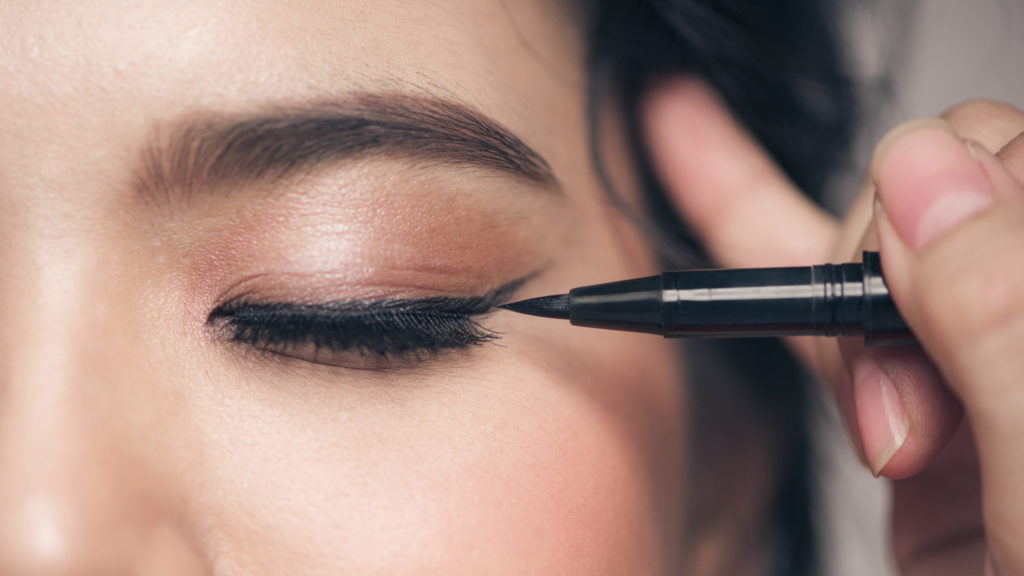 Who pops into your mind when you think of a glamour icon? Is it Audrey Hepburn? Elizabeth Burton? Adele? One thing that oh-so-many fashion icons have in common is stellar eyeliner. Whether it's the cat-eye, a classic flick, or wings, good eyeliner can define a look. Even the Ancient Egyptians rocked the original cat-eye as it helped avoid the sun's glare. Using eyeliner can be tricky at first, but to create the ultimate style, you must perfect the use of liquid eyeliner. Today, the massive range of products available on the market can be overwhelming, so where should you start? Read our helpful guide to help perfect your eyeliner game and you'll be painting on your own cat-eye in no time.
Stila Stay All Day Waterproof Liquid Eye Liner
This is one of the most popular liquid eyeliners ever produced. A good range of waterproof colors comes with a great applicator.
Pros:
This eyeliner from Stila comes in two tip types: original and microtip. The microtip is so versatile that it makes creating the perfect style easy. The tips are flexible enough to create any style with practice. Drying time is quick, which avoids application smudges. It comes in a good range of fourteen colors. Available colors are all useable, everyday colors. It has a long-lasting formula that is sweat-, water-, and smudge-proof.
Cons:
There is only one type of finish, which is glossy. Some of the colors may need to be reapplied in layers to get the full depth required. There are no unusual colors in the collection.
NYX Profesional Makeup Epic Ink Liner
This one gives you great shape and dries quickly to a deep, opaque color. The flexible-yet-sturdy felt tip design makes it perfect for beginners.
Most Effortless Application
Pros:
The pen's style is easy to grip and move to make the perfect shape. The color is well-saturated so that you do not need to reapply to get the depth you want. The felt tip applicator is simple to use and applies the liquid evenly. It dries quickly to form a lightly glossy to semi-matte finish. All formulas are water-resistant and smudge-proof. This product has great value that gives you the confidence to try out new styles without the worry of cost.
Cons:
The eyeliner is only available in three colors: Black, Ash Brown, or Expresso. It can dry out quickly if left open.
Revlon ColorStay Skinny Liquid Eyeliner
This one is a bold liquid eyeliner with a fine, soft, brush-style tip. The long-lasting formula creates crisp lines and is highly pigmented for great depth of color.
Pros:
A 0.1mm tip creates a precise and accurate line. The pigmentation in this liquid eyeliner is high, so a rich color is achieved in one swipe. The formula is smooth and applies evenly for an opaque finish. The long-lasting formula is waterproof and stays in place without smudging, fading, melting, or cracking. A great range of colors is offered. The formula dries quickly to a matte finish that stays matte, even on oily skin.
Cons:
This only comes in one color: Black. The felt tip is small, which can make it more difficult to do fill-in work.
Schwing Liquid Eyeliner
This one gives your eyes luxurious definition in a bold, runway-matte black. This formula is super-smooth and flexible in a pen style that easily glides on for dramatic eyes.
Pros:
A precision tip helps you achieve a very neat look. This product is available in a true matte finish. The pen-style applicator is easy to use. The tip of the product is tapered and has the suppleness of a brush but styles like a felt tip pen. The tip is very sturdy and handles firm treatment. This liquid is highly pigmented and produces a solidly dark color. The smooth eyeliner glides on easily and dries quickly without loss of color. The long-lasting formula is smudge-proof. The smooth, flexible tip can be used on all skin types.
Cons:
The tip is fine, and it can take some practice to load it up with the right amount of liquid. It can take time to fill in large areas.
Maybelline New York Line – Stiletto Ultimate Precision
This eyeliner from Maybelline has a strong color that is easy to apply in any style. The formula is lightweight and flexible, which allows for comfortable interaction with
Pros:
The brush is fine and moves well around the eyelid. The fine sponge tip creates crisp lines and the formula glides well on the skin. The color is very intense and has a glossy finish. The lightweight liquid leaves the skin feeling fresh and even works well on oily skin. The liquid is water-, smudge-, and fade-proof liquid. It can be built up in layers. Tip holds up well even after repeated use.
Cons:
The brush is very fine and flexible, which may be difficult for beginners. The applicator does not reach the end of the bottle, which makes you shake it quite hard when the eyeliner is low.
What Really Matters
Staying Power
When you put on your makeup, you need it to stay put. The problem with anything applied around the eyes is that everyone consciously or subconsciously rubs them during the course of a day. Even worse, your eyes can water for any number of different reasons. All this means that your eye makeup can involuntarily migrate around your face. As eyeliner is so close to the eyeball, eyeliner is in the most danger of melting, running, or smudging.
There are many different liquid formulas, some of which are waterproof or smudge-proof. Some even claim that they have a 12-, 14-, or 24-hour application ability. You need to look for these qualities when choosing your liquid eyeliner so you can be sure that your eyeliner stays where you need it.
Application
Up until the last few years, liquid eyeliner came in a bottle with a brush. You painted it around your eye and then shut your eyes for a minute or two to let it dry. Recent innovations have brought the felt tip applicator to the forefront. The soft tip allows you to have the flexibility of a brush but without the flyaway hairs that tend to paint an echo line around your eyelid. Felt tips are also easier to control. You can still find brush applicators, but they are now less popular. There are also doe-foot plastic tips available, but they are very difficult to control and aren't as comfortable.
Precision
The eyeliner style is all about precision. It takes skill to create two perfectly symmetrical lines without making a few corrections; you need to practice. If you are a novice, buy a cheaper eyeliner and get used to the applicator and how the liquid flows. You will make mistakes. Try drawing straight lines on your arm, then trace the style you want on your hand before you move to your eyelid. Don't forget to try with both hands as the angle you have to hold changes on each side of your face.
If you have been using liquid eyeliner for a while, then precision will not be so difficult. You can take some time to use the different applicators or try new styles to freshen up your look. However experienced you are, just keep practicing. There are lots of different ways to use eyeliner. Why not try them all?
What's in Right Now
Eyeliner will never go out of fashion. Recently, the eyeliner style is all about new shapes, mixed colors, and precise lines. Designer fashion houses are leading the charge for bright, bold colors. Black will always be a classic, but electric blues, bright whites, and candied yellows have walked right off the runway and on to High Street. There is also a move toward multiple lines, thin and precise, over the whole area to frame the eyes in astounding colors.
On point right now are new shapes and double-decker designs that incorporate two very different shades placed right next to each other. These days, shaping your eyeliner is an anything goes trend, making the only real limit your imagination. Celebrities that have embraced the trends are Kendall Jenner, Bella Hadid, and Jennifer Lawrence.
FAQs
Is liquid eyeliner bad for my eyes?
No, quality eyeliner is safe to use. There is a risk with pencil eyeliner, though; you can miss your lid and hit your eye with the tip of the pencil instead. This will cause irritation due to the force of the contact, not the ingredients in the eyeliner. Liquid eyeliner is safer as you do not have to press it into your lid; it will simply glide on. All cosmetics have a rigorous set of guidelines that they must legally follow to protect your body, so make sure you buy reputable brands to ensure they will not cause damage.
I can never get my liquid eyeliner to be symmetrical. What can I do?
It's really hard to achieve a perfect set of matching cat eyes, swoops, or double bandits every time. Proficiency takes practice. Buy a cheaper eyeliner and draw straight lines on your hand or arm — and keep drawing. If you want to practice on your eyes, draw on your non-dominant side. As you have to reach around your nose to create the line, your body needs more effort to remember the movement and steady the hand. It will then make it easier to repeat the action on your dominant side. It will take a little time to create a perfectly symmetrical eyeliner, but it's worth the effort.  If all else fails, buy a template, but don't be fooled. They also take some practice to look good.
Why are there different finishes?
Different looks require different finishes. Liquid eyeliner comes in matte, glossy, semi-glossy, pearl, and glitter finishes. Standard eyeliner colors are black and brown, so having a different finish can spruce up your overall look, or just give you a break from daily routine.
Is it safe to use liquid eyeliner on my waterline?
Eyeliner is safe to use on your eyelids and is safe if it mistakenly goes in your eyes, but it is not recommended for use on your waterline. The waterline is the thin edge of skin on your eyelid between the eyelashes and the surface of your eye.
Can I use liquid eyeliner on other parts of my body?
Yes, you can use your liquid eyeliner on other skin. It's great for drawing temporary tattoos or fun designs for a particular occasion. Using a long lasting-formula is paramount when it is being used on other types of skin, as the design will be rubbed away by clothing. Removal is easy with a little oil-based cleanser or micellar water.
Can liquid eyeliner be used as a guyliner?
Yes, of course. Eyeliner has no gender – it's for anyone and everyone. With all the new shades and finishes, guys can have some amazing eyes that accentuate their natural features with liquid eyeliner.