The Best Jade Rollers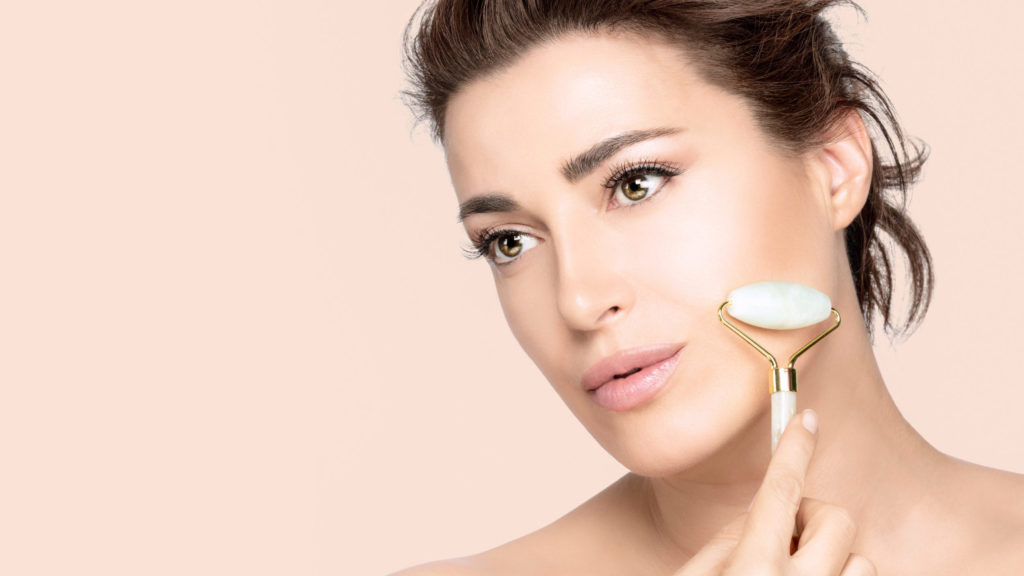 Do you notice fine lines and other signs of aging when you check yourself out in the mirror? Or are you dealing with puffiness due to a lack of sleep? If you're looking for a way to revitalize your skin and help promote blood circulation, a jade roller is a fantastic tool to help get the job done. That's why we went on a search for the best jade roller out there. After analyzing countless products, we selected our favorites to review below to help you pick the right one for you.
Best Anti-Aging Roller
The product includes a jade roller and a gua sha set. It also comes with an e-book and video tutorial that will explain how to maximize the potential of both items.
Pros:
A basic facial roller with no over-the-top features that could cause it to become too expensive. This product uses natural jade stone in order to ensure the user's face and neck will not be exposed to any harmful chemicals. No artificial ingredients are added to the jade stone parts of the facial roller. The roller is also available at an affordable price tag, which is another feature that makes it stand out.
Cons:
The roller comes at a relatively small size. Sure, this might be a great option for the face, but people who want to extend the use of the roller to other parts of their body will not be able to take advantage of this product.
For Beginners
Although you can choose the default version, the manufacturer also offers a rose quartz variation with a unique coloring combination that stands out from other rollers on the market.
Pros:
The roller utilizes authentic jade mined in China. Thanks to that, it is always cool to the touch and provides a cooling sensation. That can promote circulation and help to deal with puffiness and dark circles. The product also helps to boost collagen production and achieve more youthful and elastic skin. It won't take a long time before you get ahold of how the product works and how to use it to massage your face and neck. The product arrives with a gua sha, and both items are packed in a visually attractive box that makes them an ideal gift.
Cons:
It is not the smoothest jade roller out there, which might make it uncomfortable for sensitive skin. The product is prone to squeakiness, and it is not as durable as expected. If you are not careful while using it, you might end up breaking it. Some users might not appreciate the cooling sensation delivered by the roller.
For Slimming and Firming
The NSOSAUE Jade Roller For Face comes with both the popular facial roller and an accompanying gua sha tool, providing a complete facial massaging solution.
Pros:
The first thing you notice is that the product comes in a beautiful box, and you can consider getting it as a gift. The jade roller comes with a gua sha scraper for optimal effectiveness and increased usefulness. The roller has a handle that has an elegant curve. It makes it easier to use the product and adds to maneuverability. The product is smooth, and you can use it to spread face creams and other cosmetic formulas evenly and improve their absorption. You receive a set of tips that help you maximize the potential of the collection.
Cons:
The stone gets warm quickly, and you might not experience the cooling sensation after a few rolls. The durability of the roller is questionable since the plastic components are prone to falling out, and you need to be careful not to lose them. You might hear squeakiness while using the roller, especially if you use a bit more force when massaging.
For Reducing Puffiness
Pros:
This is an affordable kit compared to some of the other options that are available on the market. The price tag is significantly lower compared to other kits that include both a gua sha tool and a facial roller. The product claims to work for a variety of purposes, including to reduce puffiness and wrinkles. The set is available in different color options. Authentic Jade Stone is used in the production of both the roller and the Gua Sha facial tool.
Cons:
The quality of this set does not match the overall quality and durability that may be obtained with some of the alternative options that a person can choose from. Only a single Gua Sha tool is included – some people notice that they require differently shaped Gua Sha tools for various parts of their faces.
What Really Matters
These devices can help boost skin circulation and help to deal with aging effects like fine lines and wrinkles. They can also help to eliminate puffiness and dark circles caused by lack of sleep.
Let's take a look at the most critical factors to consider when choosing the best jade roller.
Is Gemstone Authentic?
It is crucial to ensure your jade roller comes with a 100% natural gemstone. That is the only way to secure the maximum benefits that come from jade.
Start by looking for confirmation in the product's description. Some manufacturers will even add a certificate of authenticity to prove the gemstone is genuine. You might also want to check product reviews to ensure you are not being scammed.
Is the Product Easy to Maneuver?
You use a jade roller to massage your face, promote blood circulation, and improve the absorption of serums and creams. The product needs to be easy to maneuver so that you can reach all areas effortlessly.
That is why the manufacturers add a handle with a firm and comfortable grip and a curve that adds stability. Thanks to that, even beginners will get used to the product quickly.
Did the Manufacturer Use High-Quality Components?
Apart from the genuine gemstone, other components should be of admirable quality, too. For example, a rust-resistant base might prolong the lifespan of the roller. Additionally, the roller should be connected to the handle firmly. Otherwise, it might be prone to falling out, which might end up breaking the stone or losing parts of the product.
Other Features to Consider
Here are some additional features that might help you to pick the right jade roller:
Noise – these rollers are usually noiseless, but some might be prone to squeakiness. They might be squeaky right out of the box, or squeakiness might appear after a while. Some users don't mind the noise, but others consider it imperative for a stress-free experience of using the product.
Cooling effect – jade stones have a natural cooling effect, which is how they help to reduce puffiness and promote blood flow. The cooling sensation depends on the stone used and your skin. If you want additional cooling, consider storing the roller in a fridge before using it.
Instructions and tips – the manufacturers usually include a booklet with instructions and tips on how to use the product. That will help you get the most from your jade roller.
FAQs
Q: How can yoou use a jade roller with a serum?
A: If you want to use your jade roller with another cosmetic product, the process is simple. First, wash and dry your face, and then apply the desired serum or cream. After applying it to your face, use your roller to spread the product evenly and massage it into the skin.
Q: How can you clean a jade roller?
A: You should clean your jade roller after every use, especially if you use it to apply serums and creams. The cleaning process should involve removing any stone buildup that occurred during the process. You can use a damp cloth or towel to clean the roller. However, if you notice there is plenty of buildups, consider using warm soapy water to wash it. Don't use harsh solutions or chemical cleaners, and wipe the product dry after cleaning.
Q: Where can you store a jade roller?
A: Some rollers will come with storage pouches or bags. You can store your stone almost anywhere, but avoid locations with moisture (steamy bathrooms, basements, etc.). Jade stones are prone to breaking if they fall from great heights, so make sure that you keep them off shelves or other locations where it is easy to knock them down.
Q: How often should you use a jade roller?
A: Your roller should come with instructions on how and when to use it. However, the experts recommend using a jade roller two times daily after your cleansing routines. The first time to use it is in the morning and the other before your bedtime. You can also massage your face whenever you feel it requires relaxation and soothing.