The Best Hot Combs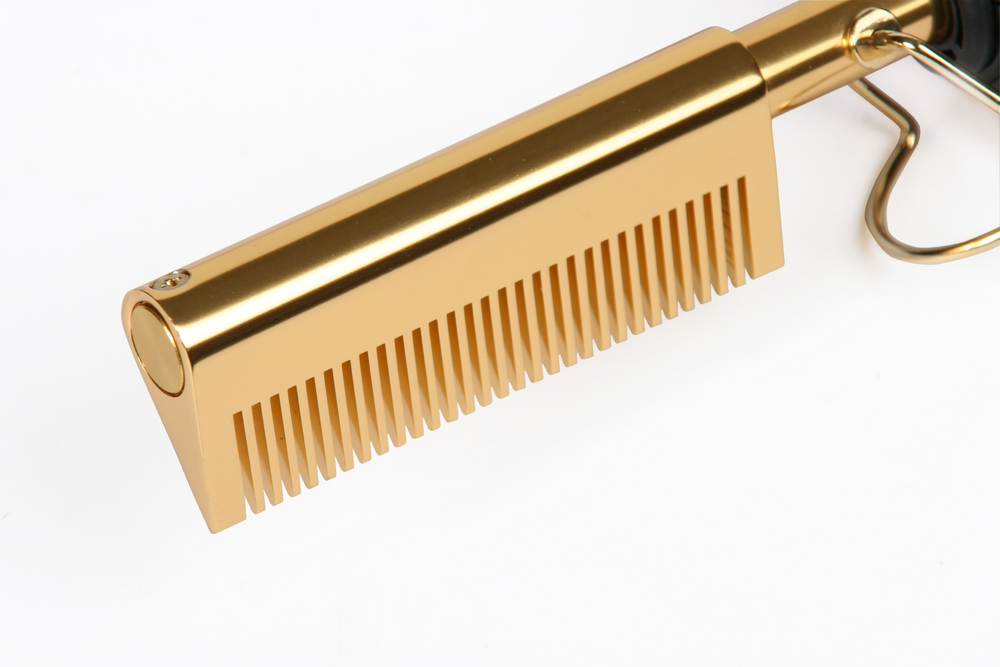 Hot combs allow you to change your look in an instant, transforming coarse, curly, and wavy locks into straight with a sleek and smooth look. Best of all, you can achieve that look without using harsh chemicals on your hair. That's not all; hot combs are also great for flattening wig edges and shaping beards. This versatile tool is also easy to use, allowing you to save yourself a trip to the salon and straighten your hair at home. We've researched the best options on the market to narrow down your search and help you choose the right hot comb for your hair.
What to Look For
When shopping for a hot comb, it's important to ask yourself the following questions: What is my hair type? What features does the hot comb have? What material is the hot comb made of? The hot comb by BudiGl quickly emerged as our favorite because it's lightweight and compact, heats up fast, and shuts down automatically. Our runner-up by Terviiix stood out for its anti-scald shield that protects your skin from burns and its argan oil and keratin-infused comb teeth that reduce heat damage. Read on below for more details on our top picks and why we liked them so much.
BudiGl Natural Hair Hot Comb
Create a look for any occasion with this fast-heating hot comb that will leave your hair just the way you want it.
When it's time to straighten your hair, this hot comb by BudiGl can help you get the job done quickly. The hot comb comes with a plastic case to help avoid burns, and it automatically shuts down after one hour, so you don't have to worry if you forget to turn it off. It heats up fast, allowing you to style your hair quickly. Plus, it's powerful enough to straighten thick and curly hair without damaging it.
Pros:
It heats up quickly, and at its highest temperature, it straightens even coarse natural hair, leaving it full and flowing.
This hot comb is lightweight and easy to handle, so your arm won't get tired while pressing your hair.
Cons:
The cord could be longer.
Terviiix Anti-Scald Hot Comb
With multiple heat settings and keratin and argan oil-infused comb teeth, this hot comb delivers a smooth look.
With five adjustable heat settings and a maximum temperature of 450°F, this hot comb by Terviiix is an excellent option for all hair types. It comes with an anti-scald shield accessory to protect skin from burns and works well on hair roots, beards, and lace front wigs. Plus, we love that the hot comb's teeth are infused with keratin and argan oil to minimize heat damage and reduce frizz.
Pros:
This hot comb has several heat settings, allowing you to customize it to the texture of your hair, and it doesn't burn lace.
The keratin and argan oil-infused hot comb's teeth leave hair looking smooth and silky.
Cons:
Depending on your hair texture, you may have to comb through your hair several times.
MaopaoBeauty Hair Straightening Hot Comb
This hot comb set comes with everything you need to straighten or hot roll your hair, beard, or wig the way you want.
If you're looking for a two-in-one hair straighter and curler, look no further than this hot comb set by MapaoBeauty. The hot comb allows you to straighten and curl your hair, making it easy to create the style you want. It has temperature settings for hair types ranging from soft to coarse. Plus, it has an anti-scald shield to protect your scalp from potential burns.
Pros:
This hot comb set comes with a rat tail comb, two clips, and an anti-scald accessory, providing you with all the tools you need to straighten your hair.
The temperature is consistent and doesn't get hotter than your chosen setting, so you don't have to worry about accidentally burning your hair.
Cons:
It works better on natural hair than on wigs.
Andis High Heat Ceramic Hot Comb
This fast-heating hot comb with variable heat settings will give thick hair a completely new look.
This hot comb by Andis features a gold ceramic comb that effectively retains heat. That's not all; it heats up in only 30 seconds, so you won't have to wait long to style your hair on those days when you're in a rush. It also features a tangle-free swivel cord, automatic shut-off, and heat settings for all hair types.
Pros:
This hot comb heats up quickly and can straighten even coarse or thick hair in under 30 minutes, leaving it smooth and shiny.
In addition to straightening natural hair, this hot come does an excellent job of flattening lace front wigs.
Cons:
The location of the controls makes it easy to turn it off accidentally.
Homfu Hair Straightener Hot Comb
Take this compact and lightweight hot comb with you on the go to create the look you want whenever you want it.
If you're a frequent traveler, this hot comb by Homfu will quickly become your favorite beauty tool while on the road. This hot comb is lightweight and compact, making it easy to pack in luggage or an overnight bag. It heats up quickly and has variable heat settings so that you can adjust it to your hair type. It has a long cord, so you can easily position it exactly where you want it.
Pros:
This hot comb is convenient and easy to travel with; it can straighten thick or coarse hair without any problems on the highest setting.
It works well with silk presses and does an excellent job smoothing the root area on braided hair to give it a sleeker look.
Cons:
It doesn't get as hot as other hot combs on the list.
Frequently Asked Questions
What's the difference between a hot comb and flat iron?
Hot combs and flat irons work similarly to straighten your hair, leaving it smooth and shiny. However, there are a few differences. Instead of using a clamp, a hot comb has teeth that heat up to relax your hair's strands. A hot comb gives you more control over your look than a flat iron and can get closer to the roots, giving your hair a flatter, sleeker look. If you have kinky or very curly hair, you may find that a hot comb works better than a flat iron.
Do hot combs damage hair?
Whenever you apply heat to your hair, you risk damaging it, so you should always exercise caution when styling your hair with heated products such as hot combs, flat irons, and hair dryers. When used periodically, a hot comb shouldn't damage your hair. Avoid using your hot comb multiple times a day, and ensure you straighten your hair when it's freshly washed and free from hair products other than a thermal protectant.
About the Author
Why Trust Us
Since 2007, TotalBeauty has been committed to helping millions of people find the right makeup, skincare, and haircare products for their needs. Our experts know what works best for every face shape, skin type, hair type, and more. They are here to share that knowledge with everyone looking to upgrade their beauty routines or try something new.