The Best Heatless Hair Curlers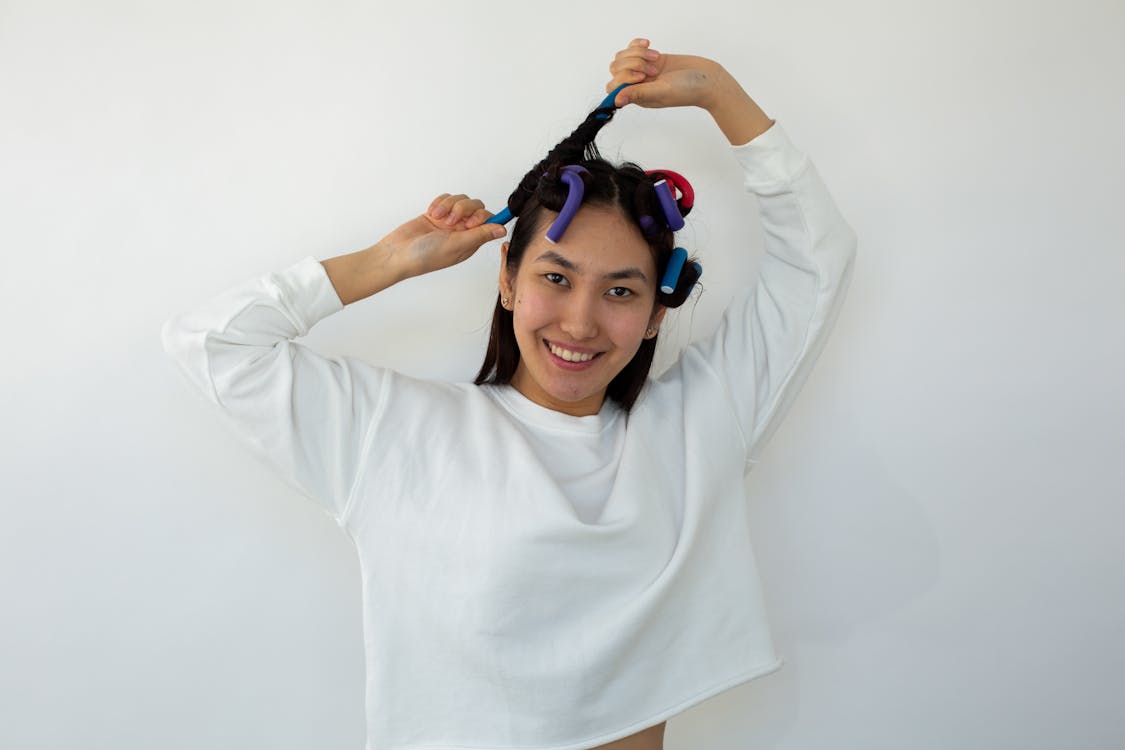 Achieving the perfect, effortless curls every day is no easy task. From curling irons to chemical treatments like perms, there are many ways to get your hair styled the way you envisioned — but there can also be unwanted side effects. From breakage to split ends, frequently styling your hair with heat can cause damage that leaves your locks limp and lifeless. But don't worry — there's a better way. Heatless hair curlers are a gentler, safer alternative that will still help you achieve the same glam look.
What to Look For
When shopping for your new heatless hair curlers, consider three factors: how long the curlers need to set, if they're a match for your hair type, and the comfort level. The Batoude heatless curling rod is one of our favorites because it strikes the perfect balance between comfort and functionality. The lightweight rod is comfortable enough to sleep in but also creates big, bouncy curls that will last all day long. The Willbond heatless curlers, on the other hand, aren't as comfortable but deliver perfect waves — even for those with coarse, thick hair — so they're an amazing option for all hair types. Read on to explore these heatless hair curlers and our other favorites.
Batoude Heatless Curling Rod Headband
This curling rod delivers perfect spirals, all without any heat damage.
This curling rod delivers salon-quality results. Simply wrap your hair around the silky roller, leave it in overnight, and wake up with perfect, ready-to-go curls. These are designed to help minimize breakage, split ends, and heat damage, so we'd consider this curler a healthier option for all hair types. You can even use it on dry or wet hair and still get impressive curls, offering ultimate versatility for any getting-ready routine.
Pros:
The curling rod is light and airy, so it's easy to sleep in all night. It won't cause headaches or pull your hair, offering a more comfortable alternative to traditional curlers and rollers.
It only takes a few minutes to roll into your hair, so it won't add a lot of time to your routine.
Cons:
This curling rod might not deliver very noticeable results if you have fine, thin hair.
Afanso Jumbo Size Hair Roller Set
These self-grip rollers offer fantastic volume.
Give your hair a break from the heat with these effective rollers. The 18-pack includes a variety of sizes, allowing you to customize your look depending on your hair type. Each of the velcro rollers affixes to hair — without tugging, pulling, or tangles — to give you salon-quality, bouncy curls. Try adding them to your hair, blow-dry for a few minutes, and leave the curlers in to set the look while you do the rest of your routine. Once you remove them, you'll see the big, gorgeous curls for yourself.
Pros:
You can use these rollers both at your root and on your ends to get volume and curls, delivering multiple styling options with a single affordable purchase.
These rollers create beautiful, bouncy curls even for those with thick, coarse hair, so they're a great option for all hair types.
Cons:
They work best for those with shoulder-length hair or shorter. They're not as effective on very long locks.
Tifara Heatless Flexible Hair Rollers
These bendable curling rods help you achieve any type of curl.
These flexible curling rods come in six different widths to help you achieve any curl. Perfect for all hair lengths and hair types, the heatless rods allow you to create everything from tight, corkscrew curls to bouncier, bigger waves. The lightweight, foam rods can be used with both wet and dry hair, but they should be left in for upwards of four hours to create long-lasting curls. Try leaving them in overnight for the best results.
Pros:
The rods easily slip out of your hair when you're ready to remove them, so you don't have to tug or pull.
All of the rods come in a convenient and compact carrying case, making them easy to take on the go.
Cons:
No directions are included with the kit, so it may require a bit of trial and error to find the right method for your hair.
Willbond Heatless Curlers
This unique curling kit ensures that every single strand transforms into a voluminous, bouncy wave.
These heat-free curlers are a hair-safe way to achieve the same results as a curling iron. The set includes 30 curlers and two styling hooks, so you can cover your entire head at once. Simply use the hooks to pull your strands through the flexible curlers, and let your hair sit for at least 20 minutes — or even overnight. Once you remove the curlers, you'll reveal beautiful, bouncy curls that will last all day long.
Pros:
The kit comes in multiple different lengths, so you can choose an option specific to your hair length for the best results.
There's a bit of a learning curve, but once you know how to use the curlers, they're fast and easy to apply.
Cons:
They're a little clunky and uncomfortable, especially to sleep in.
Janyun Silicone Hair Rollers
Twist strands around these silicone rollers for long-lasting curls.
These silicone rollers are an amazing option for those with thin, fine strands that tend to slip out of other heat-free curlers. They're made from medical-grade silicone and don't require pins, clips, or anything else to stay in your hair. Instead, simply roll your hair around the base, and flip down the flexible cap to secure the curl. Leave them in for a few hours or overnight — or dry hair with a blow dryer for faster results — and you'll have curly hair before you know it.
Pros:
Because the silicone is soft and flexible, the rollers won't poke your head or tug your hair, making them a more comfortable option than velcro styles.
You can apply rollers throughout your head in about 10 to 20 minutes, so it's a fast styling option.
Cons:
The fold-over roller design locks in moisture, so it takes hair longer to dry.
Frequently Asked Questions
How long do heatless curls take to set?
The time needed to set your curls depends on the specific curling method. Velcro rollers, for example, can set in less than an hour and still deliver added volume and bounce. Curling rods, on the other hand, produce the best results when they can set overnight.
Is it bad to do heatless curls every day?
Heatless curls don't damage your hair in the same way that hot styling tools, like curling irons, do. However, using velcro rollers or other styles that tightly twist your hair may lead to breakage if you use them too frequently. If possible, give your hair a break from heatless curl-styling a few days a week to keep it as healthy as possible.
About the Author
Why Trust Us
Since 2007, TotalBeauty has been committed to helping millions of people find the right makeup, skincare, and haircare products for their needs. Our experts know what works best for every face shape, skin type, hair type, and more. They are here to share that knowledge with everyone looking to upgrade their beauty routines or try something new.