The Best Hair Trimmers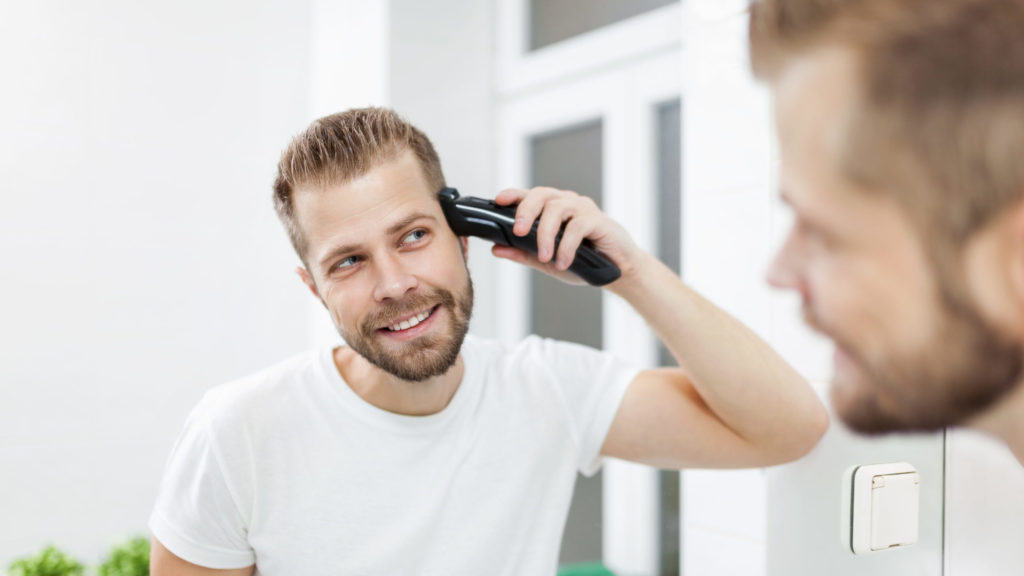 If you are disgruntled by weekly barber visits to keep your facial hair in tiptop shape, take a look at the options on our list of best hair trimmers. Give yourself a trim in the comfort of your bathroom however you want, anytime you want. After working through a slew of top hair trimmers, we've curated our list of our top five best picks.
Remington PG6025 All-in-1 Lithium Powered Grooming Kit
The Remington All-In-One hair trimmer is a lithium battery-operated powerhouse that allows you to groom, style, and touch up your hair in the comfort of your home.
Pros:
This trimmer is an all-purpose hero that includes a bevy of attachments, including a hair clipper, beard shaver, and an ear, nose and detail trimmer with snap-on stubble and beard combs to cut, customize, and add definition to your hair in one go. For men and women who want to get rid of any unwanted body hair, this works efficiently to shorten hair without nicks or cuts thanks to its stainless steel blades that are especially useful for sensitive-skinned folks. The attachments can be washed quickly under tap water and placed back in the included storage pouch with the rest of the tools.
Cons:
While this product gets all the tasks done, it's not ideal for long, thick hair as it may result in hair pulling and pinching. We also found that this product is not waterproof. The tools can get hot pretty quickly, so be careful and take short breaks during use to ensure that it doesn't overheat.
Wahl Clipper Lithium Ion Cordless Haircutting & Trimming Combo Kit
As a device that gives complete freedom and control, the Wahl Professional Clipper is a must-have for trained professionals who wish to cater to high customer expectations.
Best Professional Trimmer
Pros:
If you want to cut close to the scalp without nicks, this product is for you. Packing all the essential tools for any task on hand, it's perfect for stylists to perform faster and sharper trims. Plus, it is a winner for thinning hair and bald patches due to its full balding clipper that delivers a clean, neat look.
We were impressed with the aesthetic appearance of the device and its ergonomic shape, which is a pleasure to hold and prevents slipping from sweaty hands. The clipper is pressure-sensitive, brilliant at cutting closely, and won't cause any nicks.
Cons:
If you're looking to create various different hairstyles, this is not for you; this product is made for thinning hair. While it's great for close trims, it doesn't deliver the slate-clean performance of a razor. Nevertheless, you can use it to trim the hair shorter first, then clean-off with a razor for a sleeker look.
Philips Norelco MG7750/49 Multigroom Series 7000
Need to sort out unruly hair or just wish to trim anywhere, anytime? The powerful Philips Norelco Multigroom is the best choice for you.
Pros:
From its sleek look to its robust functionality, Norelco's grooming kit has one of the most thoughtful designs. It features an assortment of 23 trimming pieces to alternate between hair, face, and body. It is armed with advanced features such as self-sharpening blades for maximum speeds that offer sharp cutting, no matter which direction your hair grows. Furthermore, it'll last you five years.
And we were thrilled to find that this product requires no blade oil to keep it primed to perfection; it's designed to last without the utmost care. It's also fully washable. Yes, you read that right. This is a fuss-free choice that runs for up to five hours per charge. But though there is wireless capability, it also comes with a wall socket plug for backup.
Cons:
Although we love the killer-sharp blades, be aware that you can cut yourself extra easily, particularly in sensitive regions. It's good to receive a generous array of attachments, but cumbersome to find the exact length you need. Another big disappointment is that the on/off button is a press-down and may accidentally turn itself on. Plus, the buttons inconveniently placed.
Best Long-Lasting Option
Does a noisy trimmer grate on your nerves? The Oster Fast Feed is an excellent number that operates quietly and is anything but slow.
Pros:
Even though Oster's productivity level is equal to its competitors, it is a silent performer. This is especially lovely when you admire the quiet of morning or don't want to rouse the rest of the house. This trimmer is ideal for low-cut beards or adding last-minute finishing touches to the hairline. The trimmers' long cord eases the fear of the battery dying mid-trim.
The package includes all the necessary items to preserve and maintain the newness of this hair trimmer. Furthermore, it is lightweight and easy to grip to reach the more challenging angles of your face.
Cons:
We do find the Oster well-made and light, but this is not created for heavy, non-stop usage. It requires dusting, cleaning, and oiling for steady, lag-free operation—zero maintenance equals zero performance! There's no provided storage case for the combs.
What Really Matters
There are various aspects to ponder before purchasing the best hair trimmer for you, since preferences boil down to personal choices and may vary from person to person. However, here are three of the most important pointers to consider for nailing a perfect buy.
Build and Ease of Use
A product's build determines whether it can stand the test of time and handle daily use. To ensure this high quality, the product should include some reliable traits. First, the body must be sturdy—stainless steel or aluminum is the best choice; the tougher the device, the more likely it stays guarded against breakage, rust, friction, twitching, and other forms of decline.
Secondly, ease of use makes up for the operating performance and your overall experience. The placement of the controls and adjustability of the attachments must be checked prior to purchase. More so, it shouldn't be a pain to turn on and off, and should be highly responsive to your commands, mainly if you're looking for a trimmer for commercial use. Easy cleaning, quiet operation, lightweight design, and a comfortable grip are also elements of user-friendliness for many consumers.
Power and Ability
Yes, the trimmer should be powerful, that goes without saying. High power comes from a powerful motor that is responsible for the blades' rotational speed.  A higher wattage will guarantee a powerful trimmer and a faster haircutting experience, but also look out for an energy-efficient version that won't take up a large chunk of your electricity bill at the end of the month.
A hair trimmer is primarily designed for fine-tuning and cleaning small areas, such as ears, nose, sideburns, and the nape of the neck, but many devices on the market offer different heads for performing different tasks. We find no problem in purchasing such trimmers as long as the performance is up to standard and up to the claims of the product.
Safety
Before buying a hair trimmer, make sure it's backed by a lifetime or at least a long-term warranty to have peace of mind when using the device. Safety also calls for features such as protective guards, which are handy for trimming private areas. Very sharp blades minimize the risk of developing skin diseases and provide quick trimming, which also factor into safety. Electric shock protection is also important to avoid getting electrocuted.
What's in Right Now?
Cutting and styling your hair may be a daunting prospect but doing it yourself has become a trend. Consumers want to purchase hair trimmers that combine the usefulness of two or more advanced hair trimmers in one and offer the versatility to make at-home haircutting a breeze. Trimmers' demand has recently increased as people have become aware of a zero-waste lifestyle; people have given up disposable razors for reusable hair trimmers.
On another note, growing beards have become increasingly popular among men. As a result, the beard trend has fueled the demands of hair trimmers so people can easily keep up their signature styles and rid themselves of any unwanted hair.
FAQs
Can hair trimmers be used for shaving?
As the name implies, a hair trimmer is built for finer details and short hair. It can be utilized for closer cuts, but those aren't close enough to replace razors or shavers to achieve a polished, hair-free shave. Hair trimmers create a buzzed effect, not a slippery, smooth look. Opt for a hair trimmer if you like a short stubbly appearance or have sensitive or acne-prone skin.
How does one clean a hair trimmer?
That's no biggie! If it's fully washable, simply rinse it under the faucet. In most cases, a cleaning brush is provided in the kit to wipe the blades and head clean of any jammed hair. Once your trimmer is dry, lubricate with blade oil or some drops of olive oil; such maintenance will keep your device always looking and working like new.
Can a hair trimmer cut you?
Hair trimmers may come with very sharp blades, but they don't cut your skin unless you have extremely dry or sensitive skin. Also, they're mostly encased in plastic/metal covers that prevent them from coming in direct contact with your skin. The kits come with safety guards. Avoid rushing and stay patient when trimming.