5 Best Hair Straighteners for 2019 – Hair Straightener Reviews – Total Beauty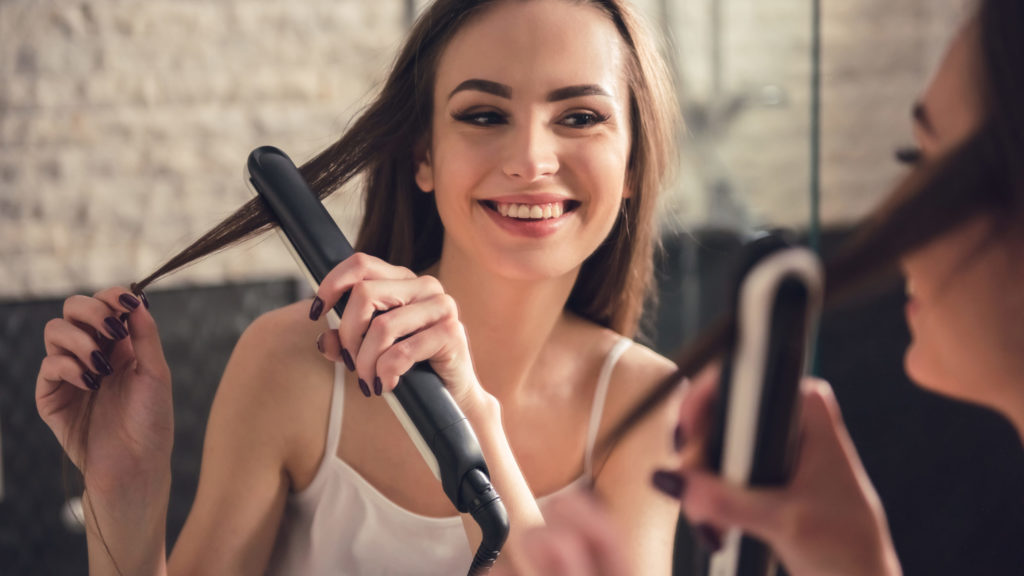 Hair straighteners are a tool that allows you to smooth and straighten your hair. They work by gliding your hair in between two hot plates, which will style the hair as you move down it. Hair straighteners can also be used to curl the hair, making them a very versatile styling tool. There are different hair straighteners to suit each hair thickness, texture, and budget.
Best Choice
If you don't have the budget for GHD's, look no further than these affordable straighteners from HSI. With almost 30,000 ratings on Amazon, they come with a heat-protective glove and travel pouch.
Pros:
The most significant advantage by far is the low cost, at under $40. While these hair straighteners are cheap to buy, they certainly aren't in quality. The plates are ceramic but are infused with tourmaline, which generates negative ions to reduce static and frizz. They work brilliantly, even on Afro-Carribbean hair, leaving the hair smooth and shiny. They also have a swivel cord and dual voltage, making them ideal for salon use or travel.
Cons:
Ultra-thick hair types may find a wider plate to be more comfortable and will save more time when straightening your hair, versus thinner plates such as what's on the HSI. Also, if you are fussy about brand names, you might not like that these hair straighteners are not a mainstream brand.
Best affordable
At under $20, these are some of the cheapest hair straighteners on the market. There is a temperature control going all the way up to 410°F, which is ideal for textured or thick hair.
Pros:
The plates are infused with anti-static technology, which is great for eliminating frizz. Remington is a well-known brand for hair styling tools, so it does offer quality for an affordable price.
Cons:
The plates don't close completely, leaving a small gap. So, if you have extremely fine hair, you may find these straighteners do not work for you, as they will not pick up all the hair. The purple color of these straighteners may seem childish or too girly for some.
Best for all hair types
If you are looking for hair straighteners with an adjustable heat setting, information screen, and high-quality titanium plates, these Kipozi straighteners offer all that and more for under $40.
Pros:
The Kipozi hair straighteners are made with titanium plates, which are much higher quality than ceramic. Titanium also gives a more even distribution of heat throughout the plates and protects hair color. These hair straighteners heat up to 450°F, which is comparable with more high-end brands. They also have a screen with information relating to the different functions, including the temperature setting. The anti-snag technology also ensures a smooth glide when styling.
Cons:
The 1″ plate isn't ideal for anyone with thick or textured hair. The plates have a small surface area and will take a long time to cover long hair or hair, which requires multiple gliding to become straight. There's also no heat indicating light to let you know when your straighteners are at the optimum temperature.
Best user comfort
If you have thick or textured hair and have been searching for wide-plated hair straighteners on a budget, these from Kipozi could be just the ticket.
Pros:
Wide-plated hair straighteners allow you to cover more areas of hair at once. They also make straightening very thick or lengthy hair much easier, as the larger surface area will enable you to style larger sections in less time. They can also be used to create loose, soft waves that look more natural than tighter curls created by smaller-plated straighteners. These hair straighteners have adjustable temperature control. For added safety, there's an auto-shutoff function after 60 minutes of use.
Cons:
These 1.75″ plates would not be suitable for anyone with fine or short hair, as you may find you can't fit the hair between the plates. Wider plates can sometimes make it more challenging to get to the root of the hair, so they do take practice to learn how to use correctly.
Best damage control
If frizz is your top concern, these 2 wide-plated hair straighteners from Remington have pearl-infused ceramic plates, to give you sleek and beautiful hair.
Pros:
These Remington straighteners have wide plates for easy styling. Designed with frizz and flyaways in mind, the plates contain 8x more ceramic for a smooth finish, as well as less damage. The plates are infused with crushed pearl to give an even sleeker result, helping the hair to look shiny and healthy. The plates are also designed with 'one-pass technology,' meaning you do not have to go over each section to lock in your style repeatedly. You can achieve up to 450°F with these straighteners.
Cons:
Ceramic plates are not as good as titanium, as they do not distribute the heat as evenly. The plates are extra wide at 2″, however Remington do produce the same model in a 1″ variety.
What Really Matters
What plate thickness would suit my hair type?
No two people have the same hair texture or length, and so it's important to find a hair straightener that works for you. For example, if you have delicate or short hair, then it's best to choose a hair straightener with a thin plate. Those with thinner hair may struggle to fit all of your hair into a wider plate.
If you have thick, textured, long, or curly hair, you should choose a wide-plated hair straightener. Thick or textured hair, in particular, can be difficult to straighten, and so requires a few passes. However, this is made much easier with wider plates. Not only is the surface area bigger, but it also gives the user more control to lock the hair between the plates as you glide.
Which hair straightener plate works best?
The hair straightener plate which will work best for you depends on what you want to achieve.
Ceramic plates are lower in quality, so don't heat as evenly throughout the entire plate. However, they are great for smoothing frizz and taming flyaways.
Titanium plates heat more evenly and are generally better quality than ceramic. Titanium hair straighteners are better suited to those with coarse or textured hair.
So if you have thin, fine, or short hair that is prone to frizz, you should choose ceramic hair straighteners. If your hair is thicker, longer, or curly, titanium hair straighteners will work better for you.
Why is temperature control important?
Heat styling can be incredibly damaging for our hair. Bleaching and hair drying can cause additional damage, even before you get to straightening or curling your hair. So, when it comes to finding a great pair of hair straighteners, look for ones that have temperature control.
For fine, short, or damaged hair, you should use a lower heat setting. For thick or textured hair, you will require a higher heat setting.
Having a temperature control setting will allow you to choose what will work best for your hair, and is also essential if you are a hairdresser and work on many different hair types.
Safety features
Hair straighteners are an electrical item and should be used with caution, as they can get very hot or pose a fire hazard. Look for hair straighteners that have an automatic shut-off after a certain amount of time. Also, heat-proof gloves will help prevent burns.
Also, check the voltage, as some hair straighteners are dual voltage, so that they can be used in different countries. There should also be safety testing carried out on your hair straighteners as standard.
Make sure when you've finished using your hair straighteners, you turn them off and leave them to cool on a surface that will not catch fire. You may wish to purchase a protective heat mat for your hair straighteners to cool on if this is not already included.
Prices
Cheap
Although hair straighteners can be an investment purchase, it's also possible to pick them up for a budget-friendly price. You can buy hair straighteners for as little as $20-$50.
However, at this low price, the hair straighteners may not be top quality and could have limited features.
Mid-range
The average price for a pair of straighteners is around $50-$150. At this price, you should expect to see drugstore brands.
Hair straighteners at this price should have temperature control as well as a screen with different functions. You may also receive a protective heat mat as well as a glove.
Expensive
For a professional-grade pair of straighteners, you should expect to pay between $150 and $250.
At this price point, you can buy some of the best-known names in hair styling tools that you are likely to find at a salon.
FAQ's
Will using hair straighteners damage my hair?
Any heat applied to the hair will, over time, cause some damage. However, there are some steps you can take to minimize this.
Before styling, you should apply heat-protectant liberally throughout your hair, which will protect it from the high heat, which would otherwise be quite damaging.
You may also want to purchase hair straighteners which have a temperature control setting. That way, you can ensure the heat is high enough to straighten your hair but not too hot to avoid damage.
Also, make sure your hair is thoroughly dry before using hair straighteners, because the hair is most delicate when wet. Using your hair straighteners with wet hair could cause damage and breakage.
What temperature should I set my hair straighteners?
It depends on the condition of your hair as well as the texture.
For example, If you have fine hair, you might find a lower heat setting will work for you.
If your hair is quite thick, curly, long, or textured, then you will require a higher heat setting. A low heat setting might not smooth your hair out very well, taking many passes to achieve a sleek look.
Wherever possible, you should look to use the lowest heat setting. Although a high heat setting will lock the style in better, it can be damaging to the hair.
How do I curl my hair with my hair straighteners?
Your hair straighteners also double up as hair curlers. You can use any size plates to curl your hair, although they will give a slightly different shaped curl.
To curl your hair, twist the hair straighteners away from the face as you glide down your hair. You can create soft, loose waves or tighter ones depending on your preference.
Make sure not to start twisting too close to your scalp; otherwise, the curls may look messy.
To make your curls look more natural, you can also brush through them once you have finished.
What tools or accessories do I need to straighten my hair?
Aside from a good heat-protectant, there are some tools you will need to straighten your hair. Firstly, a tail comb will help get a perfect parting, as well as neat sections. You will also need some sectioning clips to break up the volume of hair.
You may also wish to use a tail comb as you glide the hair straighteners through your hair, to give even smoother results. It will help with any tangles in the hair. A top tip is to brush through your hair with a paddle brush before styling.
Finally, you may wish to use a finishing spray or anti-frizz product. Using products will give your hair some hold, and will also help reduce any static.