5 Best Hair Oils for 2020 – Hair Oil Reviews – Total Beauty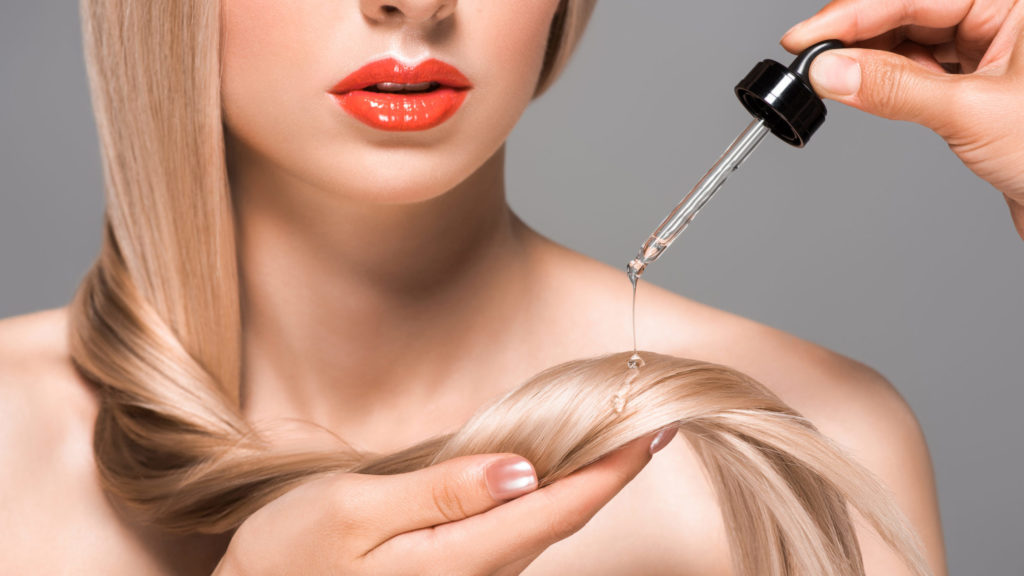 Hair oil is indispensable for hair -- all hair. Traditionally, it was thought that it should only be used for dry hair, but every type can benefit from oil. Like our skin, our hair cells need oil to keep it healthy. It lubricates, strengthens, seals, and helps keep the strands smooth and sleek for easy detangling when it's wet. It also fills in the gaps left by missing lipids when hair starts to thin. Just rub a drop on your hands, run through your hair, brush it out, then wash and style as usual. The trick is to make sure you get the right oil that's been designed for your hair.
Best for Choice
Kate Blanc Cosmetics Castor Oil easily hydrates and conditions hair with a great, natural scent. If your curls are dry to the point of brittleness, try this oil.
Pros:
Even if your hair is fine, this oil reduces frizz while adding an intensive moisture treatment to your hair. USDA-certified as 100% Organic, the oil adds the nutrients your hair absorbs easily so it can maintain its natural shine and balance. It can be used as an overnight treatment or as a leave-in product during the day. There is also the option to use it as a pre-shampoo. It's a lightweight oil that makes the hair shiny and manageable and hydrates the scalp as necessary. It can be used on dry skin on any area of the body and comes with an eyelash and eyebrow kit.
Cons:
If overused, this oil can weigh hair down. The oil can be too thick for thin hair, making it look greasy.
Best for All Hair Types
Ancient Greek Remedy hair oil is a great choice for visibly damaged hair and works well on dry skin and nails. Containing extra virgin olive and lavender oils, it's hair oil with a conscience!
Pros:
This product is made with natural oils selected to keep moisture in each strand of hair. It helps with detangling hair when wet. This oil hydrates the scalp to help keep the correct balance of oil and moisture. It is lightweight and contains extra virgin olive, sweet almond, grapeseed, vitamin E and lavender essential oils for ultimate cell health. The formula is highly concentrated, making it economical to use. All the ingredients are 100% organic and cruelty-free. Packaging is in keeping with a sustainable lifestyle. This hair oil is suitable for all hair types; it is particularly good for color-treated or very damaged hair. Its scent is very subtle and natural. This highly versatile oil can be used on all skin on the body. Safe for use on skin that suffers from psoriasis, rosacea, and eczema. It is very nourishing to the skin and nails for optimal health.
Cons:
Some sizes come in glass bottles that may not travel well. The oil is thick when cold and is therefore easy to overuse.
Best Conditioning Oil
Moroccanoil is the original argan-oil infused hair oil that suits all hair types, including beards. Fragranced with spices, it conditions the hair and leaves it soft and healthy.
Pros:
Moroccanoil is a fast-absorbing, non-greasy, long-lasting oil. This is the original formula that has been tried and proven effective since 2005. This hair oil has one of the highest concentrations of argan oil. The hair is left soft and easy to style without being overly greasy. It can be used as a finishing product as well as for conditioning and styling. It can also be used as a pre-wash. It makes hair more manageable and controls frizz when air-dried. It also speeds up blow drying time. There is a range of Moroccanoil products that offer different ways to apply the oil, which helps when trying to resolve a particular hair issue.
Cons:
This is a luxury oil, so it comes with a heavier price tag. The scent is quite strong and may not be suitable for a scent-sensitive environment.
Best for Hair Growth
All natural and 100% USDA-approved, Kate Blanc Jojoba Oil revitalizes hair and skin that has lost its shine. Natural, organic, cold pressed jojoba oil protects and strengthens cells.
Pros:
This oil is proven to help smooth the skin and create a radiant, energetic look. Deep moisturizing action nourishes the insides of cell on the hair, skin and nails. It restores natural shine to make hair look healthy. The oil works well to calm an itchy scalp. The 100% organic jojoba oil counters many hair damage issues at the same time. The oil helps the hair retain moisture in the body's natural cells. Jojoba is easily absorbed by the skin, so you are not left with unpleasant grease. This product can be used on damaged skin. Only a small amount needs to be used per application, and each use is accompanied by a pleasant smell. It is a very versatile oil for use as a body moisturizer.
Cons:
Certified organic and 100 natural elements make the oil more costly. The lightweight formula may not suit extremely damaged or dry hair.
Best for Natural Shine
VoilaVe Pure Organic Moroccan Argan Oil is a light, nourishing oil for your hair, nails, and skin. This oil is a natural moisturizer that is rich in carotenes and vitamin E.
Pros:
This oil is USDA- and ECOCERT-certified. The formula is light and works well on all types of hair. The argan oil is unrefined and has no fillers or additives. It can be used as a leave-in conditioner, a pre-wash, or it can be added to your regular shampoo and conditioner to add nourishment. It works well as a moisturizer for skin and nails. This oil works well on beards, thin or frizzy hair to keep it in place and healthy looking. The sell is very minimal.
Cons:
The bottle has a pump as opposed to a dropper, so it is hard to control the amount dispensed if you require less oil.
What Really Matters
Conditioning
Hair oil is used as a conditioner for hair. The hair oil you use must improve the overall quality and health of your hair. If you are having trouble with your oil making your hair or skin greasy, then it may be time to switch type. Different oils correct different hair conditions. Knowing which oil conditions which type of hair is the key to getting the most out of your hair oil. Different oil brands come in different thicknesses; thicker oil is better for more damaged hair. Some oils condition the hair's shaft; some fill in hair lipids. The fragrance type and strength can also vary, which might mean that you'll have to smell that fragrance on your hair all day long. If you don't like the scent, your only choice would be to wash it out. The more you know about your oil, the better your conditioning will be.
Understanding Your Hair
Understanding the oil is only half of the equation. Understanding your hair is equally as important. What do you want your oil to do? Condition your hair? Repair it? Is your scalp dry and itchy? Does your hair need intensive moisturizing? Is it overstyled? How often do you need to treat the hair? These are questions that you must address before buying your oil. Each oil has a goal for your hair; think about what your hair needs and select the right oil.
Treatment Type
Hair oils can be used in different ways. You can use them as a pre-wash intensive conditioner. You can add them before drying to prevent damage. You can rub them into dry hair as a leave-in conditioner. You apply them and then use heat to aid in absorption. You can even put them in as part of a night routine and leave them to condition your hair while you sleep. Or you can use them to style your hair with a great shine – even very stubborn and unruly strands! All these methods achieve a different level of conditioning. Taking the time to find out what your hair needs is a game of trial and error but is ultimately worth the perseverance.
What's in Right Now?
With the continued rise of celebrity hairdressers giving away industry secrets, high-quality hair oil is in. Hair health is moving front and center of a good beauty routine. This makes hair oil central to good hair health. Natural hair oils are becoming popular, as it can be used as an intensive moisturizer for the hair and scalp in one application.
Recently, we've seen a drastic move to more organic-based oils and proprietary blends. Being ecologically conscious came to the forefront, too, and hair oils moved to more sustainable ingredients. There has also been a push toward more natural fragrances for use in scent-free and scent-sensitive environments.
Prices
Expensive
$60-$150 buys you a high-quality hair oil. It is likely to be made of natural materials and includes a proprietary blend of nutrients for the hair. The fragrance is usually based on natural aromas and indicates what has been added to the oil. This is often salon-grade hair oil.
Mid-Range
$20-$60 is the price of mid-range hair oil. You will find many of them come from large cosmetic companies or small independent manufacturers. Oils in this price range often come as part of a range for a specific problem. The contents of the oil vary widely, but most have natural, proven oils to combat the identified hair issue.
Cheap
With $3.50-$20, you can purchase a cheap hair oil that contains mostly cheap oil. The cheap oil base is usually one that the mid-range and expensive oils avoid, as it is harder for the hair to absorb. It is also less versatile as it cannot be used for all hair or hair issues. Application methods are also limited.
FAQs
My hair is naturally greasy. Should I use a hair oil?
Yes, there are hair oils for all types of hair. Use a lightweight oil designed for strengthening the hair. Treat your hair once a week with a small amount, concentrating on the tips. Adjust the amount to get the right balance as necessary.
Will my hair look oily if I use it?
It won't if you let your hair guide you. If you apply the oil and it looks greasy, simply use less oil next time. Make sure you have the right oil for the right hair issue. Applying it only to the damaged parts of your hair will also ensure maximum absorption without looking greasy. Use an overnight treatment to get the benefit of hydration without worrying about it being visible during the day.
How often should I use hair oil?
It depends on your hair issue. If you have tightly coiled hair that tends to be brittle, you may need to apply the oil a couple of times per week as you would for a leave-in conditioner. If your scalp produces a lot of natural oil, you may only need to do a pre-wash treatment once or twice per month. Hair oil keeps your hair healthy. Most hairdressers recommend that you use a treatment once per week. The important thing is to get to know your hair and use the right oil and treatment.
Will it work in colored hair?
Yes! Hair oil is excellent for colored or very damaged hair. It fills in the lipids that the hair has lost during the coloring process. The end result is shiny, healthy-looking hair that gets back its bounce without the loss of color.
Can I use hair oil on my skin?
Not all hair oils are designed for the skin. Some are very thick, which the skin struggles to absorb. If you have a dry, itchy scalp, most oils will help with that. Those that are beneficial to the skin will indicate it on the product's packaging.
Why Trust Us
Since 2007, TotalBeauty has been committed to helping millions of people find the right makeup, skincare, and haircare products for their needs. Our experts know what works best for every face shape, skin type, hair type, and more. They are here to share that knowledge with everyone looking to upgrade their beauty routines or try something new.