5 Best Hair Dryers for 2020 – TotalBeauty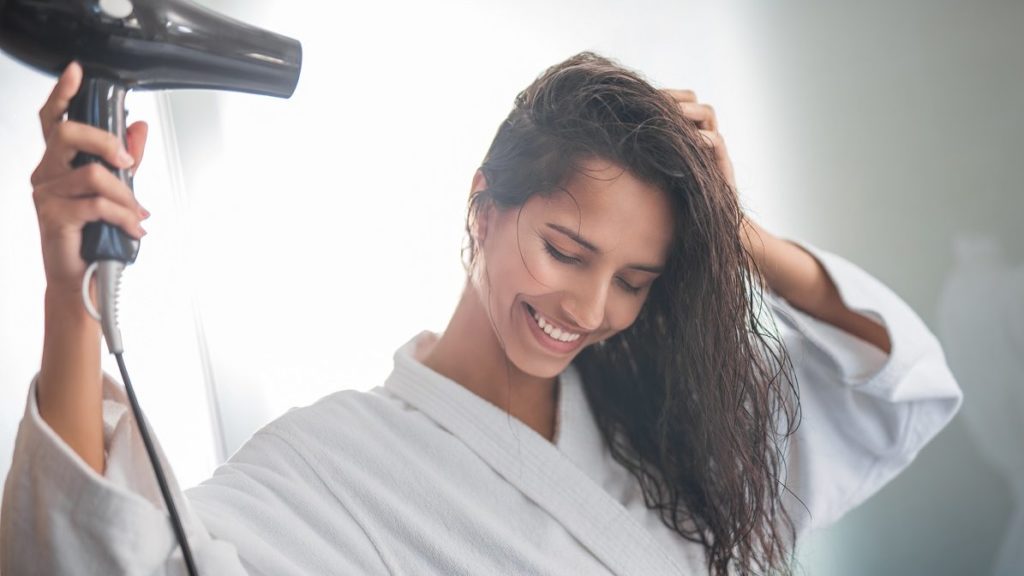 Choosing a good quality, affordable hair dryer can be challenging, particularly when there are so many available options. It's especially difficult if you have a hair type that needs extra special care.
There are several factors to consider when buying a hair dryer, including wattage, weight, included accessories, heat levels, aesthetics, and more. To assist you in making the correct choice for your budget, we've put together a list of the top five hair dryers on the market.


Best Choice
BaByliss is one of the biggest names in hair tools right now, and their BAB2000 Hair Dryer does not disappoint.
Pros:
The high wattage of 2000 gives it enough power for salon use, but it can be used at home, too. It is ceramic-coated to provide shine and silkiness to the hair. The motor of the hair dryer is lightweight but built to last. It is appropriate for use with all hair types, even thick, coarse strands. It is a well-balanced appliance that doesn't slip from the hand. There are six heat and power settings, and the buttons are well-placed.
Cons:
It only comes with a concentrator nozzle, not a diffuser, as we expected. It is easy to over-process your hair with this dryer by misusing the high settings. For non-professional users, it's best to start on low to get used to the dryer first.
Best for Curly Hair
If you struggle with maintaining your curly or wavy hair, then you will love this NITION negative ions ceramic hair dryer that repairs your hair while you dry it thanks to its innovative technology.

Pros:
Moisture-hungry hair will benefit from the ceramic-coated outlet of this NITION hair dryer infused with nano silver, which helps to repair damaged hair. Argan oil is infused for shine, and tourmaline is utilized for its anti-static properties. Not only does this hair dryer provide health-giving benefits, but also comes with 3 heat settings, a cool-shot button, and 3 attachments. It has impressive heating power that cuts drying time in half. The long cord is a bonus.
Cons:
We found that the attachments are difficult to secure on the hair dryer as they easily pop off. Some buyers also find that it's too heavy. This hair dryer is best for light use as it is not the most durable.
Best Salon Hair Dryer
The TREZORO Professional Ionic Salon hair dryer is perfect for hairstylists as it combines ceramic ionic technology with 2200W of powerful air. And yet, it remains lightweight and comfortable to hold.
Pros:
This TREZORO dryer's advanced ionic system delivers millions of ions straight into your hair, which we love for its shine-enhancing properties. This salon-quality dryer has all the heat and air options of typical hair dryers, but also includes a durable matte finish and a convenient non-slip handle. Most buyers found that this dryer is reasonably quiet and is good value for money. We were also impressed with the especially long cord—perfect for moving around a salon or a bedroom.
Cons:
The biggest disadvantage of this hair dryer is that it doesn't come with a diffuser, only two concentrator nozzles, which makes it a bit exclusionary to curly hair. We also found that the heat control buttons are awkwardly placed, so it's easy to accidentally press the cool button.
Best Space Saving
If you're looking for an effective, compact hair dryer that will fold into your suitcase and travel the world with you, then the Conair 1600W compact dryer is for you.
Pros:
It may not look like much, but don't be fooled: this hair dryer packs a big punch for its small size. It also has two settings that cater to thick and thin hair types. Plus, it's a dual voltage device, which means it can be used anywhere in the world. We were thrilled with the folding handle feature, which allows for storing in a compact space—more room in your suitcase for other things! If you want a hair dryer that is easy to transport but is still powerful, this is a good option.
Cons:
We wouldn't recommend the Conair Compact Dryer for thick or frizzy hair. It's also not the best option for curly or wavy hair as it doesn't come with any attachments to reduce frizz. Many long-haired buyers have struggled with getting their hair stuck in the back of the dryer. We also weren't impressed that you need a screw to switch between voltage options.
Best for Fast Drying
The Remington D3190 Hair Dryer is sturdy and reliable. It dries hair quickly without using excessive heat.
Pros:
It uses a tourmaline-grill design to dry the hair faster than other Remington models. The D3190 uses ceramic and ionic technology to prevent static and to smooth tresses and lend shine. It helps prevent the hair from frizzing while drying. It comes with both diffuser and concentrator nozzle attachments. It works well on long, thick hair and gives volume to thin strands.
Cons:
It is a heavy appliance, as far as hair dryers go, weighing in at about two pounds. It is also bulky and might take some getting used to for maneuvering around the head. We found the cold shot button to be poorly placed. It's too easy to activate by accident.
What Really Matters
Wattage and Weight
The wattage determines the strength and durability of a hair dryer's motor, and when it comes to hair dryers, you get what you pay for. You can pick up a good dryer at a reasonable price, but cheaper dryers generally need to be replaced more often. Ultimately, a high-wattage hair dryer gives the best results, but if you have relatively easy thin-to-normal hair, than anything above 1500W works. Similarly, the weight of the dryer makes a big difference to the overall drying experience—the lighter, the better. To ensure you don't get sore arms, look for a hair dryer that weighs around one pound.
Benefits
What really matters in a hair dryer is finding the right features for your specific hair type. Ions, tourmaline, and ceramic technology make a big difference in the end result. Ceramic technology smooths hair strands by evenly distributing heat. Ceramic dryers are great for creating volume in thinner hair.
Ionic dryers expel negative ions that disperse water droplets, resulting in faster drying time, less frizz, and more moisture. Tourmaline is a semi-precious mineral that also helps to lock in moisture and consequently dispels frizz. Hair dryers coated with tourmaline basically do the same job as ionic dryers, but with a bigger boost. These features are best for thick or curly hair.
Extras
Many hair dryers come with extra attachments and functions that can make all the difference. The cool-shot button allows you to blast your hair with cold air at the end of your blow wave to lock in a style. It's also useful to have attachments, such as a diffuser, concentrator nozzle, and comb. Diffusers are a must for curly hair styles as they distribute heat evenly around the hair, keeping your hair smooth and frizz-free. The concentrator nozzle focuses the air in one specific area and is perfect for straight and sleek styles. A dryer with adjustable heat settings is also important.
What's in Right Now?
The latest hair dryers in 2020 are those committed to hair damage reduction. They focus on health-providing technologies and minimizing damage along with ease of use and style. Far-infrared heat technology goes deeper into the hair shaft and results in a much quicker drying time. Another 2020 trend is to include 24-carat gold in the barrel of the hair dryer. The gold assists in spreading the heat more evenly through the hair, which speeds up drying time.
Another key feature in 2020 is the inclusion of microprocessors inside hair dryers that monitor the temperature several times per second to ensure that the hair never gets too hot. Also, stop struggling to attach diffusers and nozzles to hair dryers; new magnetic attachments make changing attachments a breeze.
Prices
Expensive
$150 – $400 for an extremely high-end, professional-quality hair dryer with many extra features and superior wattage.
Mid-Range
$30 – $150 for a top-class hair dryer that includes all the most necessary features and excellent durability.
Cheap
Under $30 for a basic hair dryer.
FAQs
Can hair dryers damage hair?
The damage that hair dryers produce depends on several factors; first, the quality of the hair dryer. If it's a good quality dryer—especially if it includes ceramic or ionic technology—your hair will be protected from damage while it dries. Overuse can lead to damage, so try not to dry your hair every day. Let your hair start to dry naturally before blow drying to further cut the drying time. It's also a good idea to use a heat-protective styling aid before blow drying.
I need a hair dryer that the whole family can use. What should I choose?
Your best option would be to purchase a top-quality, durable hair dryer that is suitable for all hair types. Opt for one that includes several attachments, such as a diffuser and comb to cut down on drying time. Look for a low-noise dryer because children often don't like to have a noisy machine right next to their face. Lastly, choose a hair dryer that has several heat settings so that you can set it on a warm setting for your children and a hot setting for your own hair.
Can hair dryers cause hair loss?
While blow drying hair too often can damage and dry hair, it won't cause hair loss. Hair loss is caused by other factors, such as hormonal issues, genetics, and stress.
Why Trust Us
Since 2007, TotalBeauty has been committed to helping millions of people find the right makeup, skincare, and haircare products for their needs. Our experts know what works best for every face shape, skin type, hair type, and more. They are here to share that knowledge with everyone looking to upgrade their beauty routines or try something new.