5 Best Hair Curlers for 2019 – Hair Curler Reviews – Total Beauty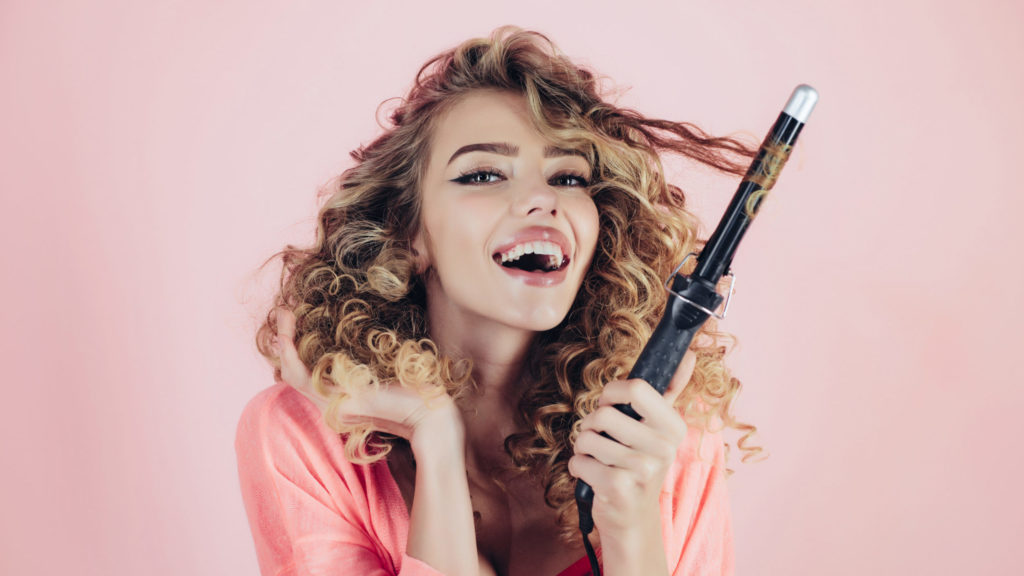 Hair curlers come in different shapes and sizes, each one made to create a particular look for a particular hair length and type. Before you go through the hundreds of curling irons and wands out there, we want to show you how easy it is to pick out a tool based on the results you're trying to achieve. Are you looking for beach babe waves? What about big, bouncing curls? How about those glossy, retro-Hollywood curls? We went through the hottest hair curlers to show you which ones are going to get the job done right.
Best Choice
This curling wand was created for the most popular styles, ones that use big, loopy curls and waves. It's also big enough in diameter and length to handle long hair.
Pros:
Because the cylinder is thicker at one end and slims down at the tip, you'll end up with big, natural-looking curls. We found that the bigger wand (i.e. the one with the one-and-a-half-inch barrel) gives gorgeous results on long and medium-length hair. The highest 410-degree setting forms deep, glossy curls, even on curl-resistant hair. The lower temperatures on this wand are great for beach waves. The temperature gauge is digital, so you can tell exactly which setting works best for you.
Cons:
Higher temperatures give beautiful curls, but if your strands are fine, you might want to use a lower heat setting to avoid damage. If you don't have quite enough length to wrap your hair around the barrel a few times, try the next hair curler instead.
Best Hair Curling Wand
This wand heats up quickly and uses high temperatures to create loose spirals on short, medium, and long hair lengths.
Pros:
The barrel on this wand is the average one inch, so it can be used for almost all hair lengths. The wand size also makes for familiar handling, even though it's not a traditional curling iron. You'll get used to it quickly, and it heats up in only thirty seconds. Combined with the high 400-degree heat, the taper of the wand is designed to yield curls that last until the next day and beyond.
Cons:
There are small strips on the back of the wand to help keep your hair in place while curling. For curling wand novices, this is a great addition. If you're used to using wands with totally smooth barrels, however, you might find the wand unwieldy.
Best Curling Iron
We've seen plenty of curling irons with high price tags that couldn't do the job as well as this one does.
Pros:
As a curling iron, this hair curler is standard in design, so even your grandmother will be able to get good curls out of it. Plus, it's cute, with a rose gold color barrel that's double ceramic. The nice coating means hair slides in and out easily for a more luxurious experience despite the low price. It also reduces frizz. Create glossy, tight curls, spirals, and loose curls with this iron. The temperature control dial has thirty settings.
Cons:
The heat is pretty standard, with "30" equating to 375 degrees. Give the turbo boost button a try. It ramps the temperature up to 400 degrees in a little burst to set your curl right before release. There's one complaint though: the thumb tends to rest on the temperature dial, which moves easily while curling.
Best Heat Tool for Travel
This isn't some throwaway travel curler. This flat/curling iron is thoughtfully built and easy to use. It's dual voltage, but you might find yourself packing it for short trips, too.
Best Heat Tool for Travel
Pros:
Because it's dual voltage, you can use this hair curler in any country with a simple prong adapter. As a curler and a flat iron in one, you can curl your hair or go for something different by straightening it flat. It has an unexpectedly high temperature for such a small device and does good work despite its size. The heat of this well-designed iron stays consistent on all styling surfaces, which is helpful because inconsistent heating doesn't style well. A travel bag is included.
Cons:
The barrel is only three-and-a-half inches long, but it's one inch wide, which isn't too bad. It can straighten in small sections and create simple curly styles quickly, just not anything too ornate. There's only one heat setting, which is the usual high setting on most curling tools, approximately 380 degrees.
For Natural-Looking Curls
This wand gives life and bounce to your hair, whether it's thick or thin. Use it to achieve beach waves, well-defined spirals and all variations in between.
For Natural-Looking Curls
Pros:
Whether you have flat hair and need extra volume, or if you're getting into the big hair trend, this wand can help. The bubbles are designed to give your curls a natural look with added bounce and lots of lift. It gets very hot–up to 420 degrees. Because of this, you'll be able to work quickly, whichever style you choose, and the outcome will be long-lasting. Also, the space between the bubbles is narrow, so you can get bouncy curls on shorter hair with this wand, too.
Cons:
It takes some time to get used to this tool, although the results are worth the effort. Because of its shape, it takes practice to get the curl all the way down to the ends. Try wrapping the tips twice around the last narrow bit and hold with the heat resistant glove.
What Really Matters
Styling Your Ends
Some people only curl the ends of their hair and it looks fantastic. On the other hand, you might have a head full of curls, but if your ends don't manage to get the same treatment, things will look a little off. Ends really matter.
For wands, wind down as close to the ends as possible, but don't let the tips go. For curling irons, clipping lightly with the clamp before letting the section go allows every hair strand to be curled all the way down to the end. You'll get the best results with any hair curler by getting occasional trims to remove split ends.
Avoiding Damage
Try to match the heat settings to the texture of your hair. You might have a thick head of hair, but if the actual strands are wispy and thin, very high heat settings can be damaging.
Whatever your hair texture, when getting used to a new hair curler, start with a low setting and work your way up to the temperature that works well for you. If you have hair strands that are thick and curl-resistant, you can benefit from high heat settings that force a curl. It's worth the extra step to use a heat protectant, no matter your hair type.
Ease of Use
So, you've finally narrowed things down. Now the question is whether you can easily use the gadget you've chosen. Curling irons still outpace curling wands in sales, even though wands are the quickest route to the hottest style: beach waves. That's only because curling irons are what most of us grew up using.
To judge for yourself whether you'll actually use the hair curler you've chosen, watch a product video first. Keep your hair length and texture in mind as you watch to judge if it's right for you. Does it look easy to use? Or will you have to spend the weekend learning?
What's in Right Now?
We want to spend more time looking good and less time in front of the mirror trying to get there. Effortless is the name of the game, and it doesn't look like that's changing anytime soon. Automated curling devices have been on the up; hold those things near to your head, and boom: curls.
But automated curlers aren't for everyone and, because you can't control the outcome directly, the quality of the curls varies. The closest thing to vibrant automatic curls is actually the bubble wand. Once you're over the learning curve, it's very easy to use and works on many different hair textures and lengths.
Prices
Expensive
$40-$100 These have high-end features like multiple gadgets in one product. Your automated hair curling tools are in this category, as are gold-plated irons. If you love beautiful things, there are some very attractive hair curler appliances in the expensive range, too.
Mid-Range
$20-40 This range has most of the brand names like Conair, Vidal Sassoon, Remington, and others. So, unless you are looking for the special features in the expensive range, you'll do very well with a mid-range tool. Many of these show the exact degrees on their temperature gauges or have digital screens.
Cheap
$10-$20 In the world of curls, cheap doesn't necessarily mean inferior. You may (or may not) get a great name brand hair curler in this category. Expect basic high and low temperature settings on these, too. What matters most here is the finishing of the barrel. It should at least be finished with ceramic or tourmaline. Anything but the old stainless-steel tube will do. After all, even the plate on a clothing iron has a coating.
FAQs
How does one use a hair curler?
It's a good practice to read and follow the manufacturer's instructions prior to starting. Wrap a section of hair around the barrel of the hair curler. Once you have the entire piece wrapped, hold it for a few seconds, then release it carefully. When you're curling the front of your head, try to twirl the iron or wand away from your face. After that, you can vary the direction according to the look you're after. Once cooled, lightly style your curls or waves. They will keep longer if you mist them with hairspray.
Which hair curlers are for beach waves?
The curlers for beach waves are wands. This is because, with beach waves, you don't want the picture-perfect, smooth look of a curling iron. Your hair will still look tousled when you finish curling it.
What size hair curler should you buy?
For long hair, you'll need the size of the hair curler to start at one-and-a-half inches. Larger barrels will give a looser curl or wave. The smallest size for long hair is the one-inch barrel, for smaller, tighter curls. The one-inch is great for creating tight or loose curls and waves on medium length hair. For short hair, you can still use the one-inch for loose curls or get a smaller size for tighter curls. You can create classic Hollywood glamor on short hair with a curling iron of any size. Just pin the curls down into spiraled circles in the front when you're done.
Which hair curler can offer waves like Selena Gomez's?
You can get Selena Gomez's medium length beach waves with a curling wand that's one inch or more in diameter. But there's something you need to know first. Every style starts with a great haircut. When a celebrity gets a new look that's shorter than their normal appearance, it's usually because they got a new cut.
Take a picture of Selena's beach waves to your stylist and tell her that's what you want. Before the scissors are branded, ask if the exact look is possible with your hair. Then ask what the stylist will need to do to achieve the look.
The stylist's job is to shape your hair so that it falls perfectly. While they're curling your hair, ask them to explain the process to you. That way, when you're at home, all you'll have to do is maintain the look with your favorite curling wand.
Why Trust Us
Since 2007, TotalBeauty has been committed to helping millions of people find the right makeup, skincare, and haircare products for their needs. Our experts know what works best for every face shape, skin type, hair type, and more. They are here to share that knowledge with everyone looking to upgrade their beauty routines or try something new.