5 Best Gel Nail Polish Kits with UV Light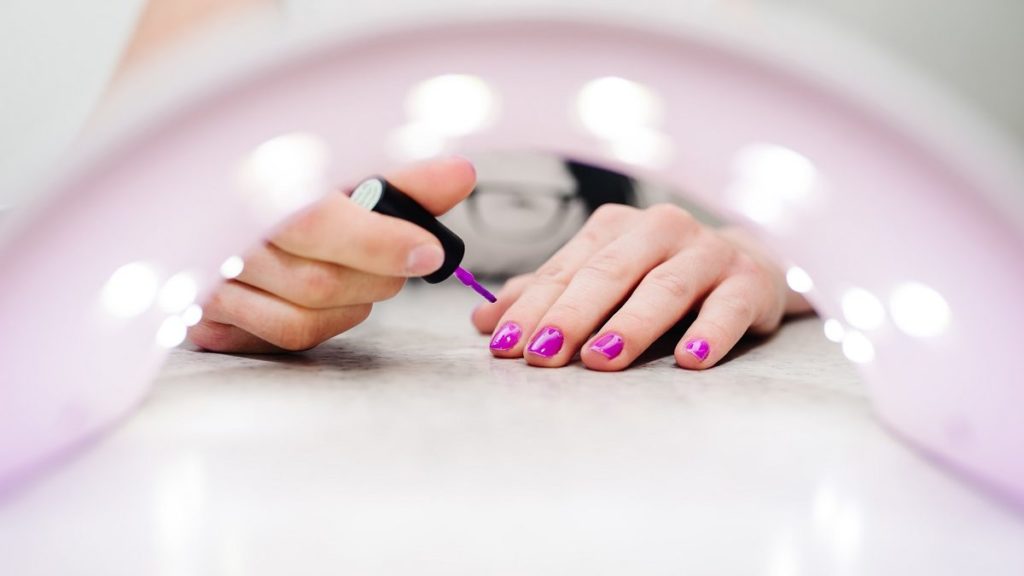 Gel polishes contain ingredients that hold better than traditional lacquers. The strong bond ensures that they last longer and withstand exposure during everyday activities without chipping. One of the key differences is that these polishes are more flexible and withstand pressure better.

It is important to note that gel nail polish doesn't last long when regularly exposed to water. Considering that you remove this manicure by soaking, you should avoid hot water. Prolonged exposure to moisture causes lifting, after which, you need to soak the gel in acetone and remove it altogether.

Consider wearing rubber gloves when doing dishes to avoid such a scenario. It pays to understand that the application process for gel nail polish is a sensitive one. One misstep during application may yield unsatisfactory results and expose your natural nails to damage.

When shopping for gel polish, remember to read the ingredients. Make sure that there aren't any harmful chemicals in the polish. Such components can cause skin irritation and other organ problems. After confirming that the formula is safe for use, choose a product with the right color, scent, and texture. Users with a constant need for change typically go for packages with a variety of colors.

Some sets of gel polish come with a UV lamp. These lamps last an average of 10,000 hours, with a bulb replacement coming every two to four months. In a smart move, companies began selling an all-in-one package that contains both the gels and the curing equipment. This inspired move brings added convenience as the customer doesn't need a separate purchase for a lamp.

These are some of the best gel nail polish sets with UV light.

Best Choice
The Beetles Full Maroon Gel Nail Polish Starter Kit is among the best in the market. The light has 30 LEDs for optimum performance and shorter curing duration.
Pros:
This lamp works well with other brands of gel polish. The curing process is more or less the same unless otherwise instructed. A single package includes all the tools necessary for the procedure. One purchase primarily caters for everything. Beetles Gel Nail polish is easy to apply and poses no challenges for first-time users. The product has a moderate consistency, not too light or too thick. With proper prep work, the gel lasts long and offers real value for money.
Cons:
There are some concerns about the final color not being the exact shade as the advertised version. For many customers, this is a severe downside. Some users don't like the gel's smell. There are concerns after packages come with instructions. This little omission makes the product challenging to use, prompting users to look up YouTube videos for help.
Best Starter Kit
The best starter kit is the Modelones Gel Nail Polish Kit with UV Light. This elegant package has six shades for winter and autumn.
Pros:
The bag readily holds all items in one place and eases portability. Convenience is a fantastic upside for many customers. This easy to use kit is an ideal fit for first-time users as well as beauty professionals. For an affordable price, you get everything you need in one attractive package. There's a set of precise instructions on how to use each item and at what stage. Modelones has an excellent selection of colors. The use of quality material brings a product that meets and exceeds all user expectations.
Cons:
The lamp is somewhat delicate and breaks down when not properly looked after. There's a need for a better-quality device in the package. In some cases, users take issue with the quality of the gel polishes as it peels off. The application process is straightforward but strict, and if you don't follow instructions, prepare for disappointment.
Perfectly Cured Finish
Some products cure better than others. For the perfect cure, go for the AZUREBEAUTY Gel Nail Polish Starter Kit. With a total of 85 items, you have all you need in one package.
Pros:
The kit is easy to use and cures quickly for a matte or a shiny gloss finish. There's enough space in the lamp. You can comfortably position your hand for curing without concerns about the gel smudging on the sides. There may not be a wide selection of colors, but the available range is gorgeous. You need only two layers max, meaning that your polish lasts and proves real value for money. The package comes at a pocket-friendly price. People who don't like pastels could undoubtedly use a darker shade in the available selection.
Cons:
In isolated incidents, the light has problems right from day one. Such faults necessitate additional purchases and are generally unwelcome. The formula is a little too thick for some people's liking. Such consistency requires more extended periods under the lamp, which is an inconvenience. The quality of the polish is a concern for some, who feel that it could use some improvement to reduce peeling.
Easy to Use
This all-in-one kit comes with glitter nail extensions with a variety of six colored powders.
Best For Those With Allergies
Pros:
Powders make the creation of extra shades comfortable with a simple mix of select colors. Creative minds should go for this product and experiment on different combinations. The product is easy to use and is among the top beginner kits in the market. Under the lamp, gel cures fast and thoroughly. Users don't have to wait long for the layers to set. The package contains everything a beginner needs to produce stunning nail art and extensions. Filing and buffering adjusts the extension gel to the desired length. Nail drill machines enable you to do this with the utmost convenience. The 24W lamp cures any other brand of gel with ease.
Cons:
Despite its efficiency, there are concerns about the lamp's quality. The absence of a timer is a notable omission that remains a cause for concern among users. Another matter is that the forms tend to lift off the fingers, resulting in a messy look. The gel polish is a bit too sticky for some customers' liking. On some occasions, the lamp doesn't properly cure the gel. Considering that this is an essential step of the procedure, it's a big letdown.
Best for Professionals
Professionals should go for the Terresa UV LED Nail Lamp and Gel Polish. Auto-sensor technology switches the light on and off for convenient use.
Pros:
The lamp works efficiently and cures almost all varieties of gel polish. There's a set of simple instructions in the package that makes the product easy to use for everyone. Despite the product being a clear winner in this category, it's easy to use. The items in the package are high quality and real value for money. Curing takes a short time, allowing you to resume your everyday duties without unwelcome delays. The lamp thoroughly cures each layer to perfection. Overall, you get a finish that strongly resembles a professional manicure job.
Cons:
In some isolated cases, the package comes without user instructions. This omission makes gel polish application more complicated than it has to be.
FAQs
What's the difference between gel and traditional nail polish?
With traditional varieties, curing is by oxygen, while gel brands cure under UV Light. You may also notice that you remove traditional types using nail polish remover, while you soak gel polish in acetone then wipe it off. There is a clear difference between the two manicure varieties.
What harmful ingredients should avoid?
There are three common toxins present in this variety of products; formaldehyde, toluene, and DBP (dibutyl phthalate). These carcinogenic ingredients cause inflammation and other harmful side effects when used in high doses. Some of the known side effects include liver and thyroid problems. In a preemptive move, most professional-grade products come free of these unhealthy elements.
What's the difference between an LED and a UV lamp?
LED lamps are lighter in weight and last up to five times longer before bulb replacement. LEDs also cost more and cure gel faster. UV lamps, on the other hand, are better at curing clear gel polishes. LED lights are the best option when working with DND formulas.
Which brand should I buy?
Most products come with a match between the gels and a suitable LED/UV lamp. It is important to note that specific gel variations cure differently under different lamps. Before buying, always check the list of ingredients for harmful elements. Toxins in pedicure products may cause severe discomfort and damage your skin.
Are gel manicures safe?
Safety is a critical concern in all aspects of the beauty industry. Gel manicures, in particular, are a sensitive product. These polishes weaken your nails, leading to dehydration and a thinner nail plate. One precaution is avoiding picking. At some point, color lifts and the temptation to remove it kicks in. Ripping it off without soaking in acetone may remove layers of your natural nail as well. This misstep may result in severe damage that takes months to heal.
What Really Matters
Shopping for the perfect product is a delicate process. The first consideration is quality. Good products last longer and ultimately produce the needed results. Such items also last longer, and lamps, for instance, don't unnecessarily break down. The ingredients are a very vital consideration. Nobody wants harmful chemicals in the formula. We all want safety. Lightness is essential. Heavy extensions and gels feel unnatural. Color is important too. We go for products that look good on us. Typically, users avoid items that are too complicated, so ease of use is crucial. Finally, the price has to be right.