The Best Full Length Free Standing Mirrors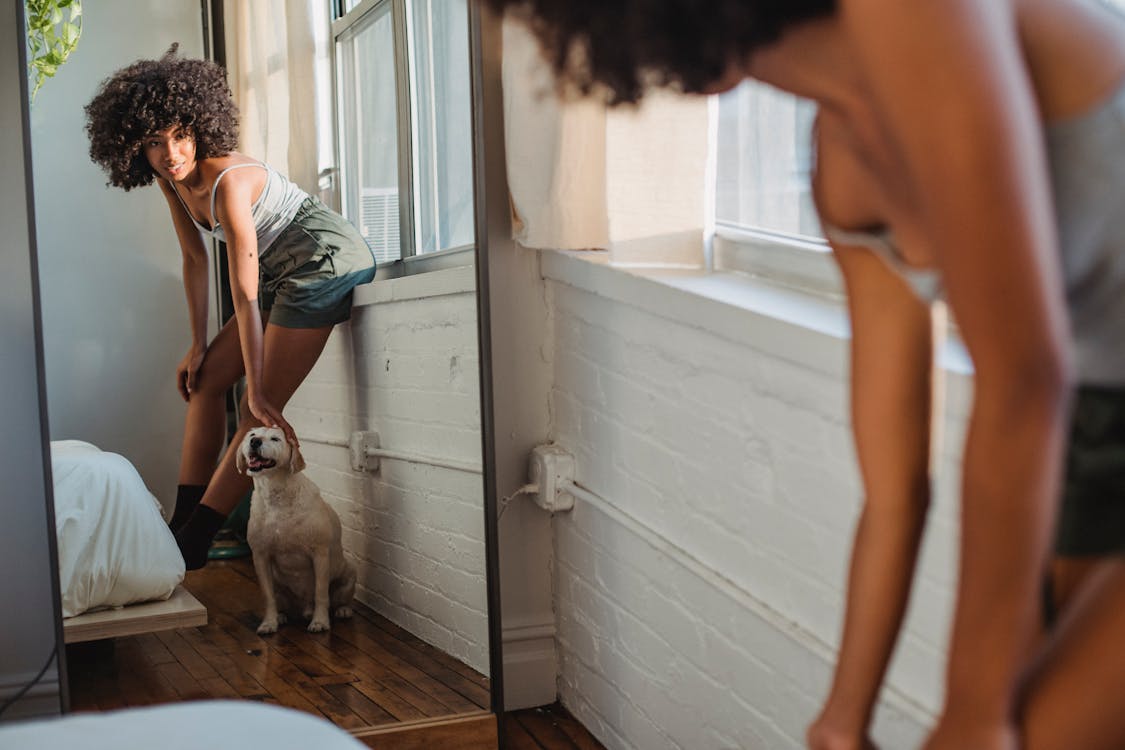 A free-standing full-length mirror can really add some sophistication to your space. These types of mirrors look lovely anywhere, and they provide an accurate view from head to toe. Most free-standing mirrors can also be hung or propped against a wall aside from standing on their own. Best of all, there's a mirror for every style, budget, and room size. Here are a few of our favorites.
TinyTimes Full-Length Mirror
This mirror is the fairest of them all.
TinyTimes' full-length mirror is simply a must-have. Able to accommodate any height, this elegant-looking mirror can stand or hang vertically on the wall, depending on your preference. The beautiful, simple-yet-sophisticated frame is made of wood-beech and makes for a great complement to your space. And the assembly process is a breeze, too. When it comes to sizing, style, and quality, it's tough to beat this mirror.
Pros:
Classic, sophisticated design would look good virtually anywhere
Excellent glass thickness and durability
It's free-standing, but you can also hang it on the wall
Shows your whole body and expands the visual space of a room
Assembly process is easy and quick
Cons:
Doesn't come very well-packaged
TinyTimes Full-Length Mirror
Pick from one of four snazzy colors with this mirror.
Featuring a thin, brushed metal frame for a very modern look, this mirror from TinyTimes is a minimalist's dream. We adore that this mirror is available in multiple chic colors, like rose gold and silver, and the fact that the frame is made of a durable, fade-resistant aluminum alloy. Installation is simple and quick, and this mirror can stand up on its own, hang on the wall, or lean against the wall, depending on your room size and style.
Pros:
Comes in four sleek colors: rose gold, black, silver, and gold
Frame is made of aluminum alloy, which is durable and fade-resistant
The back is covered with an explosion-proof membrane for safety
Can be leaned on the wall, stood on its own, or hung on the wall
Cons:
The screws come out a little too easily
Gallery Solutions Full-Length Mirror
You've gotta love a wallet-friendly mirror that's just as good as more expensive models.
Gallery Solutions' chic full-length mirror features a modern gray-washed frame and fresh, clean lines. Perhaps best of all, it looks like a super-expensive mirror but is actually one of the more affordably-priced models available. And the tilt feature comes in handy, providing an accurate reflection regardless of the angle. If cost is a concern when you're shopping for a new mirror, this product is a solid pick.
Pros:
Excellent value
Design is sleek and minimalist-chic, with clean lines and a narrow, gray frame
The rear-adjustable easel allows you to tilt the mirror however you like
Cons:
The frame isn't quite as durable as others
NeuType Full-Length Mirror
This mirror exudes elegance, making it an amazing addition to any space.
This ever-so-elegant mirror from NeuType will please anyone who appreciates a well-crafted piece of furniture. Boasting simple, attractive lines and sturdy construction, this mirror would look gorgeous angled in any corner of your home or even mounted horizontally or vertically on the wall. We also love that this mirror has thick, high-definition glass that's burst-proof and explosion-proof for added safety.
Pros:
Chic, elegant design
High-definition, burst-proof glass
Versatile fit and setup is easy
Comes in several colors and finishes
Cons:
A tad pricey, but the quality will be worth it for some folks
Naomi Home Full Length Mirror
This mirror's intricate, mosaic-inspired frame really sets it apart.
Looking for something a little more unique than your average full-length mirror? This pick from Naomi Home has an ornate mosaic-style frame that'll really make any space pop. This striking-looking mirror, which can be mounted horizontally or vertically, is enclosed with a durable frame that makes it easy to clean and maintain. But it's the exquisite frame and sleek design that really sets this mirror apart from the crowd.
Pros:
Gorgeously crafted mosaic-style frame
Can be mounted vertically or horizontally
The framing is very solid and durable
Packaging is awesome
Cons:
The price point may be a deterrent for some
Frequently Asked Questions
What kind of full-length mirror is right for me?
Of course, this will largely depend on personal preference, but you should first consider exactly where you'll be putting your mirror. You may want to get a mirror that matches the lines of your furniture — for example, an oval mirror if you have furniture with softer lines, a rectangular mirror if you have a lot of straight lines, and so forth. Alternatively, full-length mirrors can be a great way to complement existing decor by adding a contrasting element that doesn't take up much space visually.
How should I think about framing?
Most mirrors have a frame, but there is a wide variety of framing options out there. Some are simple and made from wood (perfect for a rustic-chic room), while others are made from materials like silver- or bronze-colored metal for a more polished look.