5 Best Foot Massagers for 2019 – Total Beauty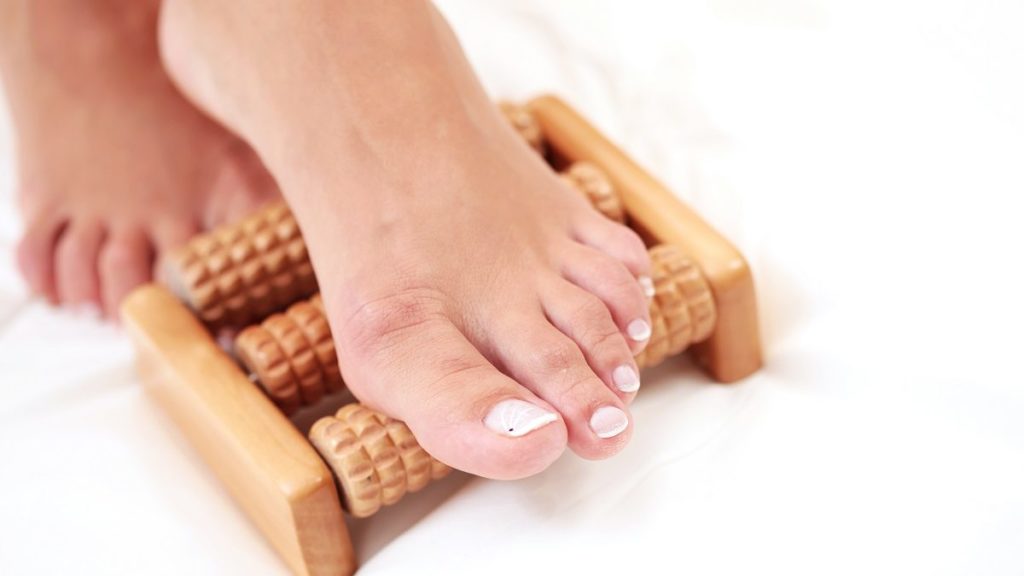 Regular foot massages come with many benefits, including lowered stress levels, better circulation, and less foot pain. That's why many people choose to invest in a foot massager or foot spa for personal use. Whether you've spent all day on your feet at work, or just had a particularly stressful day, a good massage can relieve muscle fatigue, tightness, and promote foot health and overall relaxation. If you're in the market for a relaxing foot massage, look no further. We have rounded up five of our favorite foot massagers and have included something for everyone.
Best Choice
This six-in-one foot spa comes with all the bells and whistles you could ask for, making it our top choice.
Pros:
We fell in love with this foot spa from Arealer at first sight. Our favorite feature is the foot massager with three distinct modes, but there's a lot more to love about this foot spa. The foot stone and powerful bubble jet pamper and soften your feet, while the infrared lighting kills any germs that may get introduced. Whether your feet are aching from a long day of work or you need to kick back and relax a little bit, this foot spa is perfect for it all.
Cons:
Some users say this foot spa is hard to control, but there are just a few buttons to mess with, so it's not overly complicated. The controls also make it easy to personalize. You can set the timer and temperature exactly where you need it, since your needs may vary daily.
Best for Foot Pain
With a cleverly designed handle, you can take this foot massager with you anywhere you go, whether you're on vacation or just in the office.
Pros:
If you travel a lot, this heated shiatsu foot massager makes the perfect travel companion. The 360-degree massage technology reaches every part of your foot for complete relaxation, no matter where you are. We love that this foot massager not only massages your soles and forefeet but also provides intense relief to your ankles and the top of your feet using air compression. You can control the heat, air intensity, and kneading speed, giving you ultimate control.
Cons:
Some users have voiced their concern over bacteria, fungus, and odor building up since this foot massager doesn't have any self-cleaning or germ-killing feature. However, the foot cover is detachable and can easily be cleaned, so maintaining this massager isn't a burden.
Best for Poor Circulation
If you struggle with circulation, look no further than this massager. It is trusted by professionals to stimulates blood flow while relieving sore muscles.
Best for Poor Circulation
Pros:
This 11-speed foot massager is touted as the most powerful massager available to the average consumer and has many loyal fans to prove it. With speeds varying from 1,000 to 3,700 RPM, this foot massager is used by physical therapists and doctors to help patients regain feeling in their extremities. The design of the oscillating foot pad and arch bar allows you to target specific areas that may be experiencing numbness brought on by poor circulation.
Cons:
Many users have expressed concern over the cost, but most people agree that it is an investment that pays off for those suffering from poor circulation. If you don't have poor circulation and you're just looking for a relaxing foot massage, it's probably best to go with a more affordable one.
Best Muscle Stimulator
Running can be very taxing on your feet, but this powerful little massager can work out muscle knots in a matter of minutes and target specific parts of your feet to get your ready for your next run.
Pros:
This foot massager features a huge variety of settings, allowing you to say goodbye to expensive spa trips and get the same level of relief from the comfort of your home. With 25 unique massage modes and 99 intensity levels, there are thousands of possible combinations to choose from and explore. We also love that it can be controlled via remote control, so you can kick back and relax and adjust the settings without ever having to lift your head.
Cons:
Although this massager offers precision controls, it is not great for relieving tension and muscle aches in the instep and ankle regions. If you know your ankles and instep need massaging just as much as your soles, we recommend looking at another massager from our list.
Best Acupressure
If you're looking for an effective foot massager that won't put a dent in your wallet, this is the perfect option for you.
Pros:
We love this foot massager from TheraFlow because it's one of the few that have perfected the art of acupressure. This extra-large massager features two different types of acupressure rollers and an arched design that conforms to the natural curvature of your foot. It also comes with a reflexology chart that can help you target specific areas of your feet to relieve pain in other parts of your body and promote total body relaxation.
Cons:
After using the roller for a while, some people notice that the rollers get a little squeaky, which can be annoying. To fix this, you can use a little bit of coconut oil to provide lubrication. If this still doesn't work, every roller comes with a lifetime guarantee that covers all defects and damages.
What Really Matters
Massage Method
Different massagers work differently, but most employ one of two different massaging methods. One massaging method is shiatsu, which is known to work out muscle knots and is excellent at reaching deep tissues. They usually have rotating massaging balls and are commonly heated, but they aren't the most gentle. Another type of massager is vibrating foot massagers. They can also be heated, but instead of using massage balls, they vibrate. The massager itself has a texture that helps relieve muscle pain and improve circulation when vibrated rapidly. Some massagers also have air pillows, which use air compression to alleviate muscle aches in your ankle, instep region, and calves.
Size
When it comes to foot massagers, size does matter. You want to pay attention to size to ensure that you're getting a massager that can accommodate the size of your feet. If you don't pay attention to the size, you may end up with a foot massager that is too short and ineffective. This is usually only a concern for people with larger feet that might be longer than the massager itself. Size isn't a problem with manual foot massagers, but you'll want to pay special attention to the length of the massager if you're opting for an electric model.
Personalization
Does the massager only operate at one speed and intensity, or can you alter the settings to suit your needs? Many people prefer massagers that have variable settings because they allow you to change up what kind of massage you get based on what you need at that time. Personalization is also essential if you plan on sharing the massager with someone, like your spouse, because you will likely have different preferences. Controls to be on the lookout for include timers, heat, speed, and intensity.
Budget
When shopping for a foot massager, your budget is an important consideration. There's no point in putting yourself in a financial bind just for a foot massager. Deciding on a realistic budget before you start shopping can help you narrow down your options. However, you should also keep in mind what you can get at different price points. You can't expect to get a heated foot, ankle, and calf shiatsu massager for under $50, and if you find one under $50, the quality of the product is most likely low.. In some circumstances, you may find a foot massager that you love or one that caters to your specific medical needs, but it's out of your budget. In cases like this, it's a good idea to save up until you can afford the one you need, rather than settling for a low-quality one.
What's in Right Now?
The most popular foot massagers right now seem to be the ones with the most settings. People love being able to tweak the settings until it's just right each time they sit down for a massage. We are also seeing a rise in popularity among portable foot massagers this year. Since people want to be able to take relaxation with them, foot massagers that can be collapsed down to a smaller size or easily transported are enjoying their time in the limelight right now. Another popular feature is remote controls that allow you to personalize your massage experience as it's happening, instead of being locked into a certain intensity or speed. All of these features are useful and popular right now but may come with a higher price tag.
Prices
Expensive
For our purposes, we consider any foot massager over $200 to be costly. Although, in reality, very expensive foot massagers can cost you over $500. Massagers that are this expensive usually have lots of different settings and are aimed towards individuals with medical conditions. Some massagers in this price range are the same that medical professionals use, so it's easy to see why people with medical conditions, like diabetes or plantar fasciitis, would seek out a massager in this price range. However, if you suffer from mild muscle aches, it may not be worth spending this much money when a cheaper one could achieve the same results for you.
Mid-Range
Mid-range massagers cost between $80 and $200 and are good options for the average person. Many foot massagers in this price range are electric and are very effective for relieving mild to moderate foot pain. These foot massagers tend to have at least a few variable settings and are built pretty sturdily, but they aren't necessarily suitable for those with more severe needs.
Cheap
Foot massagers that are between $10 and $80 are usually considered affordable, although that doesn't mean they are low quality. There are plenty of great foot massagers in this price range, but few electric ones. Massagers in this price range are usually manual or very basic electric ones with few settings. Although manual massagers aren't as luxurious as electric or shiatsu massagers, they allow you to save some money and can often be used on your entire leg to work out muscle knots and relieve pain.
FAQ
What type of massager is best for sensitive feet?
Everyone can benefit from foot massages, but if you have very sensitive feet, you should look for a massager that uses vibration or air compression. Although shiatsu massagers can typically get a deeper massage, they are too rough for some people to handle. After all, if you buy a foot massager that hurts to use, you've wasted a lot of money on a product that you can't even enjoy.
Do all foot massagers improve circulation?
No. Most foot massagers will promote blood circulation in the areas they come in direct contact with, but not all massagers improve overall circulation in your legs. If you suffer from poor circulation, vibrating massagers tend to be the most helpful. The vibration helps get the blood flowing through your entire extremities, not just targeted areas on your feet. Heat is another useful feature that promotes circulation.
What's the difference between foot massagers and foot spas?
Foot massagers tend to only focus on massaging your feet, while foot spas typically include water and heated jets and an overall more spa-like experience. You can add Epsom salts, oatmeal, and essential oils to foot spas to help soften skin and relax your muscles, but you usually can't get the same deep tissue relief as you can from a shiatsu massager. Still, many people think foot spas provide a more pampering experience. However, when it comes to choosing between the two, it all depends on your personal needs and preferences.