The Best Flat Irons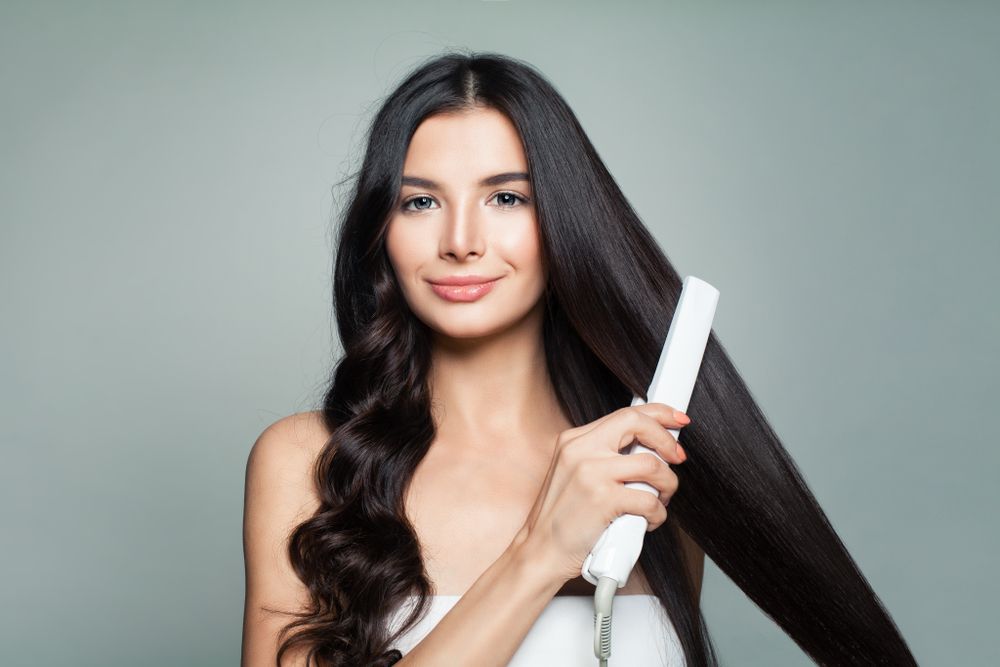 Whether you're dealing with frizz, styling your locks for an event, or just trying to tamp down a cowlick, sometimes you need a tool to help you out. That's where flat irons come in: these handy hairstyling standbys heat up and straighten your hair for a sleek, silky look. Plus, modern flat irons are versatile enough that you can use them to add some waves or curls to your hair. For those looking for a salon-quality 'do without the hefty price tag, a first-rate flat iron is a must. Below, we've rounded up the best flat irons on the market for your hair styling needs.
What to Look For
To find the best flat irons on the market, we looked for three key qualities: versatility, heat protection, and temperature control. For example, Remington's Anti-Static Flat Iron is an excellent option for those with curlier or kinkier hair because of its anti-frizz technology. Plus, it features six heat settings to accommodate several different hair textures. If you're looking for the whole salon-level package, try the two-in-one straightener and curler from Bekind, which comes with a whole host of accessories for simple styling. Keep reading to see our favorite flat irons and how they'll help your hair.
HSI Professional Glider Flat Iron
This versatile flat iron has adjustable heat settings and can both straighten and curl your hair.
From the protective micro-sensors to the swivel cord, this flat iron from HSI provides a safe and easy hair straightening experience. The sensors help evenly distribute heat to reduce your straightening time, ultimately preventing damage. Plus, the flat iron heats up quickly so that you can straighten your hair and be out the door in no time. The ceramic and tourmaline plates can tackle both thin and thick hair, making it a super versatile purchase.
Pros:
The flat iron comes with a sample of argan oil, a heat-resistant glove, and a handy storage bag for easy transport.
Attention, frequent travelers: this handy flat iron is dual voltage.
Cons:
It doesn't have an auto-shutoff feature, so you'll want to make sure you turn it off before you leave the house.
CHI Original Ceramic Flat Iron
This flat iron features coated ceramic plates to protect against hair damage.
You can use this versatile tool to style your hair in several ways. This flat iron has you covered whether you want to curl, straighten, or add a little wave to your locks. Featuring a swivel cord and floating ceramic plates, CHI's classic flat iron makes it easy to achieve your desired texture. It heats up fast and only needs to take a few passes at your hair before it's straight, saving you precious time when getting ready.
Pros:
There are a couple of different color options if you want to add a bit of brightness to your bathroom.
The swivel cord makes it simple to rotate the tool and reach the tricky strands on the back of your head.
Cons:
You can't manually change the temperature on this flat iron, so it might not be the best fit if you have specific needs.
Conair Double Ceramic Flat Iron
Complete with an auto-shutoff feature, this flat iron has multiple heat settings to best fit your hair type.
This flat iron helps you achieve maximum style at a minimum cost. The double ceramic material heats quickly and evenly to ensure an effective straightening process. Plus, the flat iron boasts an auto-shutoff feature for added safety and peace of mind. We also love that it has five different heat settings, making it amenable to multiple types of hair.
Pros:
This flat iron is super affordable while still providing high-quality hair care.
In addition to straightening curly hair, it can also curl naturally straight hair.
Cons:
This flat iron doesn't get super hot, so it might not be the best option if you have very thick or coarse hair.
Bekind Apex Two-in-One Flat Iron
In addition to the rounded flat iron, this kit comes with several accessories, including an anti-scald glove, hair clips, and a storage bag.
This innovative flat iron from Bekind has a rounded design, allowing you to achieve multiple hairstyles with just one tool. Plus, it has a bunch of features to make your experience easy, including an easy-to-read LED temperature display and a swivel cord. This iron's floating aluminum plates protect your hair from painful snagging and pulling. As a major bonus, the flat iron comes with a bunch of accessories such as a travel bag, multiple types of hair clips, a comb, and a heat-resistant glove.
Pros:
The flat iron locks easily to make it more compact for simple storage.
The auto-shutoff feature ensures that your tool won't stay on for longer than it should.
Cons:
Though it's pricier than some other options on the market, we think it's a great deal because of all of the accessories that come with it.
Remington Anti-Static Flat Iron
This flat iron's anti-static technology helps tame flyaways while styling your hair.
If you're struggling to combat frizzy hair, look no further than this flat iron from Remington. Featuring anti-static technology, this flat iron effectively fights against static, frizz, and flayaways. It also has digital temperature controls, allowing you to reach your ideal level of heat. We love that the edges of the ceramic plates are extra-thick, which helps protect your fingers from burning.
Pros:
The hinge lock serves a dual function: making storage easier and protecting the ceramic plates from damage.
For those who worry they forgot to turn off their straightener in the morning, this flat iron shuts off automatically.
Cons:
This flat iron doesn't have a light to indicate that the tool is on. Though this would be a handy addition, we still think this straightener is worth it for the anti-static technology.
Frequently Asked Questions
How can I curl my hair with a "straightener"?
Though they are usually marketed as tools to straighten your hair, flat irons can also add curls or waves to your locks. Simply clamp down on a strand of hair close to your scalp (but not too close — you don't want to burn yourself). Then, rotate the flat iron back on itself before running the iron down the strand of hair. If you're going for less-pronounced curls, only rotate the flat iron a half-turn.
Should I be using hair products with my flat iron?
We recommend applying a heat protectant spray before using any hot tools on your hair. This helps reduce damage to your hair in addition to fighting off frizz. It's also suggested that you use hair spray after styling your hair to hold it in place.
About the Author
Why Trust Us
Since 2007, TotalBeauty has been committed to helping millions of people find the right makeup, skincare, and haircare products for their needs. Our experts know what works best for every face shape, skin type, hair type, and more. They are here to share that knowledge with everyone looking to upgrade their beauty routines or try something new.