5 Best Face Washes for 2019 – Total Beauty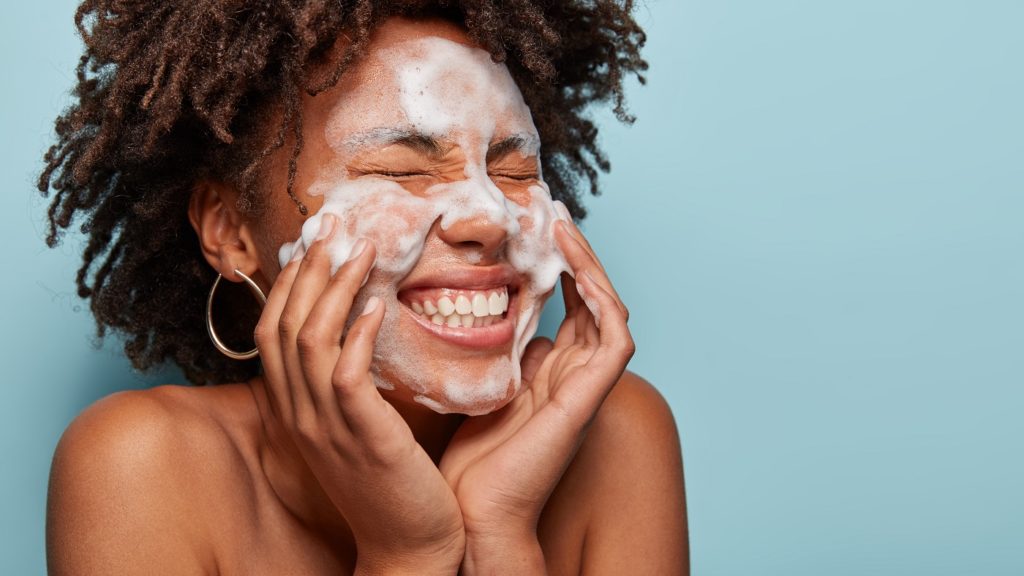 Let's face it; a facial cleanser is potentially one of the most important parts of your skincare routine. Not only does it help to remove impurities such as oil and dirt collected throughout the day, but it can also boost hydration, prep the skin for shaving, and improve the overall appearance of your skin. With so many options, there are a lot of factors that you may need to consider before choosing which cleanser is just right for you. So, before you skim the skincare aisle, sink your teeth into our top face wash pics based on skin type:
Best Choice
Free of alcohol or parabens, Alpha Skincare's Refreshing Face Wash is ideal for all skin types, leaving skin feeling refreshed and healthy.
Pros:
This facewash is gentle to use and lightly foams which makes it easy to rinse off. Results can be noticed almost immediately after using adding a healthy glow to the skin that feels full and soft. We only needed to use a little bit of product for this face wash to properly do what was intended. It balances your skin's pH levels, so it almost acts as a gentle toner in addition to a face wash.
Cons:
While this face wash works well to cleanse the skin of impurities like dirt and oil, mascara is a bit trickier to remove. You may need to use a designated product if you wear eye makeup, especially if it's waterproof.
Best for Sensitive Skin
The Claridad 12% Glycolic Acid Exfoliating Face Wash offers a multi-purpose solution that effectively helps to fight against wrinkles, acne, age spots, and an uneven skin tone.
Pros:
It contains a medical-grade 12% Glycolic Acid content. A highly effective exfoliant face wash that can help to remove dirt and dead skin cells. It provides a solution for reducing the visible signs of aging, including age spots and wrinkles. The formula also addresses acne-prone skin by both fightings against existing acne and potentially reducing the risk of breakouts in the future.
Cons:
The 12% Glycolic Acid content might be too strong for some people, especially those individuals with sensitive skin. This could possibly lead to adverse reactions, including excessive dryness of the skin, as well as rashes. The price of the face wash is also higher than some competitor options.
Best for Anti-Aging
If you're looking to add a facial cleanser to your anti-aging routine, Pure Biology Facial Cleanser is developed with Fision WrinkleFix to help diminish fine lines and age spots.
Pros:
This facial wash only requires a small pump for the entire face and neck. Accompanied by a gentle scent, it lathers well and is easy to remove. It includes hyaluronic acid, which helps to boost skin hydration, leaving skin feeling soft and full. It's great for removing makeup in addition to other impurities like dirt and oil that your skin collects throughout the day.
Cons:
Some users have reported that it left their skin feeling dry, so this may not be the product for you if you experience skin dryness from other foam cleansers.
Best for Daily Use
With ingredients such as Vitamin C and Organic Aloe, InstaNatural's Facial Cleanser is perfect for those looking for a face wash that they can implement into their daily routine.
Pros:
InstaNatural's gentle cleanser leaves your face feeling refreshed and hydrated after using. Developed using antioxidants like Vitamin C, it provides powerful benefits that help to diminish fine lines and wrinkles, boosts hydration and adds a healthy glow. Whether you have an oily complexion or are prone to breakouts, this facial wash is perfect for all skin types.
Cons:
This facial wash is packaged in a bottle with a dispenser pump, which is difficult to use if broken. Some users have reported getting frustrated when having to unscrew the cap to use it, resulting in the liquid spilling out.
Best for Men
RUGGED & DAPPER's facial cleanser boasts multiple benefits to help cleanse, tone, and exfoliate in preparation for a clean shave.
Pros:
This facial wash developed specifically for men, is infused with organic and natural ingredients such as Vitamin C to help benefit all skin types. It doesn't dry out your face, and you can see overall improvement relatively quickly after using consistently for a short period. As an all-in-one product, it isn't a harsh exfoliant and has a gentle scent. Great for cleansing the skin of impurities and leaving it feeling refreshed.
Cons:
Some have reported that they experienced breakouts after using. While we can't confirm the reason, we speculate that it could be from Vitamin C, which can, in some cases, have that effect before it clears up into healthy glowing skin.
What Really Matters
Identify Your Skin Type
With so many different skin types come an abundance of face washes. Determine how you identify your skin—oily, sensitive, dry…the list continues. Once you have an idea, seek out the cleanser that is most effective for your skin.
Use Lukewarm Water
Believe it or not, the temperature of your water is essential when washing your face because pores don't open or close in response to cold or hot water. Coldwater doesn't remove dirt as thoroughly as it should, and hot water can dry your skin out.
Ingredients
There are some ingredients that you should actively avoid based on your skin type. Make sure you pay attention to the ingredients listed so that you're choosing the cleanser that suits your skin properly.
What is in Right Now?
Washing your face has consistently been an essential factor in the skincare routine, and there are a variety of products now more than ever of facial cleansers that are unique to your skin type. 2020 will bring many cleansers featuring essential oils and antioxidant ingredients such as Vitamin C, which offer a multitude of benefits when used. Charcoal is another big trend that we've seen popping up all over the skincare space as well. Whether you're looking for an all-in-one product, anti-aging, hydrating, or whatever it might be, make sure to look at all of the ingredients to ensure that it is suitable for your face as it's such a highly sensitive area.
Prices
Expensive
$75-$150+ for luxury brands if you're looking to splurge
Mid-Range
$25-$75 for products from well-known premium brands
Cheap
$7-$25 for drugstore brand face washes
FAQs
Should I double cleanse?
Based on your skin type, it could be beneficial. Double cleansing is when you use your cleanser to remove all of the dirt and makeup and then follow up with a deeper clean. If you have sensitive skin, check with your dermatologist first to avoid any damage.
How often should I use my Face Wash?
Based on the potency of the ingredients, you should ideally be using your face wash twice daily. Using at night helps to remove all of the dirt that you've collected throughout the day to go to bed fresh-faced. It's also best not to transfer the day into your bed and on your pillow. Lastly, it's important to wash your face in the morning to remove any toxins that the skin eliminated through your pores overnight.
Should I change my cleanser based on the season?
While the skin does react to seasonal changes i.e., dry skin in winter, it could be minor enough not to have to change up your product. If you've found one you love, we recommend sticking with it as it's hard to find that cleanser that seems to do the trick. If anything, find a moisturizer to use that will help alleviate dryness.