The Best Face Steamers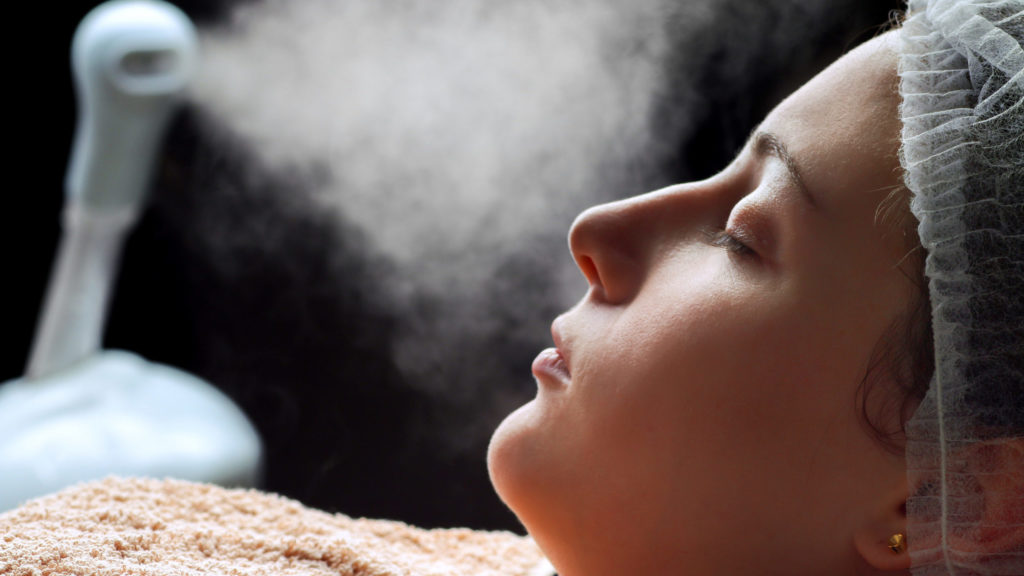 If you enjoy going to a spa for facial treatments, you might relish the thought of recreating the experience at home. You can do your own steam facial multiple times for about the same price as one spa treatment. So if you're ready to pamper yourself with weekly facials, read on. We've reviewed some of the best facial steaming appliances. All our choices are nano-ionic, making their steam ten times more effective at penetrating the epidermis than regular facial steamers. Have a look.
NanoSteamer Large 3-in1 Nano Ionic Facial Steamer
The Pure Daily Care NanoSteamer features a compartment for warming hand towels that makes your experience even more luxurious.
Pros:
The extra chamber of the NanoSteamer can be used to warm sealed hot oil treatments, massage stones, and, of course, towels. There are three different settings on the Pure Daily Care NanoSteamer: one for facial steaming, one for humidifying the room, and the last for the steam that goes into the warm towel area. Steam facials normally last ten minutes, but because of the extra-large water chamber of 200 milliliters, the device can be used for up to a half-hour on the other two settings.
Cons:
This appliance is not made with BPA-free plastic. There is an initial plastic smell to the steam that lasts for a few uses then fades. The device has no protective cap, so it's best to store it in the box.
Lonove Nano Ionic Face Steamer
The Lonove Nano-Ionic Face Steamer heats up while you're prepping your face with a facial wash so that you can get started right away after cleansing.
Best for Deep Moisturizing
Pros:
The technology used to convert the water to nano-ionic particles in the Lonove Face Steamer makes the steam highly moisturizing. It has a safety feature that automatically shuts off the device after ten minutes – the dermatologist-recommended time for steam facials. The steam on the Lonove is very relaxing, but skin doctors and spa professionals recommend that face steamers be used a maximum of twice a week to avoid damaging the skin.
Cons:
The fill line on the appliance is difficult to see. If too little water is used, the device will smoke slightly toward the end of ten minutes. It has a light smell of chlorine during the first few times it is used.
Spa+ Microderm GLO Professional Nano Ionic Facial Steamer
The Microderm GLO Facial Steamer SPA+ is an authentic product from the Microderm brand that uses nano ionic technology to detox and tighten the user's skin.
Pros:
The product features a multi-functional system for a more effective approach to skincare. The steamer provides warm steam that assists with the detoxification of the skin. Nano ionic technology is used in the device to provide further benefits, helping to clear the skin of toxins. The steamer also helps with the hydration of the skin and may improve the absorption of serums used after the steamer was applied to the skin. The manufacturer states that they offer a lifetime warranty with the purchase of the facial steamer.
Cons:
Some people may experience a sensitive reaction to the heated steam that is expelled from the facial steamer. Those individuals who are shopping for skincare and beauty products on a low budget may also consider the price of this facial steamer to be too high.
OKACHI GLIYA Facial Steamer
The OKACHI GLIYA Facial Steamer is equipped with nano ionic technology to produce similarly heated steam as one gain access to when visiting a professional spa.
Pros:
The steamer provides a spa-like experience for the user to enjoy at any time while they are home, or even when traveling. The compact size also makes this a more mobile product that can be packed into a bag. The product is able to deliver several benefits. This includes improved moisture absorption and hydration, as well as the ability to effectively clean out pores. It takes only 30 seconds for the product to work effectively, and it is one of the quietest steamers we've tested.
Cons:
People who are shopping on a low budget may find that this particular facial steamer has a high price tag. Even though nano ionic technology is used, the small size of the product means it will not offer the exact same experience as one gets at a spa. The device is only available in a rose gold color – many customers may prefer alternative color varieties.
Amconsure Facial Steamer
The Amconsure Nano-Ionic Facial Steamer is lightweight and has a handle, making it easy to move without the risk of dropping it.
Pros:
This device is trouble-free to operate. It has a single on and off switch. We found the temperature to be comfortable and effective. It is easy to assemble. There is a handle on this face steamer that makes it easy to carry. The nano-ionic properties of this appliance, and those like it, means you'll have significantly improved circulation in your face and improved absorption of skincare products.
Cons:
The manufacturer suggests allowing the machine to run through once on a full tank of water to remove the smell with which most face steamers start. Some users suggest vinegar water. It should be thoroughly cleaned before and after use.
What really matters
Getting a facial steamer that has the features you need
Is an aromatherapy compartment essential to your needs, or not? Perhaps there isn't much space in your apartment, and a portable facial steamer fits in better. Is leaning over a table uncomfortable for you? Maybe a rotating arm that allows you to direct the steam is more suitable. Are your hair and scalp also suffering from dryness? A device that works for both the hair and face might be what you need.
Knowing how to use the stainless steel tools that come with most steamers for the face
Facial appliances use steam to help loosen dirt, debris, and blackheads inside the skin. A steamer will flush out makeup residue and sebum, but it will not altogether remove blackheads and acne.
The tools included with most steamers are there to take care of acne and blackheads, but inappropriate use could worsen skin issues and cause scarring.
The stainless steel tool kits contain core extractors of various sizes and at least one lancet. The lancet is used for piercing whiteheads before using one of the looped tools to extract the core. (Never try to pop cystic acne, however, as this could lead to permanent scarring.) Disinfect the instruments with rubbing alcohol before starting. Also, disinfect the area of your face with that has whitehead or blackhead. If you feel comfortable lancing, use a cotton pad saturated with alcohol to clean what comes out. Then use one of the round tools to rock the area in a circle so that the core exits. For blackheads, also use a looped tool to press gently around the area until the blackhead core and sebum eject.
What to do after your face steamer treatment
If you have whiteheads or blackheads to remove, do so right after the steam treatment. Then use a gentle, non-exfoliating mask. A mask at this stage will remove any other impurities that were not flushed out by the steam. Look for masks that contain nourishing oils or anti-aging ingredients like collagen or hyaluronic acid. You don't want to exfoliate at this stage because the outer skin layer will be susceptible to irritation following the hot steam.
After removing the facial mask, use a super-hydrating moisturizer. Your skin will benefit greatly from using a mask and moisturizer from the same skincare line.
What's in right now?
Portable face steamers that are nano ionic and save space are what's in. One more table-top appliance is something else to store away and haul out when needed. Portable facial steamers can be used at any time and then be stored away quickly in a drawer or bag. Utilize them while traveling as a passenger or when at your desk. Admittedly, they don't qualify for a salon-type treatment but are great for relaxation and hydration in small spaces or while multitasking at work.
FAQs
How do nano ionic face steamers work?
Nano ionic facial steamers split up water particles into micro-particles so that that they absorb easier into the skin than regular droplets of steam. Water particles are split using diverse processes, either by combining heat and a sonic atomizer, mixing heat and cold, or using atomizing light.
What pre-treatments can be used with a face steamer for even better effects?
Double cleansing followed by exfoliation is an excellent way to prepare your face for steaming. Failing to start with a perfectly clean face can push debris further into the skin. First, remove your makeup, then double cleanse. Double-cleansing is a popular process borrowed from South Korean skincare routines. It involves using oil or an oil-based product on the face to nourish it and to remove remaining traces of makeup, dirt, and sebum. The second step to double cleansing is using a soap-based cleanser.
After removing all makeup and double cleansing, you're ready to exfoliate. Gently scrubbing away the outer layer of skin helps steam penetrate better. Otherwise, time will be wasted softening and hydrating skin cells you don't need anymore. Once you're done exfoliating, it's time to steam.
Are there any post-treatment to use with a face steamer for even better effects?
After steaming, there are a few things you can do to heighten the effects of it even more. The first using a calming facial mask. Because your pores are open after using the facial steamer, a mask will work at twice its power to deep cleanse your skin. Invisible things clogging your pores, like microscopic makeup particles and pre-acne sebum, can be drawn out by the mask and disposed of when you peel or wash it off.
After the mask, moisturize your skin with an intensely hydrating formula. If you steamed before bed, now is the time to apply a rich night cream.
Is it better to purchase an appliance that's a hair and face steamer combined?
If you have issues with dry skin, you probably have problems issues with dry scalp and hair also. The two problems usually go together. The scalp is a part of the skin's surface, so if your skin is always dry, your scalp will be dry, too. And if your scalp is dry, your hair will grow in dry as well.
Dryness is exacerbated in arid climates and with aging skin. So if you fit into either of these categories, it might be difficult for you to defeat dry skin and hair issues with topical products alone. You probably could greatly benefit from extra help in the form of a steamer that is for both the face and hair.