5 Best Microfiber Face Scrubs for 2020 – Face Scrub Product Reviews – Total Beauty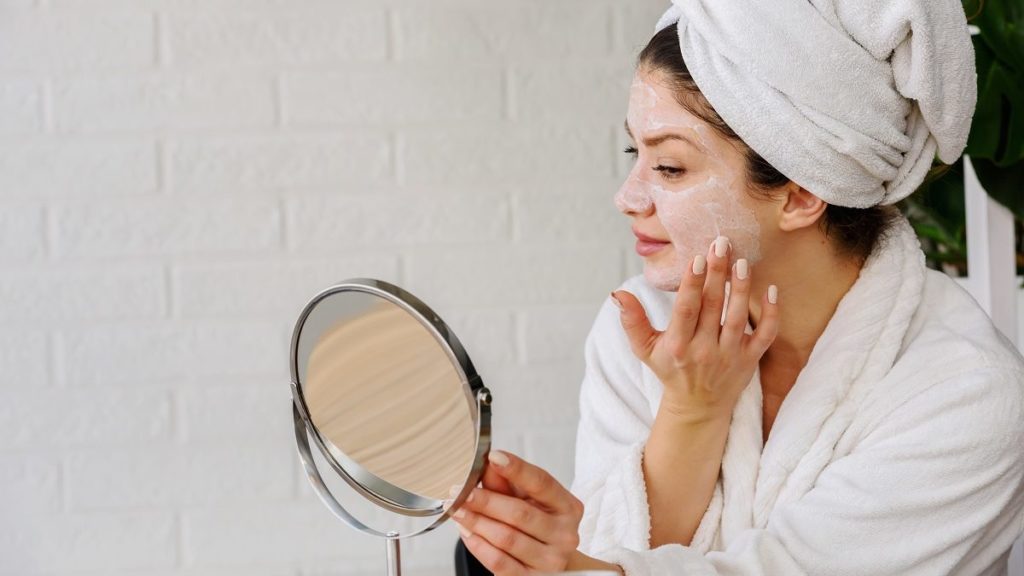 While many of us have a skincare regimen of some sort, it may not include a face scrub. Face scrubs are not that popular because they used to be harsh. Not anymore! Not only does a good face scrub get you clean, but it gets down deep into your pores and provides you with an intense clean that gets rid of dry and dead skin, blackheads, and other impurities. The newest face scrubs can be gentle, effective, and leave you with fresh, glowing skin. They make the skin a perfect base for makeup. Let's check out five of the best face scrubs on the market today.
Best Choice
M3 Naturals Superfood Scrub contains high-quality, natural ingredients like cucumber, aloe, collagen, plant stem cells, and sugar. It's a luxurious option that's formulated to help fight problems.
Pros:
This face scrub is 100% natural and uses high-quality ingredients that give a superior effect. The exfoliating agent is white sugar that melts as you massage it in for a gentle scrub. The added collagen and plant stem cells help the skin fight aging and leave your face fresh and youthful-looking. The appearance of blackheads, open pores and scars can be reduced with repeated use. The scrub can be used all over the body and gives a deep, refreshing clean. The smell of cucumber is very pleasant. Natural ingredients are used to give a detoxifying clean that can help in the control of acne breakouts. Works well on sensitive skin. Made in the USA by a family-owned company.
Cons:
The price tag attached to M3 Naturals Superfood Scrub can be quite intimidating, but you get a large jar for the money.
Best for Acne
Acne is a common skin issue and dealing with it can be difficult. M3 Brown Sugar Scrub contains glycolic acid that battles skin bacteria and reduces breakouts. As an added bonus, it smells great too!

Pros:
M3 Brown Sugar Scrub is infused with collagen and plant stem cells that add elasticity to the skin and minimizes blemishes. Brown sugar is rich in glycolic acid and reduces the harmful bacteria on the skin that can cause acne breakouts. The fine brown sugar crystals act as a gentle exfoliator. This scrub works well to remove dirt, dead skin, oils, and other causes of skin issues. This all-natural product leaves your skin healthy and glowing while lessening the appearance of scars. The jojoba and sweet almond oil work well to calm sensitive skin. This scrub leaves your skin feeling soft and refreshed. The scent is a very subtle citrus smell suitable for men and women. The effect of this scrub works well as a pre-shave treatment. It removes dirt and debris well leaving your skin glowing. The product is made cruelty-free in the USA.
Cons:
This formula has the texture of slightly damp sand rather than a creme scrub.
Best Oil-Free Face Scrub
St. Ives Apricot Acne Control Scrub contains oil-free salicylic acid that helps prevent new skin blemishes from forming.
Pros:
This facial scrub is dermatologist-tested, paraben-free, and non-comedogenic (i.e., it stops pores from becoming blocked). It contains 2% salicylic acid, which gives the skin a deep clean and prevents acne and blackheads developing. The scent is a subtle apricot. The creme is a loose consistency with rounded walnut shell grains. It works well on all skin types.
Cons:
Although the exfoliating grains are round, they are large. It may be too harsh for sensitive skin.
Best for Men
Brickell Men's Renewing Face Scrub is an organic wash that cleanses your skin and gets it ready for a close shave. With a great scent and powerful exfoliating particles, your skin will be super-soft.
Pros:
This organic product rubs away dead cells, excess oil and debris that dulls the skin. With a formula that contains pumice and coffee extract, you will notice the skin feeling softer and more elastic. It is suitable for use on any type of skin. The formula is a thin, transparent and lotion-like consistency rather than a thick scrub. When used before shaving, it helps the hairs stand further away from the face for a closer shave. The scent is subtle. Natural and Certified Organic ingredients include aloe vera, avocado butter, vitamin E, pumice, and jojoba beads. The product contains no sulfates, parabens, glycols, phthalates, petrochemicals, silicone, polyethylene glycols (PEGs), sulfates, synthetic fragrances, or gluten.
Cons:
The size of the jar is not big, but the scrub is economical to use.
Best Salt Face Scrub
M3 100% Natural Himalayan Scrub is pure, simple quality. With premium ingredients like collagen and stem cells, you can count on the M3 Himalayan Scrub for rejuvenation and gentle exfoliation.
Pros:
This product is made of all-natural ingredients, which is always beneficial for the skin. Its gentle formula gets in deep, drawing out unwanted toxins and impurities as well as dead and dry skin cells, blackheads, dirt, and unnatural oils. The fine texture of the salt exfoliates well all over the face and body. The scrub contains lychee and sweet almond oil, which refresh and condition the skin. The salt absorbs excess oil leaving skin looking healthy and is a natural disinfectant that keeps acne prone-skin clean. The formula removes debris and increases blood flow to the skin making it radiant. With continued use, this scrub reduces thick skin on elbows and knees. Your skin is left soft and hydrated.
Cons:
The fragrance is strong and subjective.
What Really Matters?
Efficacy
When it comes time to buy a scrub, there are only a few characteristics that matter. Naturally, you want an effective product that does exactly what it promises. So, when it comes down to something like face scrub, it should clean, purify, and most importantly, exfoliate the skin. As such, if a product does not exfoliate the skin properly, it is definitely not worth your time or money. We recommend considering what you want out of your face scrub. Not all scrubs have an exfoliating agent, and some are all exfoliating agent. Do you want to scrub away the skin or rely on a chemical reaction to remove debris? Do you want all-natural? What type is your skin? To get the full effect of a face scrub, you must choose a face scrub that works with your type of skin and skincare goal. Think about it before you buy–it makes a big difference.
Price and Quantity
When we are shopping, we often make snap decisions on impulse purchases. This is especially true when it comes to small, inexpensive items like a face scrub. However, taking a few extra moments to read product information and reviews can save you money and promote skin health by keeping you on your toes. As with all products, price and quality vary. A cheap price may not mean an inferior product. The scrub may work as well as others but have simple goals. It may be worth paying more to get added benefits like oily skin control, deep cleansing, or rejuvenating cells. Look at the price and compare. Even if you just want to exfoliate, pay for the one that exfoliates well. By ensuring you are getting the most bang for your buck, you can be confident in your skincare regimen and your money spending.
Ingredients
Anything going into your system or onto your skin should be reviewed for its ingredients. Believe it or not, there are products out there with harsh chemicals and potentially harmful ingredients that often go undetected if you do not do your homework. Sticking to face scrubs with all-natural ingredients is the best way not to risk the condition of your skin.
Physical exfoliators such as clay, salt, and shells are natural, but can be coarse. If you want a deep scrub, then look for these ingredients. They can make the skin red and have the potential to over-scrub that face and remove too many healthy cells. If you want a gentler scrub, look for sugar (glycolic acid), citrus, and vinegar ingredients that block the cell's ability to stick together and remove the skin that way. The more you know, the easier the right decision is.
What's in Right Now?
Exfoliating has largely taken a back seat to cleansing and toning, but these days, having a facial scrub as part of a regular beauty routine is paramount. People are beginning to understand the need to start with smooth skin to get a flawless finish in their makeup. Regular use of a face scrub achieves this. The type of face scrub is not as important as the fact you use one.
Men's facial exfoliation has exploded. Products specifically for men to be used as a face scrub or pre-shave treatment are hot. The fragrances are more subtle and tend to favor natural and organic ingredients, which means that all men can feel comfortable taking good care of their skin.
Prices
Cheap
$5-$8 In this price range, you are likely to discover familiar brands like St. Ives, which features a few natural ingredients, and average formulas found at local drugstores. While they are not all hits, there are several options available at this price point that will effectively help you exfoliate and cleanse the skin without any additional benefits.
Mid-Range
$9-$12 This category typically covers the majority of products, spanning across several major brand names. There are plenty of natural options here along with more chemical-based scrubs, leaving room for a variety of preferences. Of course, it depends on what your budget looks like, but these affordable options are budget-friendly and usually effective.
Expensive
$14-$28 Not everyone is looking to spend this amount for a skincare product, but these are mostly worthy face scrubs that feature plenty of naturally beneficial ingredients and added benefits. You will notice many of the brand names to be that of boutiques and less of the well-known brands. Of course, this can work in one's favor, as many of these are top-notch products.
FAQs
Is face scrub okay to use on sensitive skin?
There are many face scrubs that are suitable for sensitive skin. It may take some trial and error, but if you have a problem with chemicals, go for those based on organic and natural products. You may need to take a look at the way in which your skin is sensitive. Is it the ingredients or the scrubbing action? Physical agents like shell, salt, or sugar are very abrasive (that's the point!) and it may be that scraping action that is causing you discomfort and not the ingredients themselves. Patch test every face scrub on your wrist or forearm before you use it to be sure.
Do I need to consider my skin type when making a purchase?
Ideally, yes, but it's not easy! It's harder to know which you need as many don't say what skin types they work with. Most cleansers include chemicals and ingredients designed to work with one certain type of skin. Face scrubs are designed to remove debris on the skin–any type of skin. Many are not particularly formulated for one skin type, but other ingredients can be included to aid skin issues. Rather than think about your skin type, think of the way you want the face scrub to exfoliate and if you need any other added benefits like absorbs excess oil, prevents the formation of blackheads, or nourishes dry skin. Even if you can't find one that matches your skin type, a face scrub will help to make your skin beautiful.
What is face scrub used for?
Face scrub is ideal for deep cleansing and exfoliation. While it can be useful for many other purposes, this is usually the bottom line. But if you are unfamiliar, it is important to know these basics: it is used to get rid of dirt, blackheads, oil, and other impurities, and it further promotes glowing, acne-free skin.
What's the difference between a face scrub and an exfoliating wash?
The difference between a face scrub and an exfoliating wash is the cleansing ability. A face scrub will gently abrade and deep clean the skin. An exfoliating wash will remove more debris from the skin and often draw out impurities. If you have rough skin, then an exfoliating wash will work well, but for regular cleansing and keeping your skin soft and youthful, a face scrub is the way to go.