The Best Face Lotions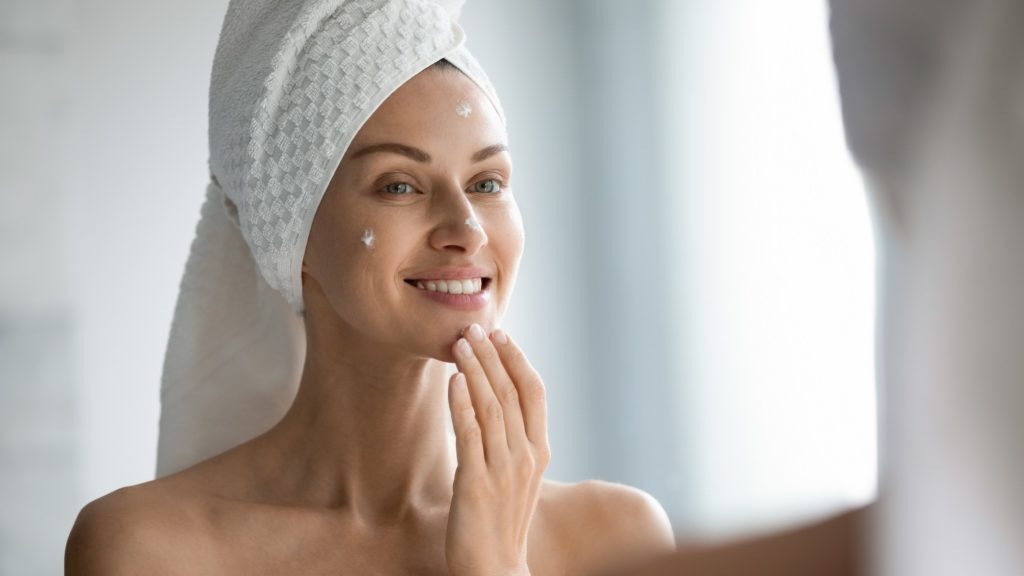 The face is one of the most visible parts of the body, so you will want to be sure that the face lotion you choose will help you look and feel confident and healthy. A great face lotion is both moisturizing and lightweight on the skin. You can also buy face lotions to target specific problems such as acne, wrinkles, and irritation. Our guide to the best face lotions will help you pinpoint exactly the right face lotion for your skin.
CeraVe Daily Moisturizing Lotion
Containing hyaluronic acid and essential ceramides, CeraVe will ensure your face feels moisturized for up to 24 hours.
Pros:
CeraVe is a daily moisturizer that hydrates the skin for up to 24 hours. It contains hyaluronic acid and three essential ceramides to help restore the skin's protective barrier to treat any areas of dryness. Developed with the help of dermatologists, this fabulous lotion utilizes controlled-release technology to ensure the skin is effectively moisturized. This lotion is fragrance-free and hypoallergenic, making it suitable for sensitive skin.
Cons:
This is a water-based face lotion that does not contain any oils and therefore has a lightweight feel. If you prefer a thicker or oil-based moisturizer, you may find that CeraVe feels too light when applied.
Neutrogena Hydro Boost Moisturizer
Neutrogena face gel hydrates dry skin using hyaluronic acid. When it is used daily, your skin will feel moisturized and supple. It is dermatologist recommended and suitable for sensitive skin.
Pros:
Recommended by dermatologists, Hydro Boost by Neutrogena is a water gel face moisturizer that contains hyaluronic acid. Hyaluronic acid is a naturally occurring substance that absorbs water to treat dry skin, leaving it looking supple. This amazing face lotion does not contain oils, dyes, or fragrance, making it suitable for use every day on even the most sensitive skin. The gel is quickly absorbed into the skin and can be worn under makeup, yet still provides intense moisturization.
Cons:
Hydro Boost is packaged within a jar with a screw-top lid. This product is sold in 1.7-fluid-ounce jars, but the jar itself is quite bulky compared to the amount of hydrogel contained within it. If you are not keen on large amounts of packaging, the packaging of this product may cause a little frustration.
Neutrogena Moisturizing Sheer Body Oil Lotion
Neutrogena's Sheer Oil lightweight lotion is a sesame oil-based lotion that will help your skin to feel soft, supple, and moisturized. It comes in a handy pump bottle for easy application.
Pros:
Neutrogena's Sheer Oil lightweight lotion is enriched with sesame oil, helping your skin to feel silky smooth and radiant all day long. This advanced lotion is based on a lightweight oil, making it highly moisturizing, but not heavy to wear. It is packaged in a pump bottle that makes application easy. Furthermore, it is suitable for all skin types and can be used on both the face and body.
Cons:
If you are only using this lotion on your face, you may find that the pump dispenses too much lotion per one press, which could lead to some waste. If you only want to use a very small amount of lotion each time, you must ensure gentle use of the pump to make the product last longer.
Cetaphil Daily Hydrating Lotion
Cetaphil provides daily hydration and a healthy glow thanks to its added hyaluronic acid. Suitable for sensitive and acne-prone skin, this fantastic lotion is ideal for even the most challenging skin.
Best Hyaluronic Acid Option
Pros:
Cetaphil Daily Hydrating Lotion contains hyaluronic acid, a naturally occurring ingredient that keeps skin well-hydrated. The lotion absorbs quickly into the skin, making it suitable to apply under makeup as a part of your daily morning skincare routine. It is fragrance-free and non-comedogenic, giving you confidence that it will not cause irritation or breakouts. This gel-textured lotion is easy to apply to your skin for instant hydration. Cetaphil products are cruelty-free and never tested on animals.
Cons:
The lotion has a lightweight feel, making it suitable for sensitive, oily, or acne-prone skin. However, if you prefer a heavier or thicker moisturizer, this product may not give you the more intense hydration you require.
Marlowe No. 123 Facial Moisturizer
This lightweight moisturizer by Marlowe hydrates skin without making it feel greasy. A small amount of this product prevents dryness and makes the skin feel revitalized.
Pros:
Marlowe is a lightweight, soft, and gentle face moisturizer that has been specially formulated for men. It contains a natural blend of nourishing passionflower fruit, green tea, and willow bark extract to revitalize the skin. It is a water-based lotion, making it suitable for oily skin, and does not contain parabens. It has natural anti-aging effects and is lightly scented with aloe and citrus. We love that you can apply this product close to the eyes without it stinging.
Cons:
If you have very chapped or extremely dry skin, then this lotion may not provide the intense moisturization that is offered by competing products. Also, there is a slightly sticky residue left immediately after application.
What Really Matters
Effective Moisturization
A great face lotion is highly moisturizing. Dry skin can feel uncomfortable, tight, and even become cracked and painful. Adding moisture to the skin's barrier makes it feel and look refreshed and more supple, and also promotes the overall health of the cells. Having healthier cells can also make the skin appear younger. For effective moisturization, look for products that contain hyaluronic acid, ceramides, or naturally occurring oils such as sesame seed oil. Some highly moisturizing face lotions can feel heavy on the skin, so you will want to pick one that provides hydration without clogging pores or feeling too heavy. If you wear makeup during the day, you may want to avoid a lotion that's too oily as it can interfere with how well your makeup sits on your face.
Non-Comedogenic
A face lotion should never worsen acne or blemishes. Similarly, when treating your skin for dryness, you will want reassurance that the lotion you're using won't irritate sensitive skin or clog facial pores. Gentle, non-comedogenic lotions are often suitable for people with sensitive skin and for people who are prone to spots or have a history of acne. These lotions gently moisturize, but still allow the skin to breathe. A gentle, water-based hydrating lotion should help build the skin's natural barrier, leaving you with smooth skin that looks and feels healthy.
Easy to Apply
If you have a busy life, it can be hard to find time to stick to a face care routine. A face lotion that is quick and easy to apply can help you save time and therefore help you to stick to your skincare routine. The packaging is important for quick application, too; a pump or simple tube can make applying face lotion an even quicker task. A lotion that only needs to be applied once each day can be helpful for the busiest lifestyles.
What's in Right Now?
Dermatologist-Approved
We put our skin through a lot: central heating, air conditioning, synthetic hats, and daily makeup application can each leave us with dry, irritated skin. When choosing a face lotion to restore moisture to the skin, many of us want to know that the product has been scrutinized by a dermatologist. Products that are approved or recommended by dermatologists are becoming more popular, as consumers seek out face lotions that do not contain harmful, or harsh ingredients. Choosing a product approved by dermatologists can offer you the reassurance that the face lotion will effectively moisturize the skin without causing irritation or breakouts.
Natural Ingredients
Natural ingredients are in demand, and a great face lotion will use naturally sourced ingredients over harsh chemicals wherever possible. Botanical, lightweight oils such as avocado or nut oils can ensure a rich moisturizing feel to the face lotion without making it feel too heavy when applied to the skin. Instead of perfumes, skin lotion brands are utilizing essential oils to give the product a stunning fragrance. For example, lavender oil, orange blossom oil, and ylang-ylang plants offer wonderful scents without irritating skin in the same way perfume does.
FAQs
Which face lotions are best for acne?
Spots and acne are caused when pores become blocked by the skin's natural oils. If you apply oily products to the skin, this can further clog the pores and lead to painful outbreaks. To avoid this problem, look for water-based face lotions that do not contain oils and therefore allow the skin to breathe. Many products will state that they are non-comedogenic (i.e., they do not cause spots) or dermatologist-approved as suitable for skin that is prone to outbreaks.
Which face lotions are best for dry skin?
Dry-skin conditions and sensitive skin can be aggravated by certain face lotions. If you have a dry-skin condition, you will want to effectively moisturize your skin without causing flare-ups. It is helpful to look for products that are fragrance-free and do not contain dyes, which can act as irritants and cause dryness. Many lotions will also state whether they are hypoallergenic, making them gentler for dry, sensitive skin.
What's the difference between a face lotion and a moisturizer?
A face moisturizer is specifically formulated to reduce dryness and provide deep skin hydration. While some face lotions have moisturizing properties, they are typically much lighter and absorb much more quickly than a moisturizer. Face lotions can be used for other purposes such as reducing redness, soothing sore skin after shaving, or giving the skin a healthy glow.
What makes a man's face lotion different from a woman's?
Men and women have different skin types on their faces. In fact, men's facial skin tends to be around 25 percent thicker than women's. While skin naturally thins on both men's and women's faces as time goes by, the rate at which this happens differs. Men's skin thins gradually, whereas postmenopausal women will notice rapid thinning and skin changes. Also, men's skin is directly affected by daily shaving or hair growth, whereas women don't have anywhere near as much facial hair. Therefore, lotions for men are specially formulated to take their genetic and lifestyle differences into consideration. The scent may also differ to offer more woody, masculine fragrances.
Can a face lotion help with the common signs of aging?
Many face lotions combine excellent moisturization with ingredients to prevent signs of aging. Skin cell hydration can help skin appear more youthful, and the addition of certain ingredients such as hyaluronic acid can reduce the appearance of fine lines and wrinkles. Face lotions with anti-aging properties are an easy way to look after your skin and slow down the signs of aging with just one product. It is important that you remember to apply your face lotion daily to see maximum anti-aging effects. Combine your face lotion with a good moisturizer to see the best results.