5 Best Eyeliners for 2019 – Total Beauty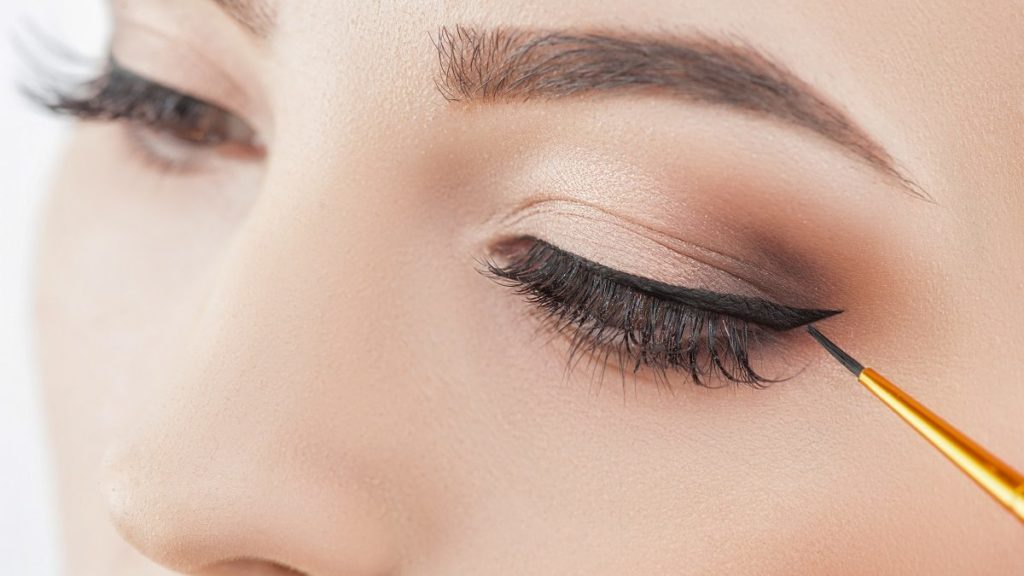 Whether it is another day at work or a special occasion, you want to look your best. Maximizing your potential appearance requires high quality makeup products. Eyeliner is an integral part of your makeup, which is why we are presenting the market's top picks in this category. The best eyeliner is one that meets your needs. Get to know different types and top-rated products in our review section. Don't forget to check out our buying guide to learn what features to look out for when making your decision.
Best Choice
The Rimmel Exaggerate Felt Tip Eye Liner provides an exceptionally thin tip, giving the user the ability to gain more definition in their eyes.
Pros:
The product features a felt tip, which is much smaller than a regular brush. This helps the user add more precise definition to their eyes when compared to larger tip brushers that are available on the market. The eyeliner comes in both a regular black and a waterproof black option. The price is also on the lower side, making this one more affordable for the average customer.
Cons:
The felt tip is certainly a benefit when it comes to adding definition, but does make the process of applying a simple product like an eyeliner more complicated. Choosing the waterproof black eyeliner option does mean the customer will be paying more for the product.
Best Liquid Eyeliner
This Lancôme eyeliner offers water resistance and impressive durability. Apply it in the morning and wear it the entire day without smudges or smears.
Pros:
When you apply an eyeliner, you want it to last as long as possible. Lancôme delivers a product that meets those requirements. Apply this eyeliner in the morning, and rest assured it will last throughout the day. The product is waterproof and can resist rain and even the occasional tear. It is also resistant to smears and smudges, which means your appearance will remain flawless the entire day. The shade Noir Mirifique is perfect for those looking for an attractive and "dramatic" look. The ingredients are skin-friendly, and there should be no irritation issues.
Cons:
The price tag for this eyeliner is a bit high. You won't get plenty of product inside the bottle. If you use the eyeliner frequently, it will run out relatively quickly. Be sure to take good care storing it and seal the container tightly. Otherwise, the product will dry out and become unusable.
Best Gel Eyeliner
This eyeliner is a duo pack, and you will get a jar of black and brown liner each. The gel is waterproof, easy to apply, and will stay put for hours.
Pros:
This eyeliner can be a true long-term investment. If you take proper care of it, it might last an entire year. Since it is a duo pack, it delivers two gel jars instead of one. You get a brown and black container to match to different looks. Although it is a gel liner, it provides excellent precision. The provided applicator brush is of exceptional quality and ensures the liner is easy to apply. The three-inch brush has an optimal length to spread the product the way you want. The liner will last for a long time and is water-resistant.
Cons:
Gel eyeliners have a problem with wearing off after several hours. This product is quite durable, but you might notice some peeling or fading. The price tag is a bit high, but you get plenty of bang for your buck. To optimize longevity, always close the lid tightly as the product may dry out. The duo pack justifies the high cost, but you won't maximize its value if you don't use both colors provided.
Easiest Application
NYX is famous for offering great value, and this eyeliner is no exception. The matte black color is versatile and suitable for classic and bold appearances.
Pros:
This NYX liquid eyeliner is suitable for beginners. The included brush is precise, and beginners will learn how to use it quickly; the brush offers complete control. Achieve even better results in combination with other NYX makeup products. The formula contains castor oil to promote eyelash health. The NYX has acquired the PETA certificate, which confirms that there was no animal testing.
Cons:
Taking off this eyeliner can be a hassle. It requires plenty of makeup remover, time, and effort. Although that shows the product's durability, it may be annoying for the evenings when you're too tired to deal with it. Those not used to liquid liners should expect a mess in the beginning. However, as you get used to the long brush, you will achieve optimal appearance easily.
Best Pencil Eyeliner
L'Oréal made things easy for users with this pencil eyeliner. It only takes seconds to apply it, and it comes with smudger and sharpener to improve product versatility.
Pros:
It doesn't get simpler than using a pencil eyeliner. The product is easy to apply and only takes seconds to get the desired appearance. You receive an integrated sharpener and smudger to boost versatility. It is up to you whether you want a classy and elegant or a dramatic and eye-catching look. Either way, the black color will perform. The eyeliner ensures a fine ratio between cost and quality.
Cons:
If you are out the entire day, bring the eyeliner with you. The product won't last that long, and you will have to re-apply it in the afternoon. The liner is not waterproof, and it may show smudges on oily skin. The sharpener is soft, and it takes effort to get a fine line. If your eyelids are sensitive, the integrated smudger may be too rough.
What Really Matters
The industry offers a wide range of eyeliners, and it may be hard to choose the one that fits best. Consider the factors below.
Type
Here is a brief overview of all eyeliner types:
Pencil
This is the best choice for a smokey eye. Pencil eyeliners are easy to use as applying them reminds of writing with a pen. However, the pencils may go dull quickly, and it's your task to keep them sharp.
Liquid
These eyeliners ensure a high level of precision. You can get subtle and thin lines, but make sure the liquid doesn't get into your eyes. It might take a bit of practice to learn how to use a liquid eyeliner. A high-quality applicator brush can help to keep things neat.
Gel
This eyeliner comes with a brush you use to apply the gel. If you choose a precise brush, you can get both thin and thick lines effortlessly. However, gel liners don't last long and may be prone to peeling after several hours.
Choose the type based on the desired appearance. If you want thin lines, go with liquid eyeliners, or pick pencils for a smokey eye effect.
Color and Shade
The most popular eyeliner color is black. But you may find that different shades of black are available. Some formulas provide a matte finish, and others go for an ultra-dark appearance. Apart from black, you can also choose other colors, such as brown, purple, blue, etc.
Ingredients
Ingredients are important for those with sensitive skin. In that case, the eyeliner should come with a skin-friendly formula that's filled with nourishing compounds.
Some manufacturers go with shea butter or olive oil, both of which have a soothing effect on the skin near your eyelashes. Others choose castor oil to promote hair growth and density. It is vital to avoid compounds that may irritate your skin.
What's in Right Now?
Applying makeup takes time and effort. But once you apply everything, you don't want to have to worry about it for the rest of the day. That is why waterproof and smudge-resistant eyeliners are the latest hit among users. If you choose wisely, water won't do anything to your eyeliner. Smudge-resistant items are also great for those with oily skin, as they provide the necessary protection against oil accumulation.
Prices
You can find eyeliners suitable for any budget, but the product quality might vary. Here are the main pricing categories:
Cheap
These eyeliners won't cost more than $10, and you can get bargain deals for $5. They might not last for a long time, so be ready to re-apply them after several hours. Additionally, the packages will be small.
Mid-Range
The average cost of an eyeliner is between $10 and $20. The price will depend on the quality of the ingredients. If you choose carefully, these eyeliners can last throughout the day.
Expensive
Pricey eyeliners will require an investment of over $20, but the highest price shouldn't exceed $40. For this cost, expect a durable eyeliner that is waterproof and smudge-resistant. Depending on the package, you may get enough product that will last for months.
FAQs
Q: Can eyeliners cause blindness?
A: It is a myth that the ingredients found in eyeliners cause blindness. These products are safe; the only thing you have to do is follow their instructions. Basically, just make sure not to poke yourself in the eye!
Q: Does eyeliner expire?
A: Maximize the eyeliner's longevity by taking proper care of it. That includes sealing the containers tightly and cleaning the brush or sharpening the pencil regularly. If you notice the eyeliner has dried out or has a white film over it, it's time to buy a new one. The average lifespan of eyeliners is anywhere from three months to two years; the precise amount of time will be listed on the package.
Q: Which eyeliner is better: pencil or liquid?
A: Pencil eyeliners are easy to apply and take with you. They provide an excellent smokey effect but may fail when it comes to subtler lines. If you are going for that look, choose liquid eyeliners. It takes practice to learn how to use them, but it will be worth the effort in the end.
Q: How do I put eyeliner on?
A: It depends on the type, but you will use either an applicator brush or pencil. Apply the eyeliner to the upper lash line first and work your way from the center toward the edges. Next, fill in the gaps to get the desired appearance.
Q: Which eyeliner is best for sensitive eyes?
A: Look for a skin-friendly formula that is free from harmful compounds. Soothing ingredients like shea butter and olive oil are welcome, and castor oil can even boost your eyelash health.