The Best Eyebrow Razors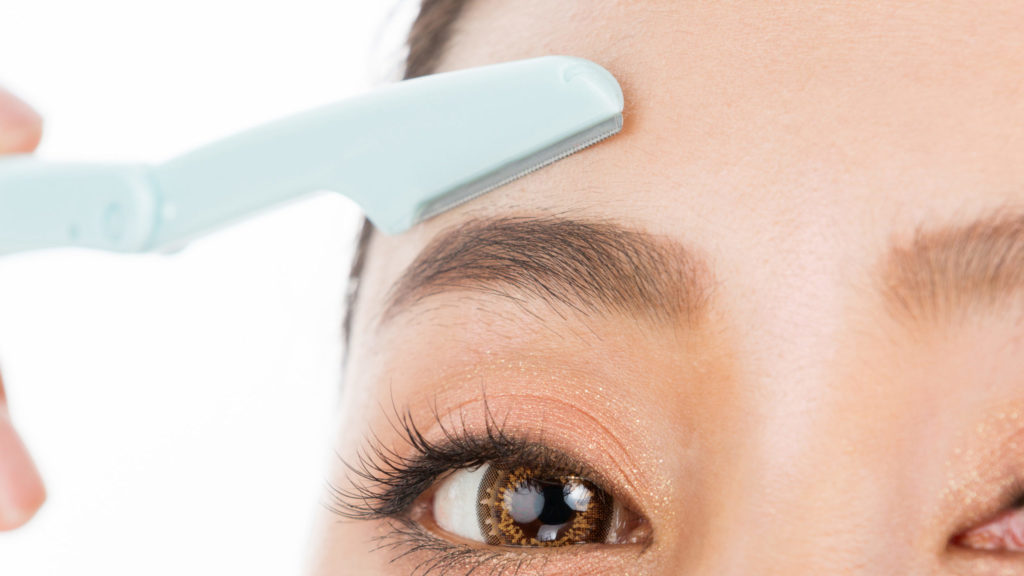 Have you noticed your eyebrows getting thinner from constant tweezing? Plucking out brow hairs from the base can make them grow back thinner each time. Over time you could even be joining the drawn-on eyebrows club, especially if your brows weren't overly thick in the beginning. If you want to keep your eyebrows, or are trying to grow them back fuller, it's always a good time to start. Meanwhile, you still need to keep them neat and trim. Eyebrow razors are an excellent solution to shape your brows without causing unnecessary drama by damaging the hair follicles.
Schick Silk Touch-Up
The Schick Silk Touch-Up has an extra attachment, the Precision Cover, to help guard against mishaps while shaping the brow area.
Pros:
The Precision Cover also shortens the blade, so that is easy to get the eyebrow razor into different angles for shaping. The razor itself also has a built-in form of protection around the blade to keep the metal from scraping the skin. It can be used for microplaning, the cosmetic process of removing peach fuzz, and extraneous hairs from the face. Microplaning gives the entire face a glow and helps makeup go on better. Like most hand-held eyebrow razors, it stays sharp for at least two uses.
Cons:
The blades come three to a pack, but with only one Precision Cover. Although the edge has built-in protection, making too many passes across the skin with the Schick Silk Touch-Up can still cause irritation.
Panasonic Facial Trimmer ES-WR50-P
The automatically-pivoting Panasonic Facial Trimmer works gently. The blades are rounded at the tips for smooth hair removal in sensitive areas of the body.
Pros:
For the face area, this razor includes two attachments for shaping the eyebrows. There is a long and short position for each attachment, giving a total of four different options for trimming the brows, and each is very efficient. Practice on your arm first. The head of the trimmer is self-pivoting. It moves easily around the curves of the face and is washable. This trimmer can be used all over the body.
Cons:
That being said, it doesn't cut coarse hairs as well as fine ones. The trimmer also needs two triple-A (AAA) batteries, which only give a total time of forty minutes. The replacement blades dull after several months and cost almost as much as the device itself.
Dorco Tinkle Eyebrow Shaper
The Tinkle Eyebrow Razor has become famous on YouTube for microdermabrasion - the form of facial exfoliation which is done with eyebrow razors and the like.
Pros:
Of course, these work great on the brows, too. They have an excellent grip, making it easy to hone in on hard-to-reach areas. Each blade also has built-in protection to avoid mishaps and irritation. They are sharp and work well on areas that have fine hair and coarse hair alike, long and short. Even with the built-in guard, this razor is highly exfoliating and gives a very smooth finish. Just hold the skin taut and the razor at a forty-five-degree angle while using.
Cons:
If left wet or in high humidity, the razor will rust quickly. Blades like this will prick surface acne, so exercising caution is a great idea. Because Tinkle is a very popular razor, knockoffs have occasionally been reported.
EAONE Eyebrow Razors
EAONE Eyebrow Razors are the best choice for taking care of eyebrows regularly. The count starts at thirty a pack
Pros:
These anti-slip eyebrow razors can also be purchased in packs of sixty or a hundred and eight, and at excellent prices. For each option, the blades come in a hard plastic case to avoid them being all over the place and getting lost. They are very sharp, and due to their size, some people use them to remove ear and nose hairs. Like the other two disposable eyebrow razors on this list by Schick and Tinkle, these also have built-in guards.
Cons:
Some users have found that the plastic edges are not always appropriately honed on the EAONE eyebrow razors and can scratch the face. While these are very sharp, some say they dull quickly after only one use.
CANAIER Eyebrow Trimmer
The CANAIER Eyebrow Trimmer is a small mechanical device. It's about as long as a disposable razor. For a battery-operated trimmer, it's easy to manipulate.
Pros:
This trimmer is very easy to use. Just glide it trimmer over the face or anywhere else where you would like to get rid of hair. The double razor edge does the rest of the work. It shaves very well on all hair textures on men and women. It is small enough to manipulate easily around the brow area. It only needs one triple-A battery, is light enough to throw in a purse or makeup bag. Only one pass is required with this trimmer. It comes with an eyebrow comb and cleaning brush.
Cons:
Mechanical eyebrow trimmers are quite different from manual eyebrow razors. The battery-operated trimmers are best used with a light hand and at a ninety-degree angle. Using these at a slant will tug at the hairs. Making more than one pass with them can be very irritating to the skin.
What Really Matters
Eyebrow razors help avoid taking off too much or too little hair
These little razors are much more precise than eyebrow threading and quicker than using tweezers. If you've ever tweezed your eyebrows, you know that the process of getting one eye to look just like the other, hair by hair, can turn into a very long process. Surely many have thrown their tweezers right in the trash out of pure frustration. Taking too much off one side and leaving too much on the other side can whittle the eyebrows down so far that it has some very embarrassing after effects.
Eyebrow razors, on the other hand, remove hair in a small line. So even when you're just touching up, you're creating a line, then the same line is followed to remove the other hairs. This process is made even easier by drawing on the correct eyebrow shape first, then trimming along the outer line.
Eyebrow razors are the quickest way to get great results
Even if you don't draw on the brow shape first, you can simply brush the hairs up, then use the razor to line them up neatly. The same quick trim cannot be attempted with tweezers or thread. Threading removes hairs from the root in a single line, and tweezing plucks them out one by one. Neither trims.
Trimming also helps brows retain their thickness because you're not taking the hairs out from the follicle. The majority are only being trimmed. Imagine the same effect on your head if you plucked out unruly hairs. The hair follicle, if it survives well, would have to start the same growth process from the beginning. The result would be thinner hair and hair that is more uneven and unruly.
Eyebrow razors are pain-free
Ever been in a hurry and tried to tweeze more than one eyebrow hair at a time? Pause for laughs. No, pause for pain. Threading also feels like your hairs are being snatched out at once. That's because this is what's happening.
Thankfully, trimming the eyebrows is a painless process. Just make sure you have enough eyebrow razors on hand to last you for a while. Using one blade more than twice will make it dull. It's the dull ones that are a little dangerous as you might end up pressing harder than you should to remove the hairs.
What's In Right Now
The regular, small, cheap, disposable plastic things are what's in for eyebrow razors. You would think the mechanical eyebrow removers would be more popular. They are certainly easier to use, and the chance of getting cut with one is minimal, but the hairs sometimes get caught in the little teeth – ouch. They also dull rather quickly and cost more to replace comparatively. More and more people are catching on to the quick and pain-free method of trimming with eyebrow razors.
FAQs
How do I properly use a disposable eyebrow razor?
Always sanitize the razor first with rubbing alcohol. Then prime the eyebrow area with a moisturizer to help keep the razor from making the skin raw. Use a sharp eyebrow pencil to outline the way you would like the eyebrows shaped. Then lightly brush the eyebrows up. Holding the area taut, make upward motions at a forty-five-degree angle to remove the hair that falls outside of the outline. This angle works best for manual eyebrow razors, and it also allows the hairs to grow back at a slant, not as prickly stubble. After trimming, brush the hairs out to the side, and follow the same process above. Next, brush the eyebrows down, and remove any hairs outside the outlined area.
After finishing, wipe off the eyebrow pencil outline using a soft washcloth and moisturizer or natural oil. If you're satisfied with the result, great. If you're not satisfied, resist the temptation to touch up your work with the razor. Instead, wait a day, so the area doesn't get irritated. Then draw on the outline, and try again. Don't apply makeup in the same area for at least twenty-four hours.
How do mechanical eyebrow razors work?
A mechanical eyebrow razor uses two small cutting edges to trim the brows. Each of them has teeth with tiny razor edges. The two cutting edges are situated very close together and move back and forth in opposite directions to create a scissor action. More accurately, they create many small scissor actions due to the little razor teeth. The tips of the teeth are not sharp, in themselves, only the sides. For this reason, it's close to impossible to cut yourself while using these correctly.
To use a mechanical trimmer, first brush the hairs up. Then place the trimmer to your skin at a right angle and cut the excess. If you are shaving the hairs instead of trimming, move the trimmer in the direction the hairs are growing. The important thing here is the angle, though. Without a ninety-degree angle, the razor might not work as effectively, and the hairs could get caught between the teeth.
Do eyebrows grow back thicker from using an eyebrow razor?
They will appear to grow back thicker with shaving, yes. Eyebrows grow back thinner when you tweeze or thread your eyebrows because the little hairs are being pulled out from the root – at least this is the attempt. When the hairs grow back, they grow in damaged from pulling. If successfully removed from the hair follicle, they must grow in from stage one again – thinly, getting thicker slowly. If you've been tweezing or threading for a while, it might be years before your eyebrows grow back fully.
On the other hand, when you use an eyebrow razor, the hairs are cut cleanly instead of being yanked out. They don't grow in damaged, and they don't have to start at stage one and grow in thinly. Instead, the hairs will grow in as they were before you cut them. And because you are shaving at a slant, they appear thicker when they grow.