The Best Eyebrow Pencils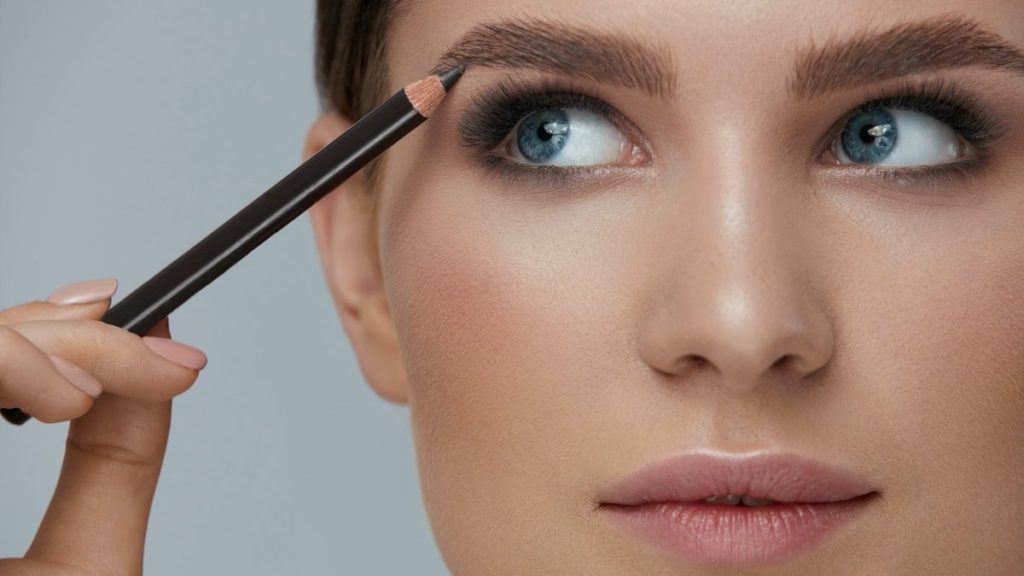 They say the eyes are the window to the soul - and what does every beautiful window have? A frame. To let your eyes become the focus of your face, it doesn't hurt if you have beautifully shaped eyebrows. Ironically, a well-defined eyebrow becomes invisible as it directs the gaze into your eyes and helps it stay there. Creating amazing eyebrows is easy with a good quality eyebrow pencil. It takes only minutes to master and even less time to do well. To help you choose the best eyebrow pencil for your lifestyle, we have collected together the best choices and ranked them for their quality, cost, and convenience.
Maybelline Total Temptation Eyebrow Definer Pencil
Maybelline's Total Temptation eyebrow pencil offers a teardrop-shaped pencil on one end and a plump spoolie on the other. Creating the perfect shape is a breeze even for beginners.
Pros:
This brow pencil has a great tip for shaping natural-looking eyebrows. Whether lining or shading, this point allows the color to glide on smoothly and precisely. The color is durable and lasts all day. The price point delivers great value for money. Colors are designed to match your skin tone which makes it easy to buy the right one for you. The spoolie fluffs and blends the color well, too, which results in a natural look. The color stick is firm enough to be able to layer for the exact look you want. The formula stays well on oily skin. This pencil does not need sharpening.
Cons:
There is no black in the range. The teardrop-shaped tip is large and takes a little getting used to.
Covergirl Easy Breezy Brow Micro-Fine + Define Pencil
This eyebrow pencil from Covergirl offers superior versatility due to its exceptionally fine point, while still serving its purpose effectively.
Pros:
The pencil is exceptionally easy to use on the brow line, particularly due to the micro-fine pencil point that is used on the product. The product also acts as a defining pencil, making it easy for a person to provide a significant enhancement to the appearance of their brow. The pencil comes in a variety of color options. The color options the customer can choose from include soft blonde, soft brown, rich brown, and honey brown. There is no need to worry about having to sharpen the pencil.
Cons:
The superfine point featured by the pencil may make it harder for some people to achieve the specific look they desire. The color options that the product comes in also seems to be relatively limited, especially when it is compared to other brow-defining pencils currently available on the market.
L'Oreal Paris Brow Stylist/Definer (Waterproof)
The ultra-fine, self-sharpening tip makes this pencil by L'Oreal Paris a top choice. In a good range of colors and smooth formula; perfect, long-lasting brows are easy and quick to create.
Pros:
This dual-tip eyebrow pencil offers a super-fine tip for precision and a long spoolie for perfect blending. The mechanical pencil-style does not need sharpening. The formula is tested by ophthalmologists and suitable for contact lens wearers. The blonde has no red undertones and is a true light blonde. The fine tip makes it very easy to create individual hairs. The spoolie blends well. It is one of the more affordable pencils on the list and perfectly defines and imitates natural brow hairs.
Cons:
The tip is very fine which takes a long time to fill in color if your eyebrows are thin.
NYX PROFESSIONAL MAKEUP Micro Brow Pencil
This pencil lets you sculpt, define, and fill-in the perfect brows easily. The range of 8 natural colors suits every skin tone - and it's cruelty-free, too.
Pros:
The super-skinny tip allows you to create natural-looking eyebrows. The color coats hair evenly and without clumping. Available in a great color range of 8 different shades that include auburn, blonde, and black. The tip works well on thin or sparse brows creating a naturally full look. The color glides on easily and blends well with the spoolie. The finish of the formula has a natural look and layers well. NYX produces 100% cruelty-free products that are never tested on animals. The tip produces a precise line that is easy to fill in. It's at an affordable price point.
Cons:
The creamy formula stays best when used with a primer or fixative.
Revlon ColorStay Eyebrow Pencil
Revlon's ColorStay pencil has a unique tip that shapes and grooms your brows into perfect shape. With the perfect brows, great color, and a 24-hour formula, you'll always look beautiful.
Pros:
The chisel-shaped tip makes shaping and filling in easy. The self-propelling pencil keeps the color tip in shape and always ready for action. The formula is very soft and creamy that glides on, and does not get crumbly or dry. The spoolie is full and blends color well. The color is waterproof and does last 24 hours. The high pigmented, natural colors are true to the color swatch and flattering to the skin. The thick formula coats the hair and makes them appear thicker. The price represents great value.
Cons:
The color can flake when over-applied. If you need to draw individual hairs this is not the tip for you.
What is in Right Now?
Brows have had a reinvention in modern times with a heavy, defined brow being the look. Now, though, the pendulum is swinging away from dark and defined, instead drifting towards lighter and more outlined. Shape will still be king, but the prior tendency towards filling in the shape to a uniform color (mostly as dark as you can push it) will be replaced by opting for lighter, almost patchy shading to reflect the natural look of hair. This transparent look will be matched with adding texture and depth with gels and soaps to give the brow a fluffy, brushed up look.
Soap shaping will likely make a splash in the future. It's a simple as it sounds. You get a clear bar of soap and an old spoolie and lather up. Then you shape your eyebrows in an upswept, natural look with lots of space between the hairs. This is complemented by using slightly lighter shades than your hair color and adding gloss gels to reflect the light.
FAQs
How do I find a color to pair with naturally red hair?
As a natural redhead myself, I have found it to be the most difficult to pair the right eyebrow pencil with red or auburn hair. Blondes and brunettes seem to have it easy, but finding a brow pencil for redheads proves difficult at common retailers. However, several of the brands above have auburn brow pencils, in addition to the latest production of unnaturally colored brow pencils by others.
What formula is going to work best for me?
That depends on what look you want to achieve. If you are looking for a light fill-in for your eyebrows (perhaps you are blonde or light brunette), an inexpensive, traditional eyebrow pencil should work just fine. If you are someone with dark or unnatural hair and you are looking to darken more sparse eyebrows or make a statement, the more expensive gel liners are your ticket.
How can I be precise while creating bolder brows?
Getting a precise outline for your brow is all about practice and finesse. Eyebrow pencils are not like a pen or crayon you can just grab and scribble away. You need to practice the shape you want to achieve as it has to be perfectly symmetrical on each brow. You can trace the shape over and over again like a doodle to be familiar with it before you put pencil to skin. You can also practice on your brows, but this can be costly, as there may be product wastage – and frustration – as you need to redraw the lines.
Use an ultra-fine tip eyebrow pencil before filling in to get the finesse you need for a precise shape. You wouldn't try and eat peas with a pitchfork, so don't try and make a precise brow with a super-thick, dry pencil tip.
How long does an eyebrow pencil last?
That's a tricky question. It depends on what you do with it and what you buy. If you are only filling in a few hairs with a traditional stick pencil then it can last weeks. If you are defining and filling in both brows with a creme pencil then it won't last for long. Most people who create new brows daily in an ultra-fine creme formula, factor in one pencil every 4-6 weeks. Traditional pencils that are larger and harder last for 3-4 months with daily use, but the coverage they apply is much less defined. You can extend this by switching to a larger, harder pencil or lightening up on the depth of color.
What's the best eyebrow pencil for beginners?
Starting to shape your eyebrows can be frustrating. It takes practice to get them even and symmetrical in one movement. There are two ways that beginners can go to get comfortable with their eyebrows. One way is to buy a good quality pencil that makes it easy to use. The problem with that is that it may be easier, but the mistakes that you wipe way will be costly.
The other way is to buy a cheap pencil and practice until you have mastered a fine line. Creme pencils are easier to work with, as is a thicker tip. Either way, practice is the key to get a beautiful shape you're happy with.