The Best Microneedle Derma Rollers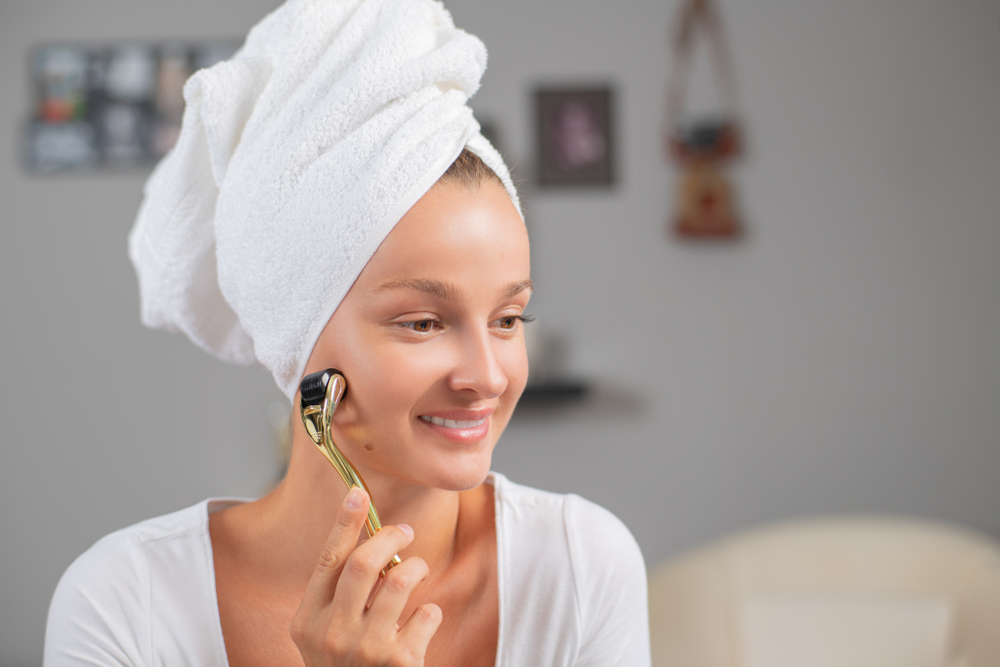 For anyone looking for youthful vibrant skin, we recommend adding a derma roller to your skincare arsenal. This wheel-like tool is comprised of hundreds of tiny needles that may, at first, sound intimidating, but are actually quite beneficial. These needles can stimulate blood flow and fill in wrinkles, encouraging collagen production and increasing elastin. That way, your skin will not only look healthier, it will truly be healthier. To help you in your quest for luminous skin, we've rounded up a list of the best of the best in microneedle derma rollers. Read on to discover the perfect pick for you and your budget.
Sdara Microneedle Derma Roller
Replete with nifty features and modestly-priced, this option from Sdara Skincare easily scores the top spot on our list.
Pros:
The Sdara derma roller features 540 .25-mm microneedles to really get in there and repair your skin. Available at quite an affordable price, this non-invasive tool is a must for those looking to start microneedling. It is easy to clean and sanitize, and it's excellent for beginners. This derma roller is compact and ready to travel or store discreetly in the bathroom. Not only does it successfully help to fill in your wrinkles, but it also goes as far as to erase those stubborn sunspots and areas of discoloration. Lastly, it works quickly and efficiently to get your skin in tip-top shape.
Cons:
If you are sensitive to pain, this may not be the derma roller for you. If you have sensitive skin, this could cause irritation to some degree. Additionally, if you are looking for stainless-steel needles, you will have to continue searching.
Linduray Cosmetic Microneedling Kit
Ease of use is key, which is why we love this kit from Linduray. It is simple to use and highly efficient, getting in deep to repair tired and aging skin.
Pros:
Linduray's microneedling kit is affordable and is an absolute must-have for a successful skincare routine. It features a 0.25mm cosmetic microdermabrasion, an easy-grip handle, a pleasing and stylish design, and a free e-book to help you use it. You'll notice that your skin glows instantly after use. In fact, we're almost certain you'll receive compliments on your salon-quality skin. This kit offers a money-back guarantee, so if you're unsure of your results, you can get your money back and try a different product instead.
Cons:
The needles that come with the roller wear down quite quickly. You may find that after a few uses, the needles need replacing.
Lolysenta Derma Roller
Innovative and sleek, the Lolysenta Microneedle Derma Roller is easy to use, gentle on the skin, and promises smooth skin.
Pros:
Simple to use, this fabulous product contains 540 titanium microneedles of a 0.25mm length to help remove dead skin cells and give you a youthful glow. Include it in your normal skincare routine and you'll find that this derma roller helps your skin absorb moisturizer, giving you great results each time. This derma roller is also very stylish and is even small enough to fit in your purse.
Cons:
We were surprised that there were no instructions included in the box. If you are new to using a derma roller, you may not be sure how to use this product correctly. You may benefit from looking at an online video to help you get started with this particular product.
SanDine Silky Skin Derma Roller
Durable, compact, and inexpensive, this pick offers fast results for a bargain price.
Pros:
The needles on this derma roller from SanDine are sharp and therefore effective, and it is perfect for once-a-week use. If you utilize vitamins, you will be happy to hear that this derma roller improves your skin's ability to absorb vitamin C. It is ideal for all sorts of imperfections from pimples to wrinkles. This derma roller will change your appearance for the better. The best part is the fact that some see results overnight. Its protective case keeps it safe and secure and allows the user to travel with it if necessary.
Cons:
It may be difficult to clean. Some have found it to be ineffective and not long-lasting.
Hiegoo Titanium Derma Roller
Feminine and dainty, this one features a smooth and sleek appearance that screams quality – and it makes for a great gift, too.
Pros:
This one comes in a compact package that makes it easy to store or tuck in your bag. It has a sleek and convenient design that fits comfortably in your hand without tiring it out with consistent use. Perfect for at-home use, it is easy to clean as well as easy to use. Upon first use, you will notice almost immediately just how much gentler it is than other derma rollers. This is primarily due to the design of its needles. It works wonderfully to get rid of fine lines, wrinkles, discoloration, and inflammation. It is ergonomic and can be used vertically and horizontally. It is also great for sensitive skin.
Cons:
Because the needles are smaller than most, it is not as effective for everyone in terms of cleansing.
FAQs
How do I use my derma roller gently and effectively?
We completely understand if you are initially intimidated by some of these derma rollers; they indeed have a bit of a threatening appearance. With the wheel design and hundreds of sharp needles, one could almost relate it to an ancient torture device. Derma rollers are ultimately designed to make tiny holes in your skin, so it doesn't feel like a walk in the park. However, if you use it correctly, you can expect pleasant results and a (mostly) painless experience.
To make the most of your derma roller, you can roll it vertically and horizontally across the main areas of your face, including your T-zone, cheekbones, forehead, cheeks, and chin. These are the areas that collect the most dirt, produce the most oils, and encourage acne.
Should I use any specific facial care products while using my derma roller?
Skincare is complicated, period. But when it comes to the face, it gets even more involved. It seems that there is an endless amount of products to use and it can be hard to find the right ones for your specific needs. Using a derma roller does not require you to use any specific product; a regular, healthy skincare routine is highly beneficial. Cleanse the skin, apply your moisturizer and oils, and get ready to use your derma roller.
While there aren't really any products out there that are specifically designed for this purpose, there are some that definitely wouldn't hurt. In combination with quality facial care products that work for you, you will find such products to go hand in hand with an excellent derma roller to improve a plethora of facial skin-related issues.
How do I properly clean my derma roller?
This is a tricky question. Because derma rollers are made of many different materials, they cannot all be cleaned or sanitized the same way. But thicker and heavier-duty derma rollers can be cleaned and sanitized with rubbing alcohol or some other bacteria-fighting product.