5 Best Collagen Powders for 2020 – Total Beauty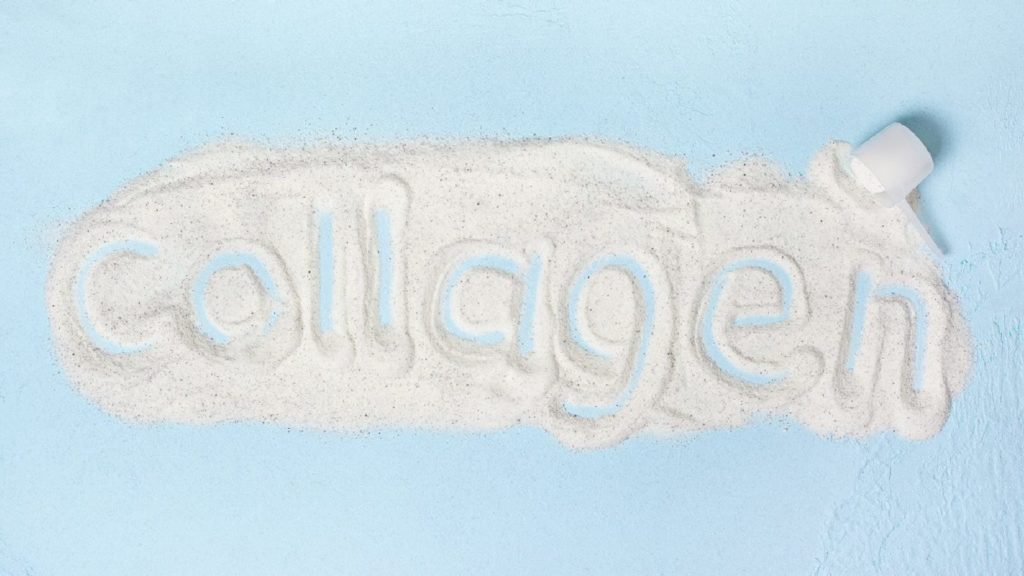 Collagen supplementation has a multitude of benefits, including reducing wrinkles, improving nail and hair strength, enhancing digestion and joint health, and generally, resulting in a finished glow. Collagen is composed of amino acid blends and peptides, as well as animal skin, tendons, and cartilage. Thirty percent of the body's protein is made up of collagen; yet, it's difficult to get enough collagen through the foods we eat, which is why it makes sense to supplement. Collagen supplements are unregulated and can be pricey, so we've compiled a list to help you make the right choice.
Best Choice
Sports Research Collagen Powder uses two different types of collagen, I and III. They work together and are very beneficial for pain and tension reduction.

Pros:
Types I & III work on muscle, ligament and nerve pain in any place the body naturally stores collagen and you have formed an uncomfortable deficiency. They are also great for improving skin quality because collagen levels lower as the skin starts to age. One can start looking younger in weeks. Sports Research carries three quality certifications for being organic, paleo/keto friendly, and non-GMO. The caffeine from the matcha tea helps the benefits of the product to reach cell-level quickly.
Cons:
The product is bovine collagen and is therefore not suitable for vegetarians or vegans. It can cause digestive reactions in those who don't consume beef on a regular basis. It is not completely tasteless.
Best for Skin
The Japanese green tea in 360 Nutrition Matcha Collagen Peptides Powder gives you a jump start and delivers the collagen quickly to wherever it's needed in your body.
Pros:
It contains ten milligrams of caffeine per two-tablespoon serving. It also utilizes dietary fiber. Between the fiber and the caffeine, the body can more easily whisk the collagen through its systems and allocate the supplement to where it's needed most. If your skin lacks elasticity and freshness, your body will be kind enough to send it there to reduce dryness and fine lines and to restore luster. It is a perfect pre-workout supplement to make the joints more flexible and avoid muscle injury.
Cons:
The amount of collagen per serving is not listed on the label. The source of 360 Nutrition collagen is pork. It can disturb your digestion if you're not accustomed to porcine products. Most users dislike the taste. So unless you're already familiar with the flavor of matcha green tea, you might consider another product.
Best for Wrinkles
BESHA's Collagen Peptides is a natural collagen powder developed in a lab in Germany. It's scientifically tested, highly digestible, and designed to rejuvenate skin elasticity.

Pros:
When using this product regularly, buyers immediately noticed a marked improvement in their crow's feet. We found this collagen powder dissolves quickly into liquids and we like that it doesn't change a drink's texture. We also noticed significant hair growth and overall smoother skin when using this product. It's a bonus that it comes in a lovely glass jar rather than a plastic container—it looks good and it's better for the environment, too.
Cons:
While most buyers used this product without issue, some people with gastrointestinal issues experienced stomach irritation and upset when using this collagen. If you're looking for a collagen supplement to support digestive disturbances, this is not the ideal choice for you.
Best for Nails
If you want collagen made with premium ingredients, choose MAV Nutrition's Collagen Peptides. It's non-GMO, made from grass-fed, pasture-raised cattle and has no added chemicals or preservatives.
Pros:
Made with zero carbs and zero sugar, this collagen powder is an excellent natural appetite suppressant. Many people are impressed with how it curbs their hunger and have thus experienced weight loss when using the product regularly. After a few weeks of use, we found it improved the condition of our hair and nails. This product is easily absorbed by the body and also contains amino acids that support gut health. We like that it's been lab tested by a third party, too.
Cons:
Even though this product is "unflavored", we were slightly disappointed by the unpleasant taste that it has. Some people found that it doesn't mix well with cold liquids, and that the scoop is poorly designed.
Best for Bones
This hydrolyzed collagen powder from Sports Research is keto- and paleo-certified, gluten-free and made from grass-fed, pasture-raised cattle.
Pros:
Besides buyers experiencing a noticeable increase in hair growth, people have reported a vast improvement in joint pain, arthritis aches, lumbar disc troubles, and general joint issues. We found that, after a few weeks of use, the bags under our eyes were significantly reduced. Overall, we were impressed by the value of this product; you get a lot more product for the same price as others in its class.
Cons:
While most buyers noticed smoother, more hydrated skin when using this collagen, some people have experienced skin breakouts and rashes after using it, so it's not ideal for those with sensitive skin. We would prefer to know which parts of the animal are used to make this collagen (i.e. the hide, bones, etc.) as the container doesn't specify.
What Really Matters
Dosage
Everyone has a different composition and our bodies react differently to supplements and medication. Ensuring you take the correct dose of collagen for you is crucial. Our bodies naturally produce collagen (which gets depleted as you age) in varying amounts, so some people need less of a supplement than others. Research indicates that 2.5mg is approximately the right amount to make a difference. Ensure that the dose you're on doesn't irritate your gut or make you feel unwell.
Certification
The market is inundated with collagen products; however, not all collagen is created equally. Products made with inferior ingredients can actually damage your health rather than improve it. It's important to choose science-backed products that have been certified by reputable organizations and tested for safety. If no research has been done on a product, avoid it.
Ingredients
The golden rule when selecting a collagen product is: the fewer the ingredients, the better the product. Collagen powder should be colorless and tasteless (unless mixed with flavoring). A powder that is brown or tinted in color indicates that it's not pure and is not made with premium ingredients. Collagen is made from the skin, tendons, and cartilage of chicken, beef, or marine animals. If possible, opt for organic products that are derived from pasture-raised, grass-fed animals that are free from hormones and antibiotics.
There are three main types of collagen: gelatin (this is partially hydrolyzed and only dissolves in hot water); the most commonly found collagen peptides (this goes through a hydrolyzed process that makes the collagen more bioavailable and better absorbed into the body); and unhydrolyzed collagen (which is unprocessed and harder to break down).
What's in Right Now?
Although supplementing with collagen amounts to the simple process of stirring a spoon of powder into your morning drink, adding it to all the other supplements you might need can become overwhelming. Yes, people want to see the results of taking various supplements, but they also want convenience. That's why there's been an increase in all-in-one blends that incorporate, for example, your usual collagen powder with Vitamin C (which increases collagen's absorption), hyaluronic acid (to improve skin tone), and zinc (an immune booster).
As the beauty-from-within trend continues to grow, plant-based collagen boosters have also entered the market, with powders containing ingredients such as spinach, gooseberries, and ceramides intended to boost the body's own collagen production.
Prices
Expensive
$40-$100 for more than a month's supply of premium quality collagen powder.
Mid-Range
$19-$30 for a mid-range, high quality collagen powder with extras, such as amino acids.
Cheap
$13-$18 for collagen peptides powder.
FAQs
Can collagen powder cause kidney stones?
If you have a history of being susceptible to calcium oxalate kidney stones, you should be cautious when using collagen by introducing it slowly to your diet. Collagen is rich in an amino acid known as hydroxyproline, which gets converted into oxalate and is excreted through the kidneys. It can result in kidney stones in certain people.
How long can you keep collagen before it expires?
Collagen can be kept for approximately two to three years and longer, as long as you store it in a cool, dry, dark place. Throw it out if it starts to clump or get moldy.
Can you get vegan collagen powder?
Most collagen comes from the hides, bones, and connective tissues of cows, chicken, pork, and fish. However, you can get vegan-friendly collagen that is made from bacteria and modified yeast, as well as collagen booster powders made from botanicals, amino acids, and ceramides.