The Best Body Washes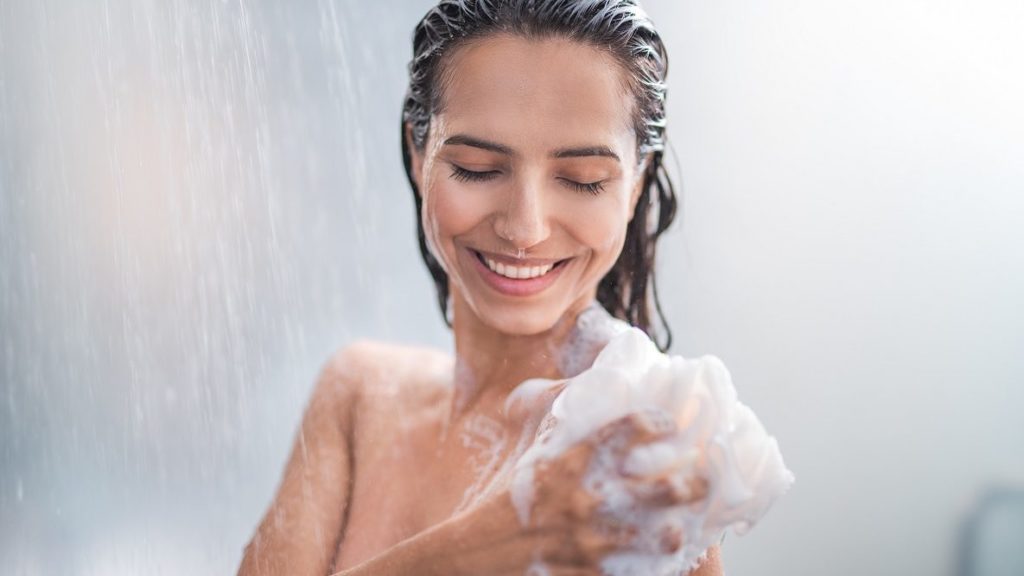 For a glowing, healthy-looking complexion, it's vital to use a body wash that suits your skin type. You will need a body wash that will cleanse, hydrate, and moisturize, leaving your skin feeling soft, smooth, and supple. Whether your skin is naturally well-balanced, sensitive, dry, or oily, there are a whole bunch of ingredients in body washes that can help. But with so many body wash options and a plethora of ingredients in each, it can be confusing to know which is best for you. To help you, we've collected a list of our favorite body washes for different skin types to make your decision a little easier.
Purely Northwest Antifungal Tea Tree Oil
Looking for an all-rounder that improves skin quality and fights fungus? This is the body wash for you. Featuring anti-fungal and anti-bacterial properties, this glorious-smelling body wash is ideal for all skin types.
Pros:
If you have problematic skin (or if you just want to maintain your existing complexion), this freshly-scented body wash is a great all-rounder. No matter your ailment or skin type, the botanicals in this body wash are designed to soothe and support your skin, keeping problems at bay while highlighting its gorgeous glow. Plus, its fantastic scent will certainly help you start your mornings with a feeling of invigorating delight.
Cons:
It must be said – this body wash has a very potent scent and leaves you quite tingly. While many people love the strong aroma and sensation of tea tree oil, it isn't to everybody's taste. If you're sensitive to smells, use with caution.
The Right to Shower – Dignity (Charcoal and Cotton Blossom)
Need a body wash that won't strip your skin? No problem. Made with charcoal and organic aloe vera, this body wash is sulfate-free and ideal for sensitive skin due to its paraben-free formula.
Pros:
Scented with hints of delicate cotton blossom, this organic body wash is created with sustainable vegan ingredients that allow it to be used as a shampoo, too. We found it's great for sensitive, dry skin thanks to its charcoal properties and sulfate-free formula. Its also utterly delicious, scent-wise. Some of this company's profits go towards supporting a charitable cause, too, which we think is a bonus.
Cons:
When trying out this body wash,  you'll likely enjoy the wholesome scent that lingers around you in the shower. However, it will likely wear off quite quickly afterward, possibly due to the delicate balance of fragrances used.
Aveeno Daily Moisturizing
This one contains three oat-based ingredients that are soothing and nourishing to the skin: oatmeal flour, oat kernel oil, and oat kernel extract. The result? Plump, luscious hydration.
Pros:
The three active oat components work together with glycerin, wheat extracts, and sunflower oil to hydrate and give the skin a plumper, healthier appearance. This one touts a creamy formula that goes on easily, lathers well, and leaves the skin super soft. The body wash is also available as a pack with the Aveeno Daily Moisturizing body lotion, or with both the lotion and the Aveeno Positively Radiant daily body scrub. Each option is affordable, too, so it's worth considering.
Cons:
Some may find the fragrance objectionable. The after-feel of the body wash is slippery due to the high glycerin content. This product is not gluten-free due to the presence of wheat starch and proteins.
Nivea Men – Deep Active Clean
The Active Deep Clean fragrance from Nivea's line of men's body washes is a classic for a reason.
Pros:
The charcoal removes impurities from the pores and scalp and wipes away sebum and sweat. The fragrance is refreshing and clean. Nivea Men has other scents, including Energy with mint extract, Power Refresh with 24-hour citrus clean, Sensitive with bamboo extract, and Shower & Shave. Each is perfect for the man for whom freshness and fragrance are important.
Cons:
The fragrances are strong and distinct and not meant to blend with cologne or aftershave. Some of the scents are sweeter than expected. These contain synthetic dye. Nivea Men's body washes contain two different suds chemicals: sodium laureth sulfate and cocamidopropyl betaine, which means that for some, they strip too much moisture.
Dove Sensitive Skin
Hypoallergenic, soap-free, and made with 100% gentle cleansers, Dove Sensitive Skin is the unrivaled body wash to nourish, cleanse, and moisturize all skin types.
Pros:
From your first shower using Dove Sensitive Skin body wash, you're likely to marvel at how you feel noticeably silky-smooth. This body wash is known for being wonderfully nourishing and moisturizing. Easy to lather up, it feels luxurious and leaves a wonderfully clean scent on the body. If you're part of a large family, this is an absolute must-have because it suits all skin types.
Cons:
If you don't enjoy a slippery, silky feeling after a shower, this might not be the body wash for you. It's certainly heavy on the moisture, so if you've already got soft skin, this could be overkill.
What Really Matters
A Body Wash Suited To Your Skin Type
As with all skin products, it's essential to know what skin type you are. There are so many body wash options to choose from, so it's important to know what will bring out the best results for your individual needs. Your skin is as unique as you, so it requires a customized approach. When you use the correct body wash, the right ingredients will work in harmony with your skin's natural makeup, leaving you looking fresh and feeling smooth. If your skin is naturally dry, you don't want to choose a body wash that will leave your skin feeling thirsty and flaky; rather, you will want a body wash that will deeply hydrate and moisturize. Such products might include ingredients like coconut oil or argan oil. If your skin is oily, you will want to use a body wash that will be kind to the body's natural moisture skin barrier. For example, a tea tree-based body wash will protect your skin without stripping it. When you've identified your skin type, you can find the perfect body wash to complement it.
The Scent
Scent is incredibly important when choosing a body wash. After all, it'll affect the way you smell all day long. Given the enormous variety of body wash scents out there, you have the freedom to choose an aroma that suits the particular subtleties of your scent sensibilities. Some scents, such as lavender or rose oil, are known to relax and rejuvenate. Others, such as mint or tea tree, stimulate and excite us. If you tend to be quite tired first thing in the morning, a zingy scent can wake you up in no time. Or, if you prefer a shower before bed, a relaxing shea butter might be a better option. Know which scents suit your tastes, and then choose a body wash that makes your washing experience heavenly.
Texture
When choosing a body wash, consider what texture you prefer. Do you want a creamy, thick, and rich body wash? Do you want it to create a thick lather across your body? Or do you like the feel of a thinner, water-based body wash that comes off quickly and easily without leaving residue? Some body washes contain ingredients like shea butter or coconut oil. These smell great and serve a purpose for dry skin, but can make you feel slippery and oily. If you prefer a fresher, cleaner finish as you step out of the shower, you might prefer a lemon or mint-based body wash. The texture of your body wash is also important when considering its use. If you use a body wash as a base to shave your legs, a thicker texture will be necessary. If you like to use a body wash that doubles up as a shampoo, you'll need something that's easy to wash away.
What's In Right Now?
As a society, we are becoming increasingly conscious of our health and the environment around us. Our consumer choices now reflect this, with many of us preferring to opt for ethically-sourced products with limited chemicals and preservatives. Luckily, many companies have heeded the call and responded appropriately. Lots of newer body washes are paraben-free and sulfate-free. Many are also vegan and certified organic. The ingredients used in body washes have also become a lot more natural, which promotes a more natural scent. Body washes tend to include ingredients such as aloe vera, shea butter, tea tree, and charcoal. Not only do these have beneficial properties for the skin, but they are also more environmentally friendly.
FAQs
Which body wash is most suitable for the whole family, including children?
Everybody in your family is likely to have slightly different skin types, so it is important to choose an all-rounder that will support dry, oily, and sensitive skin. You will want a gentle body wash that will cleanse and hydrate. As scent is subjective, it's best to choose a body wash that smells relatively neutral, such as coconut or shea, and that doesn't linger on the skin for long. Talk to your family before buying a body wash. It's likely you'll each have differing preferences, in which case, it may be better to buy each person a body wash of his/her own.
I need a body wash that is gentle on my sensitive skin. How do I know which is best?
It might seem obvious, but first, you'll want to choose a body wash that is designed for sensitive skin. Some body washes are simply unusable if you have delicate or reactive skin. Sensitive-skin body washes tend to be unscented, soap-free, sulfate-free, and hypoallergenic. You will want a body wash that is gentle, hydrating, and moisturizing. Look for ingredients like coconut oil (which is soothing to irritated skin) or tea tree oil (which can help combat redness).
I prefer to use organic ingredients. How do I know if the body wash includes these?
The body wash container's label will list the ingredients that are certified organic. All you have to do is read the label. Companies that use organic products may even offer a host of other environmentally-friendly features. They may get their ingredients from sustainable sources, use recyclable packaging, and avoid animal testing. The other great news is that you can buy body washes with certified organic ingredients at very reasonable prices. As a rule, if the label doesn't mention organic, then it's probably not organic.
I have acne on my body. Do I need to use a prescribed body wash or can I buy my own?
Sometimes, acne only clears up when you use a prescribed, medicated body wash. However, many natural products are said to aid in clearing up acne, too. If you haven't yet tried a tea tree oil product, you might want to start there. Tea tree oil can help reduce acne spots due to its anti-bacterial properties. If you have scars left from acne, then a softer coconut oil-based body wash can reduce the appearance of these. It really is trial and error because your body chemistry is totally unique to you. What's for sure is that these days, many body washes are highly effective at reducing problems on the skin's surface and can create a world of difference.