The Best Beard Hair Catchers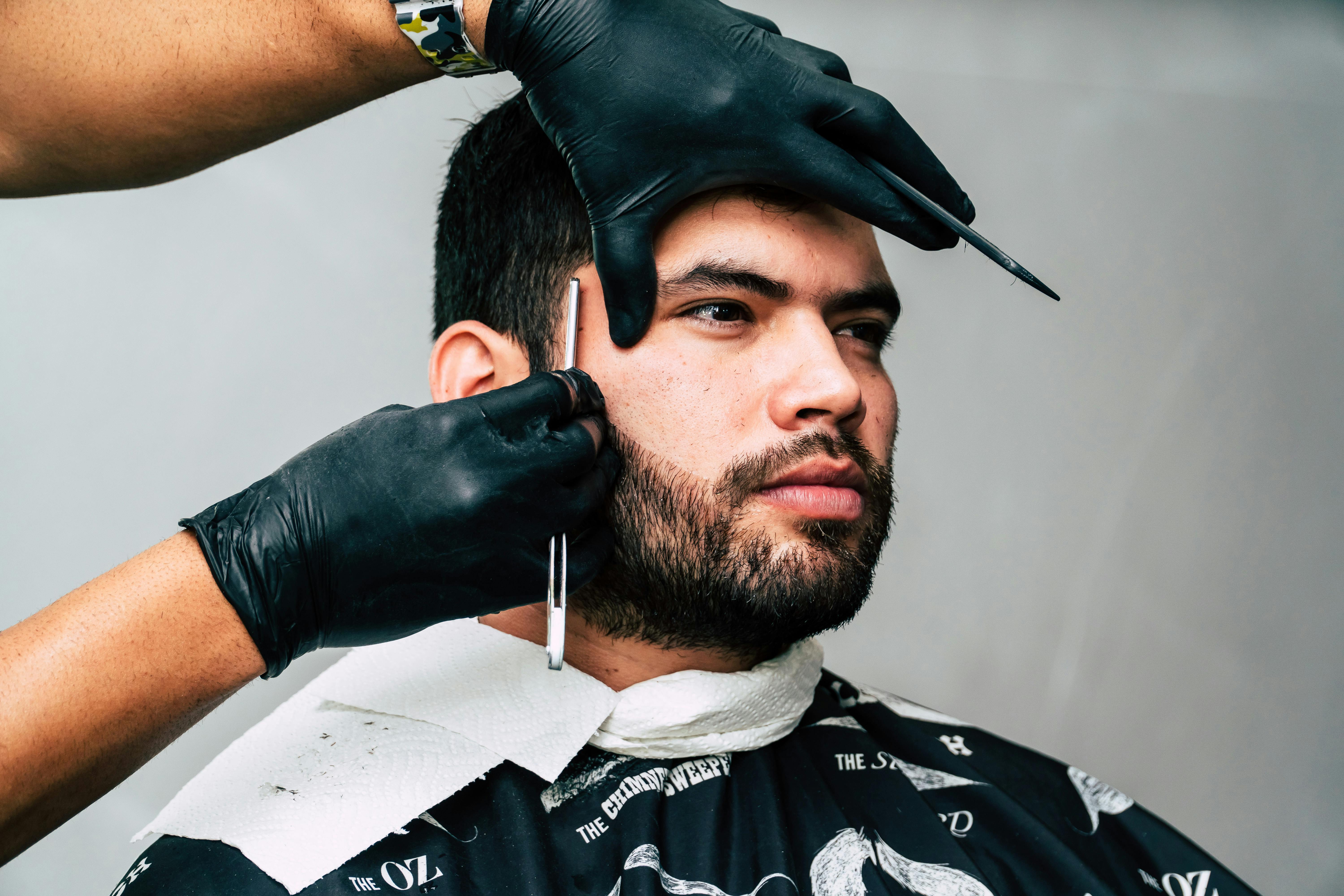 Trimming your beard can be messy and annoying, not to mention the itchy feeling that comes with stray hairs that stick to you after you're done. If you're tired of doing things the old way, why not try them the easy way? A beard catcher can be a great solution to messy trims and itchy necks. You can think of it like a bib or a barber's cape, but it suctions to your bathroom mirror so all the hair falls in a convenient pouch. From there, you can just dump it in the trash and you're good to go. If you think this would make your grooming life a breeze, then it's time to upgrade. We've put together a list of beard catchers that are up for grabs today so you can get trimmed down and cleaned up faster than ever.
Beard King Beard Bib
With its reinforced corners and a convenient tray table, this beard catcher is a fan favorite.
Taming your mane shouldn't have to be a messy affair, and Beard King is serious about getting a clean shave. Built to fit in a self-packing pouch, this beard catcher is the ultimate product for easy grooming.
As with most beard catchers, this one features suction cups and a hair-catching sheet. Unlike the competitors, though, it comes with reinforced grommets and includes a handy accessory tray. This built-in tray table is made with thicker material within the catching sheet and can hold all your grooming tools. In short, this beard bib has it all, so don't settle for an imitation when you can have the king.
Pros:
Built-in accessory tray
Self-packing pouch
One size fits all
Cons:
Suction cups might not have the best hold
Aksice Beard Apron
This affordable beard catcher will do its job and leave more cash in your wallet.
Lots of companies will try to sell you a glorified sheet as a beard catcher for a lot more than it's worth. That's why it's important to find high-quality products that won't break the bank. This beard apron from Aksice does just that.
This pack features a thin, one-size-fits-all beard apron as well as four suction cups. This is perfect for people who have a tendency to misplace things, but it's also convenient to have a backup set. Instead of grommets, this beard catcher has fabric loops at the corners for suction cups to hook onto. It's a simple setup, but for a simple man, this affordable option could be just what you need.
Pros:
Great price
Includes four suction cups
Non-stick apron
Waterproof
Cons:
Material is very thin
Hold of the suction cups varies
Rock Beard Beard Apron
The waterproof design and affordable price make this beard catcher a top choice.
When you're looking for a good beard hair catcher, having one with waterproof material is a big deal. Fabrics that aren't waterproof can absorb water, and because hair sticks to water, it can also stick to your beard hair catcher. Since the whole point of a beard apron is to make trimming easier to clean up, this could defeat the purpose. That's why this waterproof beard apron from Rock Beard is ideal.
With four suction cups and a travel bag included, this apron is perfect for on-the-go trimming. Aside from being waterproof, it's also designed to be static-resistant to ensure that when you go to dump the hair in the trash, your apron cooperates.
Pros:
Good cost value
Waterproof design
Comes with extra suction cups
Cons:
Not completely static-free
The Neat Guy Beard Catcher Kit
This bundle pack offers accessories that are built to last.
Men's style is all about being presentable and looking your best. When you're trying to look sharp by trimming your beard, shouldn't you expect your beard catcher to look good too? There are a lot of companies selling sub-par beard hair catchers, but this kit is made with quality materials so you can feel confident with your purchase.
This five-piece kit comes with a beard catcher, scissors, wooden beard comb, suction cups, and a travel bag. The apron is a soft material that won't bunch up or cause hair to stick to it, either. All in all, this is a classy-looking kit that features tons of extras at a decent price.
Pros:
Impressive price given the variety
Lots of added accessories
Good quality materials
Cons:
Suction power is debatable
Uieegpg Beard Cape Set
Groom yourself precisely with the help of all the accessories you could possibly need.
Who doesn't love finding a product that's a diamond in the rough, even if it means buying in bulk or sifting through lots of unwanted obstacles? Well, with this beard cape set, you don't have to jump through any hoops to do just that.
This six-piece beard cape set comes with two suction cups, a beard cape, scissors, a travel bag, and a beard comb/grooming tool. While the individual accessories may not be too exciting on their own, it's like they say: the whole is greater than the sum of its parts. Aside from being supremely versatile, this set boasts a cost value that is truly impressive. If you want to get trimmed up in style and buy a whole starter kit, this is the kit to get.
Pros:
Great price
Lots of accessories
Beard comb has outline for beard-trimming assistance
Cons:
Only comes with two suction cups
Quality is not as good as other more expensive brands
Frequently Asked Questions
Could I use a barber cape as a beard catcher?
No, not in the same way, at least. Beard catchers are made to have suction cups to connect them to the bathroom mirror. This creates a tent-like area where falling hair can be caught and collected. Barber capes are only meant to keep falling hair off your clothes, not to catch the hair and keep it from landing on the floor. Technically, if you added suction cups to a barber cape, it would perform the same job, but that would require some effort to make that happen. You can use whatever you'd like, but beard catchers are best for the job.
What if I don't have a bathroom mirror?
If you're trimming your beard somewhere that doesn't have a bathroom mirror, you'd be shaving blind. This creates an entirely different set of problems. However, on the off-chance that you'd want to shave your face without seeing yourself in a mirror, the suction cups will also stick to other surfaces. For example, they can stick to tile, plastic, metal, and essentially all other surfaces that would be in a bathroom except for wood. Technically, you could even use those suction cups in the shower if that would be more convenient. We recommend suctioning to a mirror and trimming there, but the only limit is your imagination (and the proper surface).