5 Best Bathroom Weight Loss Scales for 2020 – Total Beauty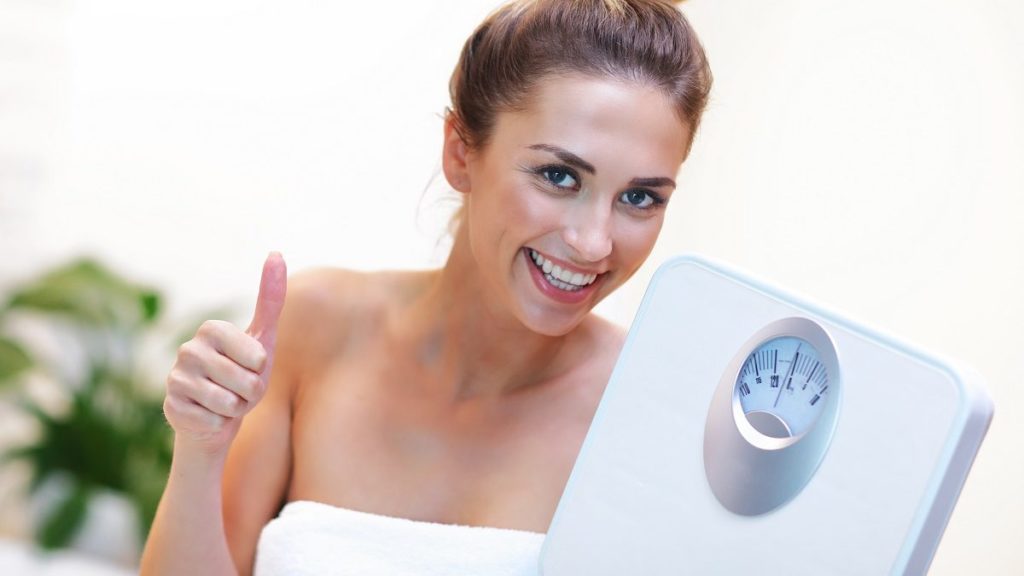 To stay on track with your fitness goals, it's important to have a weight scale that gives you accurate readings while offering simple, easy-to-use features. When you choose the right bathroom weight scale, you can be assured that your readings are consistent and truly reflect your progress. A reliable scale can make your weight loss journey a smoother one, but not all scales suit everyone. To ensure you get the right one for you, we've compiled a list of the best weight scales out there so that you can make an informed choice.
Best Choice
Smart, lightweight, and offering precise measurements thanks to innovative technology, the INEVIFIT bathroom weight scale is perfect for anyone looking to keep track of their weight.
Pros:
The INEVIFIT bathroom weight scale not only looks stylish but has also impressed us with its ease of use and tracking accuracy. Featuring smart technology that monitors your progress, this easy-to-use weight scale has auto-calibrating sensors that give you precise measurements, as well as a 3.6" LED display, making it easy to read in any lighting. If you're looking for a weight scale that the entire family can use without any hassle and then this is the product for you.
Cons:
Uneven floors, shaggy carpets or simply moving the scale around too much can give inaccurate measurements, so it's very important that you keep the scale in the same place, on the same flat surface each time you use it.
Best High-Capacity Scale
The superb EatSmart Precision 550 Pound Extra-High-Capacity Digital Bathroom Scale is perfect for larger-bodied people looking to track their weight loss with ease in 2020.
Pros:
Offering the highest weight capacity readings on the market, the super smart EatSmart Precision weight scale is perfect for larger people. It has a sturdy 15″ x 13″ platform, an easy-to-read screen, as well as 'step on' technology with a 'beep feature' which reads your weight instantly and beeps when it's ready, minimizing your time spent standing on the scale. We loved that this product tracks your weight loss as you go, giving you a boost of confidence as you progress.
Cons:
While the beeper can be highly convenient for some, we can see how it might get irritating for others. Unfortunately, to our mild annoyance, it cannot be turned off, so if loud noises cause your toes to curl, this might not be the right product for you.
Best Bluetooth Scale
A smart Bluetooth-enabled scale that easily syncs with your smartphone to give you instant updates on your weight, BMI, and body composition, along with ten additional measurements.
Pros:
13 measurements, including BMI and weight. Syncs data directly to the smartphone. Free downloadable companion app. Compatible with multiple health kits, including Google Fit and Apple Health. Support weight of up to 396lbs. Platform made from the tempered glassworks with batteries and no need for the power cord includes a satisfaction guarantee and comes with four certifications.
Cons:
The weight limit restricts some people from using the scale. Only compatible with smartphones equipped with Bluetooth, 4.0 or higher. Needs access to location services, which increases battery usage. Uses AAA batteries – a switch to Lithium batteries would have been a nice addition. Accurate placement of feet on the scale needed for measurement.
Best Whole Body Readings
Determined to shift that baby weight? Offering 10 precise body measurements, the YUNMAI Premium Smart Scale is the ideal way to track your whole body composition during and after pregnancy.
Pros:
Got hard-to-shift post-pregnancy weight? Don't worry! The YUNMAI Premium Smart Scale offers 10 incredible settings allowing you to measure all areas of your new Mom-bod, including your water composition, bone mass, body fat and body age. It is also a bluetooth device, so it can be hooked up to your smart phone and synced with compatible apps, giving you accurate results that you can measure over time. if you're expecting a baby in 2020, or have recently given birth, this is a great way to stay on track.
Cons:
This weight scale takes up to 10 seconds to give you an accurate reading. While that's not a problem for many, it can be if you're heavily pregnant and feeling unsteady. If you have sciatica or any other pregnancy or health related balance problems, this scale may be a little harder to use.
Best For Bathroom
The Okaysou Accurate Digital Bathroom Body Weight Scale gives you a tempered glass surface that is durable, with a backlit LCD that makes it easy to take a look at your measurements.
Pros:
6mm tempered glass platform makes this a durable scale. The scale provides support for a maximum of 400lbs, which is superior to many alternative options. The step-on technology quickly recognizes someone getting on the scale. This will immediately activate the weighing technology. The LCD screen makes it easy to see an accurate body weight, with a backlit LED for nighttime vision. The price of this scale is also definitely a benefit.
Cons:
The step-on technology might cause the battery fitted in the scale to drain faster compared to alternative options. The addition of body mass index and other measurements in a high-quality scale like this would have been a definite beneficial feature.
What Really Matters
Reliable Readings
We believe that a weight loss scale is no good unless it truly reflects your progress. Otherwise, what's the point? It's crucial you select a scale with consistent, accurate readings that are easy to track. Older scales that require too much manual input can give you inconsistencies. A modern, digital scale with step-on technology will be far more accurate. If you prefer to receive these readings directly to your phone, you can choose a smart scale that syncs with your devices.
Easy-To-Use
Don't be left wondering what your results mean. Your scale should be simple to program, easy to stand on, and give you clear digital readings. We think it's a good idea to avoid flimsy scales that bend or feel unstable to stand on. If you are on the larger side, you may want to choose a scale with a wider foot platform, higher weight capacity, and special features designed for larger body masses. When it comes to reading the results, ensure you choose a scale with a brightly backlit LED screen (that shows results long enough for you to record them, or better yet, records them for you!) In 2020, smart technology is very much in fashion, so if you're good with gadgets, you can get a simple weight loss scale that hooks up to your phone, letting the app do all the hard work for you.
Aesthetically Pleasing
Your weight scale needn't be an eye-sore. Old-fashioned scales can be overly large, blandly colored, and a constant reminder that you need to lose weight. Not exactly what you want to see first thing in the morning, and especially not in 2020! Compliment your bathroom aesthetics with a stylish model that blends right in. You can choose from a series of beautiful designs, or go for a minimalist approach with a transparent or translucent scale.
What's In Right Now?
The world has become enamored with smart technology, and your bathroom scale is no exception to this trend. Smart scales that sync with apps on your tablet or phone are all the rage right now, especially amongst young professionals who have limited time to be fiddling with buttons. If you're serious about weight loss, fitness, and maintaining your progress, finding a bluetooth bathroom scale that syncs with your health apps can be the right way to go.
Also, clunky, ugly bathroom scales are no longer an eye-sore you need to store away. It's possible to find lightweight, aesthetically pleasing scales that blend with any bathroom style. Opt for a transparent scale if you want it to fade away into your bathroom's far corner, or choose a trendy statement piece to take center stage next to the sink. It's totally up to you!
Prices
Expensive
$50-$99 for a high-end, stylish weight scale with smart synchronization features
Mid Range
$30-$50 for a high tech weight scale with easy programming features and a digital LED screen
Cheap
Less than $10-$30 for a basic, functional weight loss scale that gives you the fundamental features required to track your progress.
FAQs
I need a weight loss scale that's suitable for the whole family. What should I look for?
If you have a family of varying ages and sizes, it's important to find a weight loss scale that is going to meet everybody's individual needs. The scale should easily be able to switch between profiles or programs, taking into account the age and gender of each user. It should also be suitable for a wide weight range if there is a slightly heavier member of the family. A weight scale with simple manual programming features understood by everybody is a great way to go.
I'm morbidly obese and struggle to stand for long. Which scale should I use?
Not all scales are appropriate for larger-bodied people due to the size of the platform and the weight capacity limit. Furthermore, some larger-bodied people with health problems may struggle to stand on certain weight scales for long periods. Therefore it's important to look for a scale that can give you instant readings using a brightly back-lit LED screen, and has a wide platform for you to stand on safely.
Can a weight loss scale give me more information than just my weight?
Yes! Weight loss scales can now offer you a whole host of readings, including BMI, bone composition, water composition, fat mass, and much more. This is particularly good for those of you wanting to improve your overall health and monitor several areas of your body at once. A smart weight loss scale that syncs with a fitness app can give you highly accurate readings about your entire body, not just your weight.
How often should I use a weight loss scale?
Advice can vary on this topic, but it's generally recommended that you weigh yourself two times per week at the same time of day. For example, you might weigh yourself Monday and Friday at 9am. It's crucial you don't weigh yourself right after eating, because this can alter the results, giving you an inaccurate reading. Remember, lots of factors can impact your weight fluctuations including hormones, diet and water intake.
I'm buying a weight loss scale for someone else. What should I consider?
It's a good idea to get to know the goals of the person you're buying for before making a decision. If they've expressed a desire to improve their overall health, you may want to get them a smart weight loss scale that offers a full body analysis and syncs with their smartphone. If they want to shed a few pounds, a basic scale that compliments their bathroom can make a good gift. It's also important to consider their size. If they are on the larger side, you'll need to ensure that the scale you choose is suited to their body mass. Don't forget, a less tech-savvy person may not get on with the latest smart technology, especially if they don't own any other smart devices. On the contrary, if the person you're buying for is constantly surrounded by the latest tech, you'd be wise to go for a product that compliments their existing devices, such as a Bluetooth weight scale.
How accurate are scales for measuring body fat?
While scales certainly measure your weight to a highly accurate figure (depending on the brand), the way they measure body fat composition can be slightly less accurate. Body fat composition is dependent on a number of different factors, many of which cannot necessarily be precisely measured by weighing scales. Saying that, if your scale offers this feature, it should give you an indication as to your body fat composition. This way, you can spot trends over time and gain a better understanding of your overall health.