The Best Aloe Vera Gels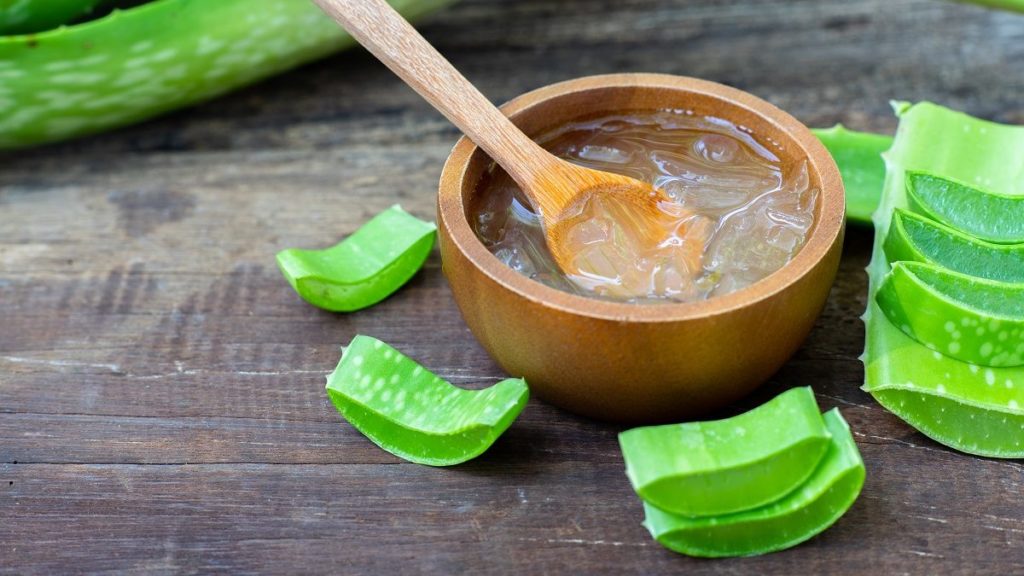 Aloe vera has been called a miracle plant, and it's easy to see why. The soothing gel found inside of the Aloe vera plant's leaves has countless uses for skin and hair. Aloe vera gel is superb for skin hydration and delivers a punch of vitamins and minerals that help restore and protect your hair and skin. Aloe vera gel can be used as an aftershave, leave-in conditioner, makeup primer, cuticle moisturizer, hair gel, and a pain reliever for sunburn, razor burn, dry or cracked skin, rashes, eczema, and more.
Holika Holika Aloe 99% Soothing Gel
The Holika Holika Aloe 99% Soothing Gel features a high-quality concentrated formula with a 99% Aloe vera extract concentration, providing a soothing effect when used topically.
Pros:
The product provides a 99% pure formula that mostly consists of freshly extracted aloe vera gel. The bottle itself also features a unique design that makes it easier to grip and secrete the interior gel content. The product forms part of a range that customers can take advantage of. It has a design intellectual property in 11 countries. Jeju aloe vera plants are used in the production of the extract contained in this product.
Cons:
The alternative products in its range contain a lower concentration of aloe vera gel. The product also provides a relatively small amount of aloe gel per container, which could make this a somewhat expensive option for certain shoppers. Details on additional ingredients used in the formula are not fully disclosed.
AloeMoist Face and Body Moisturizing Cream
AloeMoist's body and face moisturizer features a formula that uses Aloe vera, retinol, and antioxidants to help moisturize the skin.
Pros:
This moisturizer cream was developed to be used on the face, as well as the rest of the body. This helps to provide a more cost-effective solution to keeping the skin on the entire body moisturized and hydrated. Organic aloe vera gel is used in the production of this moisturizer cream. The product also includes retinol to help improve skin health. Additional vitamin E and vitamin C are added for enhanced benefits. The cream is free of fragrances and provides a non-greasy texture.
Cons:
Not everyone is able to use a lotion or cream on their body that contains retinol. Thus, careful consideration should go into whether or not the customer wants to buy this cream. The cream also comes with a somewhat expensive price tag, particularly when compared to other options the customer can choose from.
Felico Aloe Vera Gel
Felico's Aloe vera gel features an organic formula that gives the user the full benefits of Aloe vera gel without exposing their body to any harmful chemicals or ingredients.
Pros:
The gel is made from organically-sourced aloe vera plants. This provides a higher-quality product where the user does not have to worry about factors like pesticides used on the aloe plants. There are also no additional preservatives and other potentially harmful ingredients added to the product's formula. The bottle is made to ensure the administration of the aloe vera gel is convenient. A push dispenser at the top is pressed to dispense some of the gel into the user's hands.
Cons:
For some shoppers, the price of this product may be high – particularly when compared to some of the other aloe vera gel products on the market. The manufacturer claims that the product is made from 100% natural aloe, but then states the organic aloe vera rating is 98.45%. This may be confusing to some customers.
Nature Republic Soothing Moisture Aloe Vera
If price is an important factor for you, this Aloe vera is the least expensive one you'll find for the quality. Most Aloe vera gels at a comparable price are of much lower quality.
Pros:
This Aloe vera gel from Nature Republic is wildly popular, and for good reason. Its smooth application and cooling properties make it a great choice for everything from minor scrapes and burns to use as an aftershave. This gel is thicker than most, which makes it easy to scoop out of the tub that it comes in. We also love the packaging because it's one of the few that can completely seal to avoid accidental spillage.
Cons:
The main downside of this gel is that it is only 92% pure, meaning it's not as pure as most, but that's to be expected at a lower price point. Although it contains Aloe vera extracts, rather than pure Aloe vera, it still has many uses. However, if you know you have sensitive skin, spend a few extra bucks on a purer Aloe vera gel.
What Really Matters
Purity
Perhaps the most important thing to look for when shopping for Aloe vera gel is its purity rating. Pure Aloe vera gel will always have Aloe vera, organic Aloe vera, or aloe barbadensis (i.e. the plant's name) listed as the first ingredient. If water is listed before Aloe vera, or anywhere at all, the Aloe vera has been watered down and is not as pure as it could be. After Aloe vera, there should be very few ingredients on the label. No Aloe vera gel can be 100% pure–the purest Aloe vera gel on the market is 99.75% pure; the other 0.25% represents the trace amounts of preservatives that are needed to make sure the Aloe vera doesn't go bad right away.
Other Ingredients
Just because Aloe vera is the first ingredient doesn't mean the gel is perfect. You already know to be on the lookout for water, but there are other ingredients you should keep an eye out for, too. Alcohol, dyes, and fragrances are all commonplace in cheap Aloe vera gels and take away from the gel's effectiveness, leaving you with more irritation. However, some added ingredients aren't as scary as they sound and are harmless additions to Aloe vera gel. Acceptable ingredients include ascorbic acid (vitamin C), xanthan, and citric acid. When in doubt, do additional research to find out an ingredient's purpose and whether it is a potential irritant.
Processing Method
The method in which Aloe vera is processed can greatly affect its purity and vitamin and mineral composition. Any Aloe vera gels that are worth spending money on will be cold-pressed. When compared to other processing methods, cold pressing retains the most vitamins and minerals, making it the obvious choice. After all, why pay the same price for a gel that's not as pure or effective?
Price
Aloe vera gel isn't a big-ticket item, but regular use can add up. Typically, the price reflects the quality of Aloe vera gel. On one hand, cheaper Aloe vera gels will save you money, but you run the risk of getting a low-quality product. On the other hand, many high-quality Aloe vera gels are near identical and the prices are hiked up just for a brand's name. If two Aloe vera gels look identical in ingredients, processing methods, and manufacturing location, it's not a bad idea to save a few bucks and go with the less expensive option.
What's in Right Now?
Right now, all-natural, organic Aloe vera gels are flying off the shelves. Customers want gels that are as close to the Aloe vera plant as possible, so purity is key. Aloe vera gel that is at least 95% pure is the most popular right now, although many consumers won't accept anything less than 99% pure. The purer the gel, the less likely it is to have negative side effects. Since Aloe vera gel is meant to soothe irritation, this seems like a no-brainer.
FAQs
Is Aloe vera gel safe for kids?
Yes. Aloe vera gel is totally safe for adults and kids alike. Since it's all-natural and contains no harmful compounds or carcinogens, it is safe for all members of your family, including pets. So don't hesitate to slather up your sunburned kids or itchy pups with Aloe vera gel.
Is Aloe vera gel safe to consume?
Although many people love the taste of Aloe vera and experience many benefits from it, Aloe vera gel is not safe to consume. Aloe vera gel is only intended for topical use and can be harmful if ingested. If you are looking to incorporate Aloe vera into recipes or just sip some, try Aloe vera juice instead.
What color should Aloe vera be?
Many people think Aloe vera gel should be green because the plant is green, but this isn't true. Companies that make cheap Aloe vera gels will add green dye to make the gel look more appealing, but don't let this marketing tactic fool you. Pure Aloe vera gel should be a slightly yellow, translucent substance.
Is Xanthan in Aloe vera gel harmful?
Although xanthan is sometimes debated as an appropriate addition to many Aloe vera gels, our official position is that no, xanthan in Aloe vera gel is not harmful. Xanthan, or xanthan gum, is added to Aloe vera gel to make the gel apply more smoothly. Xanthan helps the gel glide across your skin more easily and boosts skin absorption.
Why is Aloe vera gel good for hair?
Aloe vera gel offers many of the same benefits to your hair as it does to your skin. The gel provides a large dose of vitamins and minerals to your hair and scalp that promote hydration, restoration, and hair growth. For these reasons, many choose to use Aloe vera gel as a leave-in conditioner. Irritated and itchy scalps can also benefit from the cooling properties of Aloe vera gel.