The Best Velvet Scrunchies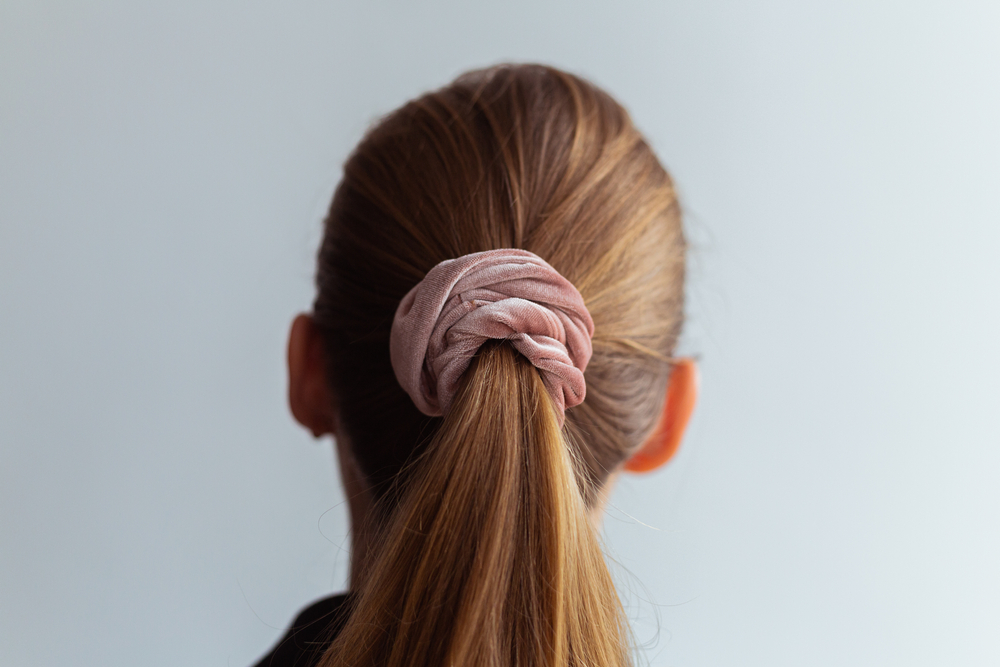 What was once a hair accessory for tween girls in the 90s is still a bonafide fashion trend, and for good reason. Simply put, hair scrunchies are vastly superior to regular ol' elastics. That's because, unlike elastics, scrunchies (especially ones that are made from silk or velvet) don't do damage to your hair. They don't snag, pull, or cause breakage or split ends; and, they also tend to hold hair better. Not to mention, a velvet scrunchie is a true statement piece. (Don't be surprised when you get a ton of compliments when you wear one.) Are you ready to rock this throwback style? Here are the best velvet scrunchies, grouped by category.
Whaline Blush Velvet Hair Scrunchies
Some scrunchies may be too big and floofy, but these Whaline scrunchies are the perfect size.
Crafted from extra-soft velvet, Whaline Blush Hair Scrunchies are the perfect size if you prefer your scrunchies to be small, not overly big and fussy. They have a decent elasticity, which is the key to any good scrunchie—you won't have to worry about your ponytail or updo coming loose. And, considering that you get twelve Whaline scrunchies in a single pack, this is a fantastic deal. Take your pick from one of several color combos, including shades of blue, blush, neon, gray, and more.
Pros:
Smaller size means that you can more easily style topknots and ponytails.
Good elasticity; hair stays securely in place.
Excellent value.
Comes in several different color combos.
Cons:
Might not be the right size for everyone.
HfireflyK Velvet Scrunchies
These HfireflyK scrunchies are practically free.
If you're a little strapped for cash, get these scrunchies from HfireflyK. This scrunchie set is as affordable as they come. That doesn't mean these adorable hair accessories are low-quality; in fact, they're each made with a durable rubber band that resists snapping, although they stretch easily while still maintaining the shape of your hairstyle. Also, they come in a dozen different vibrant colors and patterns, so you can customize your hairdo according to your mood.
Pros:
Super affordable but still decent quality.
Made with a durable rubber band that stretches easily without snapping.
Pack includes 12 scrunchies of different colors and patterns.
Cons:
The non-slip quality could be improved.
Chloven 45-Piece Hair Scrunchie Set
Why get one or two scrunchies when you could get over 40?
If you want a scrunchie to pair with every outfit imaginable, the Chloven Scrunchie Set is a great pick: This trendy pack includes 45 different-colored scrunchies, if you can believe it. They're all made from a premium, stretchable velvet material that holds hair securely in place, whether you're working out, running errands, or just lounging on the couch. And, crucially, they work well for all hair types.
Pros:
Comes with 45 scrunchies, all of which are a different color.
Material is premium, stretchy velvet.
Great at holding hair tightly in place, no matter what type of hair you have.
Cons:
They're not water-resistant, so if you get them wet, the color may bleed a little.
Whaline Scrunchy Hair Bands
The perfect scrunchie for a night on the town.
Sometimes, you just need a giant, floofy scrunchie in your life. Enter the Whaline Scrunchy Hair Bands, which come in an array of fun, elegant colors like rose red, gray, black, camel, and dark brown. They're wonderfully soft yet strong enough to hold up even the thickest, curliest hair. And, they're versatile: These scrunchies look super-chic when paired with dressy outfits, but they're also great for wearing to bed, to help prevent your locks from breaking while you sleep.
Pros:
Available in several fun, elegant colors.
Sturdy enough to hold up thick, coarse, curly hair, but still stretchy.
Versatile and chic.
Cons:
Frequently Asked Questions
Are scrunchies better for my hair than regular elastics?
Yes. Rubber hair elastics can cause breakage and split ends, but velvet scrunchies don't do any damage to your hair.
How should I style my scrunchie?
You can wear your velvet scrunchie one of several ways, in place of a regular hair tie. Use it on a messy high bun, at the end of a long braid, in a high ponytail, or on a topknot.
Are scrunchies gentle on all hair types?
Yes, scrunchies are gentle on all types of hair. Those with coarse, kinky hair that's prone to breakage will especially appreciate using a scrunchie as opposed to an elastic band.