5 Best Nail Dryers for 2020 – Nail Dryer Reviews – Total Beauty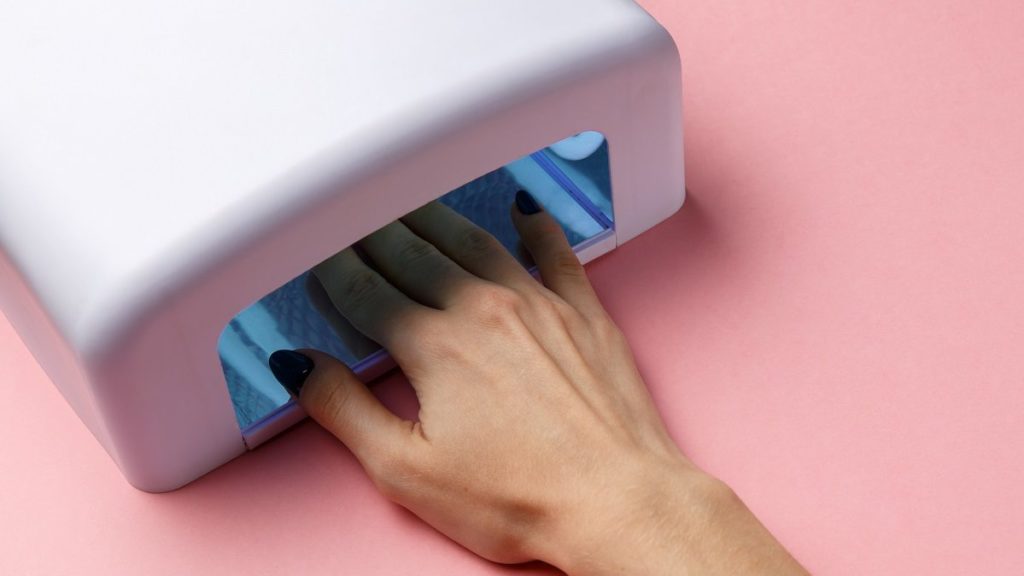 Gel nail polish is the latest trend in the beauty industry. It allows you to go for an elegant look or stand out from the crowd with a unique color choice. If you want your nails to look perfect, you should find the best nail dryer out there. We selected the top five nail lamp picks suitable to use at home or in a salon. Check out our in-depth reviews and learn more about the product. Make sure to read our buying advisor to find out more about how to choose a suitable unit for your needs
Best Choice
LKE Nail Dryer is suitable for most UV gels, topcoats, and nail gels. It is easy to use and a great alternative to visiting a salon.
Pros:
This nail lamp operates at 40W, but you can choose a voltage between 110 and 240V, which is convenient. These are not the only available adjustments, as you can also pick between three timers. They can vary from 30 to 99 seconds, and you activate them by pressing a suitable button. The device is easy to use because of the LCD screen included. It also features a smart sensor that activates the lights as soon as you place your hands into the lamp. The dryer features 21 LED lights that last for a long time and get the work done. Thanks to the curved design, there is no danger for your eyes. The maintenance process is simple, and the device is easy to clean.
Cons:
LKE only designed this nail dryer in a single color. If you are not a fan of white or it can't fit your decor, this manufacturer doesn't offer an alternative. The longest gel timer is 99 seconds, but it might take a bit longer to dry your nails. Depending on the gel you use, drying can last from two to four minutes.
Best with Smart Sensor
The device utilizes infrared induction to detect and activate the unit once you place your hands inside. The sensor is reliable, and the machine remembers previous timer settings.
Pros:
MiroPure found a way to maximize ease of use for their nail dryer. All that you need to do is to put your hands in the lamp, and it will immediately activate in the 99-second low-heat mode. You can adjust the timer to three other settings, and the device will memorize the last adjustment. That is convenient when you need to repeat the process to dry your nails thoroughly, or when you are applying multiple layers. The device features 33 LED lights, and the manufacturer claims they can work for 50,000 hours. The LCD screen will show the remaining time. The product comes with a removable lampstand and an AC adapter.
Cons:
If you have sensitive skin, you might feel the heat when drying your nails. The device can get hot, and that might make you uncomfortable during the process. The power cord doesn't sit firm in the lamp, and even slight bumps might pull it out and turn off the device. The lowest timer setting seems unusable because ten seconds is not long enough to dry most nails.
Best for Two Hands
Jewhiteny equipped the device with 36 LED beads and ensured generous 72W of power for efficient nail drying, and suitability for professional salons.
Pros:
If you want to shorten the time required for drying your nails, this device allows you to dry both hands at once. The process starts when you put the hands in the dryer, which will activate automatically because of the infrared sensor. The default timer setting is 99 seconds, and the manufacturer claims it is a pain-free adjustment for those with sensitive skin. If you are in a rush, you can experiment with 10, 30, and 60-second options, too. Heat dissipation is admirable, and it will protect your hands from getting burnt. The product features 36 durable LED lights suitable for all gel types.
Cons:
The instructions that come with the product aren't that clear. Although using a nail lamp is not rocket science, it might take a bit of time to find your way around. The cord is quite short, which is why the device should be placed near a power outlet. That limits the freedom of placing the dryer anywhere in the room.
Best Nail Dryer for Home
DIOZO designed a nail dryer that is so light you can easily move it around the room, or take it wherever you go. Despite being lightweight, the product is durable and delivers consistent performance.
Pros:
If you are looking for a lightweight lamp, you will love the portability that comes with this 227-gram nail dryer designed by Diozo. The secret lies in using a light ABS material, which maintains durability while minimizing weight. This 48W lamp utilizes 21 LED lights and secures a dual light source for even drying. The control buttons are at the top of the unit. You can pick between three settings available, and the digital screen will show the remaining time throughout the process. The product is versatile and suitable for a single hand (or toe) at a time. The package comes with a power adapter and a cord long enough to place the device anywhere you want.
Cons:
The device doesn't come with a bottom attachment. Apart from making it look unusual, it also means your hands rest on the table, towel, or wherever you place underneath the lamp. The product comes with UV-resistant gloves, but they are of poor quality. If you have sensitive skin, you will still feel the heat despite wearing them.
Best Nail Dryer for Salon
SUNUV designed a high-quality lamp with plenty of adjustments and construction quality suitable for professional salons
Best Nail Dryer for Salon
Pros:
The first thing you notice on this hairdryer is its attractive design that combines white with red and blue colors. SUNUV ensured that their lamp is not only about the aesthetics and included 33 LED lights for efficient nail drying. The light the device generates is safe for the eyes, and the controls on the front allow you to pick between four different settings. The dryer starts automatically the moment you place your hands inside the product. The bottom tray is detachable, which makes the cleaning process simple.
Cons:
The product is not the best choice for builder gels because it takes more time to dry them. Depending on the brand, you will need up to three minutes to complete the drying process. The plug-in piece of the power adapter is quite bulky, which makes the product hard to plug in extension cords. If you use the nail dryer too often, you might notice the skin on your hands getting a bit dark.
What Really Matters
It is time to check out the factors to consider when choosing a nail dryer. We listed the most important features to simplify the process, but still ensure you pick a suitable product.
The Importance of Lamps
The majority of manufacturers use LED lights for their nail lamps, as they have become an industry standard. However, the quality and number of lights might vary depending on the product. The experts recommend choosing a dryer that features at least 20 lamps. If you go with 30 lamps or more, that product might be suitable to dry both your hands at once.
As for lamp quality, check out the product description and look for the manufacturer's claims. It is best to choose lamps with an estimated 50,000-hour lifespan to ensure the lights work for a long time.
Automatic Activation and Adjustable Settings
The industry tries to make nail dryers user-friendly to encourage at-home use among individuals. That is why most lamps come with an infrared sensor. Its task is to recognize when you place your hands inside the device and turn on the lights. The moment you remove your hands, and the timer expires, the product deactivates automatically.
As for the timer, look for a nail dryer with adjustable settings. That is the easiest way to adjust the process to your hand sensitivity and specific gel polish requirements. Usual timer adjustments vary from ten to 99 seconds. A digital screen might be useful to show the remaining time once you start the process.
Wattage is essential for maintaining the efficiency of the nail dryer. These lamps can have anywhere from 30 to 100W of power. Less power equals less heat, which might extend the drying process, but ensure that your hands are protected from burns. If you are looking to speed up the process, you could benefit from a more powerful unit.
Size and Weight
Nail dryers are compact-sized products that don't take a lot of room. You shouldn't have a problem placing them on a table or any other surface. However, make sure the cord is long enough to reach the targeted power socket.
The weight of a nail lamp varies on the type and quality of materials used during the manufacturing process. You can find light dryers that are extremely portable and suitable for taking with you. Alternatively, heavier lamps are not that portable, but they might be more durable.
What's in Right Now?
The technology-enabled nail dryers to come a long way and offer many useful features. For users, it has always been about safety and ensuring that using the lamps doesn't compromise their health. Today, customers look for products that won't harm their hands or eyes.
Nail dryers that maintain heat on a level that won't darken or burn your hands are the latest trend on the market. That way, you don't feel pain during the process, but also protect your skin and its long-term health.
Additionally, look for nail lamps that emit the type of UV lighting that doesn't harm your eyes. A curved design prevents the light from getting into your eyes in the first place. That is why most manufacturers go with this shape when designing their dryers.
Prices
Are you wondering how much does a nail dryer cost? These devices offer a fair price since their cost varies from $10 to $30 and more. That secures high value for the users, but you still need to choose wisely to maximize the product's potential.
Here is what you can expect in various nail dryer pricing ranges:
Cheap – a low-quality nail lamp might be available for under $15. However, these units might not protect your hands from getting dark from UV lighting. The durability is also questionable, which is why you should be careful if going for a low-cost dryer.
Mid-Range – an average nail lamp costs from $15 to $25. For the price, you can expect a device of decent power and durability. The number of lights might vary, but the performance should be consistent.
Expensive – you can expect to pay around $30 or more for these devices. That should secure a durable unit with high-quality components to serve you for a long time. Premium nail dryers will offer over 70W of power for accelerated nail drying.
FAQ
Q: Why do I need a nail dryer for gel polish?
A: A nail lamp is convenient because it accelerates the drying process. Thanks to UV lighting, you can harden the polish in less than a minute, which is much faster than natural air. According to experts, dryers also ensure your gel lasts longer.
Q: Are nail dryers safe?
A: Although nail lamps use UV radiation, they are considered low-risk and safe to use. The FDA also approves using these products but pinpoints that you should follow the instructions carefully. Consider wearing fingerless gloves to protect your skin during the drying process.
Q: How long it takes for the polish to dry when using a nail dryer?
A: That depends on the gel and the lamp you use. The process can last from ten seconds to more than two minutes. It will take a bit of trial and error to find the right time for your particular product.
Q: Can you get a tan from a nail lamp?
A: A nail dryer uses UV radiation, which has the potential of tanning your hands. However, the visibility of that tan will depend on many factors, including skin sensitivity, lamp strength, etc. If you want to avoid tanning, use low-heat settings on your device.
Why Trust Us
Since 2007, TotalBeauty has been committed to helping millions of people find the right makeup, skincare, and haircare products for their needs. Our experts know what works best for every face shape, skin type, hair type, and more. They are here to share that knowledge with everyone looking to upgrade their beauty routines or try something new.