Pink is Reportedly Pregnant
Posted on November 10, 2010, 1:23 PM
If the rumors are true, the popstar, who has a new album on the way, will soon have her hands more than a little full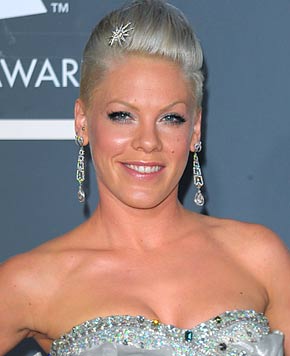 Is Alecia Moore, a.k.a. Pink, Pregnant? If you believe the rumors...
If there ever was a pop star who was the antithesis of a"pop star" it's got to be Pink.
Characterized by her iconic variations of pink-colored pixie cuts, cutting-yet-cunning lyrics and death defying acrobatics, the 31-year-old multiple Grammy winner is reported to be with child. "Us Weekly" announced the happy news of the planned pregnancy with her on-again husband, motocross racer Carey Hart, today.
A source that spoke to the magazine is quoted as having said, "She's 12 weeks along. She wanted to do it between tours, when she has some time off." And others are chiming in that the child is a symbol that the couple is re-solidifying the marriage after their 2008 separation.
The split happened just two years after their January '06 Costa Rican wedding but apparently Pink had a master plan in mind as, during that difficult time she posted that, "…Mine and Carey's [future] just might involve beach babies and sunshine one day" on her website.
Sources say, "Pink was determined to make the relationship solid. Now she's really happy, and she's excited she got pregnant so fast! She'll be a brilliant mother."
With a baby on the way, Pink is also nearing completion on her upcoming greatest hits album with lead single, "Raise Your Glass" already topping charts. Can't think of a more opportune time to toast than to a newly expectant mom, so, if the rumors are true…here's to you Pink and Carey!
-- Sharon J. Yi