"The Jersey Shore's" Snooki Weighs in on Heidi's Makeover
Posted on January 27, 2010, 9:02 AM
"The Jersey Shore" cast is reported to be close to signing a contract with MTV for another season of their tremendously popular reality show, but apparently Snooki, arguably one of the most controversial cast members, was able to take time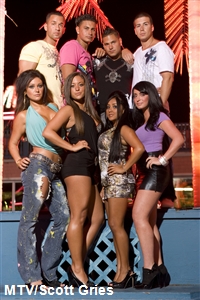 Snooki of "The Jersey Shore" says she wouldn't have plastic surgery like Heidi Montag.
Apparently, when she was presented with a picture of the made-over Montag, the self-proclaimed Princess of Poughkeepsie told FOX Pop Tarts that she would never have such radical procedures done.
"This is who I am and this is who I will always be," the pint-sized star told the news source. "Now, no girl is going to say no to a little pampering here and there, I like the girly side in me. I am sure I will go through some changes, but nothing too intense. This is me."
While we respect what she's saying, it seems a bit rich coming from her overly-lined lips. Snooki is never seen without copious amounts of makeup - even at the gym - or a generous coating of self-tanner. Her signature hairstyle even involves a less-than-natural Bump-it.
Whether she realizes it or not, it seems like Snooki is doing everything she can to cover up her true self, just in less permanent ways. We have to wonder what she would look like after a serious makeunder.