Will "The Bachelor's" Molly Malaney Sport Darker Hair During Her TV Wedding?
Posted on January 29, 2010, 11:46 AM
It's finally happening -- "The Bachelor's" Jason Mesnick and Molly Malaney are getting married, and the ceremony will air on ABC this March.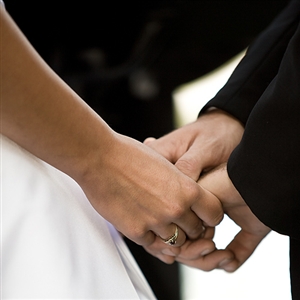 Molly Malaney and Jason Mesnick will say thier vows on TV.
We can't wait to catch a glimpse of Malaney's wedding look – she was a blonde on the show, but dyed her locks darker after taping ended.
Whatever she chooses, we're sure that she'll make a beautiful bride. (Though we have to admit we liked her better with lighter hair.)
The TV special will include the pair's wedding ceremony, as well as the events leading up to it. Expect to see Malaney's wedding preparations and plenty of action at the pair's bachelor and bachelorette parties.
This behind-the-scenes show is sure to give fans a little bit of closure after the pair's tumultuous start.
In a scandal never-before seen on "The Bachelor" Mesnick originally picked contestant Melissa Rycroft at the final rose ceremony and booted Malaney off, but on a live TV special he revealed that he still had feelings for Malaney.
It seems like he made the right choice in the end. We hope everything works out for these two crazy kids!